Spring 2017 Civil Engineering Newsletter
It is hard to believe that it has been only two years since I joined the Vandal family. I admit I cannot get used to the extremely hot weather we have had this past summer (who can?), but am looking forward to some fall rains as we begin another academic year.
Perhaps the most important development since our last newsletter is that we have officially changed our name to the Department of Civil and Environmental Engineering or CEE. We are late in modifying our name when compared to other CE programs around the country — in fact, around the world — but this change means we will attract more students to the College of Engineering and have the opportunity to help more perspective students explore the field of civil engineering.
We continue to make improvements in our work and learning environments. This past summer, we renovated two spaces for our graduate students. One is a large office that previously held only five desks (see BEFORE photo). The new space (see AFTER photo) comfortably accommodates 19 graduate students. We call the second renovated room the "TA Studio". It is difficult to photograph the entire space, but it is designed to house up to four graduate teaching assistants. It provides generous desk and work space to meet one-on-one with students and has a separate area with tables and a white board to work with small groups.
Buchanan 104
208-885-5041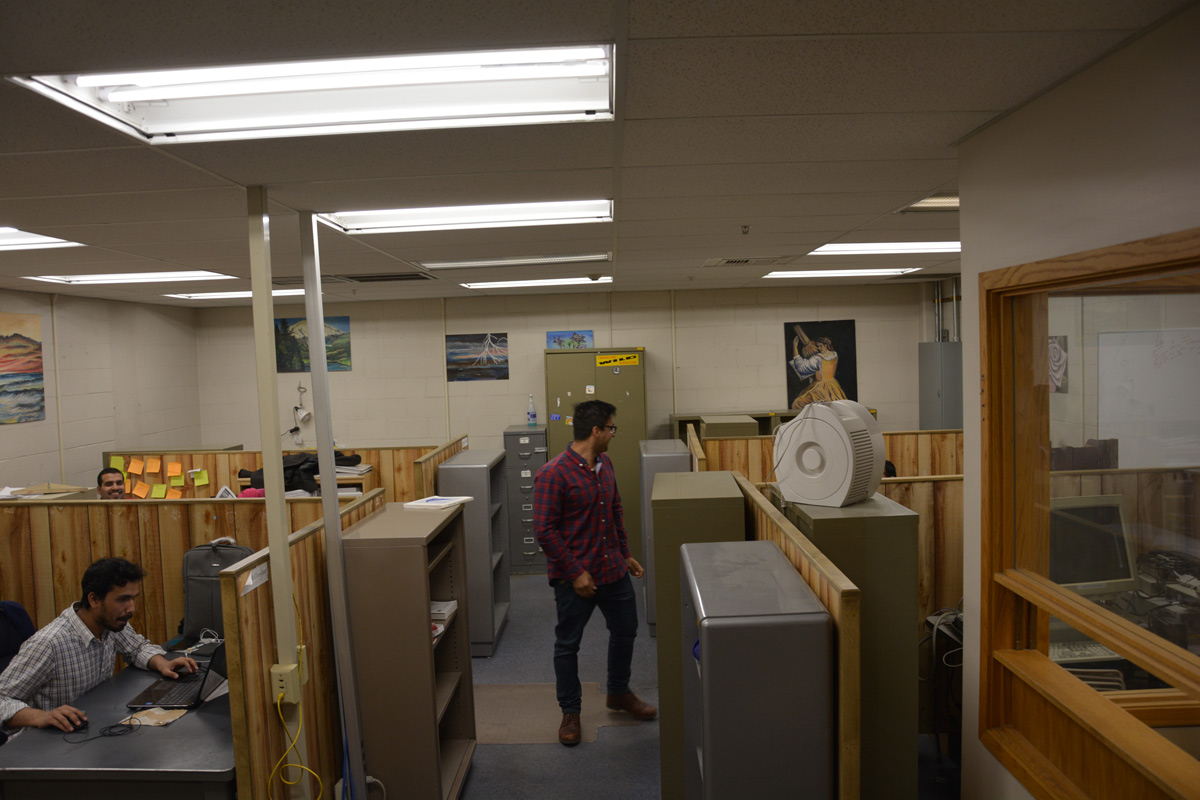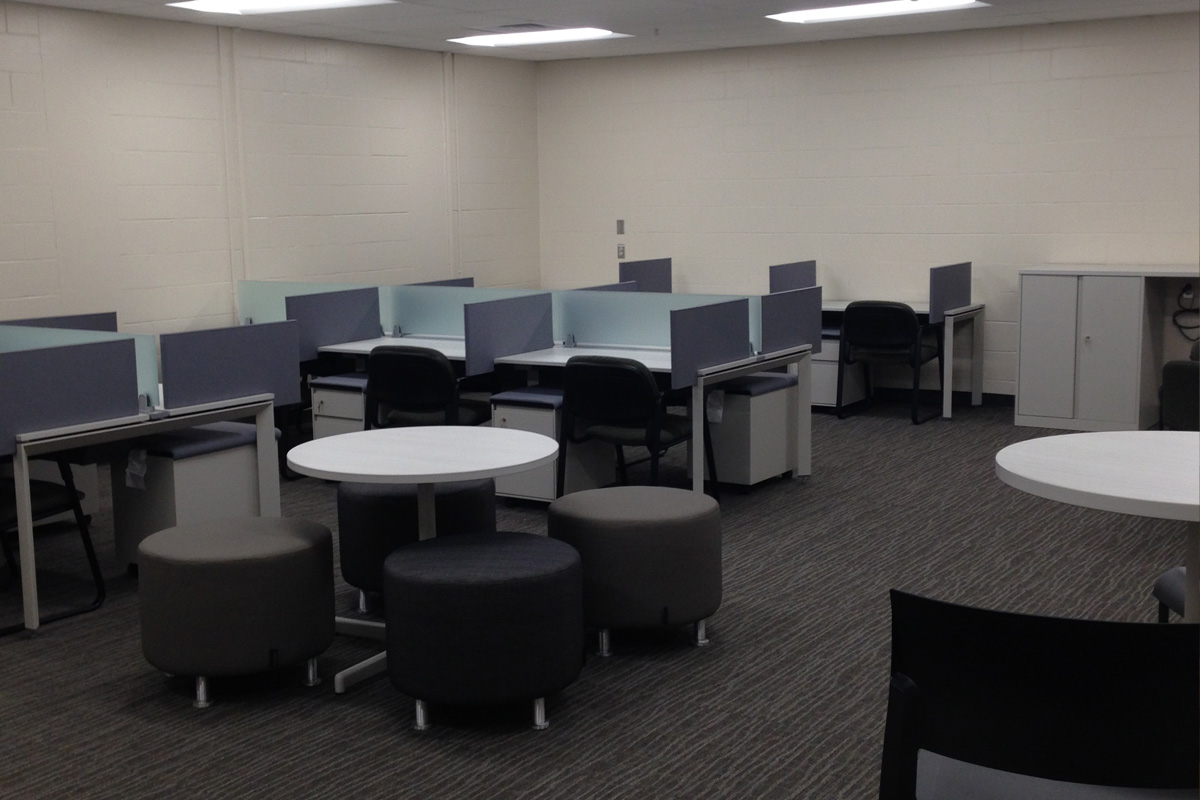 In addition to the graduate offices, we have updated the Cal Warnick Conference Room. Fresh paint, new lighting, and new furniture have given the room a brighter feel. But the 'star' in the room is the new conference table. The base of the table is last year's ASCE Student Steel Bridge! I have included a photo of eight of the 2016-17 steel bridge team members standing on the bridge during last year's ASCE regional competition in Boise. The conference room is also being equipped with two 70" monitors and a new videoconferencing system.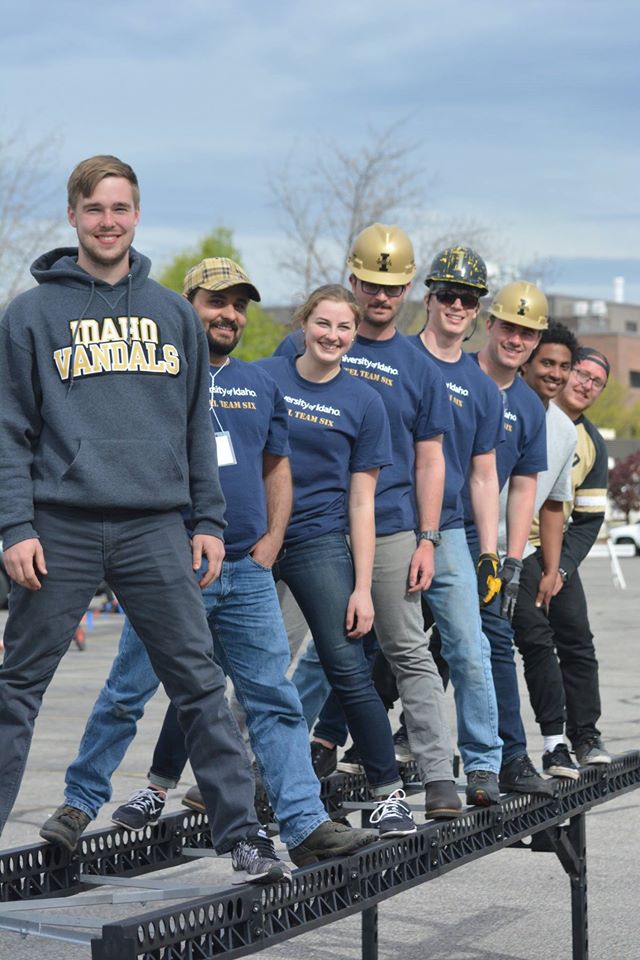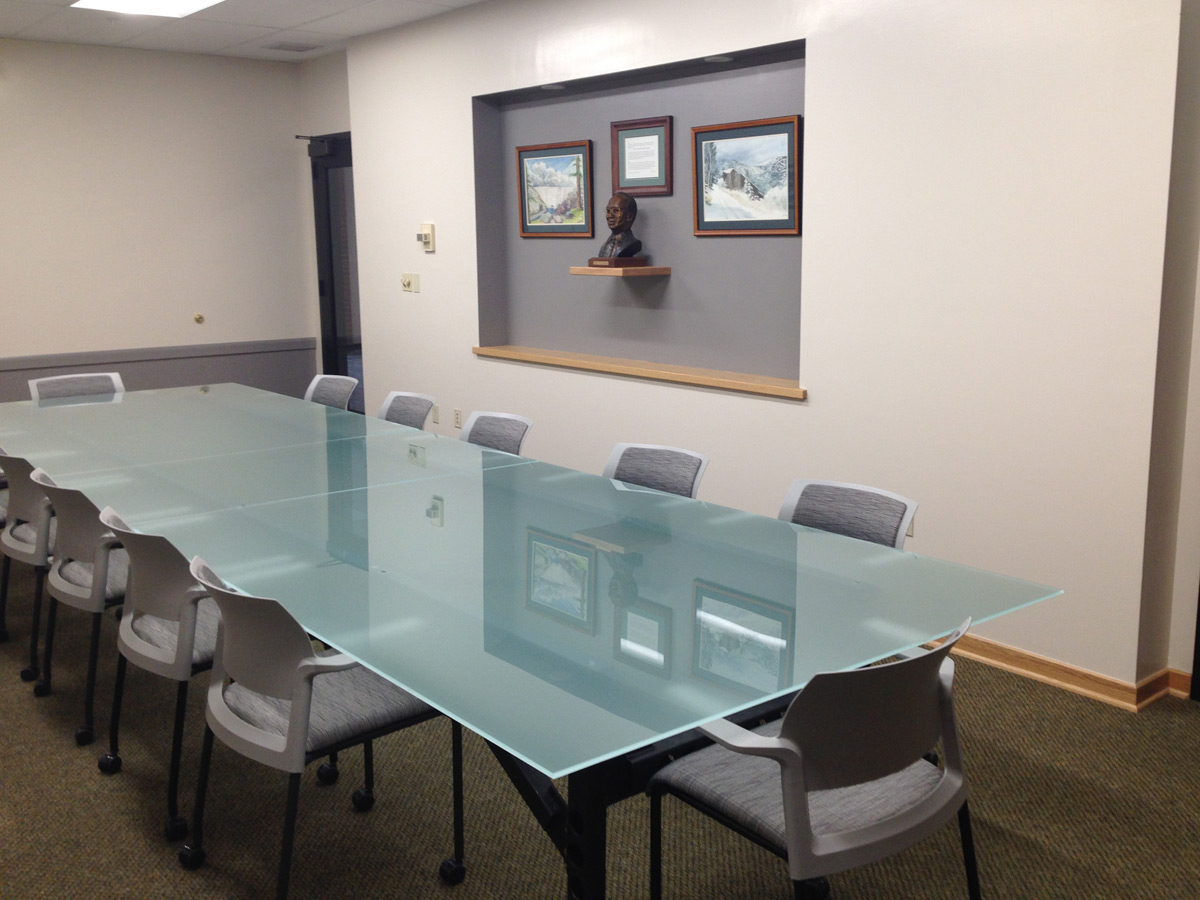 Stay In Touch
If you have comments or suggestions about our newsletter, please contact us at our new email address: cee@uidaho.edu
As always, your feedback and other inquiries are welcome. If you plan to be in Moscow, please let me know. I would be happy to personally welcome you back to campus and to the department!
Sincerely,
Patricia J.S. Colberg, Ph.D., P.E.,
Professor and Chair
colberg@uidaho.edu
Second Annual Michael Kyte Distinguished Lecture set for Sept. 28
The second annual Michael Kyte Distinguished Lecture is scheduled at 4 p.m. on Thursday, Sept. 28 2017 in the IRIC Atrium on the Moscow campus. A pre-lecture reception will start at 2:30 p.m. in the same location. The second speaker in this annual celebration of Professor Emeritus Michael Kyte's extraordinary career is Peter Koonce. Koonce is considered one of the most progressive transportation engineers in the United States. He manages the City of Portland's Division of Signals, Street Lighting and Intelligent Transportation Systems. The title of Koonce's talk is "Designing Cities in the 21st Century: Aligning What We Know with What We Need". Professor Kyte joined the U of I Faculty in 1986 and retired in December 2015. The lecture is sponsored by the Department of Civil and Environmental Engineering. For more information, contact Linda Moser at lmoser@uidaho.edu or 208-885-6782.
Michael Kyte Distinguished Lecture
Sept. 28, 2017
Peter Koonce, P.E., Division Manager, Signals & Street Lighting, & ITS Division at the City of Portland, speaking on designing cities in the 21st Century: aligning what we know with what we need. 4 p.m. in the IRIC Atrium. Reception starting at 2:30 p.m.
Four New Faces on the CEE Advisory Board
The Department of Civil and Environmental Engineering is pleased to announce four new members of its advisory board: David Watkins, project engineer with J-U-B Engineers in Moscow; Lynne Chicoine, capital program manager with Water Environment Services in Oregon City, Ore.; Luke Landriani, senior engineer with GeoTek in Meridian, Idaho; and Dave Kuisti, district engineer with ITD in Lewiston, Idaho. The faculty are especially grateful for the many years of service by our four outgoing board members whose time and talent in guiding the department were acknowledged at an April meeting in Moscow: Krista Brown, TD&H Engineering, Lewiston; Steve James, J-U-B Engineers, Coeur d'Alene; Ryne Stoker, GeoTek, Las Vegas, Nev.; and Blake Rindlisbacher, ITD, Boise. Other members of the advisory board are listed on the department's website.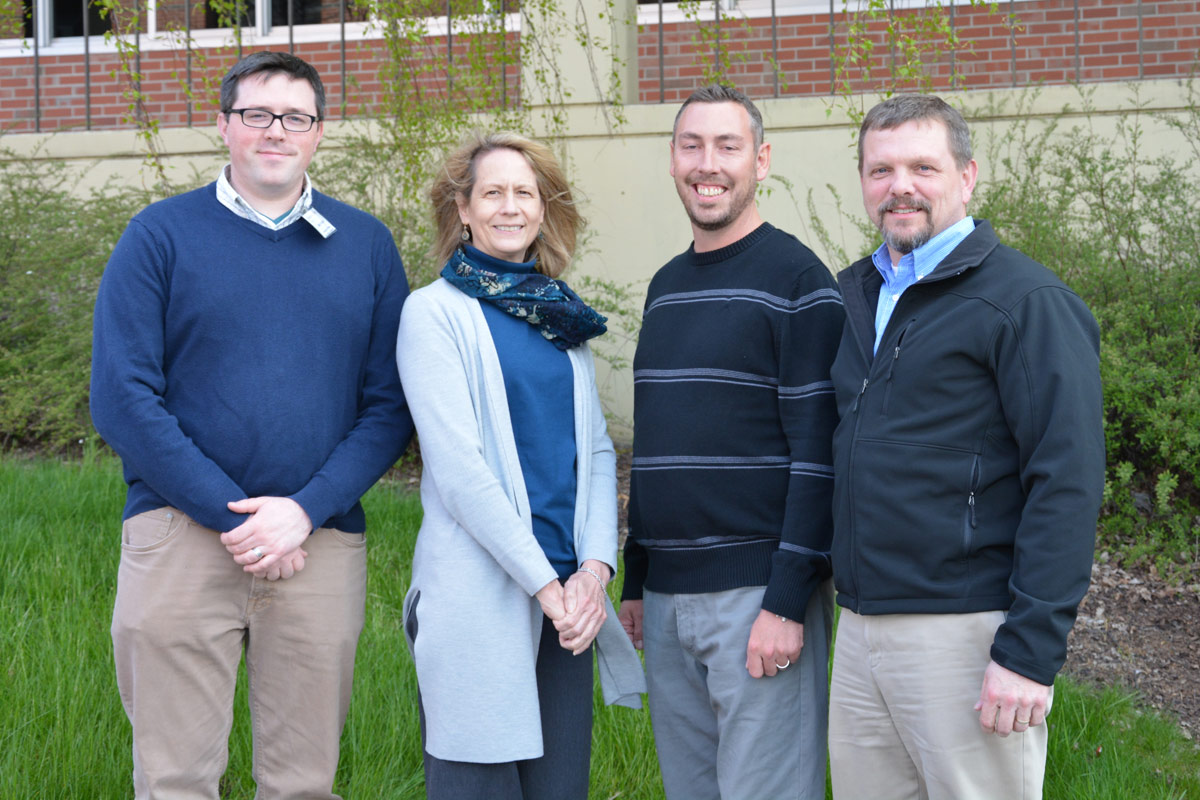 CEE Faculty Member Discovers that River Structure is Key Factor in Greenhouse Gas Emissions
Fossil fuel emissions are well established contributors to global climate change. But seemingly harmless natural sources, like rivers and streams, contribute as well. A research team led by CEE Associate Professor Daniele Tonina has found that the form and structure of rivers and streams are important factors in greenhouse gas emissions. Microbial communities in streams and rivers uptake nitrogen compounds, then release nitrous oxide (N2O), a gas that makes its way into the air. Nitrous oxide is a greenhouse gas and air pollutant. The team studied rivers and streams of different sizes and shapes and in different biomes and climatic conditions across the globe in an effort to better understand the role of surface and subsurface processes in the emission of nitrous oxide.
"Rivers produce 10 percent of the entire human-caused nitrous oxide emitted in the world," said Tonina, who conducts his research at the Center for Ecohydraulics Research at the University of Idaho in Boise. "Considered over a 100-year period, it has 298 times more impact per unit mass (global warming potential) than carbon dioxide."
Current equations used to predict nitrous oxide emission levels do not take river morphology into consideration. Tonina and his team's research provides insight into why all rivers do not produce the same amount of N2O. Interestingly, their findings suggest that small rivers produce more N2O than larger ones. In streams, most of the N2O is produced in the near subsurface and at the interface between the water and the sediment; in larger rivers, most of the N2O is produced at the water-sediment interface and in the water column.
Collaborators on this research included U of I postdoctoral researcher Allessandra Maarzadri and scientists at the University of Notre Dame and the University of Trento in Italy. The work was published last April in the Proceedings of the National Academy of Sciences.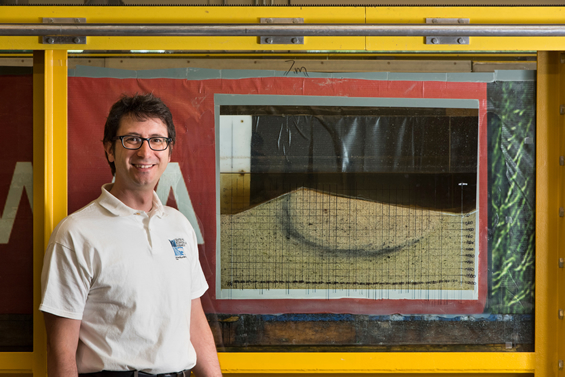 Faculty Select Outstanding Juniors and Seniors for 2017
The CEE Faculty once again had the challenge of selecting the two outstanding students for 2017. There were many worthy candidates, but only one junior and one senior were selected. The 2017 Outstanding Junior award recipient was Monica Erickson (Snohomish, Wash). Karina Eyre (Parker, Colo.), who received last year's outstanding junior award, was named 2017 Outstanding Senior. Erickson spent the summer as an intern with PCS Structural Solutions in Seattle, while Eyre has started a master's degree program in environmental engineering at Michigan Technological University.