Making Tendon Cells Grow and Brain Disorders Scarce
Science and Engineering students research solutions to serious health challenges thanks to Beckman Scholars Program
After taking watch on the USS James E. Williams off the coast of Somalia, LeeAnn Hold prepared to lift weights for the remainder of the afternoon. An electronics technical petty officer third class in the U.S. Navy, Hold looked forward to weight training on the destroyer ship she called home.
After a few reps of calf lifts, the ship hit a seven-foot wave and a 180-pound barbell fell to the deck, pinning her underneath its weight. Hold struggled to get off the floor and tore her rotator cuff in the process. Far from land, Hold was stuck on board with her injury until the ship made it back to base.
Now a student at the University of Idaho, Hold is researching tendon formation to find a cure for herself and others with tendon-related mobility issues.
A sophomore in the biological engineering program, Hold is one of the first two undergraduate students who will spend the next 15 months on a research project she is passionate about.
Hold was chosen to receive the Beckman Scholars Award, a prestigious undergraduate research fund given to 12 universities and colleges around the country.
As one of U of I's first Beckman Scholars, Hold has been overwhelmed with the opportunities she has received. She said many of her friends from the Navy have decided to attend U of I after learning Hold has had the chance to perform research as an undergraduate. However, most of her Navy friends are even more excited at the prospects of having their tendon injuries cured.
"Tendon need to be sewed back together and never fully regains the mechanical properties it had before it ruptured," Hold said. "My goal is to create normal functioning tendon replacement."
Alexandra Flores, a senior at U of I studying biochemistry, has also been selected as a Beckman Scholar for the 2018-19 school year.
"I am so grateful that the Beckman Foundation chose our school," Flores said. "I'm thankful for my mentor, the U of I faculty and students for supporting young people, especially women, in science."
Receiving the award enables Flores to work on a research project with personal meaning. With a family history of mental illness, Flores is studying the brains of mice to look for any gene patterns with a connection to neurological disorders.
"My brother struggles to find a treatment for his depression that works well over time," she said. "That's why I was interested in researching the genetic components of mental disorders to find a model for treatment."
Eventually, with help from her mentor, Flores wants to create drugs that can "turn off" certain genes to cure or prevent the spread of neurological diseases, specifically autism.
After her 23-year-old roommate with autism died last September, Flores began to focus on researching treatments for the condition.
"Autism is very common — it affects 1 in 68 children," she said. "Current treatment focuses on therapy and lacks medical treatment for the disorder itself. So, I think it's a really important research topic."
Receiving the Beckman Scholars Award has inspired Hold to become a professor and Flores to obtain a doctorate from U of I to continue her research on autism.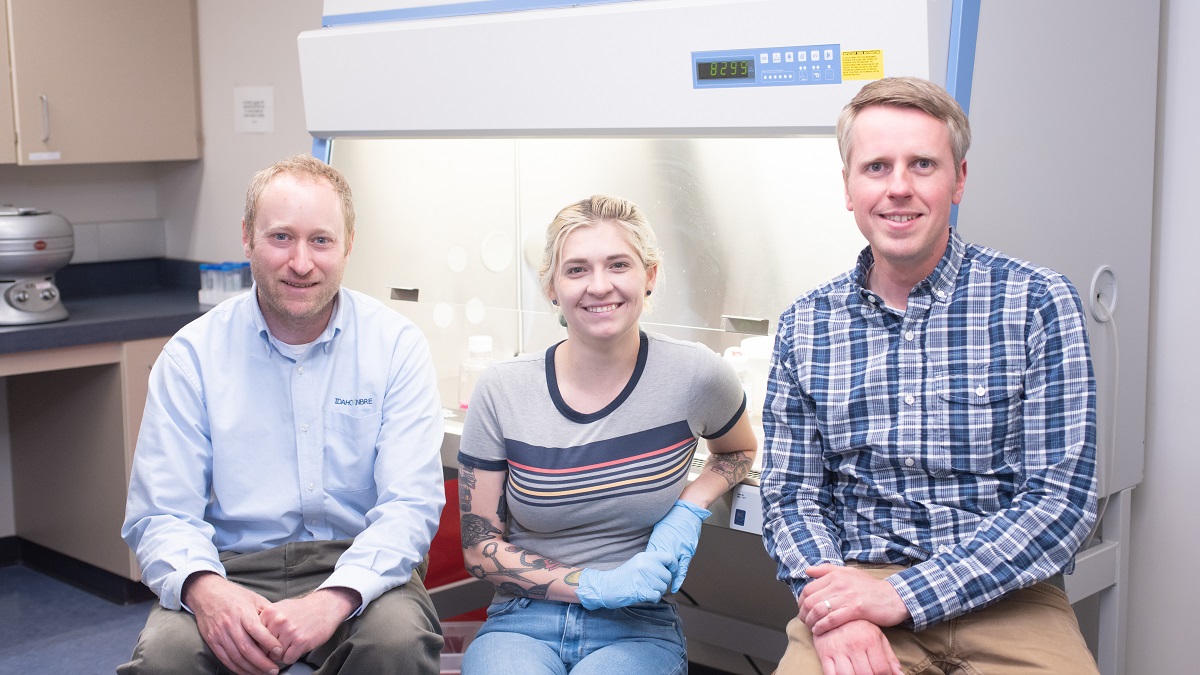 New Program, New Possibilities
Every year the Arnold and Mabel Beckman Foundation identifies colleges and universities with nationally recognized undergraduate research programs. After a rigorous application process, U of I was chosen as one of the 12 collegiate recipients of the Beckman Scholars Award. Students who meet certain criteria can then apply to participate in the program.
"Alexandra and LeeAnn truly stood out, not only for their firm grasp of their proposed projects, but also for their great potential to develop into outstanding leaders in science-related careers," said David Pfeiffer, director of U of I's Office of Undergraduate Research.
Arnold Beckman, scientist, inventor, philanthropist and founder of Beckman Instruments and Beckman Coulter Inc., established the fund with his wife in 1998. The program has since awarded more than $27 million to about 1,300 undergraduate students.
Independent-Minded Research with Direct Faculty Support
Hold and Flores will receive up to $21,000 as they work on their projects over the next 15 months. Their mentors will receive additional funds to assist the students with supplies, publication fees and conference fees.
The students and their mentors will also travel to Irvine, California, to present their projects at the Beckman Symposium, a daylong event for scientists and students to share knowledge and form new collaborations.
Hold and Flores will spend at least 40 hours a week in the lab during the summer months. When school begins in the fall, they will work 10 hours a week in the lab in addition to their full-time course load.
Equipped with modern tools and even some technology made by past students, Hold and Flores are excited to be conducting research in their respective U of I labs.
"I've seen other universities that don't let their students pick their research products or even provide research opportunities for undergrads," Hold said. "As a University of Idaho student, I have all these opportunities to stay motivated and collaborate with faculty, but I am still able to work independently and become a successful researcher."
"My brother struggles to find a treatment that works well over time. That's why I was interested in researching the genetic components." Alexandra Flores, biochemistry major
Turning Potential into a Promising Future
"I love working with good students with good personalities," said Peter Fuerst, associate professor of biological sciences in the College of Science, who serves as Flores' mentor. "I've loved seeing Alexandra gain hands-on experience and become a more confident presenter and researcher as a Beckman Scholar."
To receive the award, each student had to create a scientific research proposal and submit it to a panel of U of I faculty, including Pfeiffer, who oversees U of I's Beckman Scholars Program.
"After my presentation, I just thought, 'no way am I going to be awarded the Beckman,' " Hold said. "My mentor and other faculty really have pushed me to succeed. I didn't know anything about research before, and now I have the opportunity to research in a great lab with a great mentor and a historic program behind me."
The research process itself is no easy task. Each of their projects come with a specific set of difficulties.
"Stem cells can become almost anything," said Nathan Schiele, associate professor of biological engineering in the College of Engineering and Hold's mentor. "Controlling them to become tendon rather than bone or fat is very difficult."
For Flores, one of her most difficult tasks is transferring research on rodent brains to human brains.
Regardless of the challenges, both students are excited to share their findings with the scientific community next summer. But they are even more excited to become future full-time scientists.
Article by Rosemary Anderson, University Advancement
Published in June 2018