Class of Spring 2021
Congratulations to all our Spring 2021 graduates! Use the gallery below to read more about just a few of the more than 200 Vandal engineers who graduated this semester!
Previous
Next
Hope De Avila
Biological Engineering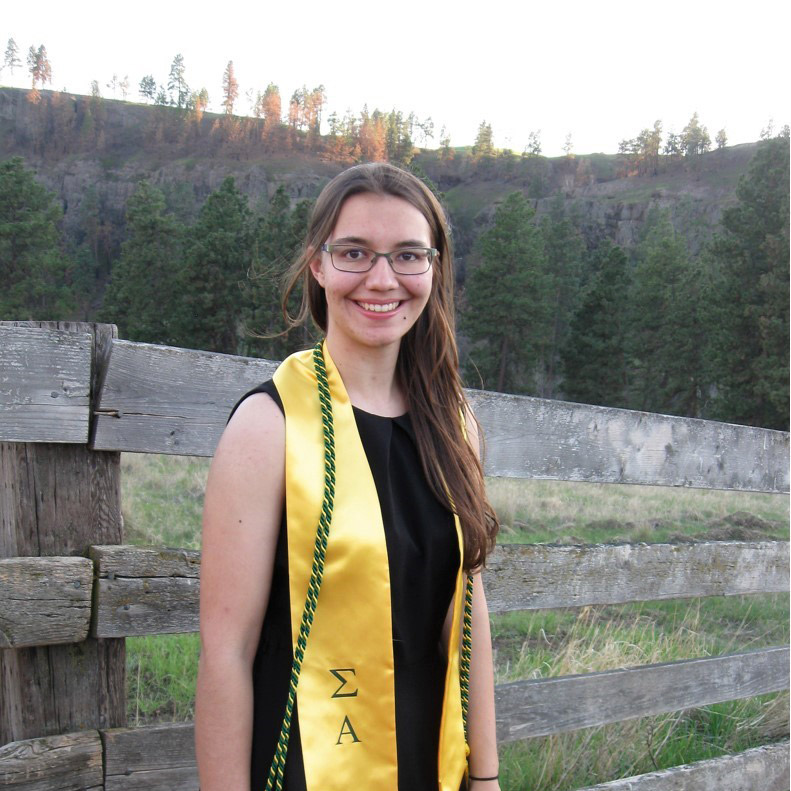 "Engineering is using math, science and a whole lot of ingenuity to find better solutions to current problems." – Hope De Avila, Biological Engineering Class of 2021

Hope will be pursuing her master's degree before starting her career as an agricultural engineer. At U of I, she was a key player in the University of Idaho Virtual Fence Project, an interdisciplinary team working to design a better virtual system for livestock without traditional fencing, a GPS signal or cellular service.

"It was wonderful to work on a project that combined my passions: engineering, research, and agriculture - namely cows," she said.

Hope grew up in Colfax, Washington. She funded her college experience through scholarships, including the WUE Diversity Scholarship, the John and Gwendolyn Moore Scholarship, Robert and Alvena Deerkop Scholarship, James and Beulah Martin Biological Engineering Scholarship, Clarence and Jane Peterson Biological Engineering Scholarship, Taylor Service Scholarship, Ruth and Royal B. Irving Scholarship, among others for ASUI leadership, the Alumni Association, honors program and more!
Hunter Hawkins
Computer Science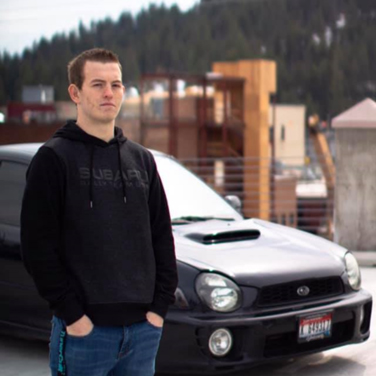 "Engineering all comes down to solving problems for the betterment of society. With my father also being a Vandal engineer, I have grown up knowing that with some innovation, perseverance and creativity, anything is possible." - Hunter Hawkins, Computer Science Class of 2021.

As a NASA intern while attending U of I, Hunter worked with mechanical engineering doctoral students to automate the process of covering and sealing a 36-inch diameter mock tunnel. With a little prior knowledge of mechanical systems and what he learned in class, Hunter came up with a creative solution using the scissor-like joints of a Hoberman Sphere.

In college, he enjoyed many opportunities outside of academics, including being an officer in the Automotive Enthusiast Club and working two of his favorite jobs, helping other students with coursework in the Computer Science Assistance Center and the Polya Mathematics Lab.
Grace Frazier
Mechanical Engineering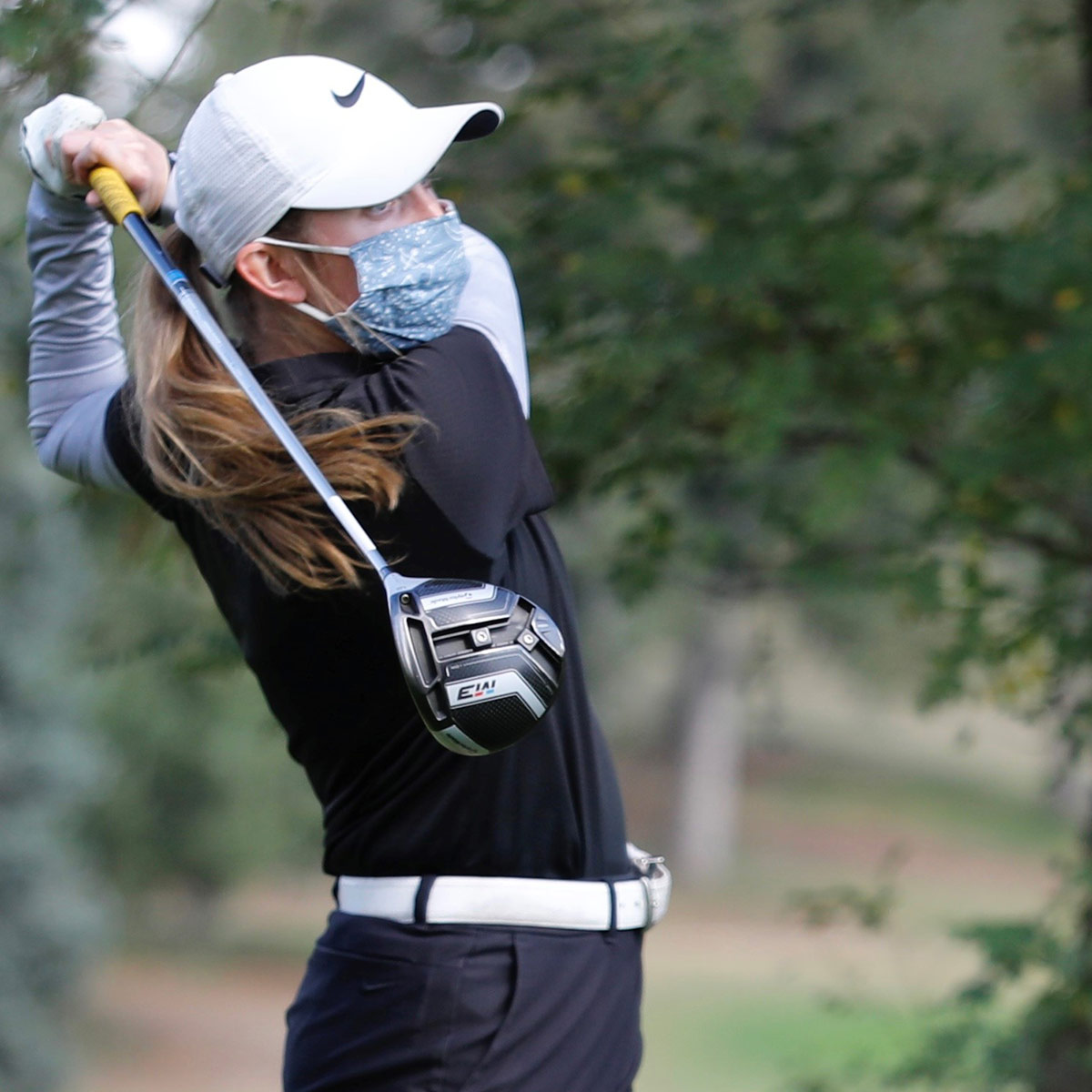 Hometown: Clarkston, WA

"Engineering is what makes change in the world. We as engineers get to take the wild and crazy ideas and create them!"

During her internship with battery cell developer KORE Power, Grace Frazier was able to work up close with lithium-ion batteries and develop an understanding of the importance of renewable resources with regard to energy storage solutions.

Working as a team, she developed battery housing solutions by tapping into her experience using Solidworks in class.

A member of the Idaho Vandals Women's Golf team, Frazier received a full athletic scholarship and additional academic scholarships for the duration of her college career.
Nikki Lorvick
Civil Engineering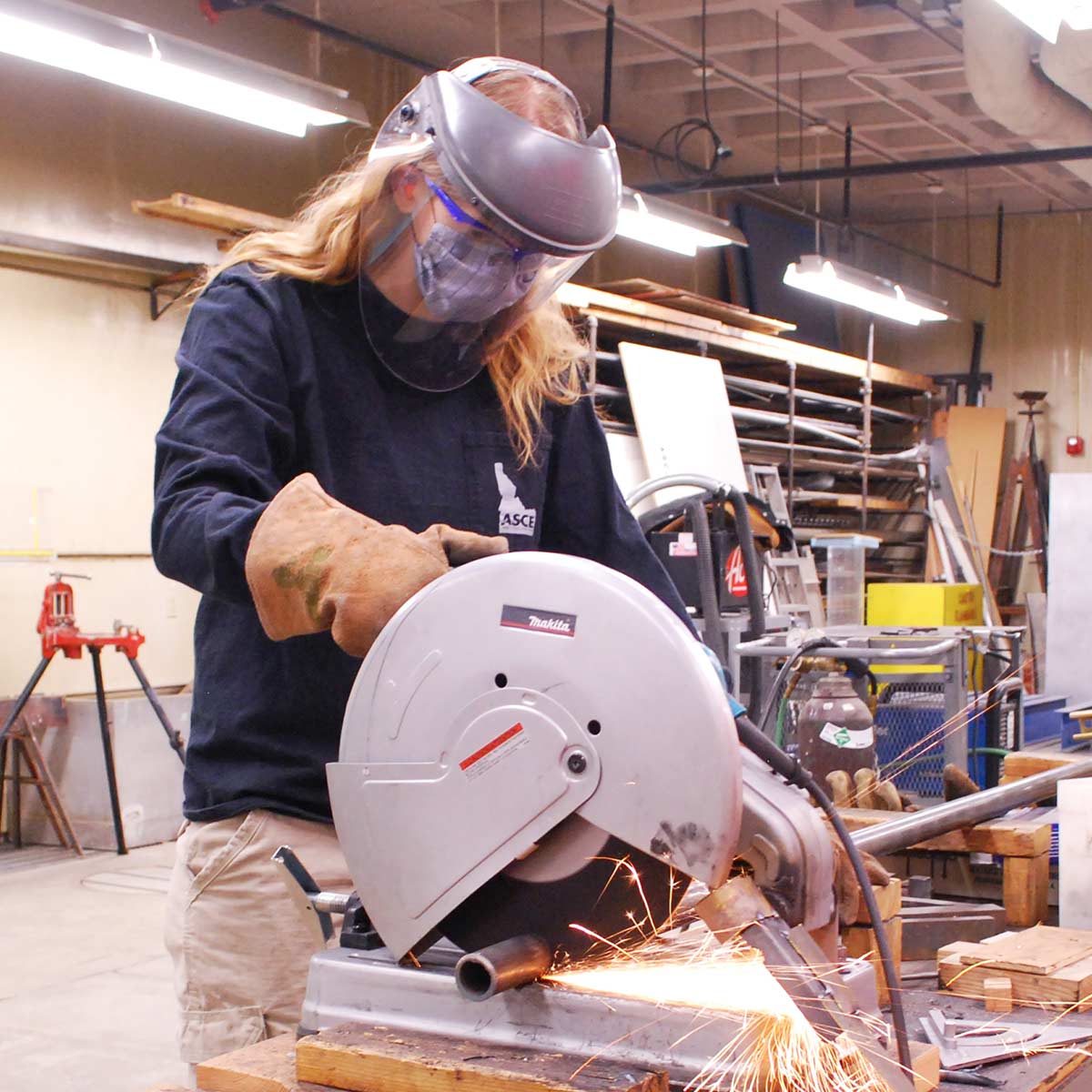 Hometown: Seattle, WA

"Engineering is using problem-solving skills to design, build, and improve elements of society to help others." – Nikki Lorvick, Civil Engineering Class of 2021

Nikki Lorvick has accepted a position with the U.S. Army Corps of Engineers in their Structural Design Section.

She said clubs like the American Institute of Steel Construction (AISC) Steel Bridge Competition team have given her opportunities to explore engineering beyond the classroom, learn a lot of new skills and network with industry professionals.

She received the Western Undergraduate Exchange Program (WUE) scholarship, Boeing Company Scholarship, ASCE Inland Empire Scholarship, Stuart & Kathryn Fader Scholarship, Hogue Family Centennial Civil Engineering Scholarship, and scholarships from the U of I Honors Program and College of Engineering.
Adriana Bryant
Chemical Engineering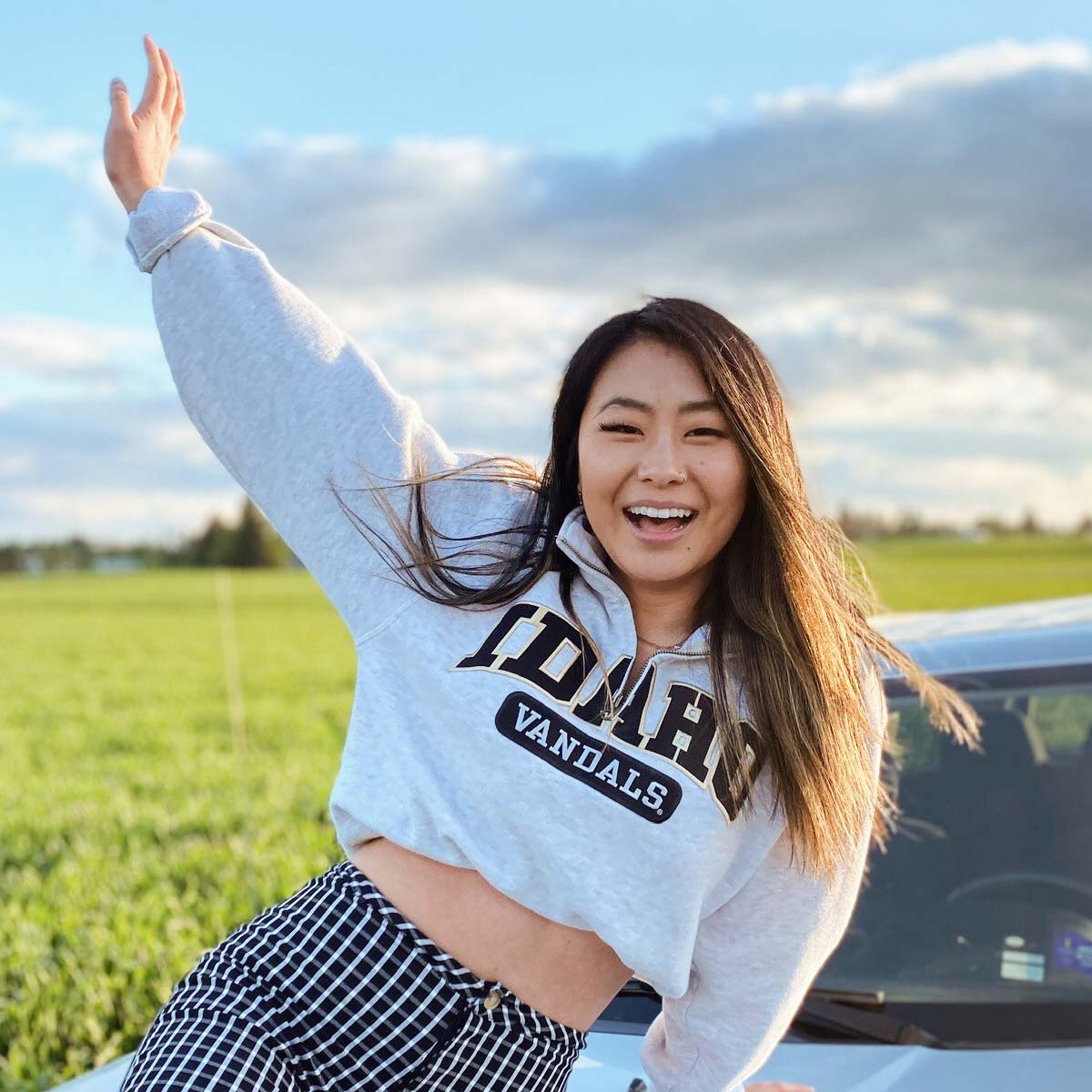 Hometown: Meridian, ID

"Engineering is all about problem-solving. During my undergrad here at the U of I, I feel like I have learned the tools to change the world. Engineers better humanity's quality of life, and I love feeling like I am making a difference."

Adriana Bryant is pursuing her Masters in Environmental Engineering at the University of Maryland this fall.

"After working in industry, I have witnessed the potential for implementation of sustainable practices," she said. "I believe global climate change will have a large impact in the way resources and energy is allocated in industrial facilities. I want to continue my education to further understand these implications and how I can help in the future."

In her chemical engineering senior lab, she learned about complex engineering topics and applied the knowledge to real systems such as a distillation tower, continuous stir tank reactor, and a heat exchanger.

She received the Go Idaho! Vandal Pride Award, Dwight Hoffman Scholarship, Margaret Kinyon Pi Beta Phi Scholarship, Bonnie Wallis scholarship through the Honors College, and the Leadership/ASUI Scholarship.
Isabel Hinkle
Computer Science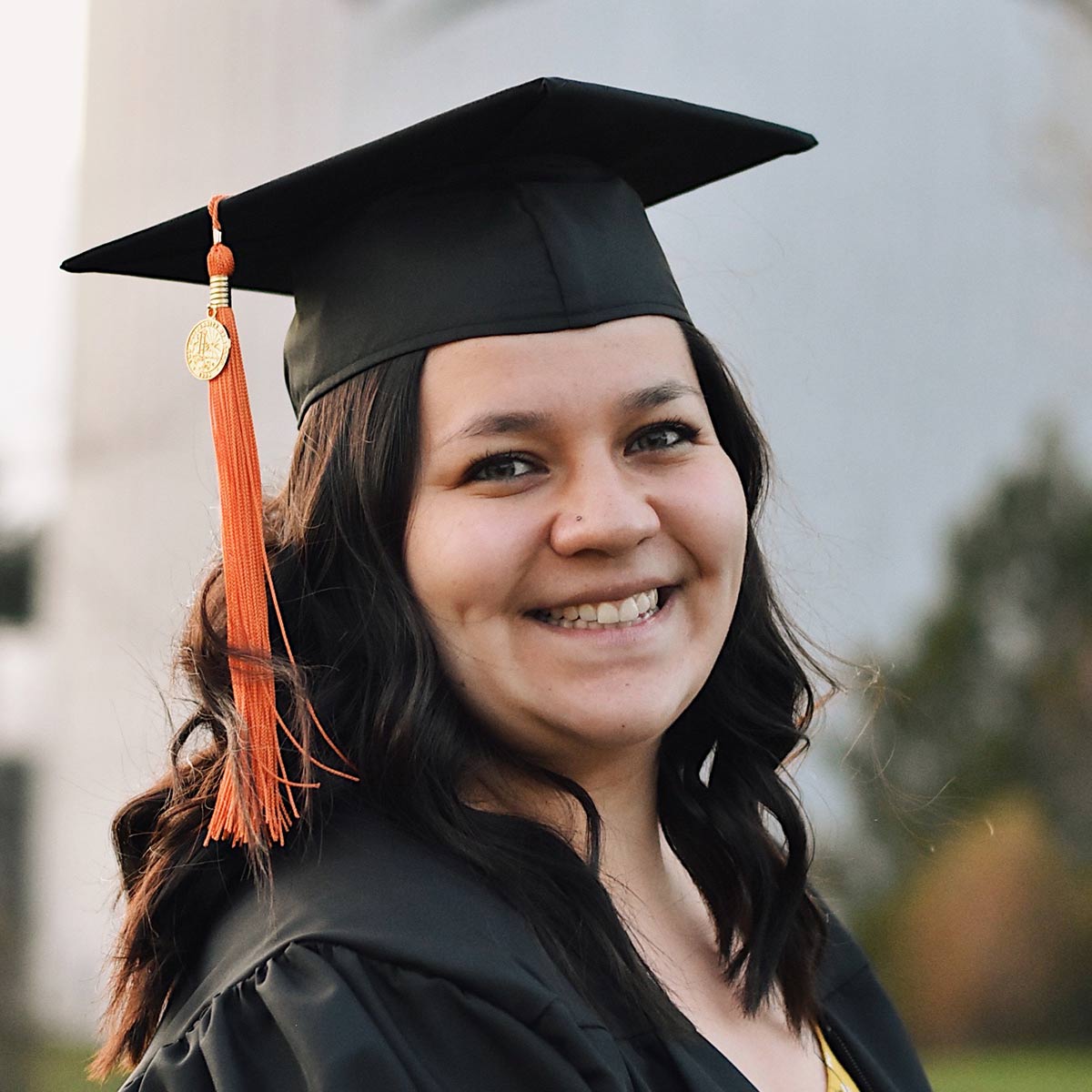 Hometown: Coeur d'Alene, Idaho

"Engineering is being excited to design and implement new solutions to problems or come up with ways to enhance old solutions." – Isabel Hinkle, Computer Science Class of 2021

After graduation, Isabel will be pursing job offers and joining the CyberCore Summer Camp team at the Idaho National Laboratory.

Hinkle is part of the CyberCorps® Scholarship for Service Program (SFS). U of I is one of a few universities nationwide participating in the SFS program, funded through the National Science Foundation. The program covers tuition and fees, and undergraduate students earn a stipend of $25,000 while earning their degree to train for cybersecurity positions at federal executive agencies.

Hinkle's capstone design project involved building a pre-trained artificial neural network to detect various types of crops and weeds. The small computing system, atop a drone, is a more cost-effective and accurate method of agricultural weed control.

"I have learned how to use more features of the Raspberry Pi and have seen all our work come full circle," she said.
Preyusha Aryal
Computer Engineering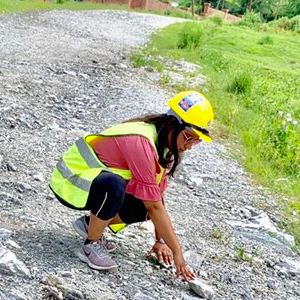 Hometown: Kathmandu, Nepal

"Engineering is a passion for innovating, problem-solving, making things efficient and optimal to bring a positive impact to people and the world!"

Preyusha Aryal interned for Verint, global provider of security and intelligence data mining software, in Spokane Valley, Washington. She developed interactive client-server communication software. She worked with the Django framework, Python, HTML, CSS, AngularJS and jQuery.

As an undergraduate research assistant for the National Institute for Advanced Transportation Technology, Aryal reviewed object identification systems used in smart city traffic control and autonomous vehicle communication.

"With this knowledge, I started working on a personal project of replicating a smart city and how the model would fit in a rural area of Nepal," she said. "I considered different geographies and the necessary infrastructure to bring a difference to people's lifestyles. It was such a wonderful experience and example of the importance of engineering in making a difference."

Her capstone team developed a tangible object recognition system that, using a knob and puck that could interact with a touch screen, allowed users to interface with the screen.

She was part of the Institute of Electrical and Electronics Engineers U of I chapter, the Society of Women Engineers, the Nepali Student Association, a supplemental instructor for Calculus 2 and a tutor. She was also an Engineering Ambassador, engaging with local high school students to get them interested in STEM education.

She received multiple scholarships from the U of I International Programs Office.
Jaden Cavender
Mechanical Engineering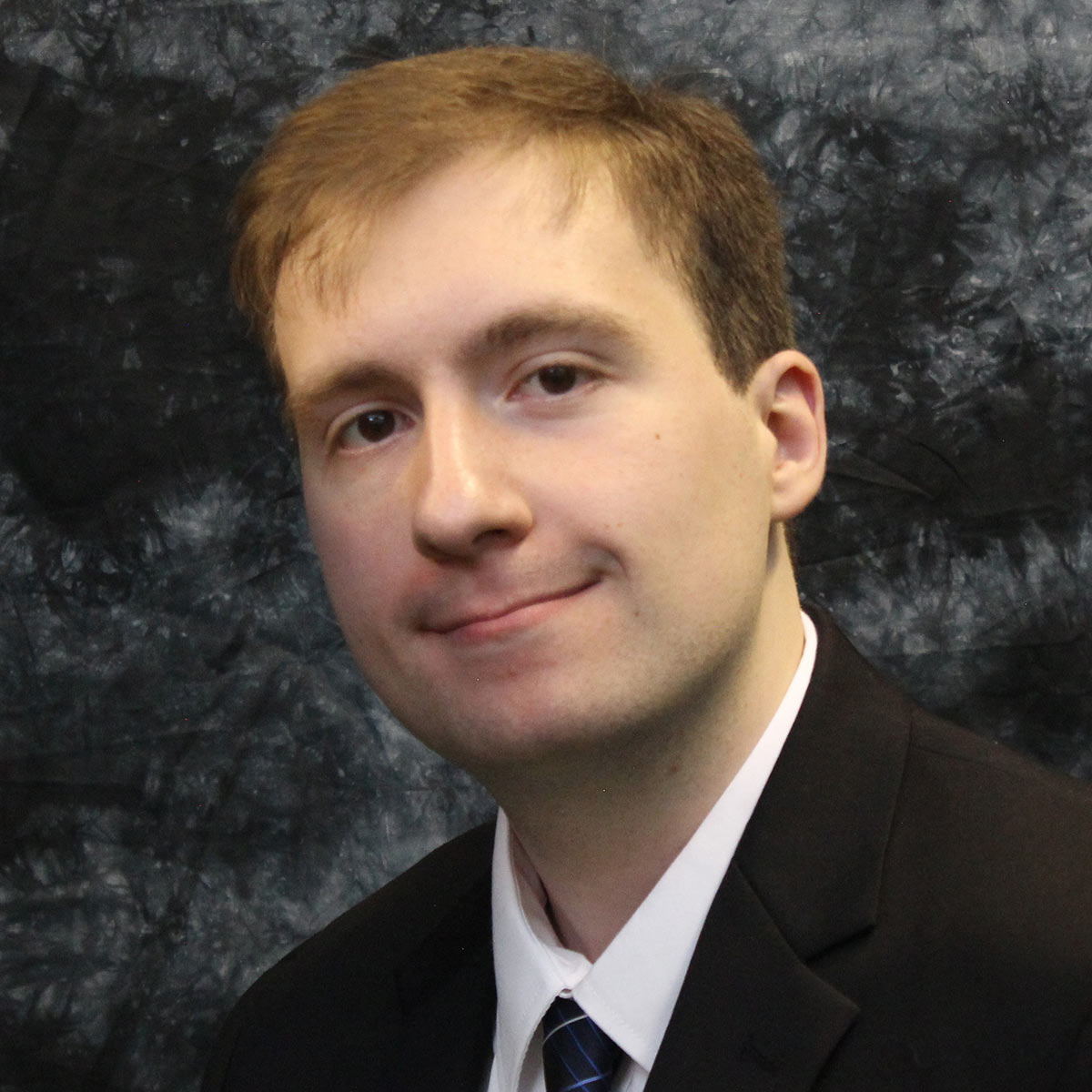 Hometown: Spokane Valley, WA

"Engineering is the ability to understand the fundamental laws and properties of the universe, and to use those laws to design machines capable of making imagination into a profitable reality."

After graduation, Jaden will be working for the Navy at the Undersea Warfare Center based out of Keyport, Washington.
"The reason I became a mechanical engineer was because of my interest in designing weapon systems and tools for military defense. I am very glad that I will be graduating with a job in the career where my passions have always been. Using the skills I have developed at U of I and on the job, I hope to keep our sailors safe in dangerous waters, and to help them return home with joy to their families."

Cavender's capstone project involved building a single-stage water filter to increase efficiency and profitability.

"It introduced me to the importance of using 3D printing for modeling, high-tech simulation equipment, and how to design for large-scale manufacturing," he said.

Cavender received the Gauss Henry F. Memorial Scholarship, Buchanan Jesse Memorial Scholarship, Hatch Miriam Scholarship, Pell Grant, and Brockett David J. Memorial Scholarship.

"I am extremely grateful to each of my donors and would like them to know that they have eased the burden of affording education considerably in my life. Hopefully one day, I can provide for others in the same way they provided for me."
Charlie Dimke
Electrical Engineering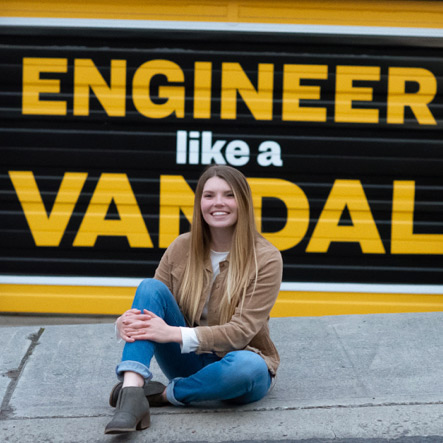 Hometown: Asotin, WA

"Engineering is the opportunity to use your knowledge and creativity to design or improve something to better its use, safety, or sustainability."

After graduation, Charlie Dimke will start her internship with utility company Energy Northwest as an Electrical Design intern.

Dimke's capstone design project involved designing a more affordable, versatile, and an independently ran light attachment to mount to current crosswalk signs to help make crosswalks safer for pedestrians around campus.

In her power electronics class, she also designed from beginning to end a buck and boost converter, a type of DC-to-DC converter that allows input voltage to be lowered or boosted upon output as needed.

She received scholarships from the U of I Alumni Association, Allen S. Janssen and the Boeing Company.


Jessy Faulkner
Mechanical Engineering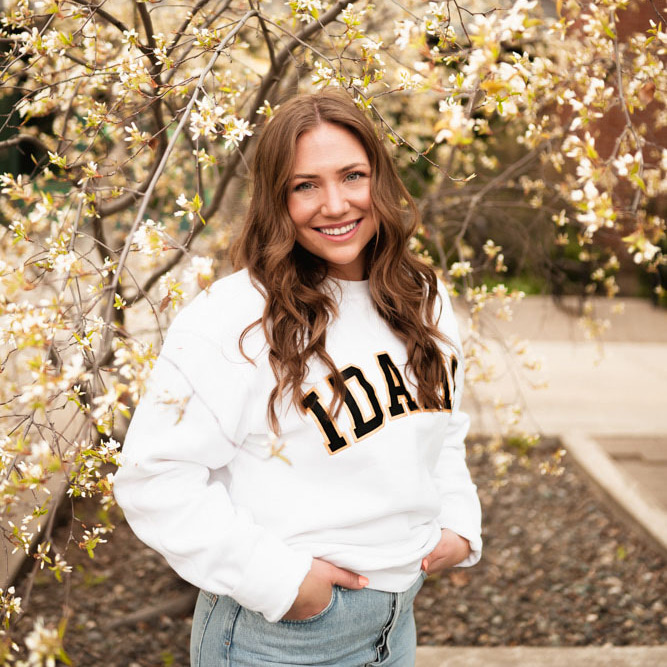 Hometown: Gooding, ID

"Engineering is the field that solves the world's most impactful problems, such as creating renewable energy or creating completely new things."

For the past year, Jessy Faulkner has worked with the U of I Agricultural Mechanics Laboratory, designing and updating laboratory research devices and using computer software for statistical analysis on device-collected data.

She also worked with Hyster-Yale Materials Handling during her capstone design project, creating a gas phase containments filtration device to test filters for containments to protect fuel cells used in the company's forklifts.

She received the GEAR UP Idaho Scholarship, Vandal Excellence Academic Achievement Scholarship, U of I Gear Up Idaho Grant and the Idaho Opportunity Scholarship.

After graduation, she plans to return to southern Idaho to work before returning to college to study law.


Victoria Gehring
Computer Science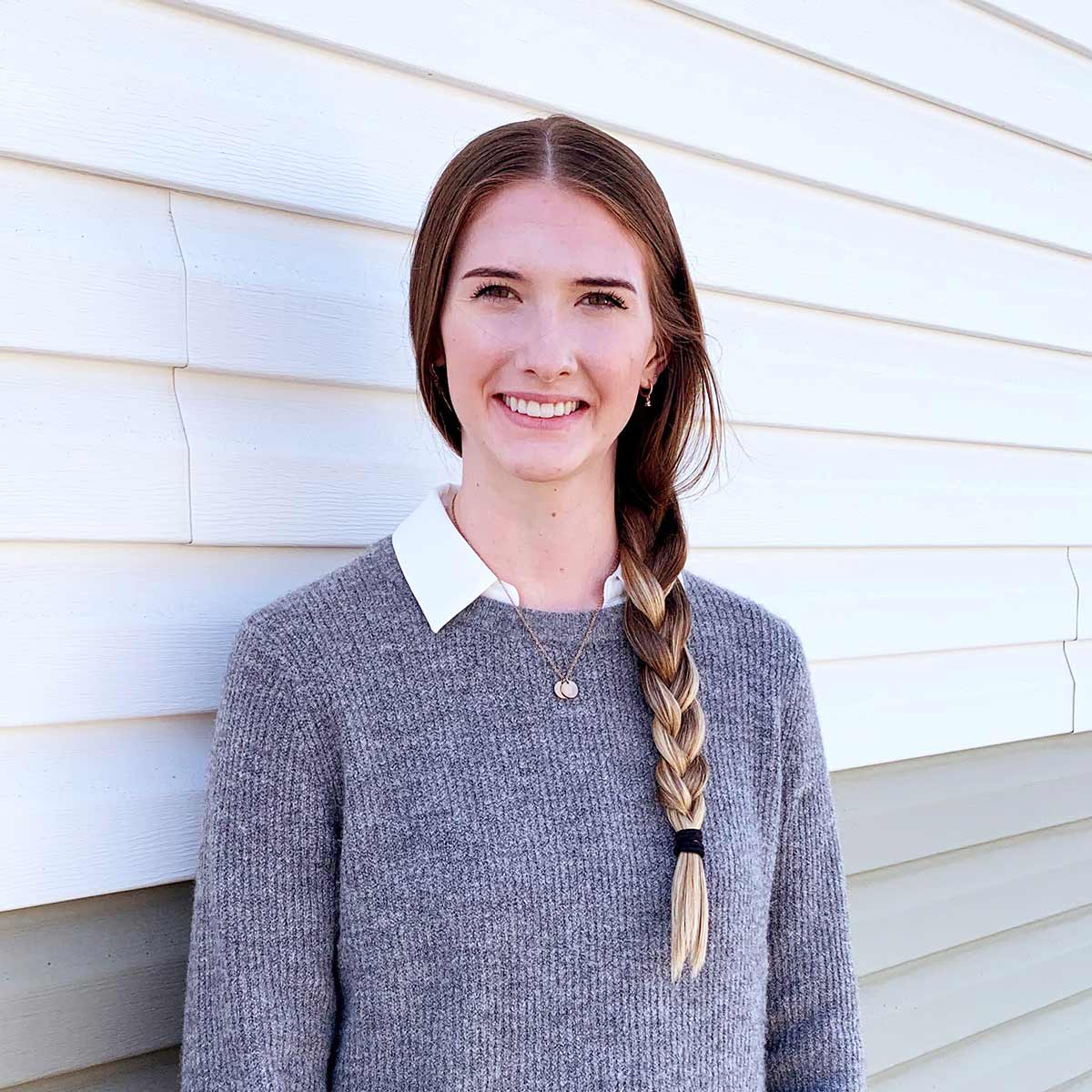 Hometown: Meridian, Idaho

"Engineering is systematic problem solving. It means using a mix of logic and creativity to solve pressing issues or to improve existing processes."

After graduation, Victoria Gehring will start as an associate software engineer for Schweitzer Engineering Laboratories, where she also interned while in college.

Gehring's capstone design project involved building a pre-trained artificial neural network to detect various types of crops and weeds. She learned how to train object detection models to identify various weeds in real time.

Gehring held another internship at HP, where she said she developed software engineering skills and explored topics within machine learning, optimization and automation.

She received the Schweitzer Engineering Laboratories Scholarship.
Andrew Hartman
Computer Engineering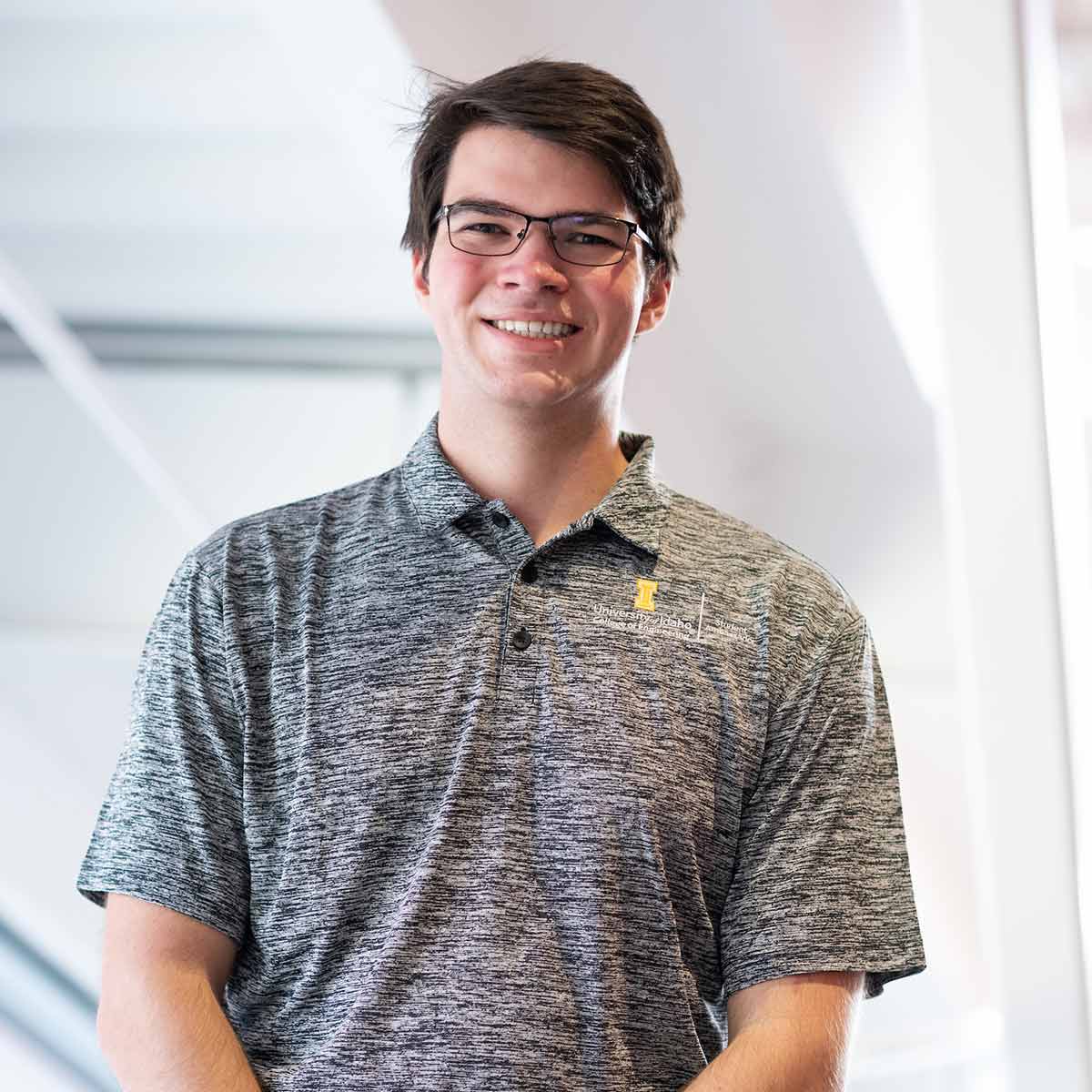 Hometown: Eagle, ID

"Engineering means learning how to solve problems using science and technology, whether that be figuring out how to program a control system, designing airplane parts, or creating a chemical process used in manufacturing."

After graduation, Andrew Hartman will be moving to Boise to begin his job as a software engineer at telecommunications company Cradlepoint.

While in college, he interned with Landmark Industrial Service, working on industrial automation systems.

"I got to go onsite to factories and other facilities to install and run my work, which was really exciting to get to see," he said.

As an Engineering Ambassador, Hartman said he has had the opportunity to teach and help others, working hands-on with high school students, getting them interested in U of I. He has also been a TA for multiple electrical engineering labs.

He received the Go Idaho Platinum Scholarship, the Belko, Stephen and Katherine C Education Scholarship, Crane, Stephanie Honorary Scholarship, Honors Scholarship Endowment, Zaring, Edward L. and Alice Peterson Scholarship, Whitehead, Darrell G. Electrical Engineering Scholarship, Smith, and the H.S. Memorial Scholarship.


Mohamed Hassan
Electrical Engineering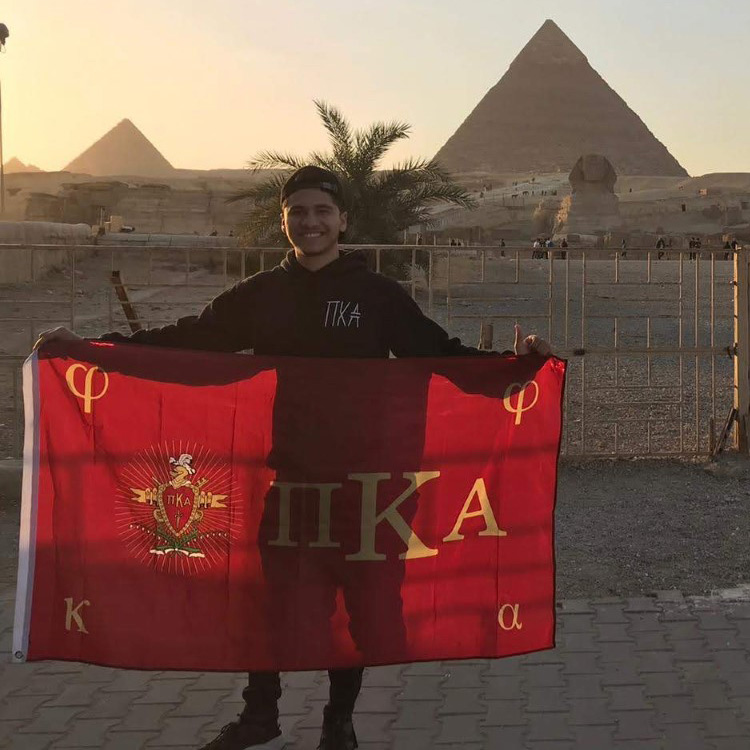 Hometown: Cairo, Egypt

"To be a good engineer, you have to be a problem-solver, a creative thinker, a good communicator, and a team player. I've always been curious about how everything around us works since I was a kid, which makes electrical engineering the right major for me."

While in college, Hassan interned as a product engineer at Micron Technology.

"Writing scripts and running simulations with a great team in a multinational company added a lot to my learning experience at U of I," he said.

An undergraduate research assistant for the National Institute of Advanced Transportation Technology (NIATT), Hassan said he gained a lot of experience working closely with U of I professors and grad students on several projects involving smart cities in urban areas, evaluating traffic lights using an inductive loop, and assessing the efficiency of autonomous vehicles for different companies.

Hassan's senior design team created an electroencephalogram (EEG) device to measure brain activity in a cheap and accessible way.

"I loved this project, because it attracts more people to neurology and STEM," he said. "Our project will be passed to high school students of Moscow."

His role within his fraternity, Pi Kappa Alpha, helped him raise his GPA from 2.8 to 3.24 while working closely with friends.

Hassan received scholarships from his department, the International Diversity Tuition Waiver, and the Discover Idaho Scholarship.

Hassan said his work as a teaching assistant got him ready for graduate school, and he plans to pursue his master's degree upon returning to his home in Cairo, Egypt.
Graeme Holliday
Computer Science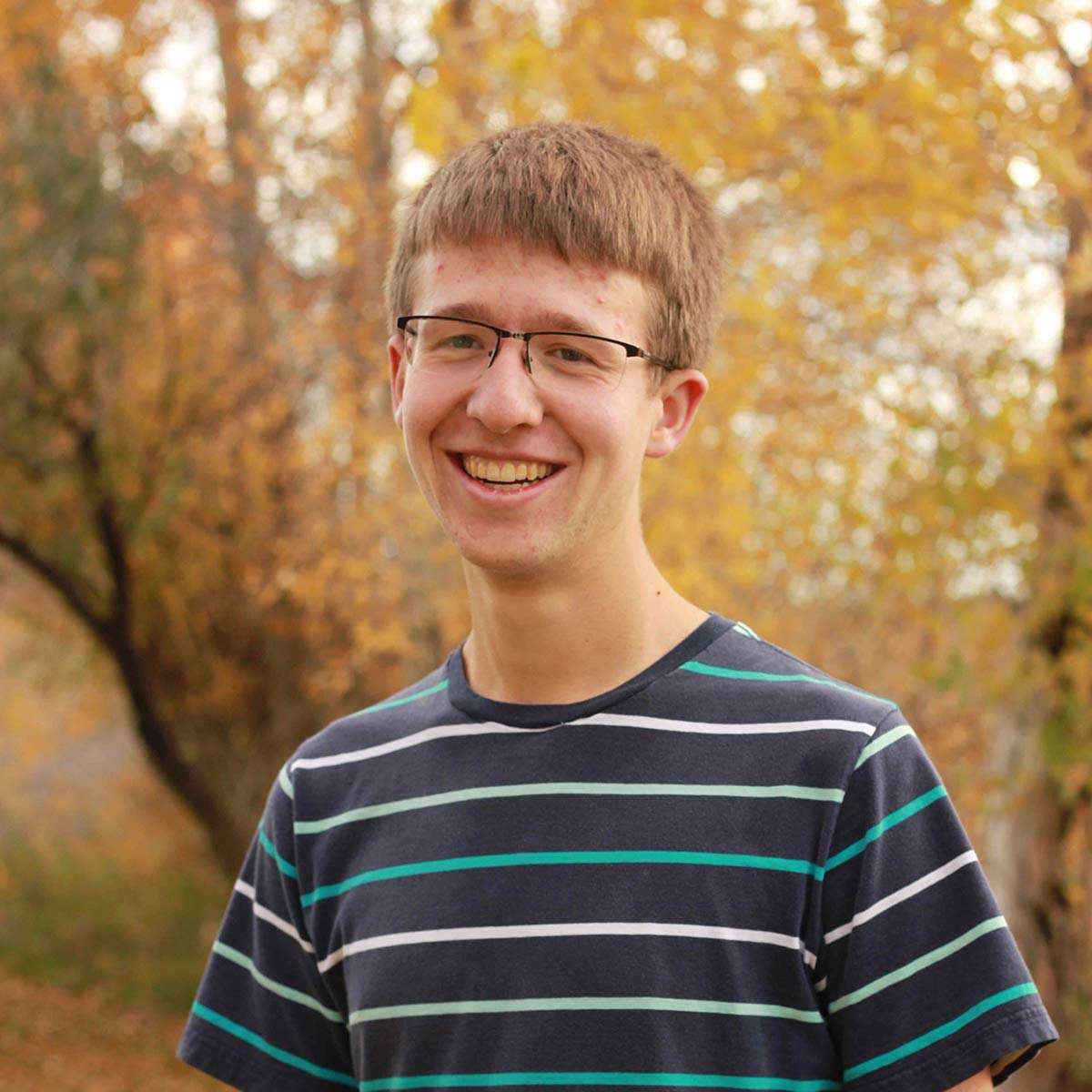 Hometown: Idaho Falls

"I think engineering is all about problem-solving. Within the field of computer science, that usually looks like coming up with ways to build a product that is secure and efficient, and also tackling the bugs when they inevitably come up."

While interning with Idaho National Laboratory in college, Graeme Holliday said he was able to participate in a lot of machine learning and scientific computing projects, which led him to discover his interest in artificial intelligence and going to graduate school.

A National Merit Scholar, Holliday plans to head to Ecuador after graduation for a year to work with Christian organization Cru. After that, he plans to pursue graduate school or employment as a data scientist or machine learning engineer.


Cameron May-Penelerick
Civil Engineering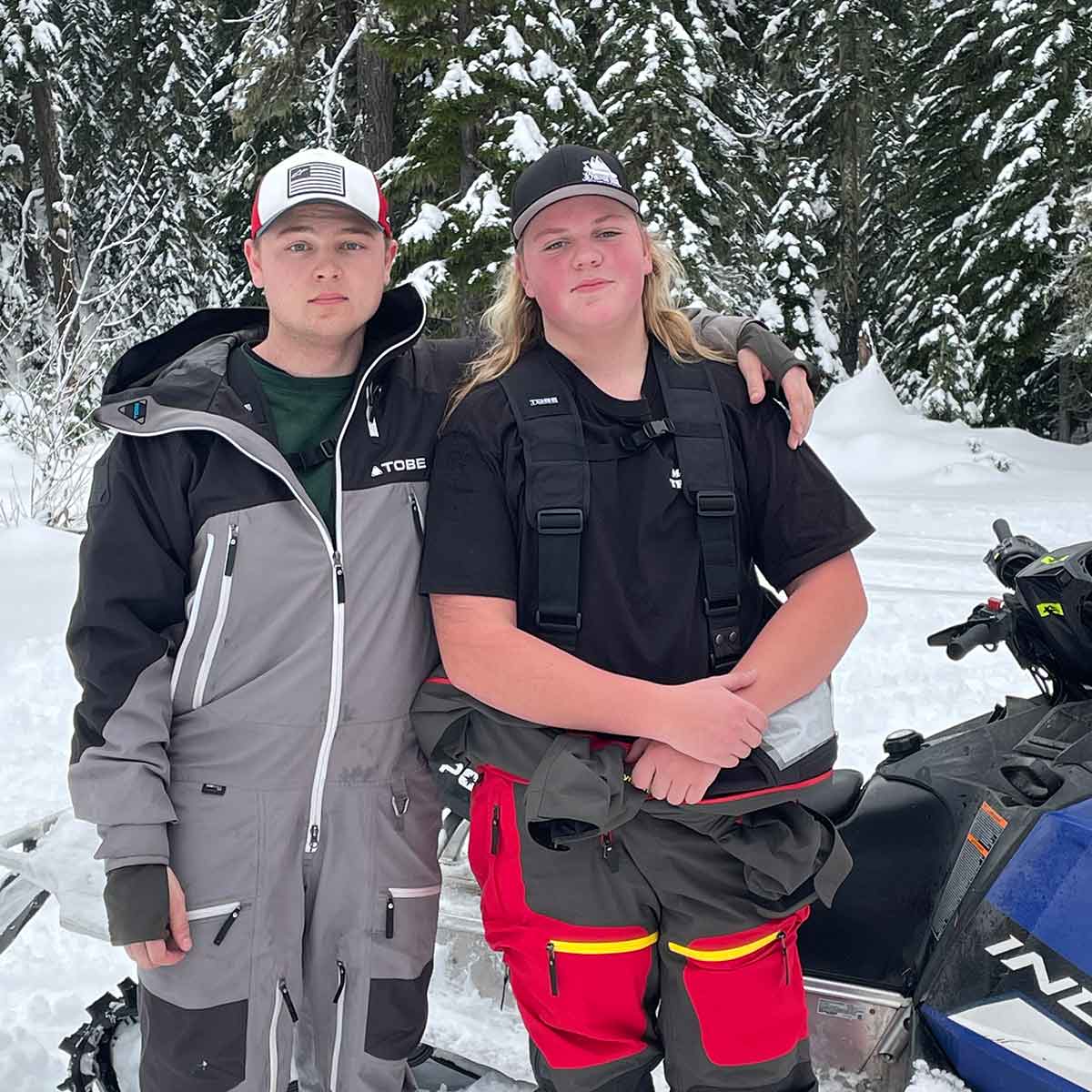 Hometown: Cle Elum, Washington

"Engineering is taking a system that is failing or not performing in an optimal manner and coming up with an innovative way to make the system more efficient."

After graduation, Cameron May-Penelerick will start his full-time job with leading consulting firm J-U-B Engineers in Boise, Idaho. He interned with J-U-B while in college.

"I met a whole bunch of awesome people and got to see what it was like to be an engineer," he said.

A member of the U of I Climbing Club, he said meeting new people and the exercise the club provided was one of his top experiences in college.

May-Penelerick received the Western Undergraduate Exchange Program (WUE) scholarship, a Pell grant, and The Harold Weis Scholarship, funded by a local in his hometown of Cle Elum, Washington.

After graduation, he said he will be living with two other Vandal grads in Boise and plans to keep snowmobiling, hiking, golfing and climbing in the Moscow area and to keep in touch with the people he met in college.


Roslyn McCormack
Chemical Engineering
Hometown: Anchorage, Alaska

"Engineering means being able to work on hands-on projects within your interests to solve real-world problems. Being able to work with other engineers and in multidisciplinary groups has been one of the most rewarding experiences I had at U of I."

Roslyn McCormack was part of an interdisciplinary team studying eclipse-driven atmospheric gravity waves in Chile under the Idaho Space Grant Consortium. A member of the Vandal Atmospheric Science Team (VAST), McCormack said she was able to translate previous high altitude ballooning skills to the NASA-funded project.

"One of the most important lessons I have learned at U of I is that it is important to pursue your interests outside of your major. You can often link your hobbies or outside interests with what you are studying in school."

While at U of I, McCormack studied three foreign languages abroad in Ireland and China.

"Being able to go to Chile linked my interest of learning about other cultures and languages with my passion for engineering and what I was learning in the classroom. Overall, it was a very rewarding experience."

From Anchorage, Alaska, McCormack received the Western Undergraduate Exchange Program (WUE) scholarship through the University Honors Program before WUE was available to Alaskan students. She also received scholarships from ISGC and multiple scholarships from the chemical engineering and chemistry departments.

After graduation, she will spend a year teaching English abroad and pursue grad school for polymer science in chemical engineering in the U.S.
Kaitlin Tabaracci
Mechanical Engineering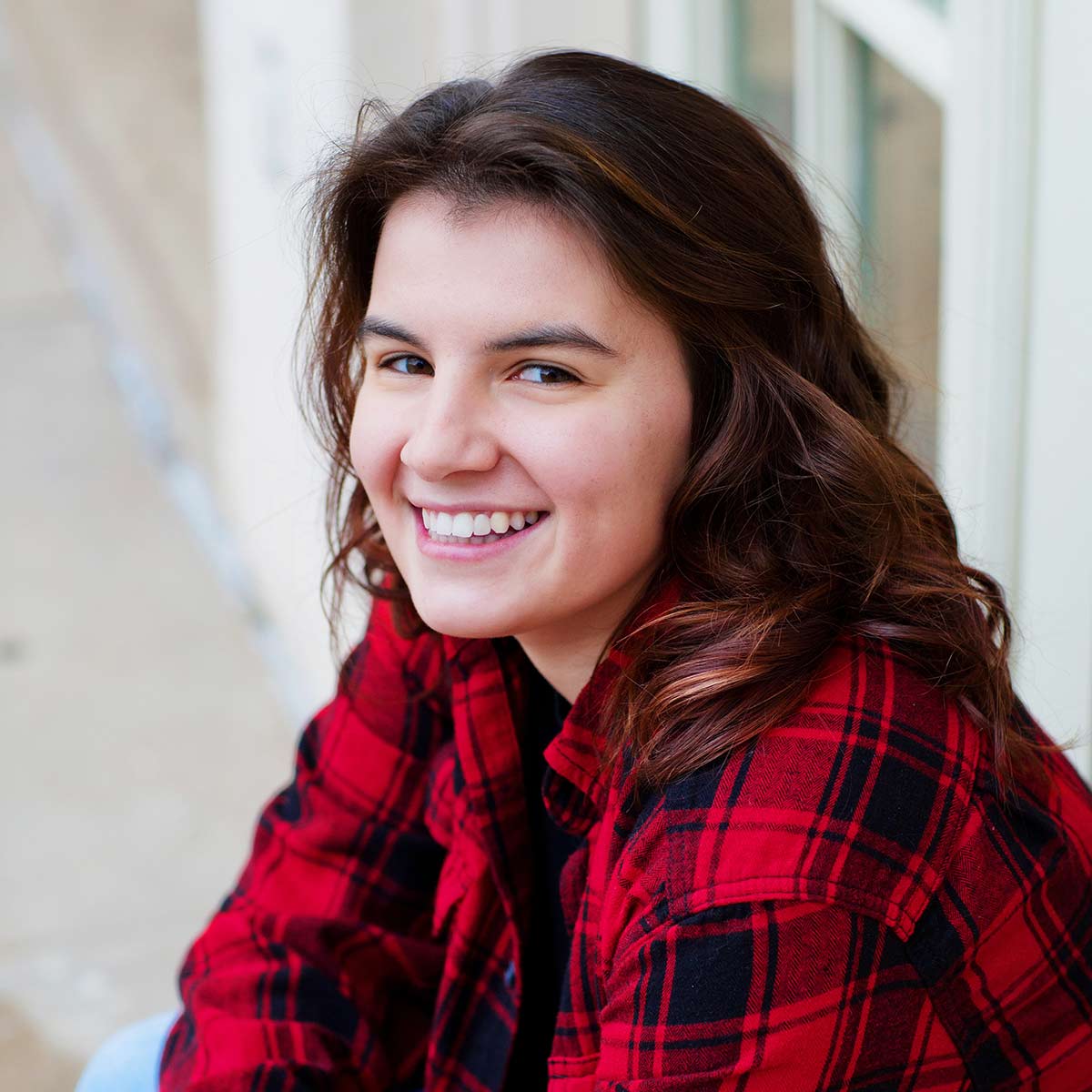 Hometown: Coeur d'Alene, Idaho

"Engineering is the opportunity to design something innovative that has the potential to help people. I love engineering because there are endless opportunities to improve and design things that will have a lasting impact on the world."

After graduation, Kaitlin Tabaracci will pursue her Master's of Science in mechanical engineering at the University of Idaho.

Part of the capstone design team building an electrically-driven, remote-controlled stage to Vandal Marching Band halftime shows, Tabaracci said the project required a lot of design and manufacturing.

"I spent over 150 hours in the shop over the course of the year, machining parts for the project," she said. "During that time, I gained invaluable experience that I will carry with me to industry."

She received Lionel Hampton School of Music (LHSM) Concert Awards for three years. During her freshman, sophomore and senior years, she also earned the Vandal Academic Achievement Award.

For scholarships, she received the Belko, Stephen and Katherine C Education Scholarship; Brandt, Catherine, H.L. and W.L. Scholarship; Idaho Opportunity Scholarship; Piper, Peter Scholarship; and the College of Engineering Development Fund scholarship.


Jackie Uhling
Electrical Engineering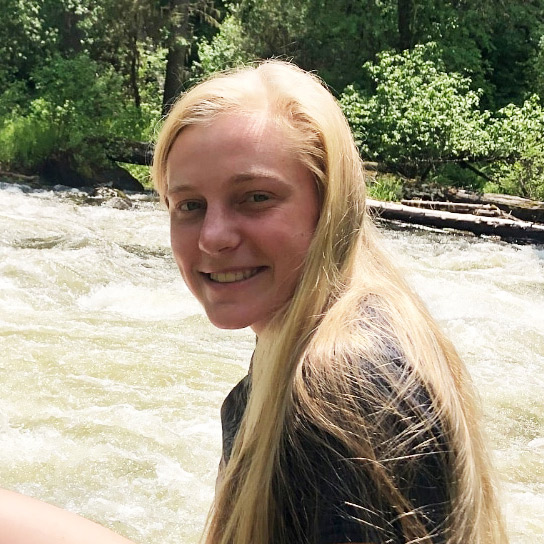 Hometown: Lewiston, Idaho

"Engineering is a family experience. Many people in my family are also University of Idaho engineering graduates, most recently my older sister who graduated in Fall 2019. I went into engineering because I have always loved solving problems and math, but my time at University of Idaho has been nothing short of amazing."

After graduation, Jackie Uhling will start her job at power and data communications company H2E in Spokane, Washington.

The best hands on experience I have had was my upper level classes, including my capstone project.

I have several scholarships, including being a National Merit Scholar and the Avista Scholarship.
Jade Williams
Civil Engineering
Hometown: Richfield, ID

"Engineering is using a skillset that I have acquired through education and experience to help tackle problems presented by infrastructure for public and private entities."

After graduation, Jade Williams will pursue her master's at U of I while balancing internships with geotechnical engineering firm Geotek, Inc. on the U of I's unique timber construction of the Idaho Central Credit Union Arena, as well as interning remotely for consulting firm HMH Engineering.

Williams said internship experiences in college have given her the best hands-on experience, including her work with the Idaho Transportation Department, Knife River, and HMH Engineering on the Black's Creek interchange bridge sliding. The I-84 bridge was constructed on footings and slid 60 feet into place in order to minimize impact on the heavily traveled interstate.

Williams received the Smith, Franklin and Nettie Scholarship, Coral Sales Scholarship and WTS SW Idaho Chapter Leadership Undergraduate Scholarship.


Taegan Williams
Computer Science
Hometown: Post Falls, Idaho

"Engineering means continuous innovation towards creating a better tomorrow. It means cooperation and team collaboration to solve modern problems with perspective of yesterday's successes and failures."

After graduation, Taegan Williams is pursing his Master's in Computer Science at U of I, with a focus on personal cybersecurity and automation.

President of the Cyber Defense Club while in college, Williams and his team received great support from faculty.

"I appreciate all the help the department, our professors, Dr. Jim Alves-Foss, and the staff, Victor House, have provided to bring like-minded individuals together as well as provide adequate learning environments so we, the students, can be the best versions of ourselves," he said.

In addition to multiple scholarships from U of I, Williams was a 2019 finalist in the U.S. Cyber FastTrack competition. He received $22,000 toward an undergraduate certificate in applied cybersecurity from the SANS Technology Institute.

Through this scholarship, he is now a Certified Forensic Analyst and Certified Incident Handler, and said he looks forward to a career in cybersecurity.