CyberForce Competition
Each year, student teams from the University of Idaho Department of Computer Science participate in the U.S. Department of Energy's CyberForce Competition.
The competition gives students hands-on cyber education and awareness into the critical infrastructure and cyber security nexus and a basic understanding of cybersecurity within a real-world scenario.
Students are given a cybersecurity scenario and are split into teams with specific tasks aimed toward:
Usability - Teams must balance the added security of the system with usability of the system. Teams are scored based on include a user's ability to continue normal work operations.
Defending Critical Infrastructure - A cyber-physical device is provided to give students real-world understanding of implications for defending cyber infrastructure.
Innovative Defenses - Teams are scored for unique defense ideas within real-world constraints, such as no budget.
Energy Focus - Previous scenarios have focused on power distributors and water and power delivery systems.
Save the Date
The next CyberForce Competition will be held Fall 2020
Interested in participating? Email engr-clubs@uidaho.edu.
1st place in the Northwest - 2019
University of Idaho, Idaho Falls computer science graduate students took first place locally in the 2019 U.S. Department of Energy CyberForce Competition and ranked 25 out of 105 collegiate teams competing nationally.
Hosted by the Pacific Northwest National Laboratory, the event challenged teams to work together to maintain operation and ward off cyberattacks on a realistic system, including a solar power facility, computer data center, energy distribution substation and a manufacturing plant. Another team of students was tasked with actively attacking infrastructure to disrupt usability of the system.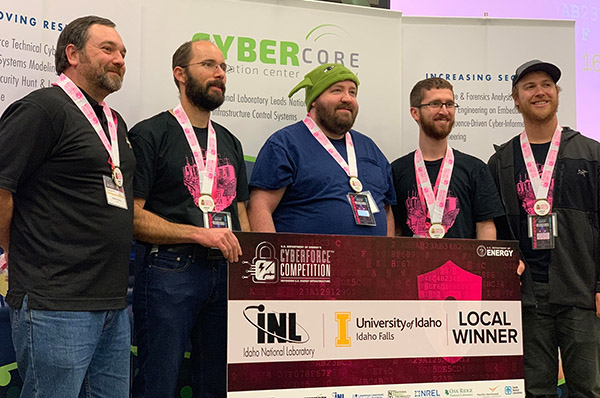 3rd place in Northwest - Dec. 2018
U of I Cyberforce Moscow team places third in December 2018 CyberForce Competition (Ninth in over all National Competition)
Hosted by the Pacific Northwest National Laboratory, the competition included building and defending a simulated oil transportation network, power delivery system and high performance computing system from cyber-attacks by hackers, all while maintaining service for customers.
2nd place in Northwest - April 2018
U of I Cyberforce Moscow team places second in April 2018 CyberForce Competition
Teams were tasked with defending a production, transmission and distribution company from cyber attacks, to review, update and patch systems to secure the company's user supply and marketing portal, and to avoid any loss in network availability.