Women in Engineering Day
Open to ALL 11th and 12th graders!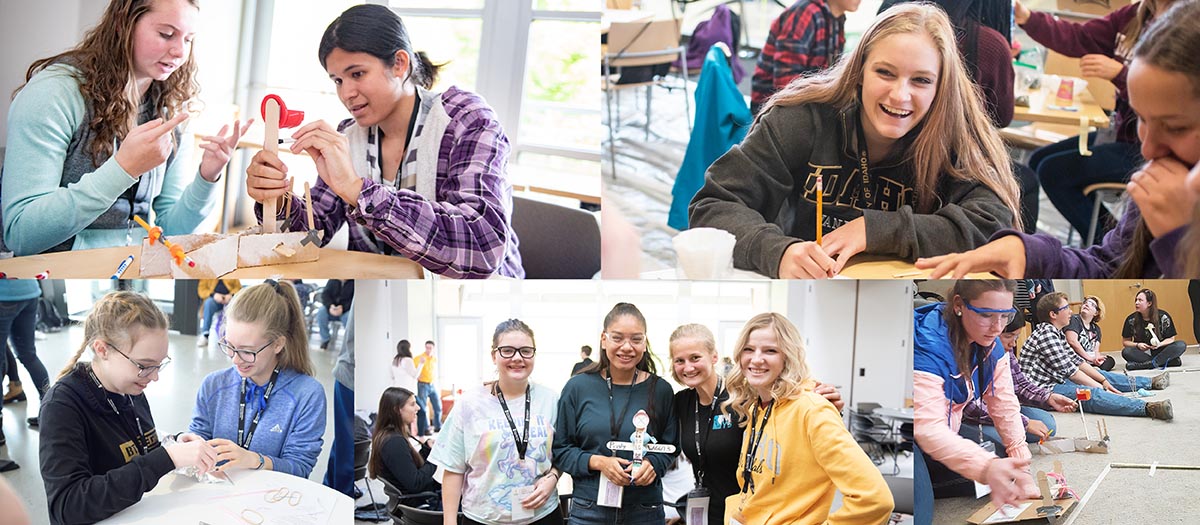 Women in Engineering (WIE) Day is a free virtual workshop for 11th and 12th grade high school students designed to build on existing interests in math and science.
Virtual Sessions Oct. 21 & 28, 2020
10 a.m.-12 p.m. PDT
Both sessions will be held remotely via Zoom.

All students in 11th and 12th grades are invited to participate. Participants must attend both sessions to be eligible to earn a scholarship.

Engineers work collaboratively to make a world of difference. Learn more about what engineers do and how to take the skills you already have and turn them into a successful college experience and future career! Live your life, and love what you do!
PARTICIPATE IN A HANDS-ON, TEAM-BASED DESIGN ACTIVITY, mentored and delivered remotely, that makes engineering, computer science and design concepts fun and easy to understand
EARN SCHOLARSHIP toward a U of I undergraduate degree in engineering
ENGAGE WITH CURRENT WOMEN STUDENTS AND INDUSTRY LEADERS through discussions and breakout sessions
GAIN CAREER INFO and insight into the many engineering degree paths at U of I
TOUR LABS AND LEARNING SPACES and learn about student life at U of I

Facts
13% OF ENGINEERS ARE WOMEN. The University of Idaho is committed to changing that statistic.
MORE THAN 250 WOMEN attend Women in Engineering events each year
76% OF STUDENTS say they could envision themselves studying engineering in college after attending a Women in Engineering Event
Our Commitment to Diversity
"We need engineers who add value to the teams they serve by bringing different perspectives and experiences." — Dean Larry Stauffer
Women in Engineering Explore for 9th and 10th Graders
Save the date: March 2021
Gain a better understanding of engineering through hands-on activities and experience with STEM disciplines, students and female engineering alumni.