Engineering Summer Experience
University of Idaho College of Engineering students spend their summers in paid, hands-on mentorship, internship and employment positions. Many accept positions in our nationally recognized, on-campus research centers and with leading industry partners.
Check out what some of our students are doing to fund their college education and gain additional hands-on experience.
Research Funding Opportunities for Students
Assistantships, co-op with industry partners, fellowships, summer research, multi-year partnerships, and more.
Previous
Next
Aneesha Shrestha
Computer Science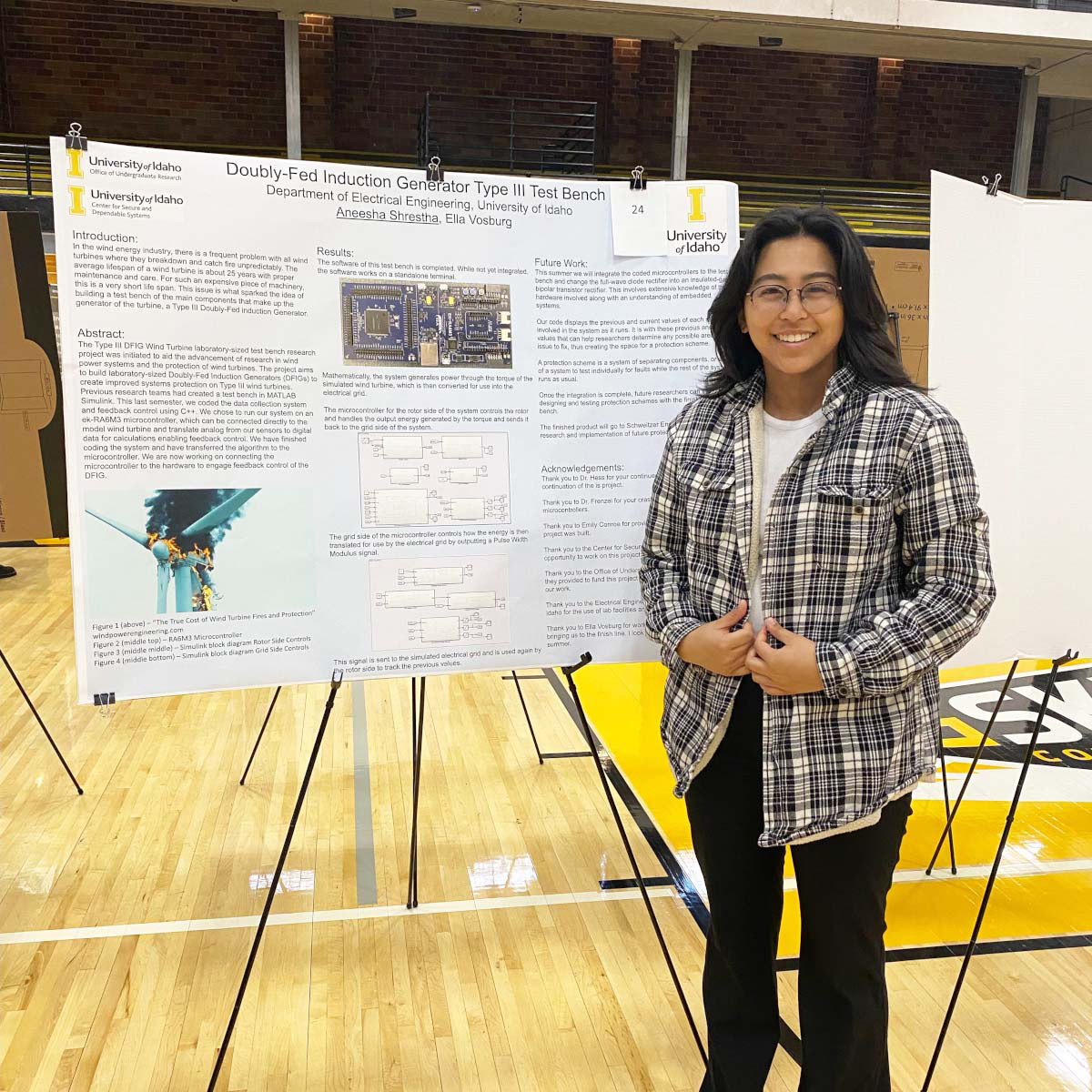 Aneesha is spending her summer coding and integrating software to lengthen the average lifespan of wind turbines and help with future wind energy research as an intern for the Center for Secure and Dependable Systems at the University of Idaho!

Aneesha worked with a team of students in our Department of Electrical and Computer Engineering to build a fully operational, robust, modular, and reliable Type III Doubly-Fed Induction Generator (DFIG) Wind Turbine test bench.

The average lifespan of a wind turbine is about 25 years with proper maintenance and care. For such an expensive piece of machinery, that is a short lifespan. The test bench contains the main components that make up a turbine generator, allowing for advanced research capabilities on wind turbines for a fraction of the cost, specifically in the areas of power grid stability, protection and power quality.
Mckenzie Reid, William Thielman, William Huntsman, and Joseph Cicanese
Mechanical Engineering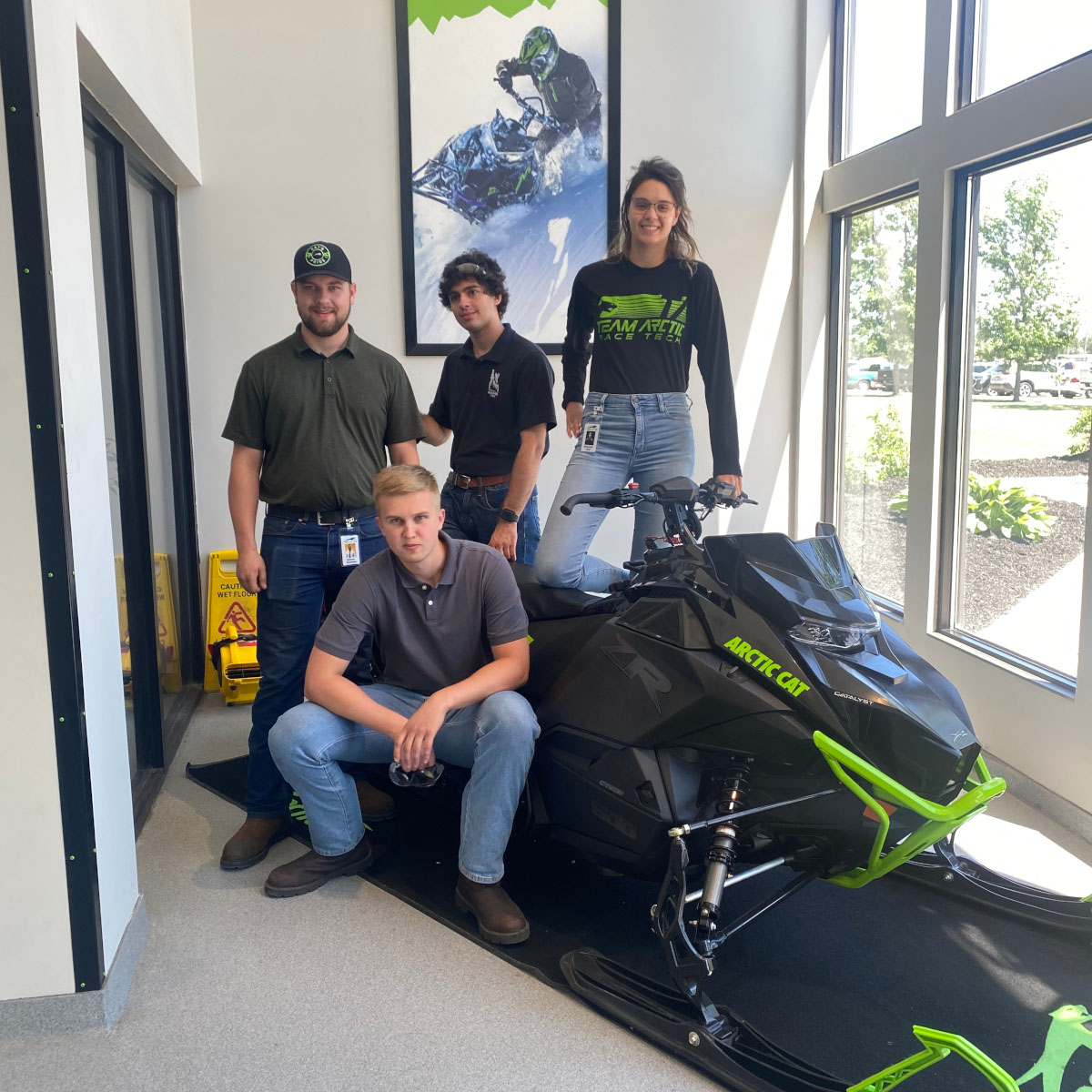 Vandal engineers represent Arctic Cat!

Mechanical engineering students Mckenzie Reid, William Thielman, William Huntsman, and Joseph Cicanese all interned this summer at the snowmobile and all-terrain vehicle manufacturer to test their skills and learn more about the powersports industry.

These students are also part of our Idaho Clean Snowmobile Challenge Team. This interdisciplinary team competes annually in a weeklong challenge to produce innovative solutions for a cleaner, quieter and more efficient snowmobile practical for manufacturers and enthusiasts alike. For 11 years, the team has earned top placement in the national competition.
Garrett Wells
Computer Science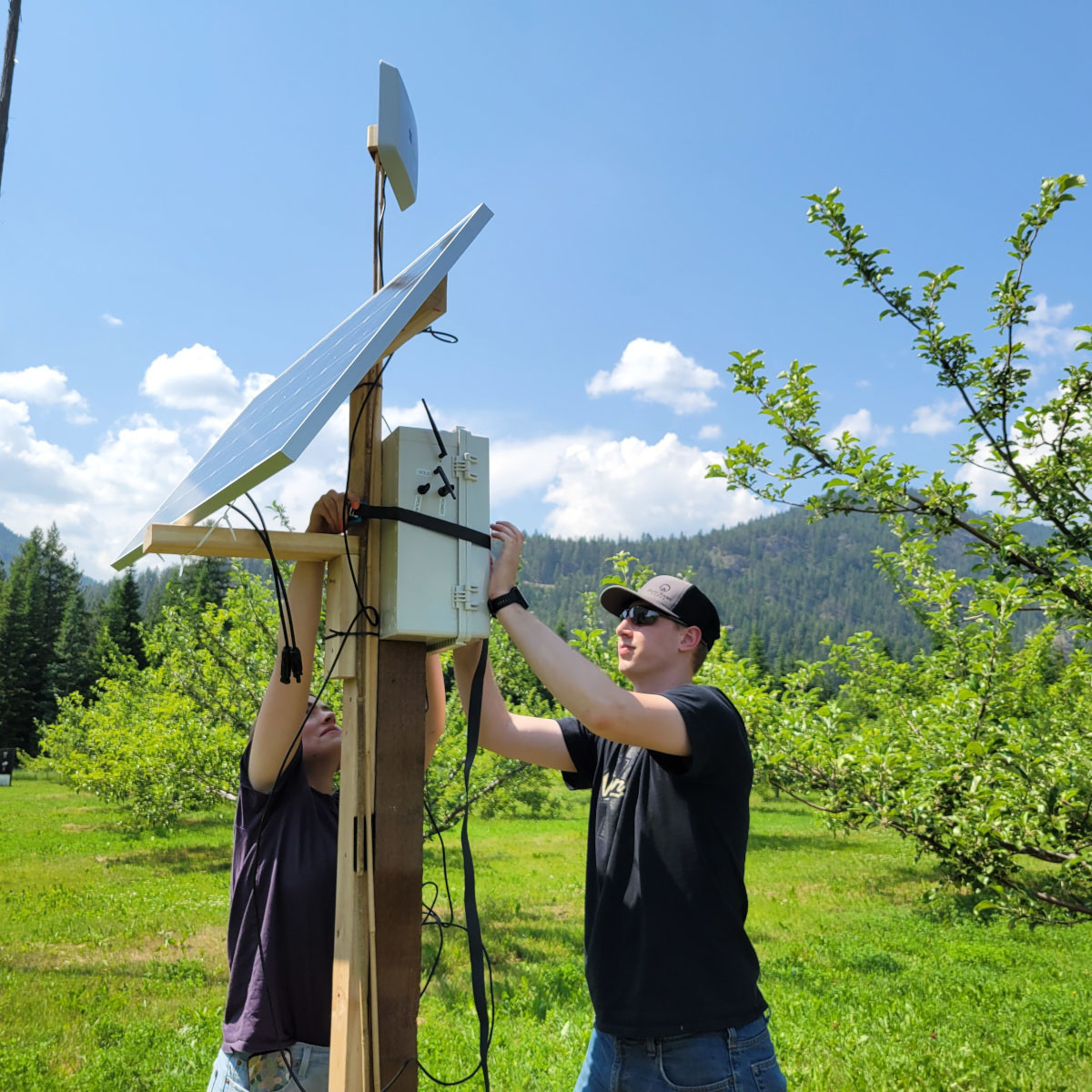 Vandal engineers are improving organic and sustainable crop production using artificial intelligence!

Computer science students Lacey Hunt, Mary Everett and Garrett Wells recently visited the Sandpoint Organic Agriculture Center to install an AI test system that will help orchard operators track environmental conditions, including temperature, light, wind speed, and moisture, to make better decisions for the care of the unique heirloom fruit varieties that grow there.

The computer system and sensors will help the team test and make revisions to a larger system they are building to help vineyard owners Jaclyn and Dustin Mommen of Laurel Grove Wine Farm in Virginia focus on their passion for sustainable business.

Last summer, the team traveled to Virginia to set up weather stations on the rolling 120-acre vineyard. The completed intelligent communication network will help the vineyard reduce power consumption and defray operating costs.
Virginia Herbord
Mechanical Engineering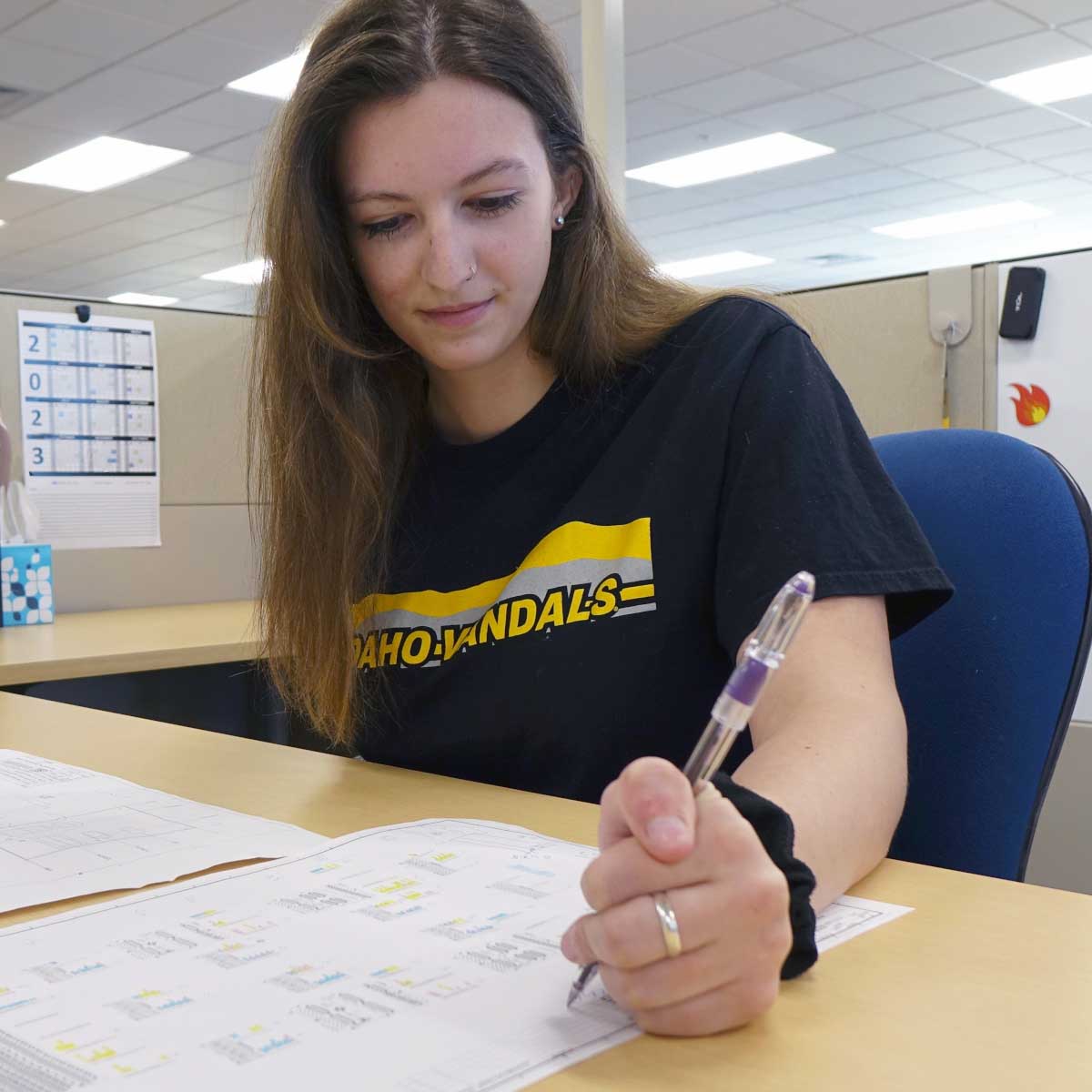 Improving global electric power is all in a summer's work!

Mechanical engineering senior Virginia Herbord is an intern at Schweitzer Engineering Laboratories, working in the panel assembly factory. She designs and oversees the manufacturing of custom electrical enclosures for utility customers.

"These enclosures house our digital protective relay products that help keep the lights on around the world," she said. "I use CAD software to help design the sheet metal plates and do fit checks for complex assemblies."

Herbord also reviews electrical wiring drawings to create engraving files that are laser printed and placed into enclosures so correct components can easily be found.
NASA Nationwide Eclipse Ballooning Program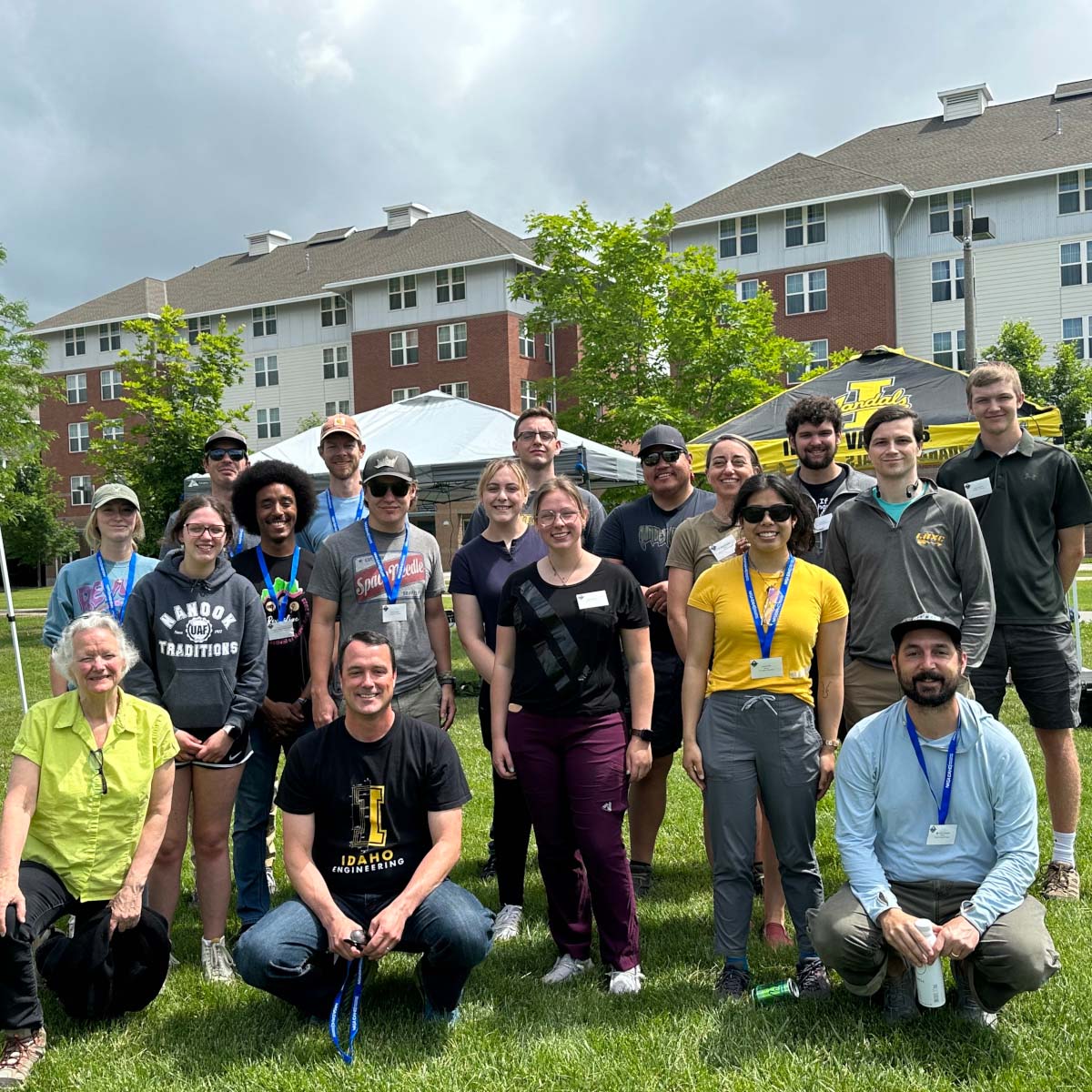 Gathering data for NASA takes practice!

Vandal engineers Konstantine Geranios, Caeley Hodges and Logan Kearney are conducting regular balloon launches this summer to help NASA better understand how gravity waves - large-scale disturbances in the atmosphere - can help us better predict weather patterns.

The team recently led a training workshop for the broader Nationwide Eclipse Ballooning Program (NEBP). Our college is the pod training lead for NEBP atmospheric science efforts, training mentors and team leads from Washington, Alaska, Montana, and Wyoming.

Scheduled launches will help our team prep for their trips to Oregon this fall and to Pennsylvania next year - during solar eclipse events – to track eclipse-induced waves that scientists have been trying to detect for decades.

Working under Chemical Engineering Associate Professor Matt Bernards, engineering students are continuing to build on NASA's research. A team traveled to Chile in 2020, gathering launch data to gain a better understanding of Earth's dynamic atmospheric and improve global weather forecast models and climate change mitigation processes.
Yangden Lama
Civil Engineering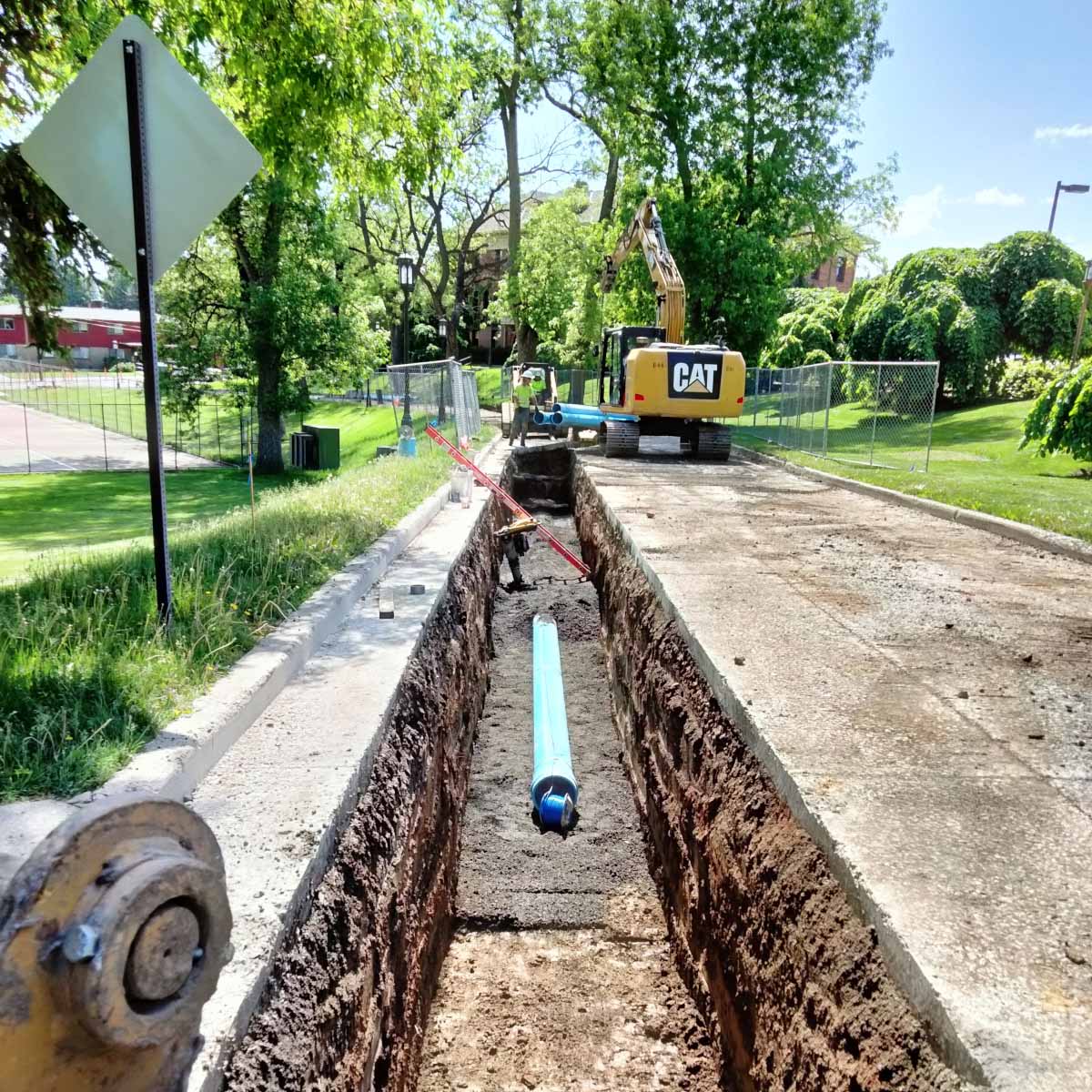 Vandal engineers spend their summers in paid hands-on faculty mentorship and employment positions.

Civil engineering junior Yangden Lama is an intern at J-U-B Engineering. Lama participated in a collaborative project to tie an old water line on the University of Idaho Moscow campus to a new location near Campus Drive. The project included relocating the fire hydrant, concrete cutting, laying new water lines, backfilling and conducting pressure testing.

"The experience allowed me to gain valuable insights into the intricacies of waterline projects," she said. "J-U-B's wonderful employees provided me with invaluable guidance and support. Their dedication to their work and the positive work environment is truly inspiring."
Shashwot Niraula
Computer Science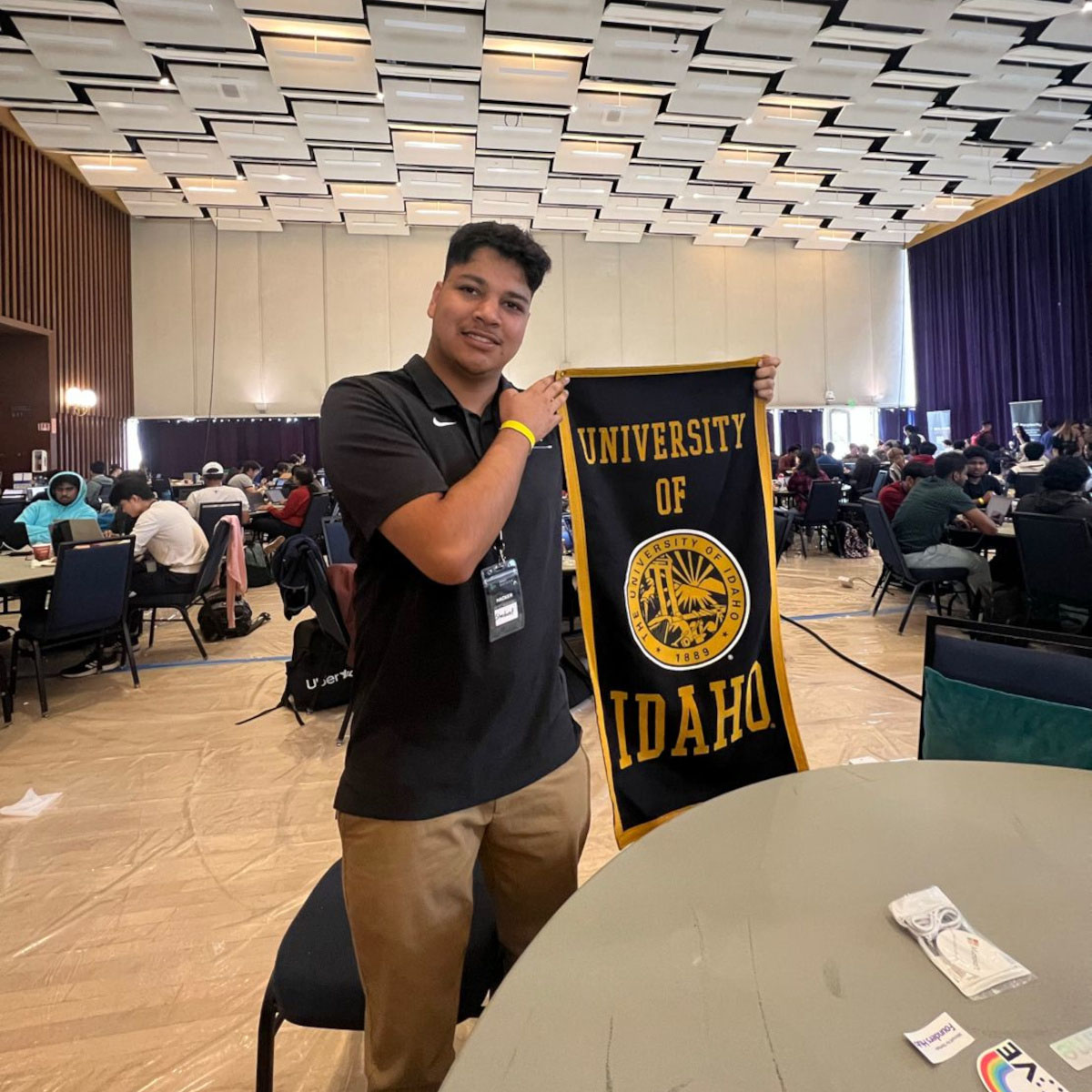 Thirty-six hour hackathon?! Yes, please!

Computer science junior Shashwot Niraula participated this summer in the UC Berkeley AI LLM Hackathon.

"Throughout this incredible journey, I gained a profound understanding of the implementation and capabilities of GPT3 and ChatGPT," he said. "I learned how to use and customize natural language generative AI models through prompt engineering techniques and grasped the basics of integrating open AI models into applications."

Alex Sorensen
Chemical Engineering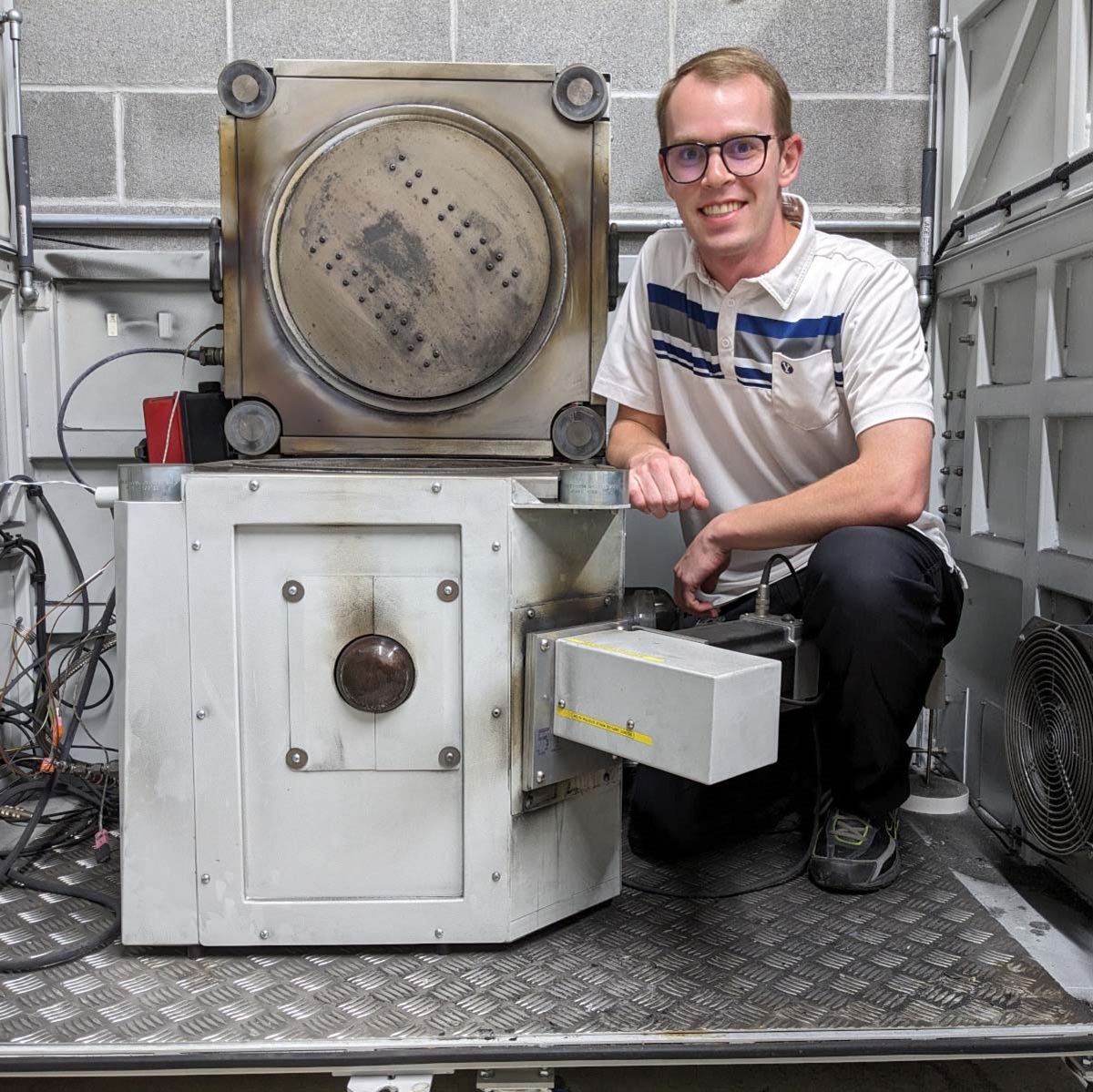 Vandal engineers are developing large format lithium-ion batteries for aircraft propulsion!

Chemical Engineering graduate student Alex Sorensen works for Electric Power Systems in Logan, Utah, as a chemical engineer.

Sorensen's research focuses specifically on lithium-ion battery safety, developing a numerical prediction model to identify critical maximum temperatures and energy release during battery failure.