Accreditation

The Bachelor of Science in Technology (B.S.Tech) degree program in Industrial Technology at the University of Idaho is accredited by the Association of Technology, Management, and Applied Engineering (ATMAE).
Learning Outcomes and Competencies
The INDT program differs from many other degree programs that are accredited by ATMAE, in that our curriculum focuses on academic knowledge and capabilities, rather than on crafts skills such as welding, metalwork and machine operation. The program's present general learning outcomes and more specific competencies are as follows: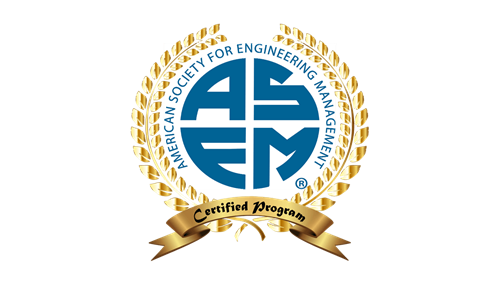 The University of Idaho College of Engineering graduate program in Engineering Management is certified through 2024 by the American Society for Engineering Management (ASEM).
Program Outcomes
To expand and reinforce your existing engineering skill set
To thoroughly examine the roles and responsibilities of an engineering manager
To provide you with a solid foundation in engineering management and business approaches, tools and practices
To prepare you with the knowledge and skills you will need to effectively lead a technical team
To improve the communication skills required for success in an engineering leadership role