Fall 2016 Civil & Environmental Engineering Newsletter
Message From The Chair
It is hard to believe I have been at U of I for a little over a year now. I continue to be welcomed to Idaho and U of I and know that my decision to join the Vandal Family will be one I shall never regret making!
After a very exciting first year at U of I, my summer was equally busy, especially working with our many new First Year students and transfers. Enrollment of students declaring the major in civil engineering is up about 20 percent over last year, with some 40 first years and 25 transfer students. Our enrollment of women students in this new group stands at 30 percent! And interestingly, about a quarter of our new students hail from the great State of Washington! We hope these trends continue; to that end, we have established a new Recruitment and Retention Committee that will focus on how to get new students to come to U of I and those strategies that will ensure their academic success. Based on the many visits I host from perspective students and their families on an almost weekly basis, I am hopeful that we will continue to see great interest in our degree programs.
In addition to the many hats I wear as chair, I have lately taken on the role of interior decorator-in-chief! The main office, the department manager's office, the chair's office, the student lounge, and the student computer lab have all experienced major facelifts, including new flooring, new lighting, new paint and new furnishings. I hope the 'before' and 'after' photo of the main CE office will give you some of idea of the transformation.
Buchanan 104
208-885-5041
We still have some challenges in the student computer lab; at the moment, we have only 14 computers — all of which need to be replaced this year. But the good news is that we have space for 28 machines! We intend to continue renovating our other spaces in the Buchanan Building as well; this summer we will renovate a large office to house all of our graduate students and a small meeting room for our student clubs. Next on our list is the systematic renovation of the teaching/research laboratories. In addition, we need to replace some of our aging teaching equipment.
The changes we have made so far were helped immensely by two generous donors, but progress on any new projects will require additional sponsorship. If you are interested in helping us continue to create learning environments for our students that are the best in Idaho (and in the Northwest) and that help us continue our tradition of academic and professional excellence, please contact me (colberg@uidaho.edu) or the College of Engineering Development Office. We are grateful for donations of any kind or size and promise they will be put them to good use! Lastly, if you find yourself in Moscow or on campus, please come by for a visit! My door is always open — even on weekends with a little notice!
Patricia Colberg
Chair, Department of Civil Engineering
Department Welcomes Two New Research Faculty
We are pleased to welcome two new research assistant professors this fall, both of whom will be located in Boise at the Center for Ecohydraulics Research. Andy Tranmer received his undergraduate training in Hydrology at the University of California at Davis. He completed his doctorate at the U of I Center for Ecohydraulics Research in 2013. During his graduate program, Tranmer also held an appointment as a hydrologist with the U.S. Geological Survey in Boise. Tranmer has been a postdoctoral fellow at CER since he received his doctorate. In that position, Tranmer led the CER field program in Chile in collaboration with the University of Concepcion, the Chilean Department of Water Resources and several European universities. Tranmer also managed professor Peter Goodwin's research activities while Goodwin was on federal assignment in California. Tranmer's work examines contemporary river channel morphology and simulation of channel evolution with an emphasis on field and modeling approaches.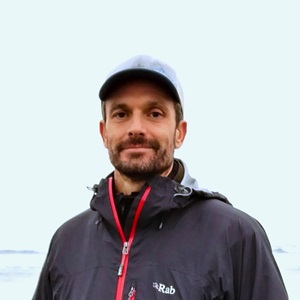 Center for Ecohydraulics Research
208-364-6165
Rohan Benjankar received his undergraduate education in civil engineering at Katmandu University in Nepal. He completed a master's in water resources engineering and management at the University of Stuttgart and received his doctorate in Civil Engineering from U of I in 2009 where he has since been serving as a postdoctoral research fellow. Benjankar's experience spans several focus areas within water resources engineering, with a particular emphasis on river fluvial processes, interactions between hydrology and riparian and aquatic ecosystems, including river restoration. His primary study areas have been located in Idaho, where he has developed several one- and two-dimensional hydrodynamic models to represent the prevailing physical processes (e.g., flow depth, velocity, shear stress, flood duration and stream temperature) over a floodplain and river channel, coupled with ecological models to evaluate how altered processes influence habitat conditions.
Inaugural Michael Kyte Distinguished Lecture Oct. 4
The inaugural Michael Kyte Distinguished Lecture is scheduled at 4 p.m. on Oct. 4, 2016 in TLC 032 on the U of I Moscow campus. A pre-lecture reception with will held at 3 p.m. in the Clearwater Room of the Idaho Commons. The first speaker in this annual celebration of professor Emeritus Michael Kyte's extraordinary career is Wayne Kittelson, P.E. and senior principal engineer at Kittelson & Associates, Inc., in Portland, Ore. Kittelson's will speak on the topic of: Moving forward over the next 15,000 days: shaping our future transportation system. Professor Kyte joined the U of I Faculty in 1986 and retired in December of 2015. The lecture is sponsored by the Department of Civil Engineering. For more information, contact Erin Buurkarl (erinb@uidaho.edu) or 208-885-6783.
Faculty Select Outstanding Juniors and Seniors for 2016
The CE faculty once again had the difficult task of selecting the outstanding CE students for 2016. Since there were many worthy candidates, two awards were given in each category. The Outstanding Junior Award recipients were Courtney Sell (Boise, Idaho) and Karina Eyre (Parker, Colo.). The Outstanding Senior award was given to Sean Hollenbeck (Walla Walla, Wash.) and Regan Hansen (Firth, Idaho). Hollenbeck is attending graduate school in the Department of Civil and Construction Engineering at Oregon State University with an emphasis in structural engineering. Hansen is remaining at U of I for his master's with an emphasis in transportation engineering.
Erin Buurkarl Receives Outstanding Staff Award
Department manager Erin Buurkarl is recipient of the 2015 - 2016 Outstanding Staff Award, presented by the College of Engineering. The award is given each year to a staff member who has shown outstanding job performance and promotes excellence in the department, in the college and at the university level. Letters of support included mention of Buurkarl 's extraordinary commitment to the Department of Civil Engineering: "Erin cares deeply about everything we do and how it impacts our students, our programs, our alums and our donors. This level of dedication results in her outstanding job performance and excellent work products, but also serves as an example to others to do their best. Buurkarl has clearly impacted our work environment, due largely to her high expectations of everything we do, but also by her professional yet friendly demeanor. By helping to create a more joyful work environment, Erin has made us all strive for excellence." Buurkarl is a 2012 graduate of U of I with a bachelor's in organizational sciences.
Vandals Host 2016 ASCE Pacific Northwest Student Conference
The University of Idaho's ASCE (American Society of Civil Engineers) Student Chapter hosted the 2016 Pacific Northwest Student Conference on April 7 - 9. The Kibbie Dome and the Idaho Commons Plaza served as the primary on-campus sites on Friday, while Chief Timothy State Park outside of Clarkston, Wash., was the primary venue for Saturday's activities, which included the popular concrete canoe races.
Nearly 400 civil engineering students representing 19 universities from Alaska, Washington, Oregon, Idaho and Montana competed this year. The University of Idaho won two events — the Concrete Frisbee and Environmental competitions. For the concrete frisbee event, students designed and constructed a frisbee out of concrete that could fly over 150 feet in competition! For the environmental competition, student teams were required to write a two-page memo in response to a wastewater problem developed by our esteemed environmental engineering professors. Entries were judged on technical content and format by professional environmental engineers off-site. The University of Idaho students also had a successful day on the volleyball court, finishing second during the all-day, round-robin tournament.
Based on the feedback from many of the attendees, the University of Idaho and its civil engineering community proudly displayed its pride and extended a warm and enduring welcome to all of the visiting students, faculty and professional advisors, judges and guests. As the conference rotates among all of the universities throughout the region, the University of Idaho ASCE Student Chapter looks forward to traveling to, participating in and fundraising for the 2017 and 2018 student conferences, to be held at Boise State University and Oregon Institute of Technology, respectively.
Engineers Without Borders: 2.6 KM of Pipeline and New Name
A U of I Engineers Without Borders (U of I-EWB) team of eight traveled to Carani, Bolivia, from August 2 to August 19 and completed Phase 1 of the water distribution system in the Centro Norte zone. The students who made the trip were Ben Clark, Erin Poor, William Parker, Monica Erickson, Courtney Sell, Nigel Hebbeln and Meg Licht. It is worth emphasizing that these students were supported by many others who did not travel, but made the trip possible by fundraising, doing design work and participating in the many other tasks required to make a mission like this a success.
The students implemented their design in Carani, which involved approximately 2.6 km of 1-inch diameter pipeline. They connected two existing spring-fed storage tanks, installed a new storage tank between them for additional storage and as a pressure break, and completed ten new tapstands to serve an area of Carani where residents previously had to walk long distances to obtain drinking water. The students worked under difficult conditions and through a variety of illnesses to get the job done, but they made the residents very happy! They are anxious for us to return next year to complete Phase 2, which will involve essentially the same tasks but in a different zone.
This is, however, the last trip the team will make as U of I Engineers Without Borders. After much deliberation, the group has decided to become an independent organization that will allow us to work more efficiently, be more flexible in the type and number of projects we undertake, and be more effective in raising money to support our work. Effective immediately, U of I-EWB will be known as the U of I Humanitarian Engineering Corps (U of I-HEC).
We have two requests to help us continue to serve the people of Carani without interruption. First, we would like to develop a pool of technical mentors who would review designs, provide guidance and potentially travel with student teams when appropriate. If you are interested, please contact professor Fritz Fiedler (fritz@uidaho.edu). Second, we are looking for financial support, as we expect next year's expenses to be approximately $30,000. Please contact Fritz Fiedler in the Department of Civil & Environmental Engineering if you are able to support our students gain these invaluable experiences while, at the same time, help a community who needs access to clean water.
U of I'S PNCWA Student Design Team Finishes Second
Three students from Civil Engineering competed in the 2016 Pacific Northwest Clean Water Association (PNCWA) Student Design Competition last spring. PNCWA is the Idaho-Oregon-Washington member association of the Water Environment Federation (WEF). Taylor Romenesko (a first-year graduate student in Environmental Engineering), Karina Eyre and Casey Bryant (both CE majors in their last year at U of I), completed a project entitled "Feasibility Study for the Addition of a Fermenter at the Moscow Water Resource Recovery Facility (WRRF)." The goal of the project was to determine how best to increase the quantity of volatile fatty acids (VFAs) in the waste stream, which would aid in the stabilization of an enhanced biological phosphorus removal (EBPR) process, and could also be used to achieve enhanced resource recovery. The team ultimately recommended an in-line fermenter to treat all of the incoming raw wastewater stream; the team concluded that this approach would generate significantly more VFAs than all other alternatives they examined. VFA yields provided by an in-line fermenter would be enough to support EBPR, while concurrently allowing for resource recovery in the form of struvite, a commercial grade fertilizer, and polyhydroxyalkanoates, a biodegradable plastic. The team finished 2nd in the PNCWA competition, which was judged by three professional engineers who are all active in the wastewater industry and in PNCWA. The students will be presenting their project at the annual PNCWA conference in Bend, Oregon, on October 17. Karina and Casey are also participating in this year's new PNCWA competition, with a project focused on completing a disinfection upgrade to the Moscow WRRF. The team's faculty mentor is professor Erik Coats.
Kevin Chang Receives ITE Outstanding Educator Award
Assistant professor Kevin Chang is the recipient of the 2016 Institute of Transportation Engineers (ITE) Outstanding Educator Award for the Western District. The ITE is divided into ten geographic districts worldwide; the Western District represents the 13 western states from the Rocky Mountains to the Pacific Coast and includes Guam, American Samoa, and the Northern Marianas.
This award recognizes Chang as an educator who has shown "extraordinary creativity in teaching, taken exceptional measures to spark student interest in the transportation profession, provided unwavering encouragement for student endeavors, and shown unequaled service to ITE". In addition to serving as the current faculty advisor of U of I's ITE Student Chapter, Chang will complete a three-year team as the chair of the Transportation Education Council of ITE International this fall.
Engineering Physics 115
208-885-4028