The Beauty of Science
When UI artists and scientists collaborate, the results bring research to life
Take a moment to consider aphids: tiny insects that mob roses, devour pea plants, feast on wheat.
Trillions of them — or more — live on Earth. Millions upon millions hatch on the Palouse farmlands surrounding the University of Idaho's Moscow campus each year.
They belong to an interwoven ecosystem: Viruses use aphids as vessels to infect plants. Plants fight back with chemical defenses. Ladybugs and other insects hunt aphids. Humans plant crops, spread fertilizers and spray pesticides. The aphids eat, grow, reproduce, adapt, evolve.
UI entomologist Sanford Eigenbrode studies how the pieces fit together, and how humanity's increasing understanding of aphids can help protect the crops that feed the world.
And now, through UI's Visualizing Science exhibit, artists Sally Machlis and Delphine Keim have stepped into the system to share the remarkable complexity of aphids with people beyond the field and the lab.
They've created "Abundant," an artistic celebration of aphids and their place in the world — and in it have captured the sense of wonder Eigenbrode, as a scientist, feels for his subjects.
"Each individual in the swarm is itself awe-inspiring," said Eigenbrode, a Distinguished Professor in the College of Agricultural and Life Sciences. "Each one is really almost unfathomably beautiful and complex."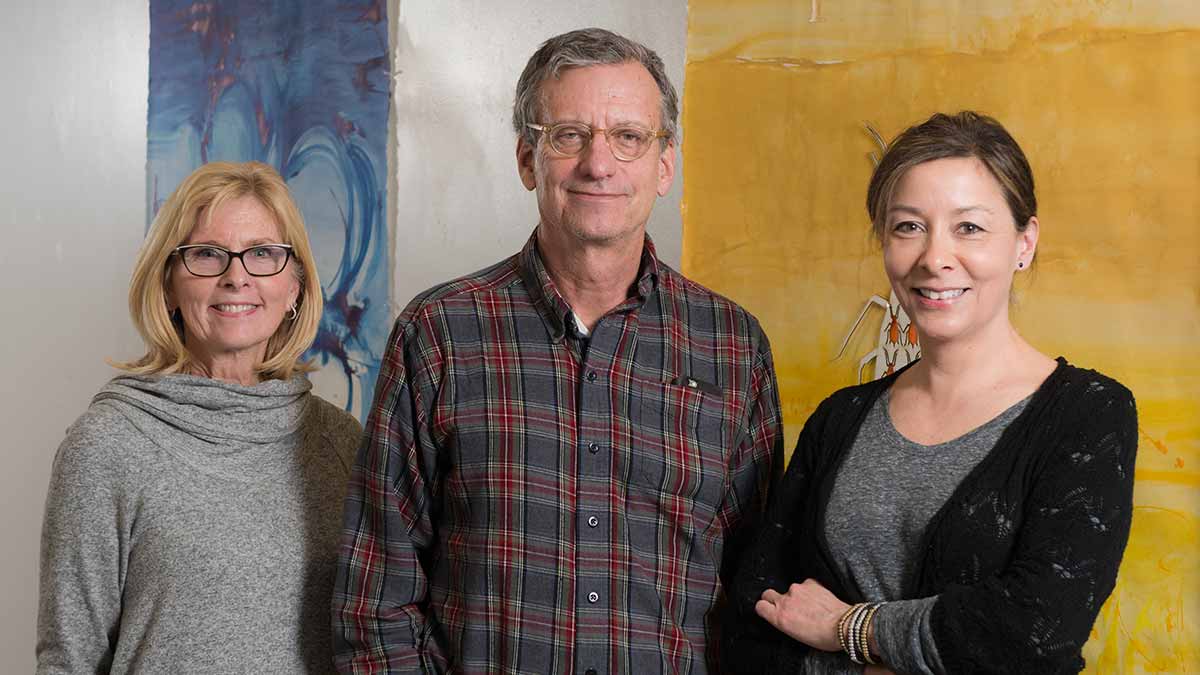 Visualizing Science Exhibit
Opening Reception
Feb. 10, 2017 | 5 p.m.
UI Prichard Art Gallery in downtown Moscow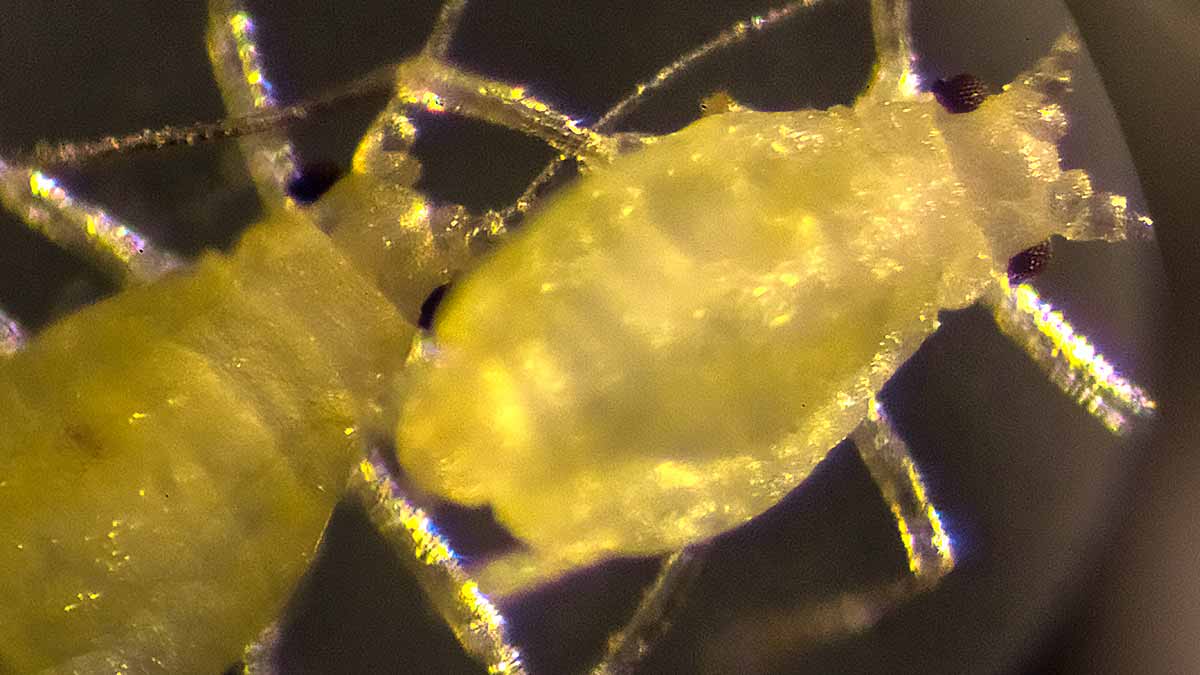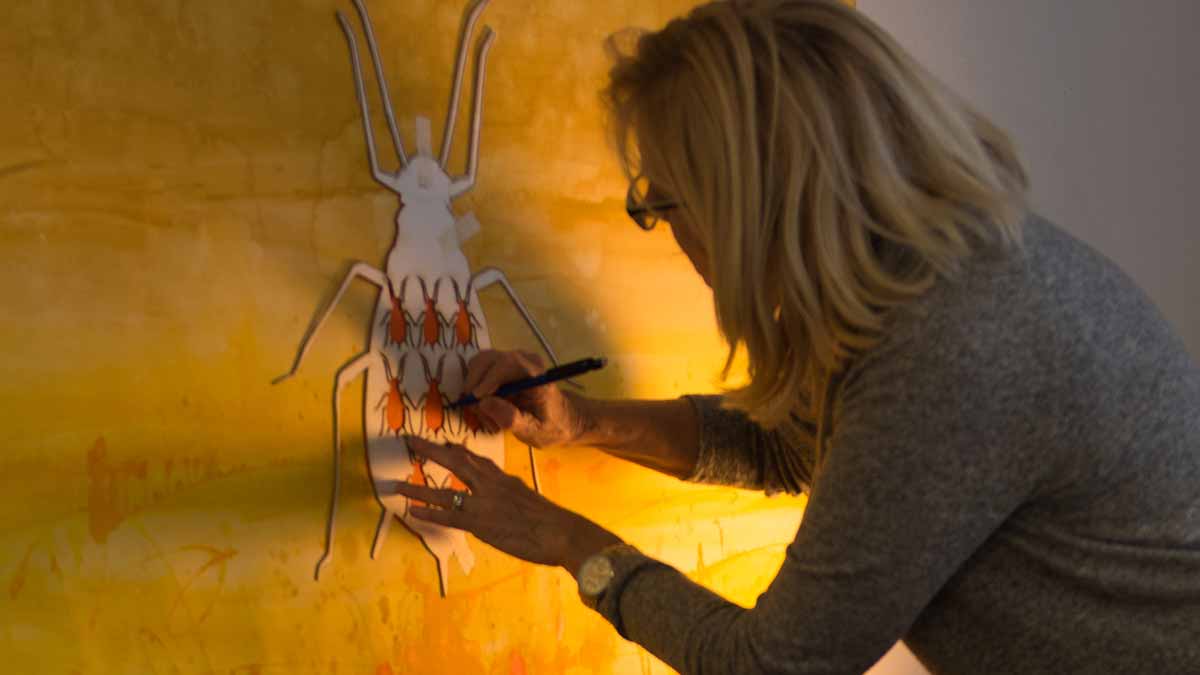 Sharing Ideas
Visualizing Science brings together seven teams of outstanding UI artists, designers and scientists to create visual interpretations of scientific issues important to the state, region and world. The exhibit opens with a reception at 5 p.m. Feb. 10, 2017, at the UI Prichard Art Gallery in downtown Moscow.
Machlis — professor and program head of the College of Art and Architecture's Art and Design Program and professor of art education in the College of Education — and Prichard director Roger Rowley lead Visualizing Science, which was funded through the inaugural Vandal Ideas Project in spring 2016.
The exhibit combines the unique approaches and talents of artists and scientists. Each artist-scientist team spent the past year meeting, sharing ideas, learning about each other's processes and creating the final pieces.
The "Abundant" team began its work with a conversation. Machlis and Keim wanted to learn about Eigenbrode's decades of research and the motivations behind his pursuits.
"I was surprised at how receptive they were," Eigenbrode said. "I didn't say anything about aphids they didn't like."
Then, they invited him to join the creative process. They introduced him to painting and sketching and sculpting basics, while he taught them more about aphids and their biology.
"It's really informative for scientists to learn how involved the research of creative activity is," Machlis said. "It's also fascinating for them to articulate what they do to an artist and think about it in visual terms."
Remembering a Champion of Art and Science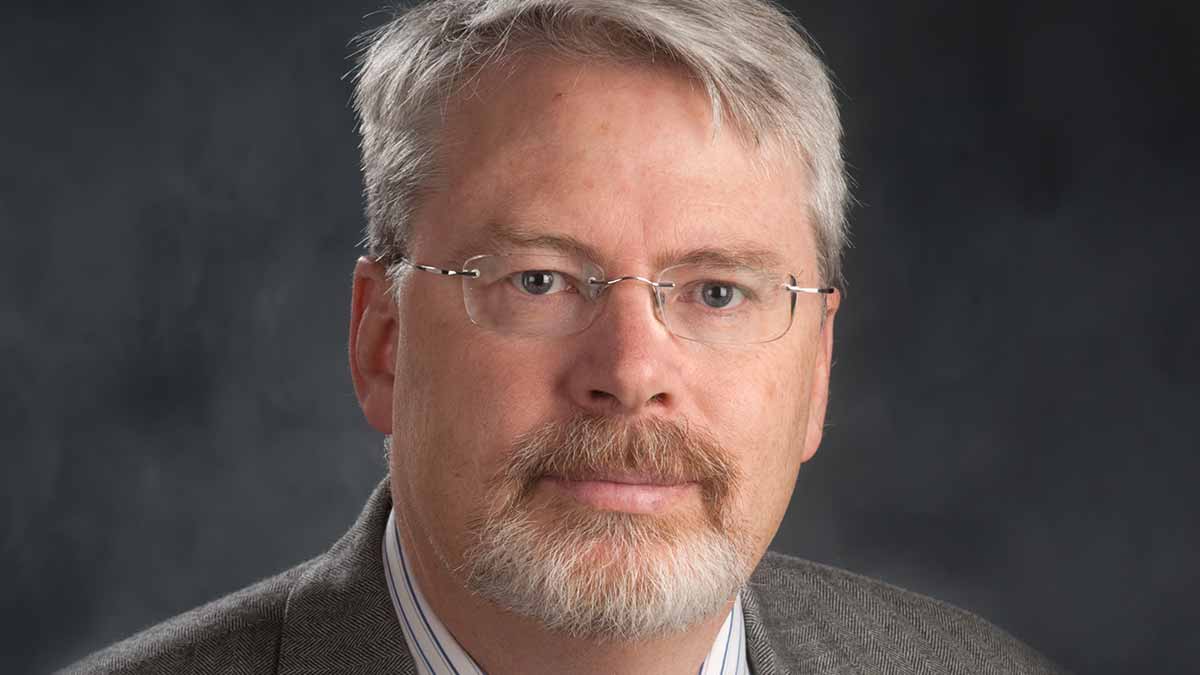 Machlis and Rowley have dedicated the Visualizing Science exhibit to Paul Joyce, a professor of mathematics and dean of the College of Science who died in a car accident in 2016.
"He was a big supporter of seeing if art and science could meet, and he was a big supporter of the Vandal Ideas Project," Machlis said. "He was insistent in saying 'Let's get some interdisciplinary stuff happening.' He believed in it. I'd like to see that vision continue."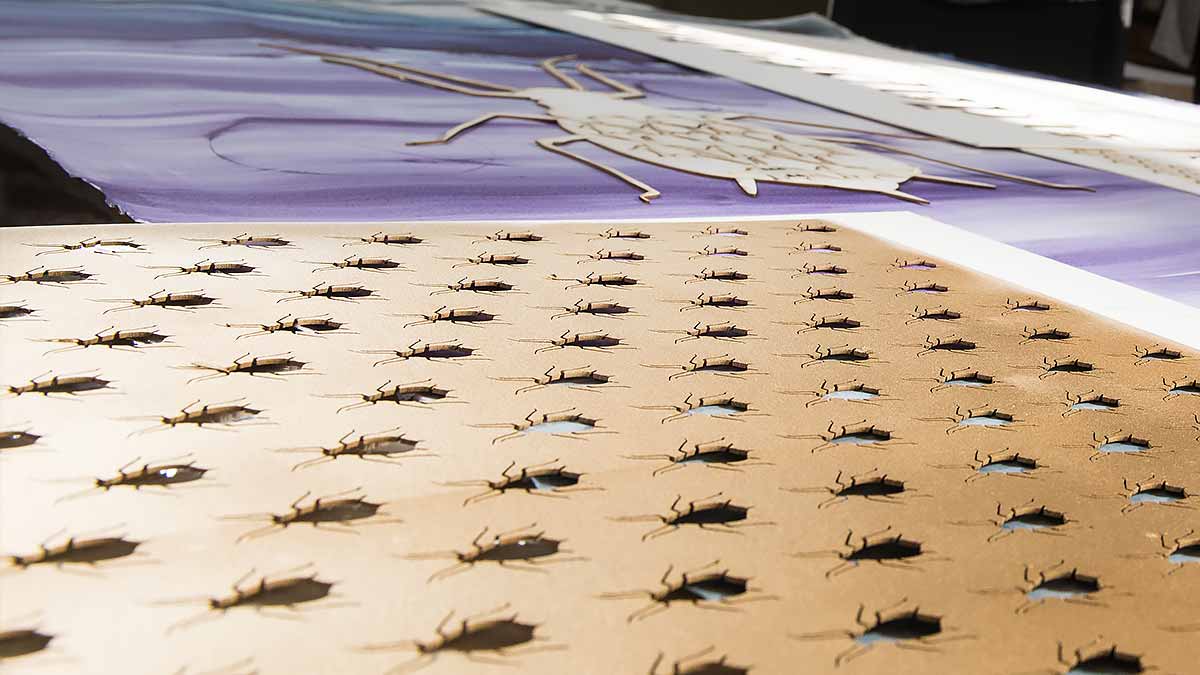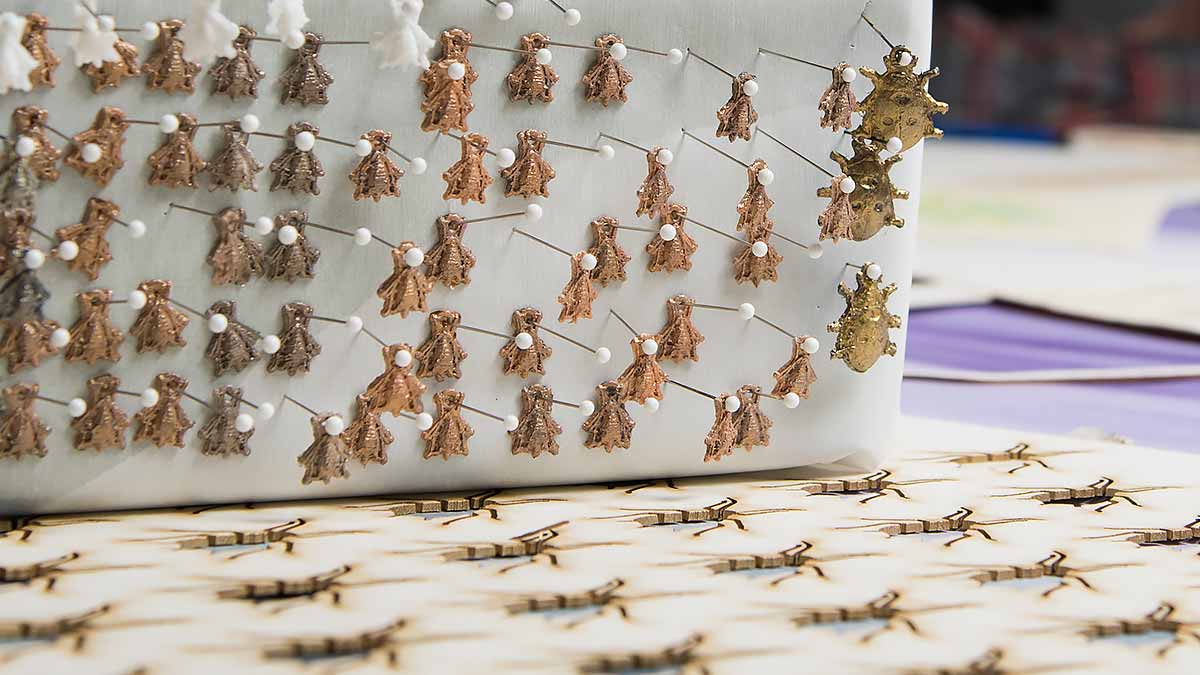 The pieces for the exhibit began to take shape: enormous watercolor banners depicting aphids and the landscapes they inhabit, wooden bowls encrusted with 3-D printed insects and filled with food, a fabric aphid swarm.
Words as well as images are vital to the pieces. Keim, an associate professor of graphic design, specializes in typography, and impressed upon Eigenbrode the importance of selecting words with multiple meanings.
"The ambiguity helps engage the viewer," Keim said. "There is more play and multiple ways to read the work. If a viewer can tap their own experience as they make connections in the work, that's ideal."
The title —"Abundant" — captures vast fields of growing crops, healthful food for people, meals for voracious ladybugs and, of course, swarms of aphids and other organisms found in agricultural ecosystems.
"I wanted to transmit this sense of the abundance of this animal. There are huge numbers of them in the landscape you don't recognize," Eigenbrode said. "There are abundant interpretations of ways you can feel about the system."
High School Artists Join In
Visualizing Science is also the theme of the 26th annual High School Art Exhibition, sponsored by the UI Art and Design program. Student work from around the state will be on display at the Ridenbaugh Gallery from Feb. 22 to March 11, 2017.
Sparking Change
Eigenbrode doesn't expect the Visualizing Science exhibit to spur a wave of new aphid researchers, but he hopes people who view "Abundant" will walk away with a desire to notice aphids and other small things.
"I think it's more important that people are reminded about the world around them," he said. "If you look at these small things carefully, you'll be blown away."
Scientists' desire to engage people with the universe around them fits perfectly into artists' desire to expand minds, shape culture and inspire imagination.
"Artists want to change people's lives," Machlis said. "We want to make them feel something — to look at the world differently, to see how someone else sees the world."
The Visualizing Science participants also hope their work will change the university, spurring increased opportunities for UI's artists and scientists to collaborate and create.
"This has been, I think, a way for the university to give interdisciplinary work prominence and importance," Rowley said. "That says this is something the University of Idaho is committed to."
The exhibit will be on display at the Prichard through April 15.
---
Article by Tara Roberts, University Communications and Marketing
Photos by Melissa Hartley, UI Photo Services