Catch and Keep
IDF&G Director and Vandal Alum Credits Palouse Upbringing for Career Path
A farm pond near the foot of Moscow Mountain has Jim Fredericks' mark on it.
Somewhere in its murk there live at least a few bullhead catfish that are offspring of ones Fredericks planted as a 11-year-old bucket biologist, just so he could catch fish close to home.
As a boy, Fredericks and his childhood friend, Joe DuPont '88, '93, the current fisheries manager for Idaho Fish and Game's Clearwater Region, caught a few dozen of the spiny-finned catfish in neighboring ponds northeast of Moscow where they lived, seeding their parents' ponds with the whiskered mud cats.
"As kids, we weren't aware of laws related to live fish transport, we were just excited to be creating a new fishery in our back yards'," said Fredericks, '88, '94, the current director of Idaho Fish and Game.
"Our bar is high, and we have a lot of U of I graduates that work for our agency."

— Jim Fredericks, Director, Idaho Department of Fish and Game
These outdoor forays were instrumental in forming Fredericks' career path that included earning two degrees from U of I and working 29 years as an Idaho Fish and Game biologist.
Catching bullhead catfish in farm ponds on the Palouse was Fredericks' introduction to fishery management.
"That's when we both learned about carrying capacity, overpopulation and fish stunting," Fredericks said. "Funny that we both wound up working as fishery managers for IDF&G."
Although both Fredericks and DuPont later graduated with degrees from U of I, Fredericks earned a degree in psychology — not fisheries biology — and worked at a hospital in the eastern U.S. before realizing maybe he had missed his calling.
That's when he returned to U of I to accompany his pal in the fisheries department.
"After getting a degree in psychology in Moscow, I was working in a psychiatric hospital, and I was fully expecting to go back to graduate school and get a Ph.D. in psychology," Fredericks said. "My friend Joe was about to enter graduate school in fisheries management, and he and I were talking a lot about our future plans. One night, after working in the hospital, I was tossing and turning, and I realized I was a lot more excited about his future than my own future."
That night, Fredericks said, he went to bed a psychology major and woke up a fisheries major.
"That may have been the most important and significant night of my life," he said.
But his new career path wasn't as clear as moonlight on a prairie pond until a U of I professor gave Fredericks a helping hand.
"I visited with Professor David Bennett in the fisheries and wildlife department and fully expected him to tell me I was a lost cause, but of course, he was very encouraging and helped get me enrolled in courses that would prepare me for a graduate degree in fisheries," he said.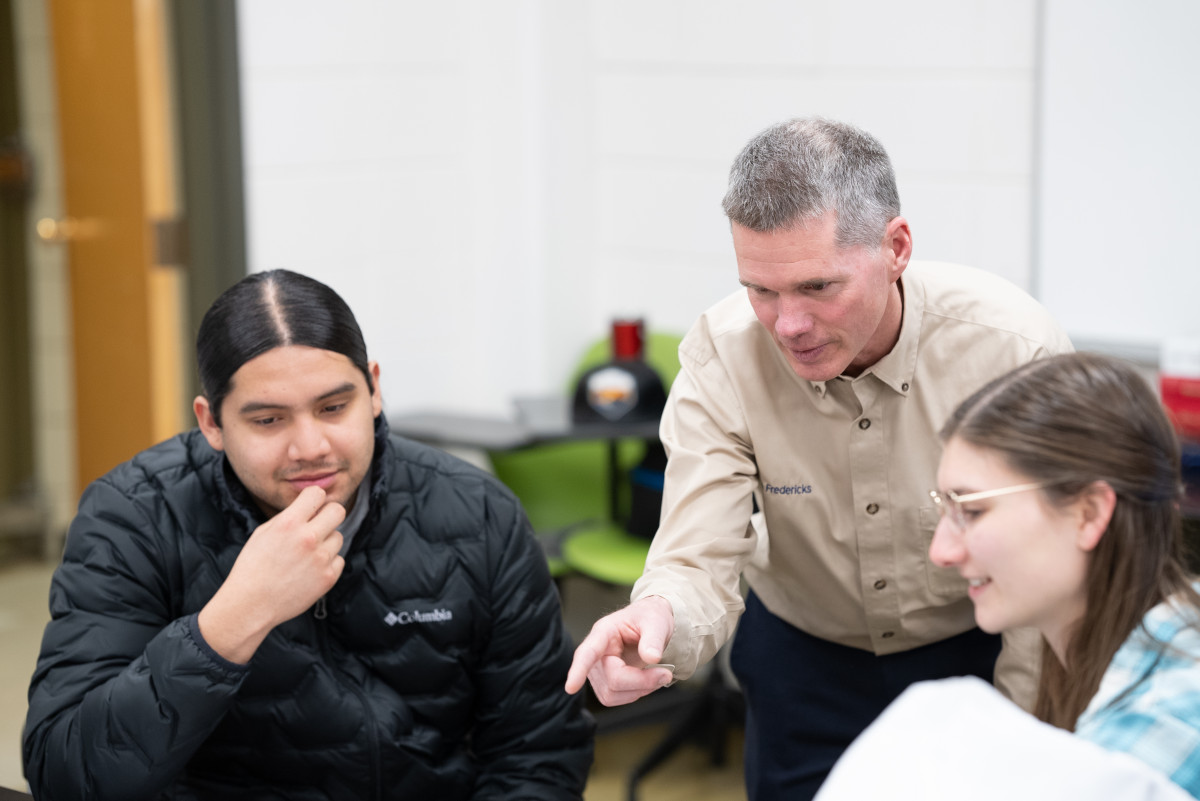 Next, he connected with Professor Dennis Scarnecchia who studied paddlefish in the Missouri River system.
"He offered me a graduate research assistantship working on paddlefish in North Dakota," he said. "It was the best of all possible worlds, because it gave me some diverse experience in fisheries that I wouldn't get working on Idaho species, but still allowed me to stay at the U of I."
Once Fredericks earned his master's in fisheries, he started his career with IDF&G working throughout the state, including a stint as fisheries biologist, and then as regional manager in the Upper Snake and Panhandle Regions. He went to headquarters to serve as the chief of the state fisheries bureau and served as a deputy director before accepting the position of director of IDF&G in Winter 2023.
As director, Fredericks is still focused on fish stocking programs that provide opportunities for anglers in Idaho but spends more time on the wildlife management policies set by the Fish and Game Commission, which is comprised of representatives from each of the department's seven regions. He also runs the day-to-day operations of the agency, which has 553 full-time positions and an annual budget of $150 million.
"At IDF&G, we get many of the finest fish and wildlife professionals in the country. Our bar is high, and we have a lot of U of I graduates that work for our agency," he said.
His decision to shift to a natural resources degree and attend U of I was the life changer, he said.
"It was great for me, and I had the opportunity to get my fisheries degree in a great place. I love Idaho and the University of Idaho," he said. "I am obviously a great fan of the College of Natural Resources."