Grow the Sport
Grad Student Builds, Renovates Disc Golf Courses Across Region
Disc golf is one of the fastest-growing sports, with professional international and national competitions attracting large viewership and some of the top players signing $10 million contracts. University of Idaho's Trevor Pumnea is helping grow the sport.
Pumnea, who is working on a Ph.D. in Education with a specialization in healthy active lifestyles, has designed and installed disc golf courses throughout the region for the past five years as part of the group Full Time Recreation, a leader in pocket disc golf course design and installation. He hopes to develop disc golf courses incorporating inclusive trail designs to ensure equitable access and opportunities for people of all ages and abilities.
"Disc golf engages the senses, challenges the individual and is extremely social in nature," said Pumnea. "It's like going for a hike in the woods or a walk in the park but having purpose."
The Priest River native and three-sport athlete discovered disc golf in college. He now plays competitively across the region, having placed fourth in the Up the Gut 2020 tournament at Farragut State Park in Athol. The tournament was a Pro Disc Golf Association-sanctioned singles tournament which attracted more than 130 participants.
Once viewed as a hobby, disc golf, an outdoor flying disc sport similar to ball golf in which players throw a disc at a basket, has seen a steady rise in interest since the mid-'90s.
Disc golf is inclusive by nature. It's extremely inexpensive to play compared to other sports and recreational activities and can be enjoyed by a diverse group of people as it's low impact. Trevor Pumnea
In 1995, there were 560 courses open for play. Today, there are more than 8,500 throughout the world, with roughly 6,500 in the United States.
"Part of the popularity of the sport is that disc golf is inclusive by nature," said Pumnea. "It's extremely inexpensive to play compared to other sports and recreational activities and can be enjoyed by a diverse group of people as it's low impact."
The sports' explosion intensified during the COVID-19 pandemic and the desire for safe, socially-distanced outdoor activities.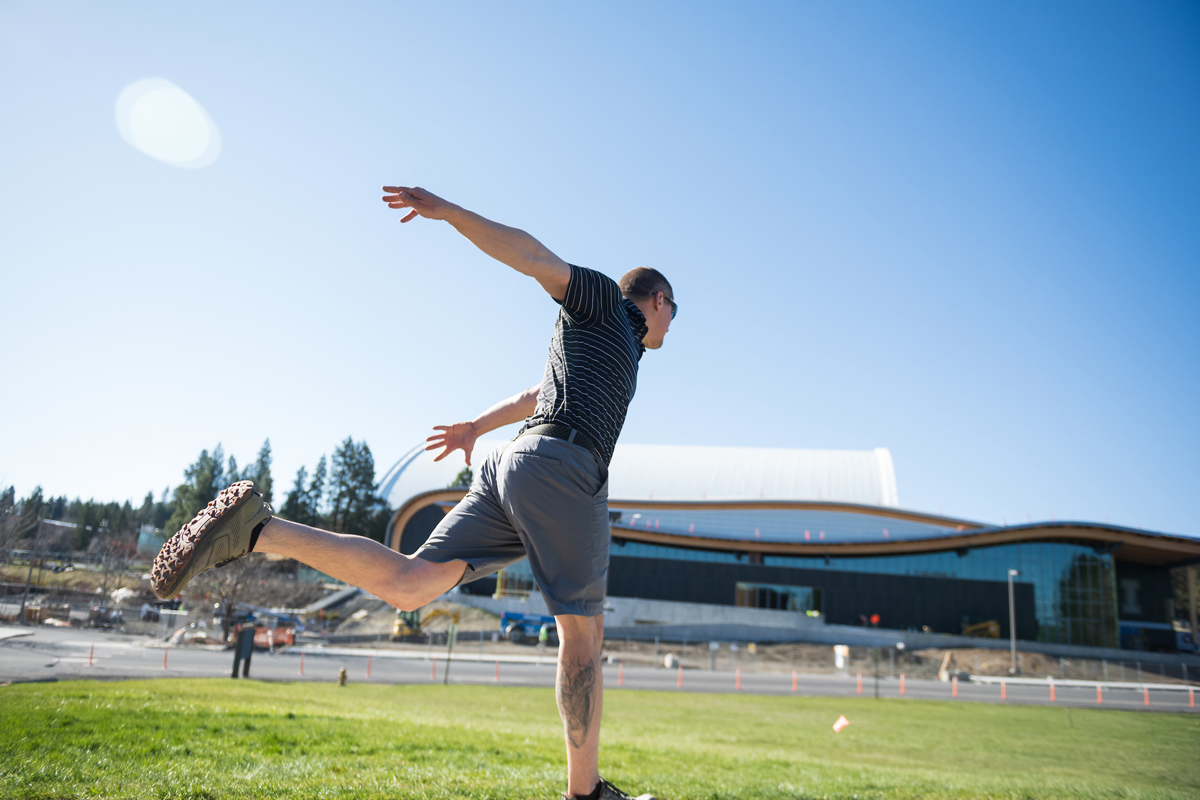 "Disc golf is an outdoor activity that makes social distancing easy," said Pumnea. "Players do not share equipment, and there is no contact within the sport. With disc golf, people can reap the benefits of exercise, outdoor exposure and social engagement without compromising their selves or their peers. It's really a great way to rejuvenate and refresh your mind."
Over the past 15 years, Pumnea has helped create, maintain or redesign dozens of courses in the country, aiding in the growth of the sport.
His most recent project was the nine-hole course at Duthie Park in Troy.
"This course was special because my fellow designer and good friend, Connor Williams, grew up in Troy and proposed the idea to the local city council. Once the ball got rolling, he asked me if I could help facilitate the design and installation process if we were able to secure funding," said Pumnea.
After meetings with the Troy Recreation District and city council, the pair secured funding through a grant Pumnea developed in a U of I course. The Troy Recreation District funded 80% of the project and the City of Troy matched the remaining 20%. It opened to the public in 2020.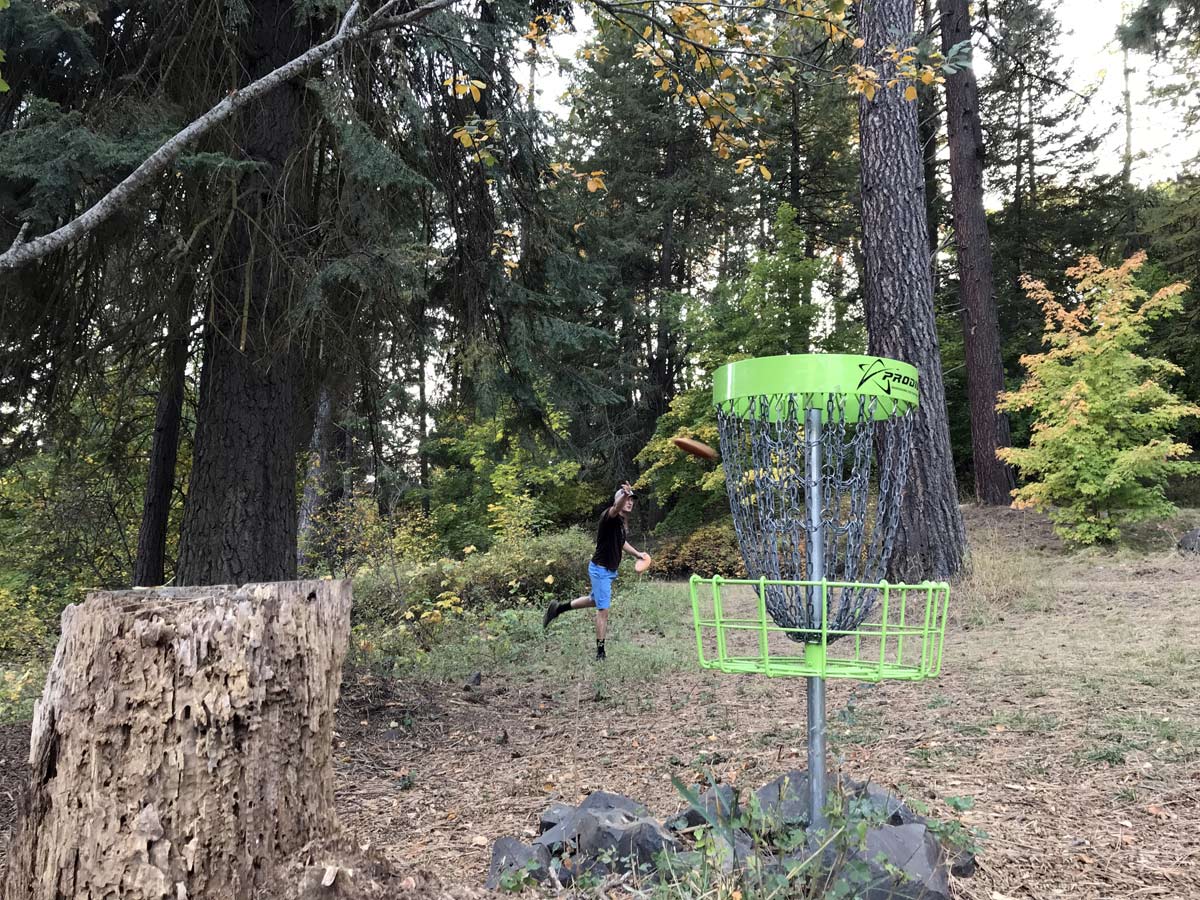 The Troy course is nine holes and relatively short to play. Participants can expect to play a round of disc golf in as little as 30 minutes, said Pumnea. It's a nice beginner-friendly course nestled among the trees, with mostly mid-range shots. It's also free and can be played with as little as one disc, which can be purchased at local sporting goods stores or online.
U of I students have several other local course options available, including two courses in Lewiston, a course on Scenic 6 in Potlatch and courses in Pullman, Washington. There are other courses within driving distance of the Moscow area in Coeur d'Alene and Spokane, Washington. (Download the U-Disc app to find courses all over the country.)
There's also a nine-hole course conveniently located on the Moscow campus, next to the ASUI-Kibbie Activity Center.
The U of I course is a nice learning course with mostly hilly and grassy terrain with a few drop-offs. It's a relatively short course to play and is nice for practicing short-distance shots with little natural obstacles.
"The U of I course is a great way to get out and enjoy some fresh air and an easy way to recreate while social distancing," said Aaron "Butch" Fealy, associate director of Recreation and Wellbeing. "The course is ready when you are; drop in and play a round."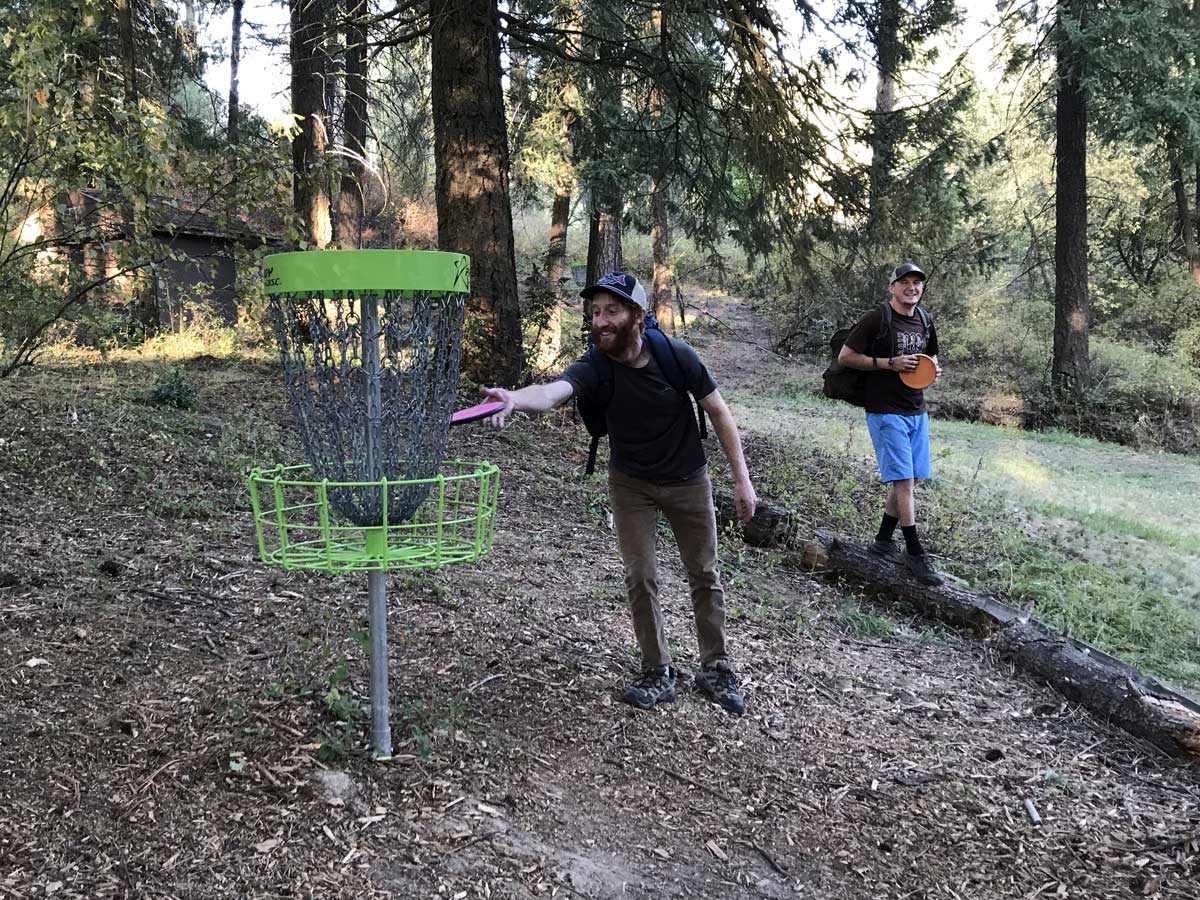 Article by Kassandra Tuten, University Communications and Marketing.
Photos of Moscow course by Creative Services. Photos of Duthie Park course by Kassandra Tuten.
Videography by University of Idaho Creative Services.