The Vandal Theory Podcast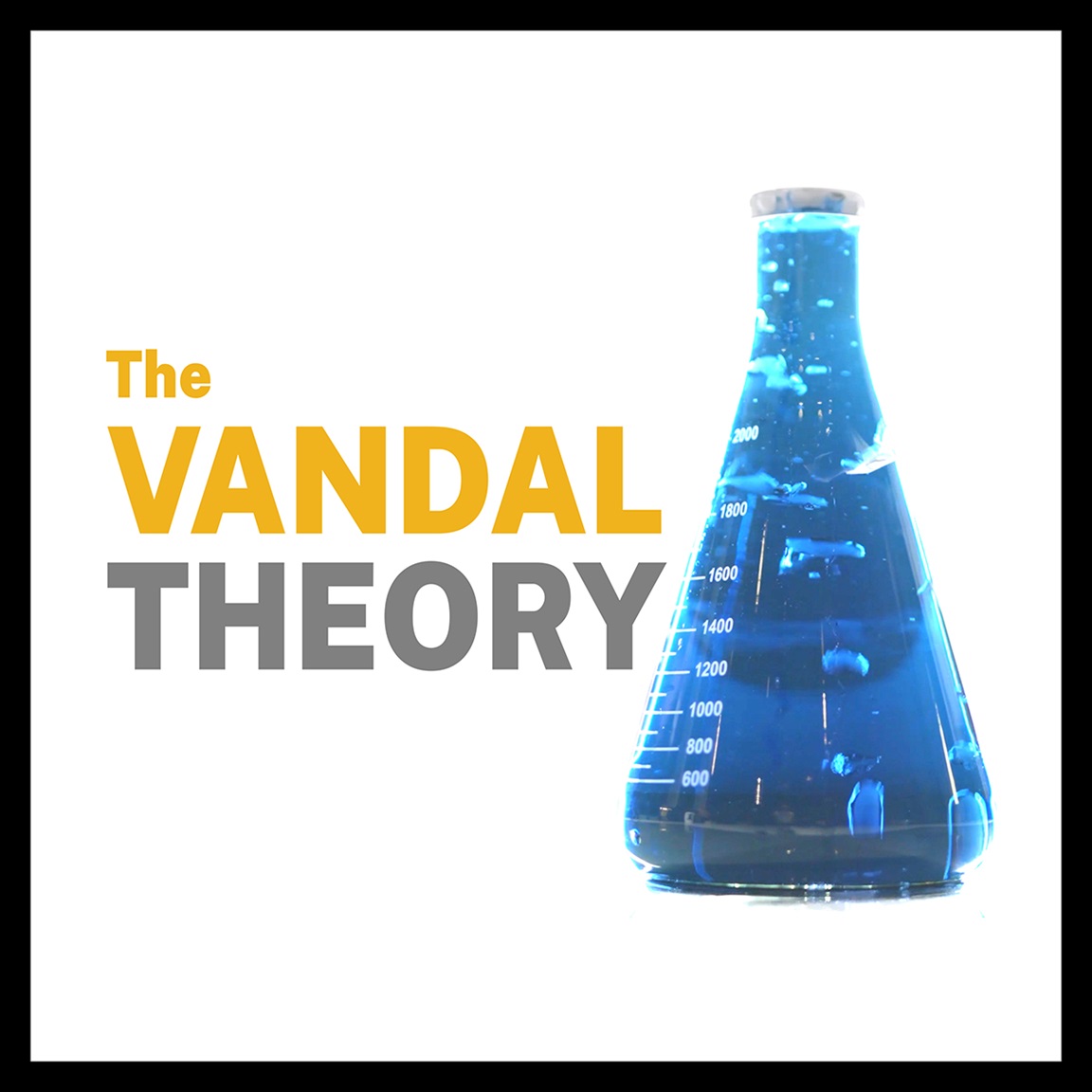 The Vandal Theory podcast asks, "What gets University of Idaho researchers' brains buzzing... besides coffee?" These award-winning stories showcase researchers exploring and solving real-world problems. With interviews on all things Vandal, discover the world of U of I research with hosts Leigh Cooper and Kyle Pfannenstiel.
Subscribe on your favorite podcasting platform so you don't miss an episode.
Season 4, Episode 8: Leda Kobziar — Microbes in Smoke
"We took these sampling approaches from the lab and then we scaled it up to sampling in the field. And evolved from the ground-based sampling so that we could actually access higher-intensity fires. The types of fires that you wouldn't want to stand your graduate student anywhere near. So, we developed a system that was lightweight enough that we could put it on a UAS, or a drone, an unmanned aircraft system. Now we sample using drones, and we fly the drones into the smoke columns and measure at different distances from the combustion zone to see how things change as the smoke ages and as we travel away from the combustion source. And at different heights above the combustion zone to see how high up these organisms go."
Meet Leda Kobziar, an associate professor in the Department of Natural Resources and Society at the University of Idaho. In recent years, many people living in the western U.S. have coughed through numerous unpleasant summer days during wildfire season. Leda has discovered that, in addition to the particulate matter making us cough, wildfire smoke actually contains living microbes, something scientists have never known. For more, watch this video about Leda's work.
Email us at vandaltheory@uidaho.edu.
More U of I Research
If you've found yourself enjoying "The Vandal Theory" podcasts, I think you'll like listening to a new podcast from the University of Idaho's Project ECHO program. Project ECHO is an educational resource empowering healthcare professionals in Idaho's remote and underserved communities to treat complex chronic diseases with specialist-level expertise. I'll let Project ECHO's Sam Steffen introduce their new podcast "Something for the Pain," which focuses on opioid and substance use disorder prevention, treatment and recovery in rural Idaho.
Music
"Young Republicans" by Steve Combs via freemusicarchive.org, not modified.
"We Are One" by Scott Holmes Music via freemusicarchive.org, not modified.
Season 4, Episode 7: Larry Forney — Female Reproductive Health
"A lot of the early studies that were done on the bacteria that are found in the vagina, they did sort of a biased sampling. They tended to study women who were white and not women of color, for example. And so, we did a study funded by the National Institutes of Health in which we collected samples from 400 different women, and they were from four different ethnic groups; there were Black women, Hispanic women, Asian women and white women. And we wanted to see how much variation was there in the kinds of bacteria that you find within each one of those demographic groups but also between those groups. And what we found was that there were five different kinds of communities that we could identify. That right there debunked a long-held idea that most women had pretty much the same kinds of bacteria and that they didn't change over time. And it didn't matter what your ethnicity was. And it turns out that all those things aren't true."
Meet Larry Forney, a university distinguished professor in the Department of Biological Sciences at the University of Idaho. There are still many unanswered questions about female reproductive health, including understanding the community of microbes that live in the vagina. Through Larry's work, scientists are even starting to question whether what they consider a "healthy vaginal microbiome" can be easily defined.
Email us at vandaltheory@uidaho.edu.
More U of I Research
Two students, Nick Pancheri and Peik Lund-Andersen, have received Goldwater Scholarship awards for the 2021-22 academic year from the Barry Goldwater Scholarship and Excellence in Education Foundation. Nick researches tendon tissue engineering, and Peik investigates the susceptibility of animal species to COVID-19. Read more.
Senior Madison Thurston worked with the Moscow-based nonprofit TerraGraphics International Foundation on a geospatial analysis of a 2010 lead poisoning event in Nigeria. The study demonstrated that neighborhood size, variation in lead levels and the location of lead waste impact a child's exposure, which can result in lead poisonings. Read more.
Beer brewing uses the hops flower while the remaining plant is often mulched into compost. But what if the hops waste could be used for something else? Agricultural and Life Sciences student Maggie Zee has already figured out how to process the hops' leftovers into paper and is working on making it into a textile. Read more.
Music
"Young Republicans" by Steve Combs via freemusicarchive.org, not modified.
"Amber Glow" by Scott Holmes Music via freemusicarchive.org, not modified.
Season 4, Episode 6: Brian Johnson — Power Grids
"Texas has gone further than a lot of other states in deregulating their power system. So, if you look at Idaho Power or Avista, or a lot of the utilities in the Northwest, they own the generation, the transmission and the distribution lines that do the last little way to get to the customers. In Texas, the generators are mostly owned by third parties. Basically, they don't have this obligation to make sure that power gets to the customers. So, the people who actually own the distribution lines and do the last part of getting the power to the end users, they have that obligation to serve, but because they don't own the generation, they can't guarantee that the supply is going to be available."
Meet Brian Johnson, a university distinguished professor in the Department of Electrical and Computer Engineering at the University of Idaho. In February, a snowstorm hit Texas, and its power grid failed, leaving people without heat and electricity. Brian has worked with the energy sector for his whole career and understands the ins-and-outs of the issues that took down the Texas power grid.
Email us at vandaltheory@uidaho.edu.
More U of I Research
Ashly Anderson, an animal science graduate student, is working with U of I faculty to look at how poor air quality due to wildfires impacts the health of dairy cattle and their milk production. It is the first step in providing livestock producers with recommendations and advice to keep their cattle healthy during wildfire season. Read more.
Junior Mandy Scheffler and her classmates partnered with a Washington, D.C.-based dance organization called Dance Exchange. The team highlighted the ways food sources are taken for granted by connecting dance movements to the beauty of the local fields where the food is grown. Read more.
A U of I-led study found that breastfeeding women with COVID-19 do not pass along the SARS-CoV-2 virus in their milk but do transfer milk-borne antibodies that are able to neutralize the virus. Read more.
Music
"Young Republicans" by Steve Combs via freemusicarchive.org, not modified.
"B-3" by BoxCat Games via freemusicarchive.org, not modified.
Season 4, Episode 5: Stefanie Ramirez — Payday Loan Industry
"While on paper the number of licensed payday lenders dropped to zero, also on paper, the number of licensed pawnbrokers increased. The number of licensed small loan lenders increased. And surprisingly, the number of second mortgage lenders increased as well. So, this was maybe some cursory evidence that payday lenders were not extracting themselves from the market but maybe finding different avenues to actually continue operation either as a payday loan or in a similar industry like pawn broking."
Meet Stefanie Ramirez, an assistant professor in the Department of Economics at the University of Idaho. Payday loan companies offer people quick cash with extremely high interest rates. Some states have enacted various regulations of these businesses in an attempt to protect the clients. Stefanie's investigations look into how these types of businesses are coping with the new laws.
Email us at vandaltheory@uidaho.edu.
More U of I Research
With support of the Legislature, Gov. Brad Little has signed a bill providing the $3 million needed to start the renovation and expansion of U of I's agricultural research station near Parma. These funds, along with $3 million from industry partners and $1 million from U of I, will expand the research capacity to further address the needs of Idaho's farmers and the modern facility will help attract more world-class faculty. Read more.
Fire scientist Luigi Boschetti and his colleagues have developed a web portal that provides county-level fire activity statistics across numerous years. It is the first global fire data portal developed for policy support, so the researchers expect the datasets to be used in national fire assessments and to support wildfire management and risk reduction. Read more.
As a student in the Idaho WWAMI Medical Education Program, Meagan Boll uses a wheelchair, has limited motion in her arms and performs fine motor skills with a bionic glove. College of Engineering students developed an assistive CPR device for Meagan, with application across a spectrum of users with limited arm strength or other disabilities. Read more.
Music
"Young Republicans" by Steve Combs via freemusicarchive.org, not modified.
"Rolling" by BoxCat Games via freemusicarchive.org, not modified.
Season 4, Episode 4: Erik Coats — Wastewater, Not a Waste
"Bacteria are pretty interesting creatures, if you will. They will store inside their cell food that they consume in a polymer form, not unlike, in a way, how we store excess food as fat. If we recover the dead bacterial cells and refine this polymer, it's a plastic. It's a plastic very similar to polypropylene or polyethylene. In order for this process to work well, we need a lot of that particular food, a lot of organic carbon. And circling back to dairy manure, there is a lot of concentrated organic material present in dairy manure."
Meet Erik Coats, a professor in the Department of Civil and Environmental Engineering at the University of Idaho. As you can imagine, industrial and municipal wastewater contains more than just water. And it turns out all that "extra stuff" might have untapped potential. Erik hopes to use his knowledge of chemistry and engineering to extract nutrients and even plastics from our wastewater, providing extra cash for industry and municipalities and cleaning our water at the same time.
Email us at ucm-itunes@uidaho.edu.
More U of I Research
Working on an Icelandic volcano, geologist Erika Rader and colleagues used analytical instrumentation similar to those available on Mars rovers to characterize what geological features are most likely linked to high microbial abundance and diversity. They suggested a sampling strategy for looking for hints of microbes on Mars. Read more.
WWAMI faculty were awarded a $99,000 National Institutes of Health grant to explore the underlying causes of insulin resistance and Type 2 diabetes. The study will help improve understanding of the interaction between diet, the gut's microbiome and the host. Read more.
In the wake of the coronavirus pandemic, children from one Idaho school district are getting plenty of fresh air and teacher time. Beginning in September 2020, 100 K-5 students from the McCall-Donnelly School District learned science at the McCall Outdoor Science School. Read more.
Music
"Young Republicans" by Steve Combs via freemusicarchive.org, not modified.
"Travel" by Cambo via freemusicarchive.org, not modified.
Season 4, Episode 3: Geoffrey Heeren — Immigration Law Clinic
"Immigrants are not only working in important sectors of the economy, but they're also generating tax revenue. Immigrants paid about $221 million in state and local taxes in Idaho in 2018. So, I think the state owes something to this population that's really doing so much for it. And my clinic is, of course, not even going to come close to meeting the need for immigrant legal services in the state of Idaho, because we have a small number of students and the students are learning. But the hope is that the students who graduate from my clinic are going to go out and be lawyers and some of them at least might be immigration lawyers in the state who are serving this really, really important population."
Meet Geoffrey Heeren, an associate professor of law at the University of Idaho and director of the Immigration Litigation and Appellate Clinic. Going from books to the courtroom is a big step, and when U of I law students accept an immigration case as part of the law clinic, they become responsible for their client's future. Each case offers unique challenges for the students and provides their clients opportunities for legal representation and advice.
Email us at ucm-itunes@uidaho.edu.
More U of I Research
As an economics and international studies student, Nicole Handlen created a database on manufacturers in Idaho, and the Idaho Manufacturing Alliance will build an app using the database to give the state's manufacturers a way to connect. Read more.
College of Agricultural and Life Sciences emeritus distinguished professor Ron Hardy has co-authored a new study as a follow-up to one from 2000 that warned of the environmental impact of fish farms depleting wild fish stocks. The new study finds that fish farming has improved, with more farmed fish being fed plants, like soy. Read more.
A student team earned $10,000 for its first-place win during the 2020 Hacking for Homebuilding competition. The team worked with construction professionals to develop a steel frame that sits between the wall studs and floor joists of a structure and allows for easy utility access through a collapsible or detachable baseboard. Read more.
Music
"Young Republicans" by Steve Combs via freemusicarchive.org, not modified.
"Disguises" by Ketsa via freemusicarchive.org, not modified.
Season 4, Episode 2: Bert Baumgaertner — Vaccine Hesitancy
"Moderates seem to be the most sensitive to changes in risk. So that's to say, when risk is really low, the moderates behave similarly to conservatives in that not as many of them are willing to get vaccinated compared to democrats. But as you dial up the risk so that the risk is really, really high, then liberals and democrats are much more willing to get vaccinated than republicans and so are the moderates. So, the moderates sort of swing the most. They seem to be most sensitive to information about the risk of the disease."
Meet Bert Baumgaertner, an associate professor in the Department of Politics and Philosophy at the University of Idaho. For months, the United States and the rest of the world have been tracking the development and now distribution of COVID-19 vaccines. But not everyone is planning on getting the vaccine. Before the pandemic, Bert was studying why some people get vaccines, why they don't and what might change a person's mind.
Email us at ucm-itunes@uidaho.edu.
More U of I Research
The University of Idaho Confluence Lab, along with University of Oregon and Whitman College, was awarded a roughly $4.5 million grant from the Andrew W. Mellon Foundation to address racial and climate justice issues. Read more.
University of Idaho scientists in collaboration with the Idaho Department of Fish and Game are exploring why some Idaho moose populations are declining. So far, they found that adult survival is high and are now looking at calf survival, disease and parasites. Read more.
The U.S. Department of Energy awarded more than $2 million to three projects that partner with College of Engineering faculty. The money will be used to help advance understanding of new nuclear technologies and make them safer to operate. Read more.
Music
"Young Republicans" by Steve Combs via freemusicarchive.org, not modified.
"Les Portes Du Futur" by Bill Vortex via freemusicarchive.org, not modified.
Season 4, Episode 1: Lachelle Smith — Connecting Idaho's Medical Communities
"You know…really the whole point of ECHO is to improve access for rural and underserved patients, and this is a way to do that. And, like I said earlier, it's that ripple effect of it's not just the patient whose case we review in the ECHO session, but it's all the other patients who will receive better care as a result of what their provider learned in ECHO."
Meet Lachelle Smith, the director for ECHO Idaho. When you live in a small town, it's hard to get specialized medical treatment. Medical specialists are often too far away and too expensive. But, through ECHO Idaho, the state's healthcare work force is learning to address their patient's individual needs by reviewing real case studies within an online community. ECHO Idaho helps the state's health care workers keep abreast of the latest medical research and public health trends — knowledge they pass to their patients.
Email us at ucm-itunes@uidaho.edu.
More U of I Research
NASA selected a College of Engineering team to build an experiment that will take place on the International Space Station. The team will research how microgravity impacts the efficacy of polymers known to resist bacteria on Earth. Read more.
Wildlife scientists Ryan Long and Savannah Rogers found grizzly bears take cool baths to help prevent overheating. Because the body temperature of mammals rises during lactation, female grizzly bears may take baths to facilitate milk production and ensure offspring survival. Read more.
The Idaho Beef Council announced a $250,000 gift to the University of Idaho. The endowment will provide scholarships to graduate students studying beef safety, nutrition and product development. Read more.
Music
"Young Republicans" by Steve Combs via freemusicarchive.org, not modified.
"Instrumental #2 Revisited" by Gillicuddy via freemusicarchive.org, not modified.