A Budding Field
The rural Meridian home Tara McCallister and her family bought early in the COVID-19 pandemic to escape urban life had a 5-acre yard rife with shoulder-high weeds and dead fruit trees.
Rather than putting in sod to improve the property's aesthetics, McCallister came up with an alternate beautification plan that's also providing her family a supplemental income, using skills learned through University of Idaho Extension's Idaho Master Gardener Program.
McCallister is among a growing group of Treasure Valley property owners who are devoting residential yard space for raising and selling cut flowers. The Idaho Master Gardener Program has provided aspiring entrepreneurs in the budding field of homegrown cut flowers with a trusted source for training and helpful tips.
McCallister sells her cut flowers at farmers markets and via subscription services, through which locals pick up bouquets throughout the growing season. She recently sold out every slot for a wreath-making course that made use of her dried flower petals. Her expansive flower garden also makes an idyllic setting for paid events, such as wedding showers.
Upping Her Game
Through Idaho Master Gardeners, McCallister has become well versed in the science of gardening, broadening her background in soil health, irrigation, fertility management and controlling pests and weeds. An Advanced Idaho Master Gardener who spoke to her class gave her valuable tips for designing the perfect greenhouse in which to raise flower seedlings. She's also become better prepared to answer frequent questions from the public that come with being a professional gardener, including from aspiring cut-flower gardeners.
"I think the master gardener program helped me not only with actual knowledge, but also with the confidence and resources to problem solve as we move forward," McCallister said. "As we are expanding our business, I feel like my foundation is so much stronger, and it also helps me in representing the agricultural community to our customer base."
Participants must perform 50 hours of community service to become certified as Idaho Master Gardeners. McCallister helped with the landscaping at the UI Extension office in Ada County. She also answered phone calls and interfaced with community members seeking information about specific plants and insects from the program's diagnostic lab. Furthermore, she taught some beginning gardening courses.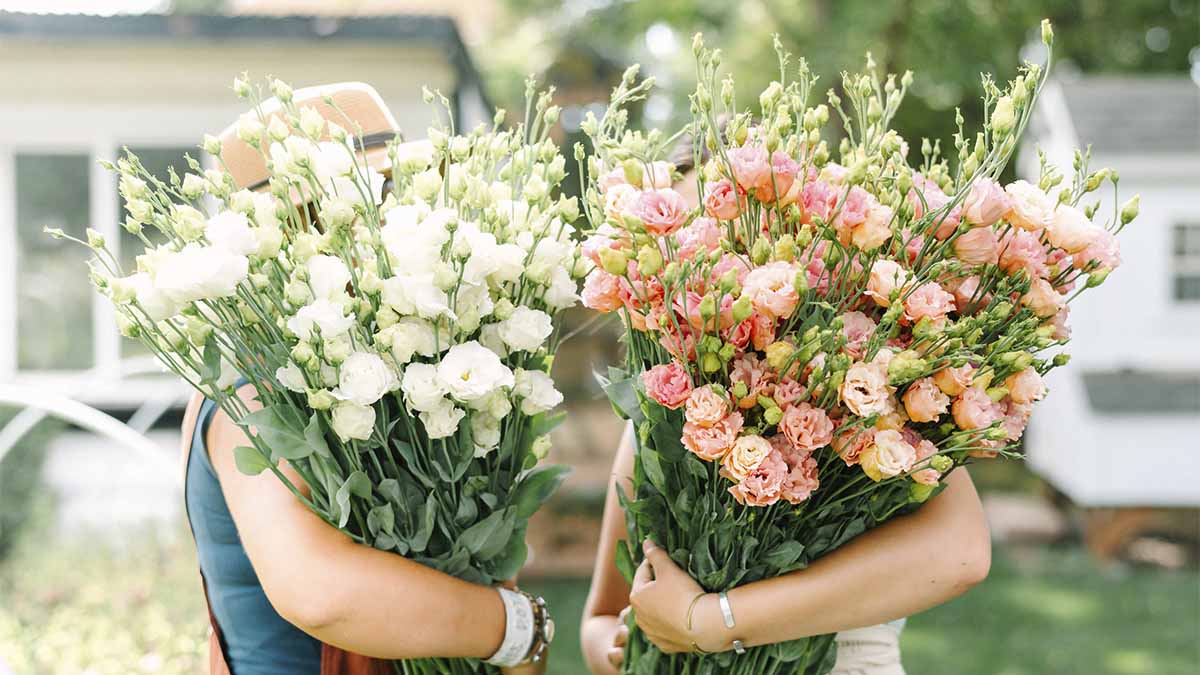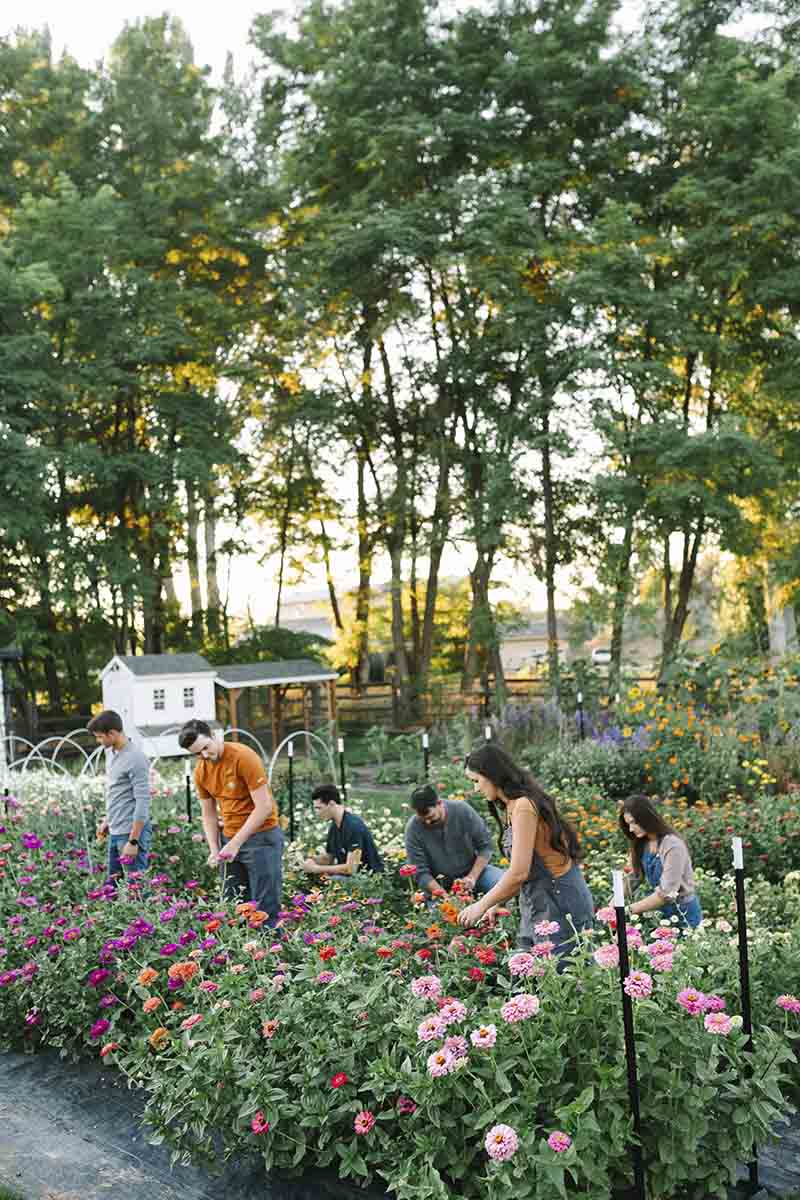 Backyard Farmers
McCallister believes interest in growing cut flowers on residential property ballooned in response to the pandemic, as people looked for opportunities to maintain a safe social distance while working outside and surrounding themselves with beauty. Early in her endeavor, McCallister joined a Facebook group for Treasure Valley flower farmers — most of whom raised beds in their suburban yards.
About 25 local flower farmers showed up to a social gathering McCallister hosted at her home, including Adele Smith, who was in her Master Gardener class.
Smith worked as a healthcare administrator with the Veterans Administration in Boise before leaving her career of 13 years to raise cut flowers full time. She grows some of them in her one-third-acre downtown Boise yard. She also rents land and a greenhouse in Garden City for cut flower production and raises more flowers in an acquaintance's backyard, providing the property owner the chance to have a garden without putting in the work.
"During COVID, hospital staff, we were all so burned out. I read a book about cut flower production, and I thought, 'Oh my gosh!'" Smith said.
Prior to making the life-changing transition, as an exercise in a leadership training program, Smith was asked to identify her personal short-term and long-term goals. Her short-term goal was to become an Idaho Master Gardener. In her home office, her certificate of completion from master gardeners hangs beside her master of public health certificate.
There's no way I'm going to call myself a professional gardener unless I have some kind of certificate that validates it. I think it was always a pipedream for me to have a badge of honor to say, 'I am a Master Gardener.'Adele Smith, cut flower grower and master gardener
"There's no way I'm going to call myself a professional gardener unless I have some kind of certificate that validates it," Smith said. "I think it was always a pipedream for me to have a badge of honor to say, 'I am a master gardener.'"
Smith supplies local florists, and like McCallister, she sells bouquet subscriptions directly to area residents. Furthermore, she partners with local wineries, bringing in buckets of bulk flowers for bouquet-building workshops and wine tastings.
"There are so many people moving to Idaho and so many people have no concept of how to grow in our soil," Smith said. "They're hungry for knowledge."
A Nice Niche Market
UI Extension educators involved in the Idaho Master Gardener Program have also noticed the trend of patrons seeking information on raising cut flowers on residential properties. In recent years, the UI Extension, Ada County office has been fielding three or four calls about cut flower production per month.
"It seems to be a really up-and-coming thing," said UI Extension educator Susan Bell. "What we find with the Master Gardener clinic we have, which is a free clinic, we're getting the public calling the master gardeners on how to get started with their flower farm."
In Twin Falls County, UI Extension educator Andy West fields frequent calls from people interested in raising cut flowers with questions about how to break new ground, when to add fertilizer and why soil testing is important. He's heard from a few gardeners who raised cut flowers in California and moved to the Magic Valley, seeking guidance on how to continue production in a new growing area.
A former Pocatello florist who recently moved to Twin Falls also contacted West. She's now raising flowers in Twin Falls to supply hard-to-find flowers to her former flower shop.
"It's a trend that's moving here in southern Idaho and up into the Boise Valley," West said. "It's a nice niche market."
---
Article by John O'Connell, College of Agricultural and Life Sciences
Photos by Bri Rose Photography and Adele Smith
Published in May 2023