Using Physics to Learn About Microbes
U of I Physics Major Shines Light on Malaria Parasites
As part of a group of homeschooled, Tri-Cities teenagers, Joey Perko often found himself helping his fellow students with science-related assignments.
Perko also taught his classmates physics — a topic he learned late in his high school years and immediately fell in love with. And he's still doing it.
These days, Perko, a Hill Scholar and U of I junior majoring in physics with minors in mathematics and computer science, tutors ROTC midshipmen and other students on the Moscow campus while studying the subject that he knows is his future.
In Professor Andreas Vasdekis' physics lab, Perko is among undergraduate researchers studying the metabolism of the microorganisms that cause malaria. The research, co-sponsored with Biology Professor Shirley Luckhart, is not something Perko considered doing before attending college, but it has major implications into how infectious diseases are studied in the future.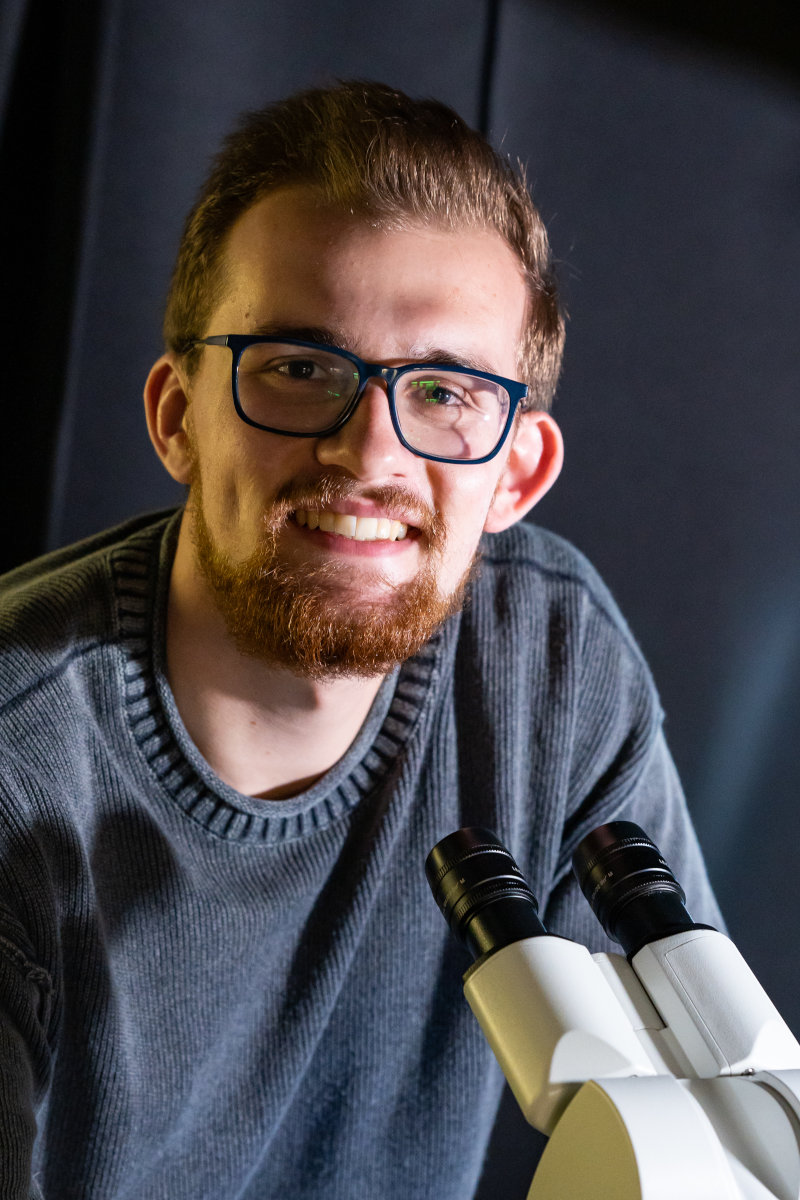 Falling for Biology
Perko will be the first to say that he didn't know anything about malaria when he entered college. As a high schooler, he even found life sciences tedious and uninteresting.
"I came into college not liking biology at all," Perko said.
But Perko figured that participating in research — even if it wasn't pure physics, but the more boring biophysics — would allow him to get his hands dirty.
So, he went for it.
"Now, I find it really interesting," he said.
With the help of a novel microscope developed in the Vasdekis lab, researchers investigate the metabolic dynamics of malaria parasites at different stages of their life cycle.
The malaria parasite, a protist, which is neither virus or bacteria, invades red blood cells and multiplies by consuming nutrients provided by the red blood cell. When the red blood cell bursts the new protists are released to invade more cells.
Researchers in the Vasdekis lab use a special microscopy technique known as quantitative phase imaging, which measures the "phase" of light or how much the light is slowed down by objects in its path.
"I know a lot more because of this research."

— Joey Perko, Undergraduate
When the light of the microscope goes through a cell, the cell membrane and the cell's contents slow down the light. If the cell is thicker or has more material, it slows the light down further. Researchers measure the light's phase to find how crowded the intracellular environment of the red blood cell is. A cell with a crowded cytosol slows the light more than a cell with little crowding.
Normal fluorescent microscopes can help scientists determine if cells are infected with malaria, and the life stage of protists. Pulling this together, researchers can find malaria-infected cells and the metabolic properties of the malaria parasite inside.
"We can use this fact to determine the growth stage of the parasite and – eventually – how to best kill it," Perko said. "Combining this information will teach us about the correlation between malaria life stages and metabolism."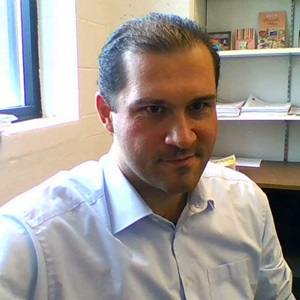 Engineering-Physics 315
208-885-6099
Room for All the Sciences
The biophysics lab work, Perko said, has rounded out his science education, infusing it with biology, a discipline that had at first repelled him, but for which he has found new regard.
"I know a lot more because of this research, so I'm grateful to have been given the opportunity to work in both fields at once."
The experience has also taught him to embrace the unknown and throw out misconceptions.
"When I first started doing research my sophomore year, I didn't know what I was doing," he said. "But every time you do something new, you learn. It's like, the more you learn, the more you realize you don't know."
With the help of referrals from his research professors, Perko has landed an internship this summer at the Pacific Northwest National Laboratory in Richland, Washington.
He'll be working on molecular physics, and the prospect is both exciting and a little nerve racking.
To calm himself, he will apply what he has learned at U of I.
"Since coming to U of I, I've learned that you're not thrown into something and expected to be an expert," he said. "There are so many helpful people here who want to teach you and help you develop. "