At the Helm Again
ASUI's Second-Term President Reflects on How to Get the Most From the College Experience
Tanner McClain's forbears fought in the American Revolution.
It's well documented in the McClain family and since he was a child, revisiting the Battle of King Mountain where a relative, Lt. Josiah Tanner, was wounded found a place in McClain's imagination.
Stories of family service — his grandfather was a veteran of World War II — became part of his psyche.
It's one reason the University of Idaho political science and philosophy major has plans to join the military after college as soon as he is accepted to law school.
McClain, ASUI's second-term president, plans to be a judge advocate general (JAG) officer. Judge advocates are commissioned officers in the U.S. Armed Forces that serve as legal advisors to the command in which they are assigned.
McClain's U of I experiences have prepared him for it.
Earning a second term as ASUI president this year is one example of how his forward focus, something he honed in leadership roles as a Vandal, propels him.
His senior year is already shaping into one to remember.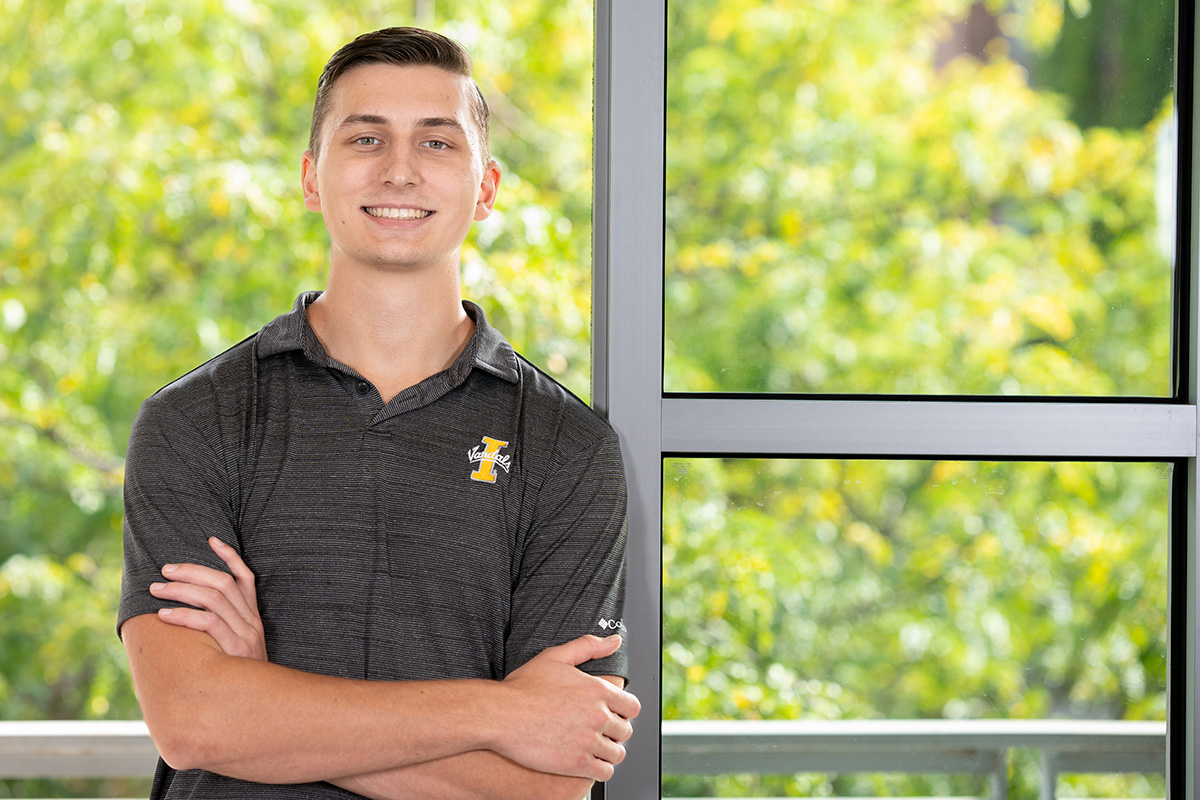 When McClain, who graduates in Spring '24, won a second term as ASUI president earlier this year, he became the first candidate in many years to serve two consecutive terms. It's not highly unusual to serve back-to-back terms as president, but it merits attention.
"I think I'm the first one to be reelected in eight years," McClain said. "I felt like I had more to accomplish, so I wanted to serve another term."
He initially threw in his hat after seeing how university student programs and events were curtailed during the pandemic, and as president post-COVID, McClain wanted to reestablish shuttered programs, clubs and events to ensure a lively and engaged student body, he said.
"It seemed like during COVID, everyone was kind of locked-in, or sheltered, and there was kind of a feeling of fragmentation and despondency," he said. "I wanted to make campus livelier, to bring back an upbeat atmosphere, reaffirm Vandal pride, to build the community back."
One of the programs McClain reestablished was a lobbying effort in which representatives from the student body travel to Idaho's Capitol to gain support for legislative initiatives. The program was ditched during the pandemic.
This year McClain wants to gather support for an initiative to decriminalize fentanyl test strips. The strips are a low-cost method to help prevent drug overdoses and are used to detect the presence of fentanyl in drugs like cocaine, methamphetamine, heroin in pills, powder and injectables. The problem is the strips are illegal in Idaho and many other states.
"The strips can be lifesaving," McClain said. "So, we're passionate about getting after that this year. We're trying to garner support before we meet with the legislature."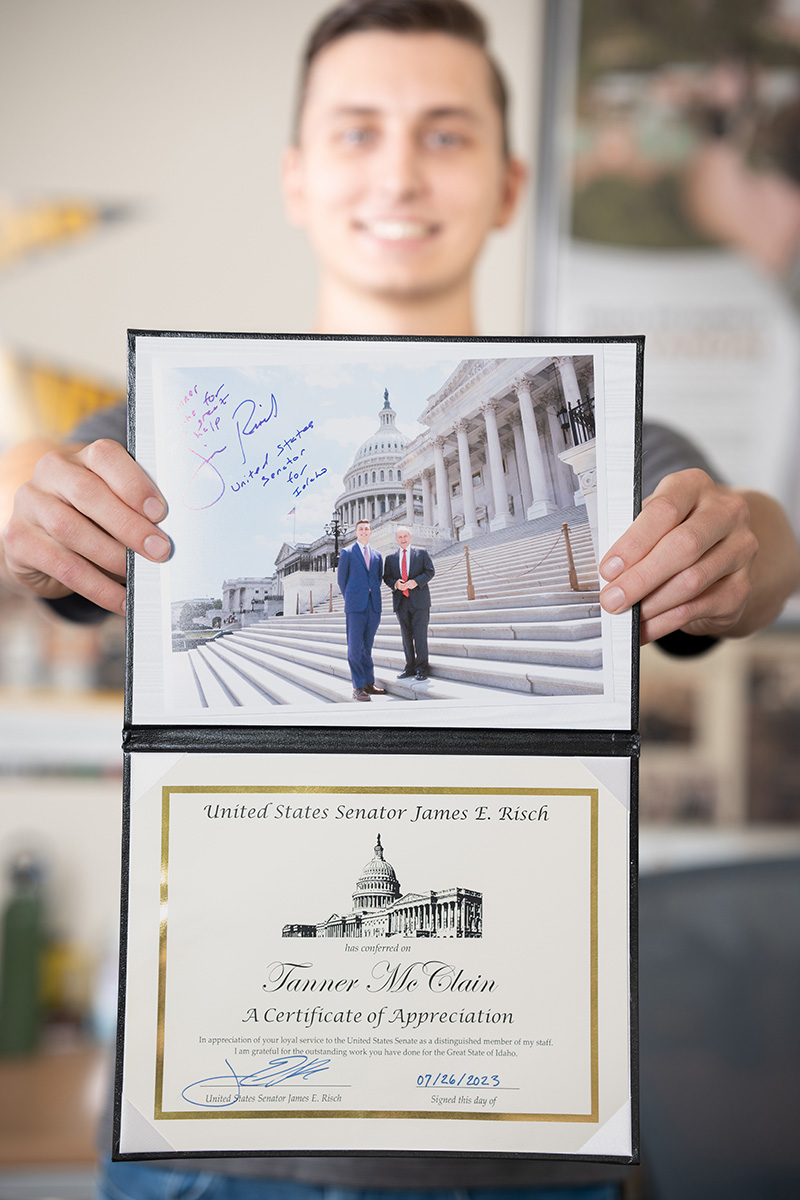 McClain became interested in a law career as a middle school student in Middleton, Idaho. The mixture of family history, McClain's interest in office and leadership and the ideal of statesmanship led him to found, and become president, of the school's Young Americans for Freedom club. The national organization introduces students and student activists to conservative ideas through conferences, speakers, campus lectures and initiatives.
It's really about … working together to accomplish worthwhile things. Tanner McClain, ASUI President
When he enrolled at U of I, he picked up where he left off, joining campus organizations including the student senate, fraternity leadership and eventually being elected student body president.
In the summer, he worked as an intern at Sen. Jim Risch's office in Washington D.C. "Being invited to work at Sen. Risch's office was really invaluable," he said. "It taught many lessons on how politics work in reality. You can watch news, read articles, attend classes but nothing beats witnessing it, or just being around it."
Political science was his go-to major, and he opted to double major by adding a philosophy degree. The discipline teaches people how to think, McClain was told, and it prepares students for law school. He was skeptical at first, but over the course of several years taking classes, he has become a believer.
"Critical thinking, logic, reading, writing, it took me by surprise how much I enjoyed it," he said. "It gives you well-rounded critical thinking lens to see problems, and it gives you an open mind as well."
Instead of graduating early, he added English as a minor. Shakespeare became a close friend and confidante.
"Through those tragedies, you learn what it is to be human," he said. "Life is full of those difficult times and reading about it gives you a perspective you didn't have before. If want to go to law school, I think it's important to dive a little deeper. When I go through difficult times, I think back to Hamlet."
Aside from his role as a student leader, which brings with it a sense of responsibility and direction, McClain said the opportunities afforded him and the one's he's taken advantage of as a U of I student have provided a rich perspective that isn't taught in classes.
"If you go to college just for the academic part, you're doing it wrong," he said.
His time spent on Capitol Hill, and his regular meetings with U of I President Scott Green — also a former ASUI president — have banked a rich behind-the-scenes experience grounded in a concept McClain is passionate about.
"It's really about building a community, getting broader perspectives and collaboration and just working together to accomplish worthwhile things," he said.
It's why he is back at the helm of ASUI.
"I'm looking forward to doing it again," he said.