Representation Matters
U of I Dedicates Campus Space, Showcases Voices of Black and Minority Students
When KT Turner, a doctoral student in University of Idaho's History Department, arrived on campus in 2019, she felt "alone and on an island" as a Black woman on a predominately white campus in a predominately white state.
She didn't need to wait long to see some big changes.
With the recent unveiling of the Black/African American Cultural Center (BAACC) at the Idaho Student Union Building (ISUB), Black students are seeing the changes Turner heard U of I President Scott Green mention shortly after she moved to Moscow.
"I remember hearing President Green talk about his commitment to making Black and African American students feel valued and supported," said Turner, who is also the student outreach coordinator at the Office of Multicultural Affairs (OMA). "Since then, I have seen incredible strides."
Set Up for Success
Mario Pile, director of the BAACC, knows a lot about statistics. In one of his primary roles as a recruiter, he can tell you about rates for student retention and, conversely, figures for students dropping out. That's why he sees BAACC's opening as a critical piece for getting – and keeping – Black students at U of I.
"Dropout rates for Black students run anywhere from 65-75% between their freshman and sophomore years," he said. "For universities with a cultural center, a place where those students feel like they belong, retention rates go up to 80-90%."
The creation of BAACC, as well as the hiring of Pile as the director, was a collaborative effort involving U of I's Black Faculty and Staff Association, U of I Chief Diversity Officer Yolanda Bisbee, Professor Sydney Freeman, Jr. and President Green.
In her capacity as Communications Chair for the U of I Black Student Union (BSU), which holds meetings at the center, Turner has witnessed the amount of pride students have for their new space.
"The center has brought a surge of energy, curiosity and hope to campus," she said.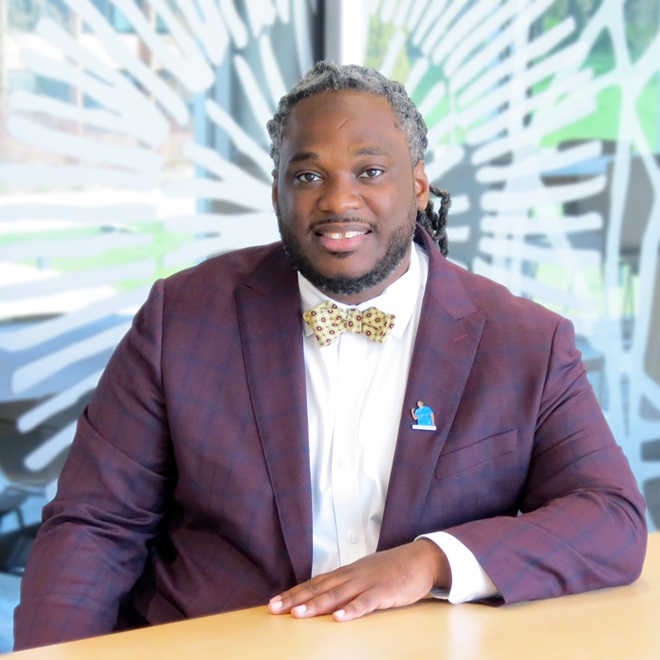 Homecoming
The union marked its 50th anniversary in 2021. They celebrated by moving into their first permanent meeting space in 48 years.
Only two years after its creation in 1971, the group lost its meeting place when extensive water damage from frozen pipes led U of I to demolish the building.
After that, the union met in temporary locations until BAACC opened last fall.
"Having the cultural center on campus and having BSU meet there brings an acknowledgement that we are here for all U of I students," said Narcisse Mubibya, the union's president. "We're all in this together."
Mubibya, a sophomore studying veterinary science, can relate to students who are acclimating to strange surroundings. He and his family moved to Twin Falls in 2016 from Congo, primarily so he and his siblings would have a chance to receive an education.
Because of his relatively short time in the U.S., he appreciates what a support system can mean to someone who feels unsure of their surroundings.
"We are here for anyone who needs a friend or someone to talk to if they are having a tough time," he said.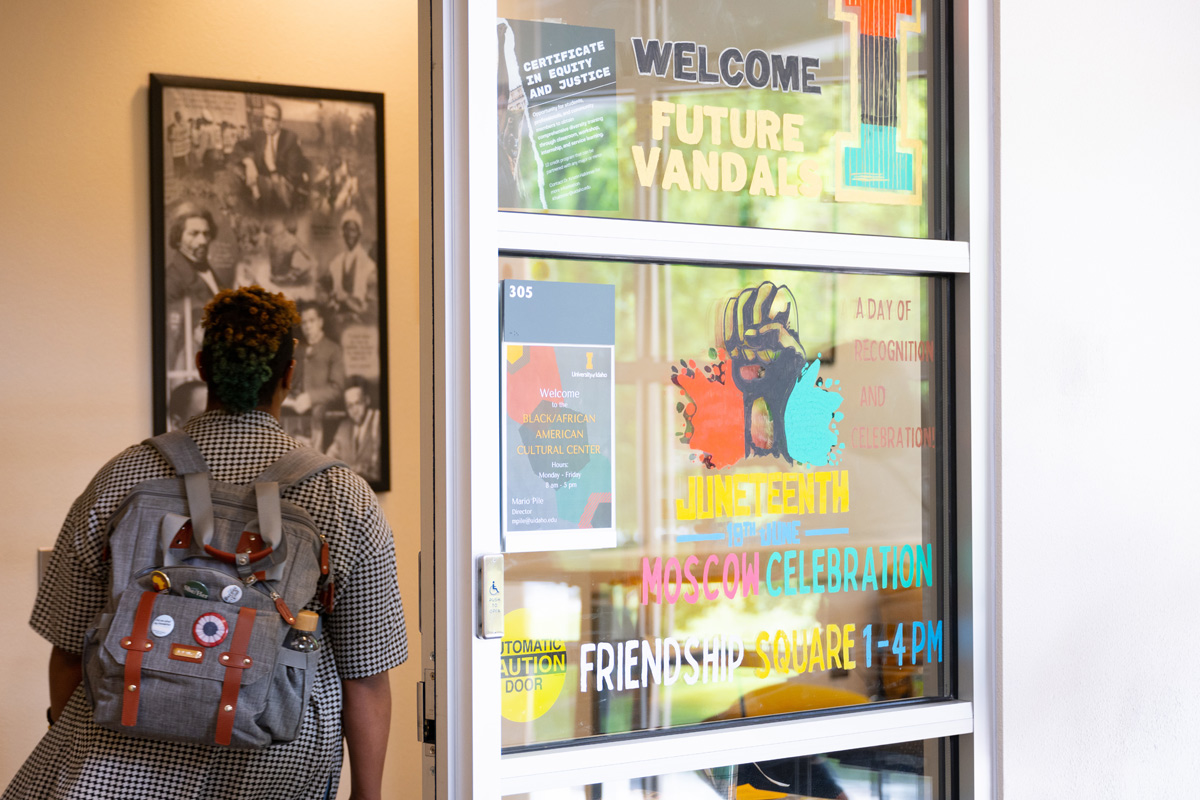 History 101
Derek Higgins '21 moved to Idaho from Nebraska in 2018. Nebraska, like Idaho, has a predominately white population. But the master's in history graduate knew from his studies that even in states where most of the population is white, Blacks and other minorities have stories to tell.
Higgins began researching information for the Black History Research Lab, which unveiled "Black History at U of I" in February. The exhibit shares stories about Black students and faculty members at U of I, primarily from the early to mid-1900s.
"These are important stories – stories that need to be told," he said.
Freeman, the lab's director, came to U of I in 2015 from Montgomery, Alabama, where he lived two blocks away from a church where Martin Luther King Jr. used to speak.
Although he did not come to Moscow specifically to create the lab, his appreciation of Black history fueled his desire to help share stories of past Black students and faculty members on a college campus where those groups may feel under-represented.
"This is an opportunity to reach out to current Black members of the U of I family," he said. "They may feel some isolation because their community is maybe not as large as at other universities, but they have a history here."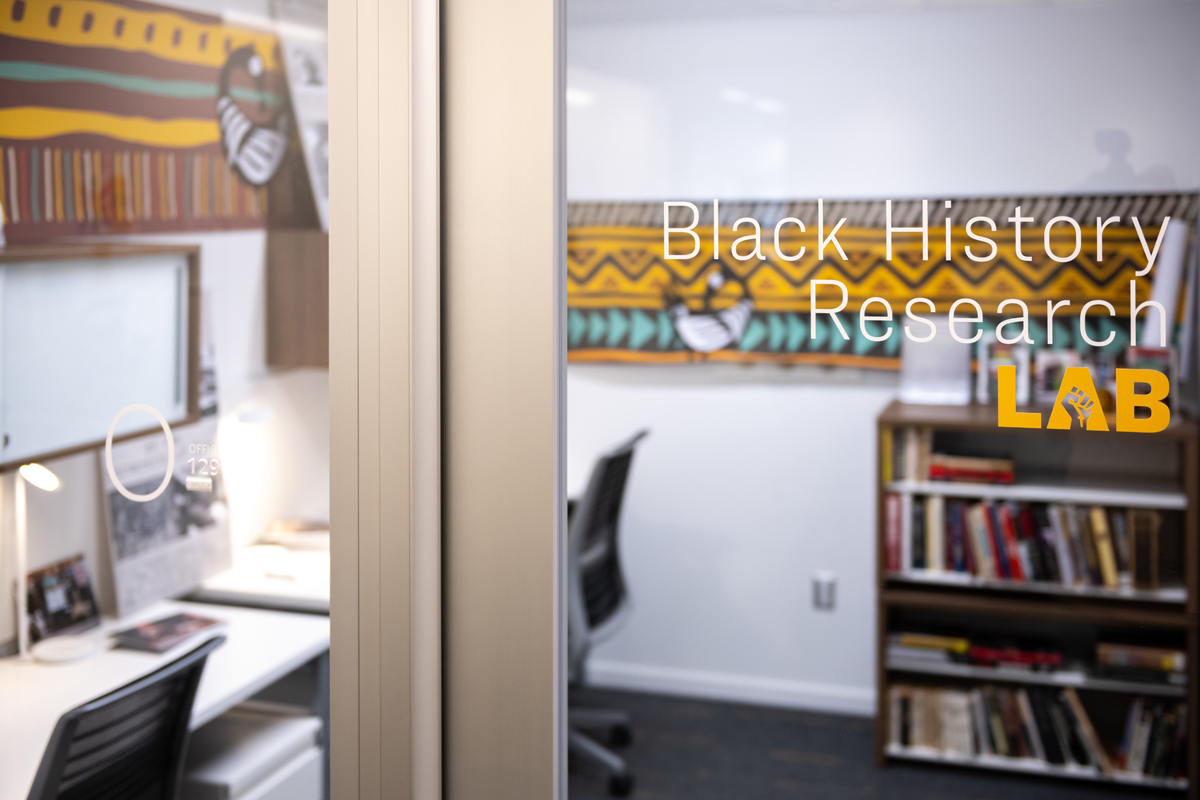 Making Connections
But perhaps no one can appreciate these different support pillars more than Turner.
Originally from Louisiana, she arrived in Moscow less than a year before George Floyd was murdered in May 2020. Already feeling isolated, and with a growing sense of anger and frustration over the murder, she redirected her emotions and decided to seek out solutions for other Black and minority students who felt like she did.
She knew they needed to have a place where they felt safe when events around the country might make them feel otherwise.
In her role at OMA, Tuner now relishes the chance to be the support for incoming minority students of the Vandal Family.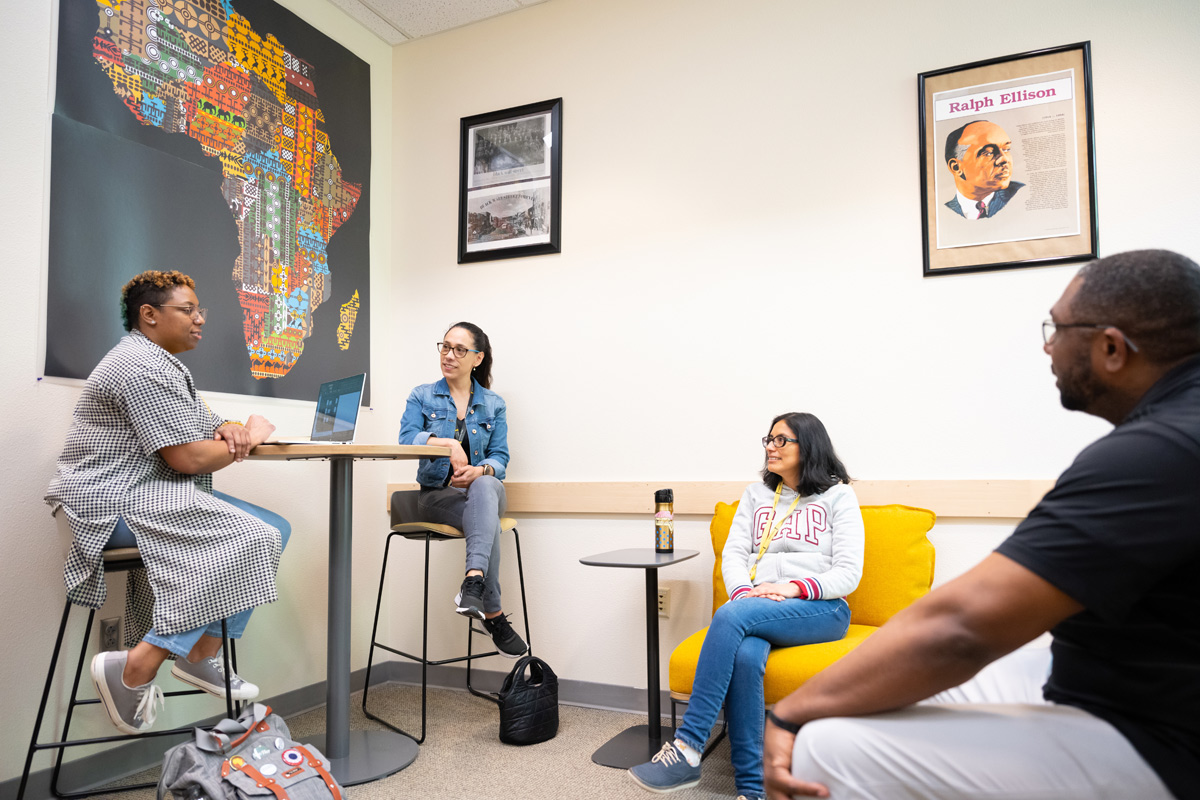 It means a lot to watch students come in and to show them everything that U of I can offer them. I can tell they are nervous but as soon as I say, 'I've got you, we've got this,' we've made a connection. KT Turner, doctoral student
"It means a lot to watch students come in and to show them everything that U of I can offer them," she said. "I can tell they are nervous but as soon as I say, 'I've got you, we've got this,' we've made a connection."
One student who has connected to this support system is Blaire Hess, a sophomore majoring in management information systems.
Hess attended her first Black Student Union meeting during her freshman year after seeing a post on Instagram. She is currently BSU's events coordinator.
She said groups like BSU and places to gather like BAACC help newer Black and minority students acclimate to campus life and understand they are a valued part of the U of I family.
"I think it's comforting to see there are people who look like you on campus and to have a way of connecting with them," said Hess, originally from Arlington, Washington. "We want all students to feel like they belong here."
Article by David Jackson, University Communications and Marketing.
Photos by Melissa Hartley, University of Idaho Visual Productions and Black Student Union University of Idaho Facebook page.