Innovating Education
Online Business Degree Opens New Doors for Students and Instructors
Business Professor Mya Pronschinske Groza dons a fuchsia blazer, steps before a green screen and enthusiastically launches into a 10-minute lecture. Instead of an audience, she watches herself on a monitor beside cartons of eggs and a series of bullet points supporting this lesson on supply and demand.
University of Idaho students will digest this lecture in all kinds of environments. A barista might watch on a phone between lattes. A business owner may attend from an office. A parent could view it during a child's naptime.
This is a way for us to live out our land grant mission to provide multiple paths and avenues to education. It's no longer 75 minutes of sitting in a lecture. It is allowing us to expand access and reach people who never would have been Vandals. Business Professor Mya Pronschinske Groza
Online education is transforming education for students and instructors. For students, it's opening new opportunities for career advancement by transcending time and physical location. On the other side of the podium, educators are redesigning teaching methods and expectations for how students prove what they've learned.
"COVID accelerated the desire for online learning. Students spent high school online. Preferences began to form. They structured their life around their education," Groza said. "How we consume information has fundamentally changed in the last 10 years, and especially in the last five years."
This fall, the College of Business and Economics launched a 100% online certificate program. The new Bachelor of Business Administration (B.B.A) is a path to a degree through five undergraduate certificates: Applied Finance, Business Leadership, Enterprise Systems Integration, Sales Management and Technical Program Management. Each course is available on demand, providing students with the flexibility to learn at the pace of their life, wherever they may live. The B.B.A. is earned once four certificates are completed.
"This is a way for us to live out our land grant mission to provide multiple paths and avenues to education," Groza said. "It's no longer 75 minutes of sitting in a lecture. It is allowing us to expand access and reach people who never would have been Vandals."
It takes a team to create quality online classes. Each lesson contains a 5 to 10-minute edited video lecture with visual aids, attention quizzes, an assignment and links to group discussion boards and open-access textbooks. There are around 40 lessons in each eight-week course. All are accessible from a mobile phone. Groza personalizes her lessons by wearing a different colored blazer in each video. She thinks she now owns about 50.
"We find that students greatly enjoy the portability and geographic freedom of taking classes with their phone while working," Groza said.
Students convey what they've learned and interact with other students and professors by creating original video or audio content. She said educators are moving away from written papers as artificial intelligence systems that generate text evolve and provide that service.
"We have the goal of flipping a classroom, with the idea of a student no longer being a receiver of information but rather a creator of that information in a shared space at that moment," Groza said. "Knowing the business environment that they are entering is highly turbulent and ever evolving, we must prepare them to evolve as well."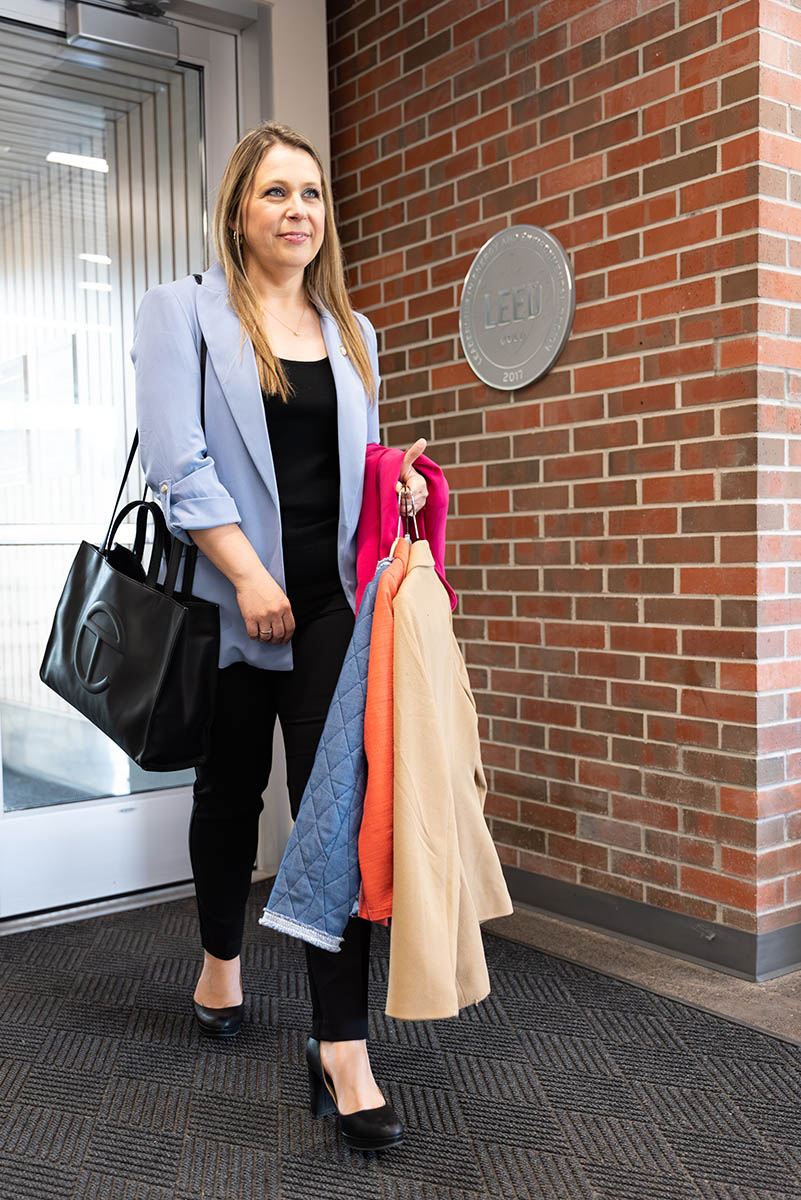 This shifting focus to online education mirrors the changing workforce students will enter or are already immersed in.
"Socially, we have a lot of friends who work at really large companies who only meet on Teams. They never go to the office," said Mark Groza, director of distance education programs at the college and Mya's husband.
Along with geographic flexibility, online classes are expected to aid in retention and could improve Idaho's high school-to-college go-on rate, one of the lowest in the nation, he said. These classes also open the door for guest speakers by eliminating travel costs, allowing students to connect with alumni and industry experts.
"That levels the playing field for those of us who are a little geographically isolated from large metropolitan areas," Mark said.
Besides being concise, online classes are constructed with user experience at the forefront.
"If it's not engaging, it won't engage" said Sean Quallen, an instructional designer at U of I's Center for Excellence in Teaching and Learning.
Quallen works behind the green screen, providing videography services and helping professors evaluate their content. Online classes provide technological opportunities that face-to-face classes don't, he said. Foremost, they're reusable. In addition, video lectures are transcribed and captioned, and users can adjust playback speed, aiding learners with different preferences or abilities. Analytics can show professors where they may be losing students' attention so they can fine-tune their lessons.
"A myriad of opportunities is available in this room with what we can garner from online and distance education," Quallen said.