Thinking Small
CAA, U of I Alumnus and MAHT Collaborate to Address Affordable Housing
For Randy Teal, a simple thought about a big problem created a small house.
Knowing a lot about the construction industry as a licensed general contractor, Teal wondered why he didn't see any smaller, aesthetically built houses in a college town like Moscow.
"Moscow has a lot of larger residential homes, a lot of rental houses and a lot of apartments," said Teal, who is also a professor and head of the University of Idaho architecture program. "What you don't see here are smaller houses for smaller families who want to live in a nice house with a price tag they can afford."
U of I's College of Art and Architecture (CAA) collaborated with Moscow Affordable Housing Trust (MAHT) and COLAB Architecture + Urban Design to address the issue. Four graduate students in CAA's Design-Build Program, Madalyn Asker, Brenna Church, Amanda Eller and Sterling Jones, recently began construction on the first house in Lupine Flats, a planned community of six small houses to be built on land owned by MAHT in Moscow.
"We got to do the schematic design work, then create the construction drawing and detailing, and now we actually get to build it," said Church, a Master's of architecture student from Zillah, Washington. "Building this house in the Moscow community, a place that I've called home for five years, makes it extra special."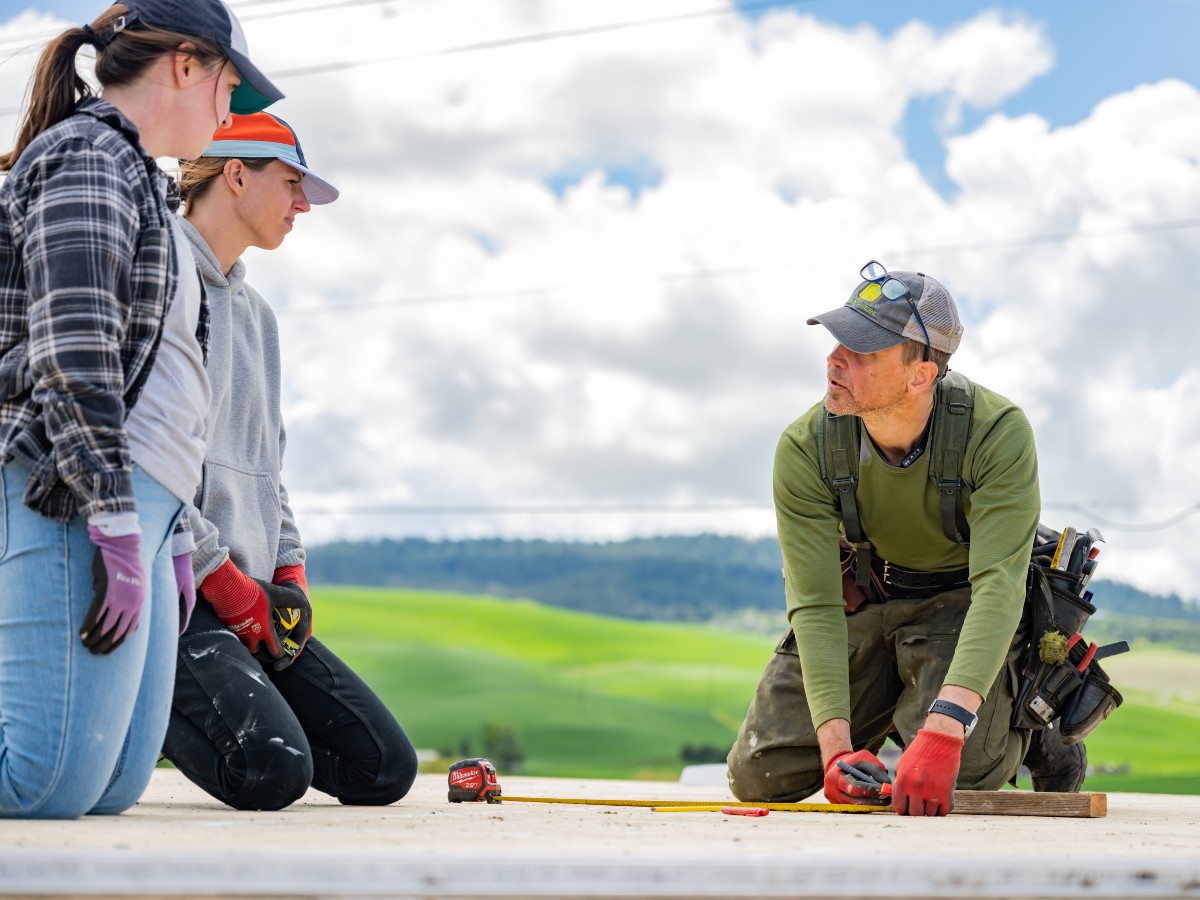 Building the Foundation
When Teal was ready to explore this idea, he didn't have to look far for interested partners.
He contacted Mark Engberg '84, principal of COLAB and occasional CAA class instructor. Engberg loved the idea because of the housing solutions it could provide and the hands-on student experience it would produce.

"Students not only designing the house but also building it is very valuable," he said. "When we can get architecture students in the field and have them build what they've designed, it makes them better architects."
The third piece of the puzzle was where to build the houses. Enter MAHT and Executive Director Nils Peterson into the equation. MAHT purchased 1.2 acres of land in south Moscow and platted it for 17 homes in 2019. After discussions with Teal and Engberg about the Lupine Flats project, Peterson agreed to let the homes be constructed on a section of the land.
Additionally, MAHT has worked with the City of Moscow, Latah County and private philanthropists to raise funds to subsidize the gap between the total costs of the project and the selling price of the house.
After the first house is completed, a new house will be built each summer over the next five years by CAA students. The homes will be built in a cluster and the property will feature an open common area for all the homeowners. While MAHT will retain ownership of the land, each home buyer will own their house. Peterson said this community land trust mechanism could be a key component in solving the area's affordable housing issue.
"We need to start building affordable starter homes again," he said.
Building a Better Program
Portland Architect Alum Bets on Design-Build's Future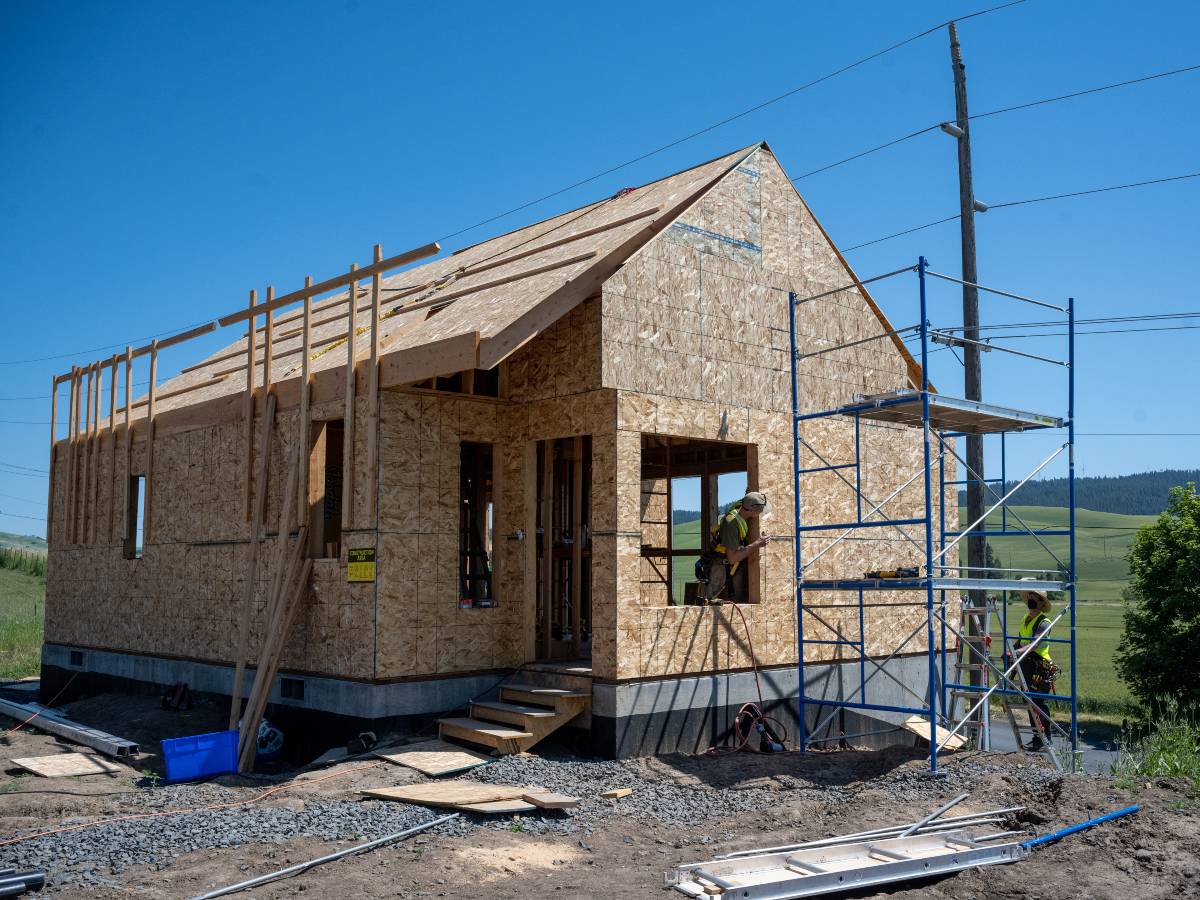 Not a lot of people can afford houses at current prices. Hopefully what we're doing with this project is moving things in the right direction. Madalyn Asker, MA 2022
Small Steps to Fix a Big Problem
Affordable housing has been an issue in Idaho for several years. A lack of housing inventory, and decreased affordability created in part by the low inventory, is especially visible in the Moscow-Pullman, Washington area. Two state universities, two hospitals and other large employers are constantly recruiting new employees to the region. A dearth in availability and/or affordability of homes for the recruits makes their job harder.
No one knows more about this frustration than Asker '22, who was born and raised in Moscow. She planned to stay in the area after graduating with her Master's in architecture, but she's finding it difficult to locate a house she can afford.
While Asker is enjoying the project's construction phase and the hands-on experience, she also recognizes the significance of taking small steps toward solving a big problem.
"Not a lot of people can afford houses at current prices," said Asker. "As a single parent, it's hard to find clean, affordable housing. Hopefully what we're doing with this project is moving things in the right direction."
Article by David Jackson. University Communications and Marketing.

Photos by Melissa Hartley, University of Idaho Creative Services.

Published in August 2022.