Simulation Prepares for Wildfires
Virtual world teaches property owners to protect against wildfires
Michael McCollough has watched his home in the forested foothills north of Moscow go up in flames many times — in a virtual reality simulation he helped develop as part of a multidisciplinary University of Idaho team.
Created with national Cooperative Extension System funding, the Secure the Shelter, Blaze Mountain simulation — featuring McCollough's spacious, ranch-style house — launched in 2015 as an educational tool to help homeowners in the urban-wildland interface protect their properties from wildfires.
The Blaze team — which includes principal investigator Joey Peutz with University of Idaho Extension, McCollough and K.D. Hatheway-Dial both with the College of Business and Economics, Brian Cleveley with the Virtual Technology and Design Program and Lori Wahl with the College of Agricultural and Life Sciences — is wrapping up a second simulation project aimed at promoting wildfire safety.
The latest virtual reality project is funded with a one-year, $35,000 grant from the USDA's National Institute of Food and Agriculture, administered through Extension Disaster Education Network (EDEN). In addition to improving the original simulation, the team is adding a second virtual scenario, Blaze Suburb, featuring a bungalow home in a subdivision adjacent to a high-desert environment. The grant also covers efforts to publicize the simulation, including through public events, a webinar for Extension educators and nationwide outreach to Extension professionals involved in EDEN.
Playing the Game
McCollough's Business 429 students are aiding in the tool's marketing and are developing a toolkit to help Extension educators share the simulation with the public. The class, also known as Vandal Solutions, operates as a nonprofit, student-run business.
The latest updates can be played online or via the Meta Quest 2 virtual reality headset. Like the original simulation, the desert version will challenge players, who start by choosing an avatar, to scout the home and property for wildfire risks and take corrective actions. Players also will make major structural changes to the home, such as installing a metal roof and changing the vinyl siding. When the wildfire arrives at the end of the simulation, players who make the right decisions watch the flames fizzle without causing damage to their property. Those who don't make the necessary improvements witness their homes getting engulfed.
"Property owners engage in assessing and understanding best practices and hardening their structures and property against wildfire while increasing their knowledge of time-critical evaluation procedures when threatened by a wildfire," Peutz said. "That's the tool we're using, but this grant is really about putting the tool in the hands of educators who need it. It's a fun way to learn."
Virtual Homes, Real Consequences
McCollough attests to the simulation's effectiveness, as he's been motivated to make many of the top-scoring virtual changes on his actual property. For example, he moved his large propane tank farther away from his carport, he clears juniper trees surrounding his home annually, he empties his woodshed of firewood prior to summer, he thoroughly waters the vegetation surrounding his home and he's replaced some cedar siding with metal and fiber cement siding.
Furthermore, his family has assembled a "go bag" containing essential items in case of an emergency evacuation, which is a task players complete in the simulation. Covering his home's vents to eliminate entry points for floating embers — another point of emphasis of the simulation — remains on his to-do list. In making his real-world improvements, McCollough has sought to strike a balance between fire safety and maintaining aesthetics.
"It's not realistic to expect people to make their property 100% fireproof," McCollough said. "At the end of the day you don't want to live in a concrete block house surrounded by acres of rock. You end up making tradeoffs."
The new Blaze Suburb simulation will be modeled after the Avimor neighborhood adjacent to sagebrush steppe habitat north of Boise.
"Our fire advisors said these types of neighborhoods are a growing educational challenge," said Wahl, a senior instructor of apparel, textiles and design who lent her artistic skills and perspective as an avid gamer to the project. "They are made up of homeowners who have lived in urban settings and are now moving to these quasi-rural neighborhoods that provide a false sense of safety."
Building Virtual Worlds
The team has been working together for more than a decade. Their first simulation was a nutrition game funded with an Idaho State Department of Education grant. They also created a personal finance simulation. Those games are no longer supported by a platform.
Cleveley and students studying virtual technology and design in the College of Art and Architecture have created the virtual worlds.
"Collaboration is our number one thing. Everybody brings their expertise," Cleveley said of the Blaze team's diverse membership. "I'll put something out there, and we'll work to improve it. The collaborative effort makes this thing stronger."
Cleveley believes the wildfire simulation is effective because it allows players to experiment and learn what works through trial and error, rather than simply telling them best practices.
"My greatest hope for this is it becomes a tool that educators or fire professionals or building professionals or insurance professionals can use with their constituents so people in the wildland-urban interface can make informed decisions," Cleveley said. "Before you speak with a roofing contractor, maybe you have more understanding of different roof types. When you start a conversation with a contractor, you're starting from a place of being informed."
The "Advancing Agrosecurity and Community Resilience Through Collaboration, Capacity-Building and Extension Program Innovation Project" was funded with a one-year, $35,000 grant from USDA-NIFA, of which 100% is the federal share, administered through EDEN under subaward No. F0008724402017.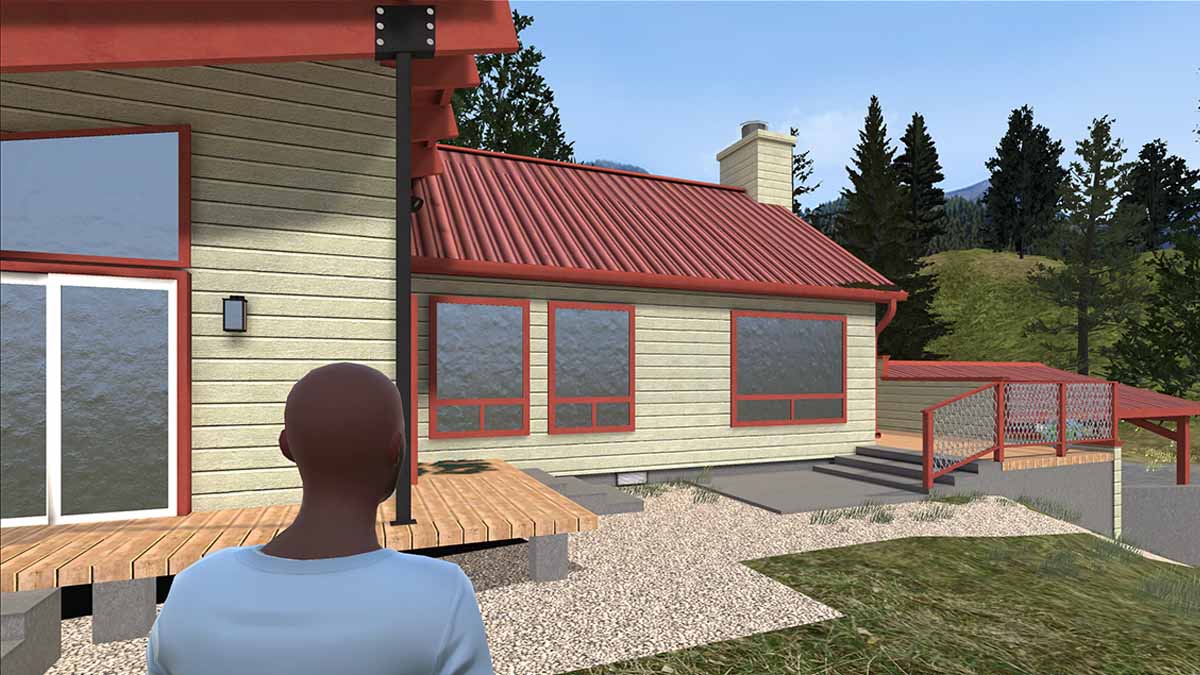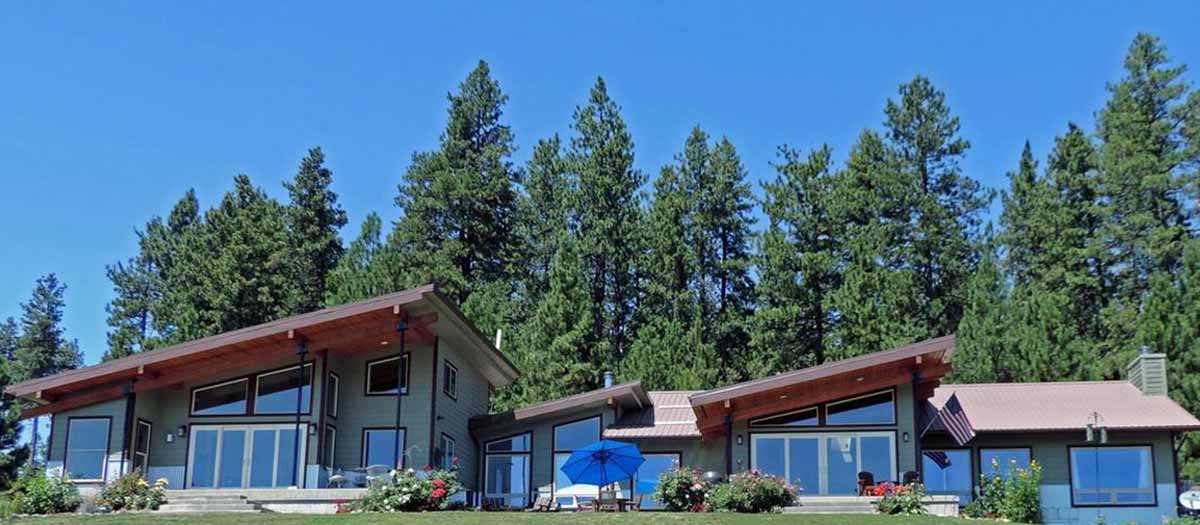 ---
Article by John O'Connell, College of Agricultural and Life Sciences
Photos provided by John O'Connell and Michael McCollough
Published in April 2023