An Illuminating Experience
VTD, Music Composition and Orchestra Collaboration a Glowing Success
Joshua Nelson wanted to do something big for his senior capstone project in Virtual Technology/Design (VTD) — big and memorable. So he decided to destroy his hometown of Edmonds, Washington.
To be fair, he didn't actually ruin it. Instead, he designed a virtual, post-apocalyptic scene where he could show his interpretation of bioluminescence — the production and emission of light by living organisms.
Nelson's vision depicts glowing plants and microscopic life forms growing on overturned boats and abandoned buildings, all under a sky full of bright and beautiful stars no longer concealed by light pollution.
"It's full of sorrow, it's sad and it's disgusting, but I also wanted to show the beauty behind it," Nelson said. "What would happen if a city was abandoned and there were no more people? What would life look like without us around?"
Nelson and his music composition partner Grace(n) Atkinson created "Positive Apocalyptic," one of ten videos played with music performed by the Lionel Hampton School of Music (LHSOM) orchestra during a concert at the Administration Auditorium in January 2023.

The concert represented the second time the College of Art and Architecture (CAA) and the College of Letters, Arts and Social Sciences (CLASS) displayed student-produced animation shorts with live music, although this was the first time the videos were backed by the full orchestra. The 2021 performance had eight presentations and was supported only by the string orchestra because of COVID-19 restrictions.
The concept behind the project is to create a three-way partnership between VTD, music composition and LHSOM, giving students a chance to create with peers in other fields, enhancing the creative process.
"This was something special to show our audience," said Joshua Skinner, LHSOM orchestra director. "To have VTD and music composition students create something so unique and then allow the orchestra to help tell their story makes for an amazing cross-collaboration. I can't wait to see what they come up with next year."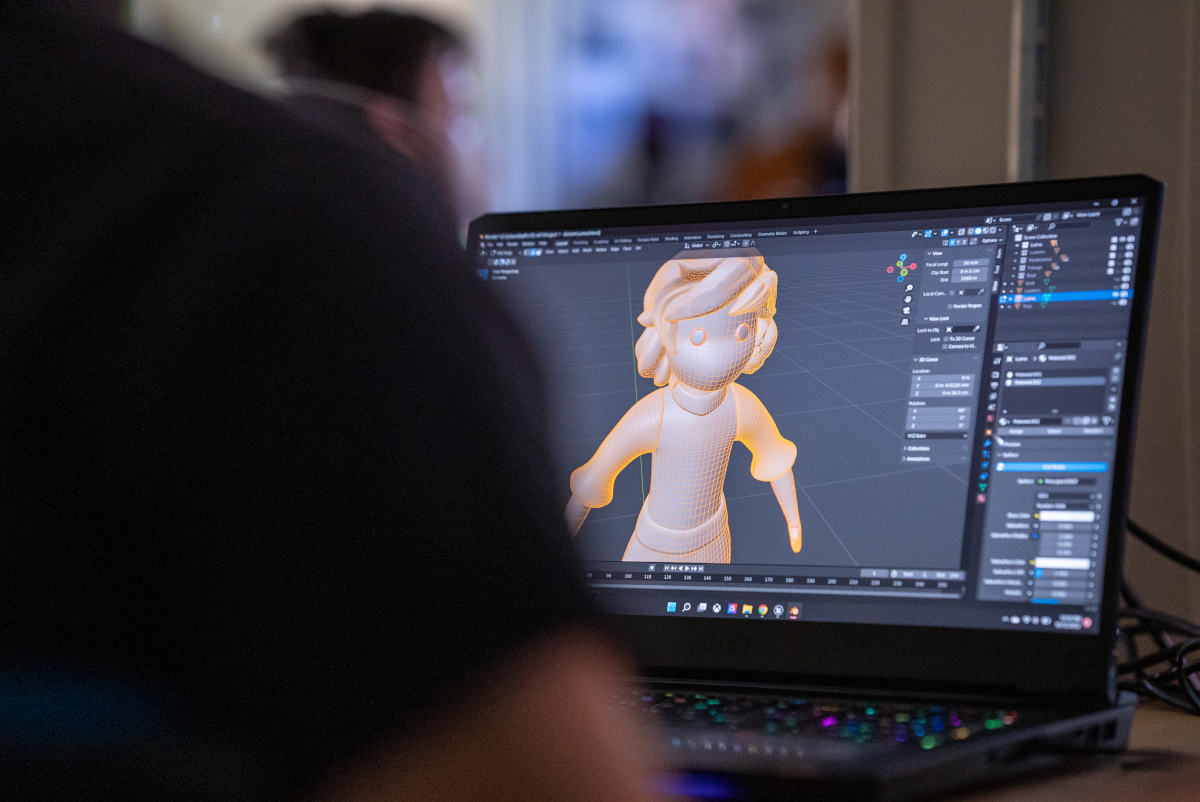 Teams Creating Dreams
Ten teams of VTD and music composition students were paired together at the start of the 2022 fall semester. The music composition students, under the direction of CLASS Senior Instructor Ruby Fulton, provided the auditory muse to mesh with the VTD creations.
"We're familiar with the visual side of storytelling and we partnered up with someone on the music side to create a more emotional experience," said VTD student Keaton Marschman. "It's important because, in this industry, you're always going to be working in teams."
Marschman and his music composition partner Peter Shelley produced "Lucretius," titled after an ancient Roman poet and philosopher named Titus Lucretius Carus. Lucretius produced many pieces of literature around the idea of nature adapting to any obstacle man puts in the way.
The video shows a tank being destroyed in a battle. Slowly, grass and trees start to grow around the rusted-out metal. The haunting music created by Shelley tells a story of both sorrow and reclamation.
"I like the idea of how humans can destroy something but then nature reclaims it and turns it into something beautiful," Marschman said.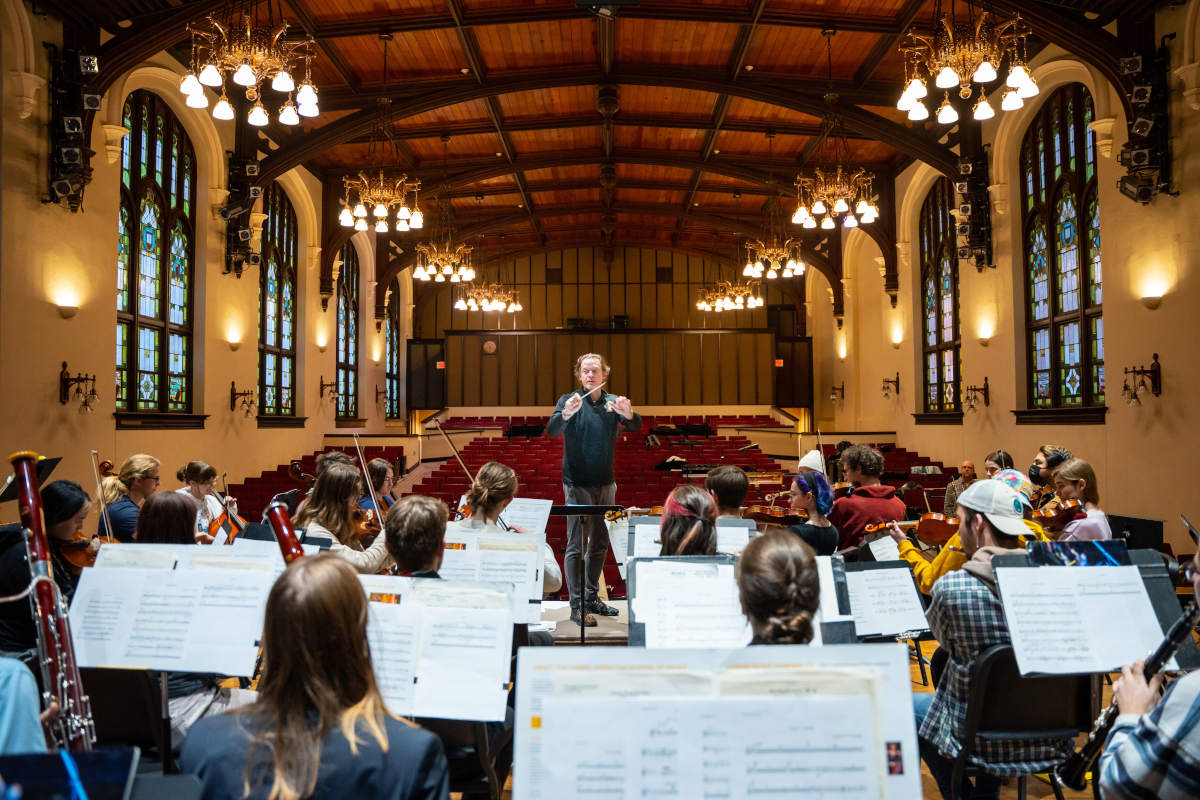 Trading Places
Although Spencer Cuppage is a music composition student, he might have spent as much time constructing the storyline with his VTD partner Joey Cisneros as he did making music.
Cuppage and Cisneros created "Luma's Journey," a story about a child who falls out of a small boat and drifts to the bottom of a body of water, waking up in a strange new underwater world.
The two met in person once a week to discuss the story, each bringing ideas they had worked on. They both referenced movies and stories that influenced them and found they had similar interests. It didn't take them long to create a storyline.
"We talked about the reasons the main character would do something or not do something," Cuppage said. "We talked about holes in the story and how to fix them. We only made changes we both agreed on."
Amazing. The whole project was fun but to see it on the big screen and have the orchestra play it exactly like you imagined it is something I'll never forget. Spencer Cuppage, music composition student
Conversely, Cisneros found himself contributing to the music composition. Cuppage put together the rough musical tracks to play for Cisneros and the two discussed what they liked and which parts could use some tweaking.
"I was in band all through middle school and high school, so I didn't feel uncomfortable making recommendations," Cisneros said. "I made suggestions here and there and if we both agreed then we made changes."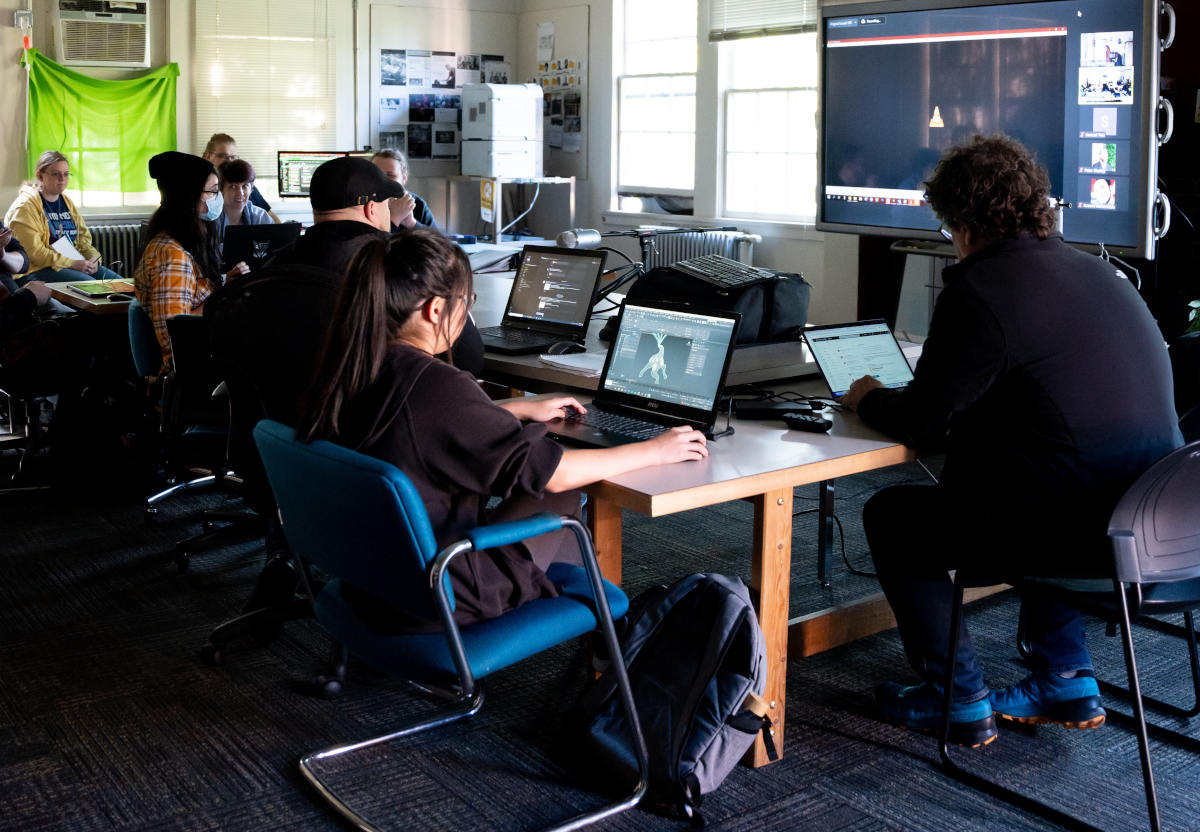 Lights, Camera, Action
Whether the presentations felt post-apocalyptic, futuristic or just plain outlandish, each team seemed to interpret bioluminescence differently. Which is exactly what VTD Associate Clinical Professor Rayce Bird hoped would happen.
Bird and the course co-instructor, VTD Program Head and Associate Professor Jean-Marc Gauthier, gave the students a vague concept on purpose to see how many ways they would run with it. Each team had opportunities to obtain peer and faculty feedback on their progress during the semester. Bird was excited about the quality of their completed work.
"It was great seeing how far they came — how much better their presentations were as they went through the semester," he said. "This capstone project represents four years of hard work and development, and they did an amazing job."
The concert was originally scheduled for December 2022 but was postponed due to the homicides of four U of I students Nov. 13. By rescheduling the event to a different semester, many students had to juggle their schedules to take part. It was worth the wait.
"Amazing," said Cuppage about the concert. "The whole project was fun but to see it on the big screen and have the orchestra play it exactly like you imagined it is something I'll never forget."
Article by David Jackson, University Communications and Marketing.
Photos provided by University of Idaho Visual Productions.
Published in March 2023.