A Sense of Self
Graduating senior Michelle Shannon builds greater understanding of identity as active member in LGBTQA community
Not all knowledge is found in a textbook or echoing through a lecture hall. Some of it requires a deeper look.
For graduating University of Idaho student Michelle Shannon, who will receive her bachelor's in psychology from the College of Letters, Arts and Social Sciences this spring, knowledge comes from paying attention to your surroundings. It's what we can see, hear, mimic and find in the people we most admire.
It's this knowledge, she said, that has given her a better understanding of the world and her place in it.
Shannon first identified as a lesbian at age 12, when she confessed her unrequited love to her then best friend. While she dated men off and on, she went to her high school prom in Kuna, Idaho, with a girl.
At the time, she says her understanding of how to build upon her lesbian identity and the outward appearance of that identity, referred to as "presentation," was largely unknown.
"I didn't really know what a lesbian even was, and I had no idea how to ask that question," she said.
"All I knew was, I want to find someone that looks like me without being turned away," she said. "But there was a lot riding on becoming part of this community."
But life at the University of Idaho was a lot different than a high school in a small southern Idaho town. Not only were there more opportunities to get involved and volunteer, there was an entire LGBTQA community. She says she approached these opportunities with a calculated yet reserved curiosity.
"All I knew was, I want to find someone that looks like me without being turned away," she said. "But there was a lot riding on becoming part of this community."
She started at UI's Women's Center, established in 1972 as the university's primary player in gender equity and building an inclusive community. There, she learned about the LGBTQA Office and Gender and Sexuality Alliance (GSA) student group.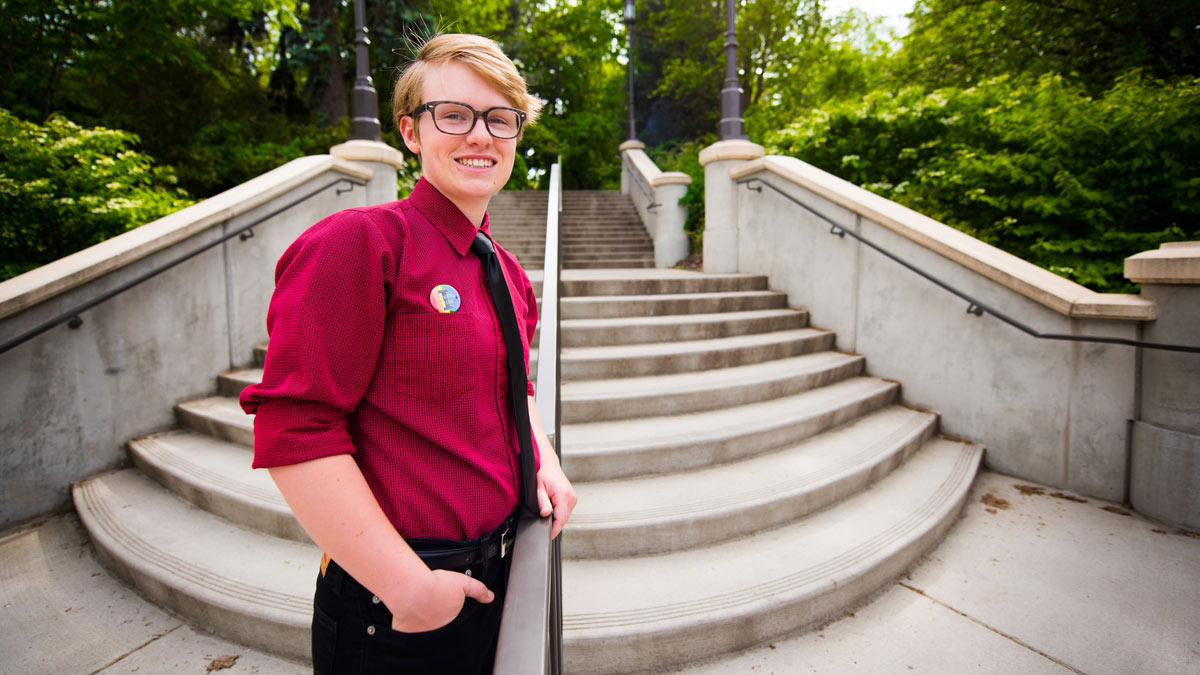 GSA offers a home base of support from students who had similar experiences to Shannon's and were well on their way toward discovering their own identities and how to present them. They provided examples of what a lesbian identity could look like, and inspired Shannon to find her own.
"I went down that path vehemently," she said. "I was in awe."
By the end of the first meeting she attended, Shannon was signing up to serve as secretary of the group. She went on to co-chair GSA during her sophomore and junior years. In addition, she worked to build a group more representative of all identities, changing the group's original name of Gay Straight Alliance to its current title.
Shannon also helped create the university's annual Queer Prom. The night of music and dancing is open to all students without judgement. Proceeds for the event go toward sending GSA members to the Power of One leadership conference, a national event to help students be more culturally aware and work toward social justice.
Through her involvement, Shannon met others with better understandings of their own identities and attempted to replicate those examples.
"There was a lot of confusion, getting more clothes, being really wild and trying to date," she said. "It was a lot of baby steps and hoping nothing bad happened."
Shannon admits she only truly cemented her sense of self-awareness and her presentation about a year and a half ago.
Since presentation is such a key indicator in the queer community, she said it can be difficult for people new to their identity to build a sense of self that's not strictly based on clothes and style.
"It's like, 'If I don't look gay, than am I gay?'" she said. "Am I going to still be me without wearing all these clothes?"
Other student groups on campus, like the Feminist Led Activist Movement to Empower (FLAME), helped Shannon learned how to embrace her lesbian identity without falling into practices of "toxic masculinity" – or treating women as inferior because they represent as feminine.
She also learned to discuss her experiences with intolerance and learned how to better stand up for others. When injustices arise on campus, she's quick build a conversation on it, and her peers are quick to chime in.
"They taught me to talk more openly, stand up for others and to make sure my allies are also being heard," she said.
This summer, Shannon will spend some time in Boise representing Bernie Sanders at the state caucus (she was selected as a delegate during the Latah County caucus), as well as working in UI professor Russel Jackson's virtual reality lab. In the lab, Shannon will explore coding, computer science and the possibility of grad school.
"Michelle's work has been fantastic. Her leadership stems from her broad expertise in human behavior combined with her psychology background," Jackson said.
Article by Alexiss Turner, University Communications & Marketing
Gender & Sexuality Resources on Campus
---