Contamination Communication: U of I Team Assists With Silver Valley Health Risk Messages
Almost 40 years after Superfund clean-up efforts began for heavy metal contamination in North Idaho's Silver Valley, officials still worry that many residents and visitors have not gotten the message about the negative health consequences of lead toxicity.
With the help of a research team led by Chloe Wardropper, an assistant professor of Human Dimensions of Ecosystem Management in the University of Idaho's Department of Natural Resources and Society, health agencies are finding new ways to construct messaging to better target an array of demographics.
When the U.S. Environmental Protection Agency designated a 21-square-mile area around the Silver Valley's Bunker Hill lead smelter as a Superfund site in 1983, it started a chain reaction that led mining companies to pay $700 million for the cleanup that continues to expand. Mitigation included replacing the topsoil in 7,000 residential yards with clean sod and soil, capping boat launches to prevent exposure to contaminated materials and cleaning the nearby South Fork of the Coeur d'Alene River.
But many Silver Valley residents have not taken actions to reduce the health risks associated with exposure to heavy metal contamination resulting from the valley's mining industry — once an economic juggernaut — and new residents and visitors are often not aware of the potential hazards.
More than 80% of Silver Valley residents have never attended a meeting regarding area lead contamination, according to results of one of Wardropper's surveys, and more than 70% of people surveyed don't think they are susceptible to lead toxicity.
"This region of northern Idaho is affected by health disparities – on average, it has an older population and worse health outcomes are documented here," Wardropper said.
Using a hands-on approach that includes door-to-door surveys in valley communities such as Kellogg and Pinehurst — which were most affected by contamination — Wardropper and her team is developing ways to better communicate health risks associated with lead contamination to residents who may not realize the threats, or don't engage in protective behaviors such as hand washing, or avoiding contaminated areas.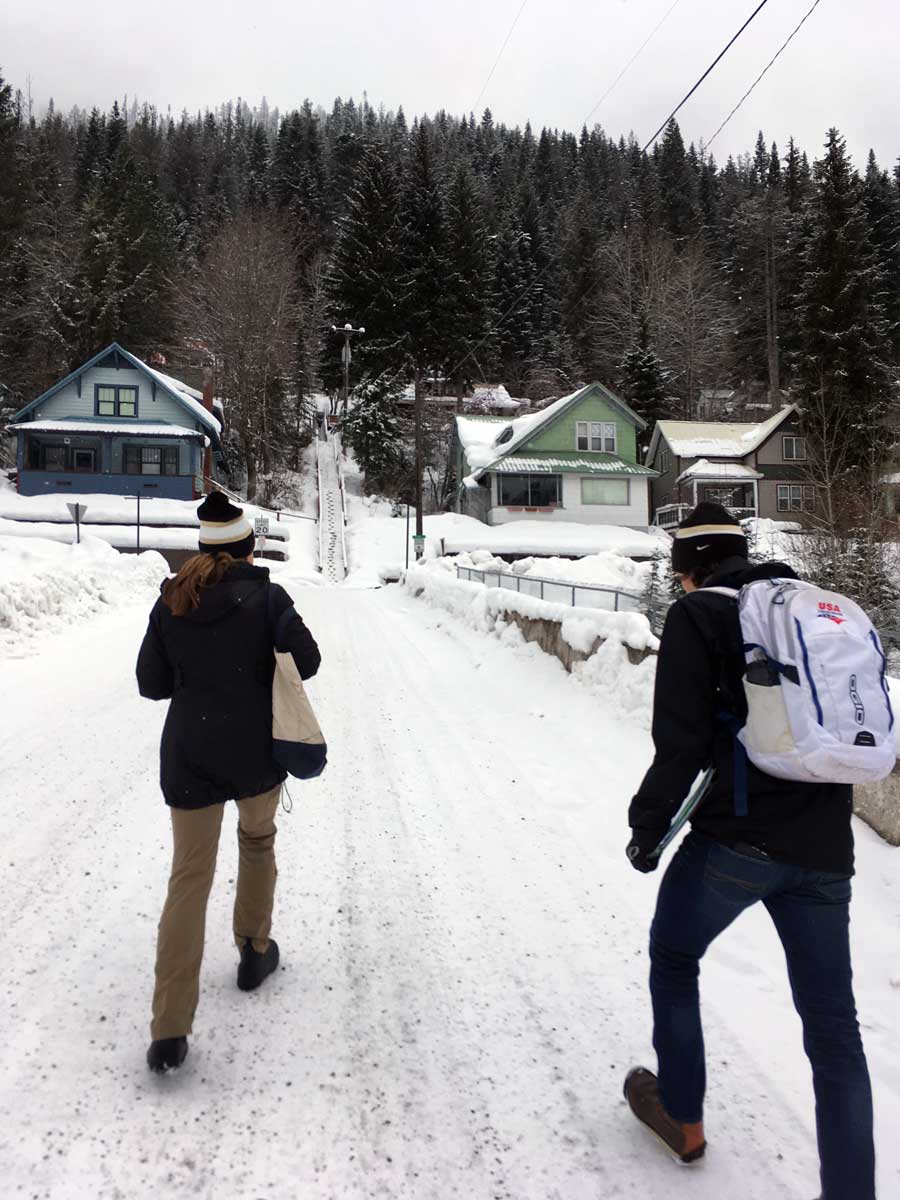 As part of their work, Wardropper's five-member team is studying signage that state and federal agencies have used for decades to relay the health dangers caused by heavy metal exposure. The team assesses how people respond to the messages — and the messenger.
How do you communicate those lead toxicity risks that are invisible to people in different places around the country?Chloe B. Wardropper, Ph.D., Assistant Professor of Human Dimensions of Ecosystem Management
Wardropper's research categorizes people according to how they perceive the threat of lead contamination, how susceptible they think they are to the threat and whether they think they can — or are willing — to protect themselves from exposure.
"Working landscapes support economies, but they also create pollution," Wardropper said. "My group is asking what kind of interventions can government and nonprofits do to communicate the health effects of pollution on human bodies? How do individuals tend to respond to those messages, or how do they make decisions about whether or not to take protective measures?"
Once her team pinpoints how best to communicate the message to specific groups, these findings could help tailor messaging in other places where contamination exists, Wardropper said.
"Over half of Superfund sites have heavy metal contamination that is notoriously difficult to completely eradicate because it's in sediments that get moved through flood events, or it was widely distributed during the smelting process," Wardropper said. "How do you communicate those lead toxicity risks that are invisible to people in different places around the country?"
As part of the project, Wardropper's researchers collaborate with state agencies including the Panhandle Health District, which has provided lead testing for children for almost 40 years, as well as the Department of Environmental Quality (DEQ), which monitors the area's air and water quality.
Andy Helkey, who has spearheaded Panhandle Health's educational efforts in the valley for more than a decade, said Wardropper's work has helped the agency better understand regional perceptions of the area's contamination and health dangers.
"It gives us an idea of where we can target the message better," Helkey said. "The biggest thing is, we need to stay ahead of the different opinions."
Dan McCracken, regional administrator for DEQ who spent much of his career working in the valley, said a strong mining culture and a sense of normalization in the midst of the valley's contamination has been an impediment to changing the perception of some residents.
"One of the many challenges of cleanup at Bunker Hill is the majority of waste left in place," McCracken said. "We have to manage that, and part of managing that is people have to be aware of the health risks associated with being there. It's a big task providing information to — and educating — the public."
One of Wardropper's team, Courtney Cooper, recently defended her Ph.D. dissertation based on data she compiled over three years engaging with and surveying Silver Valley residents. The project has given researchers and health officials a window into a broad spectrum of mindsets and has helped craft communication, Cooper said.
"People are more likely to take protective actions when they believe there is a risk, and that the risk is severe enough to warrant action. They also have to see those behaviors as beneficial to their health, Cooper said. "If we can communicate about the importance of these behaviors without instilling fear, we come closer to risk communication that ensures people respond to lead communication."
This research was supported by a grant from the Mountain West Clinical Translational Research – Infrastructure Network (funded by National Institute of General Medical Sciences of the National Institutes of Health) award #2U54GM104944. Co-investigators on this grant included Jeff Langman, Roger Lew, and Chantal Vella, all of UI. It was also supported by a grant from the U.S. Geological Survey Water Resources Research Act 104(b) Program award #G16AP00050.
Article by Ralph Bartholdt, University Communications and Marketing.
Photos by Chloe Wardropper, and UCM.
Published in August 2020.