College, Her Way
From High School to Postgraduate, U of I Opens Doors to Student's Success
At Camp Sanders in North Idaho, Emma Arman directs campers from station to station, teaching them stages of the water cycle.
Four years ago, Arman was a high school sophomore learning water science from Area Water Educator Jim Ekins. Now, as a University of Idaho Extension intern, Arman travels the region with Ekins, bringing water quality lessons to life.
"The very first day we drove to Sandpoint where I got to lead experiments and observe different teaching styles," Arman said. "I realized I'd come full circle. I was passing my knowledge onto another generation."
Freshly done with her bachelor's degree at 20 years old, Arman sees her internship experience as one more big steppingstone in her quest for lifelong learning and making her own way. Over the past four years, she's put that mentality into practice by earning an associate degree in high school and by digging deep to connect her passions and talents to her future field of work. Each step of the way, U of I helped make her dream a reality.

Striking the Spark
Arman excelled in school from the beginning, but she didn't connect with the definition of "success" she heard growing up.
"Everybody tells academically advanced students that you become a lawyer, doctor or engineer," Arman said. "But I wasn't interested in any of those fields."
A perfect storm of opportunity and asking questions early in high school helped Arman pave a different path. When she told her dad she liked math, science, policy and talking to the public, he suggested she meet an environmental manager. Through his job at Inland Empire Paper Company, Arman's father helped open his daughter's eyes to environmental law and communications.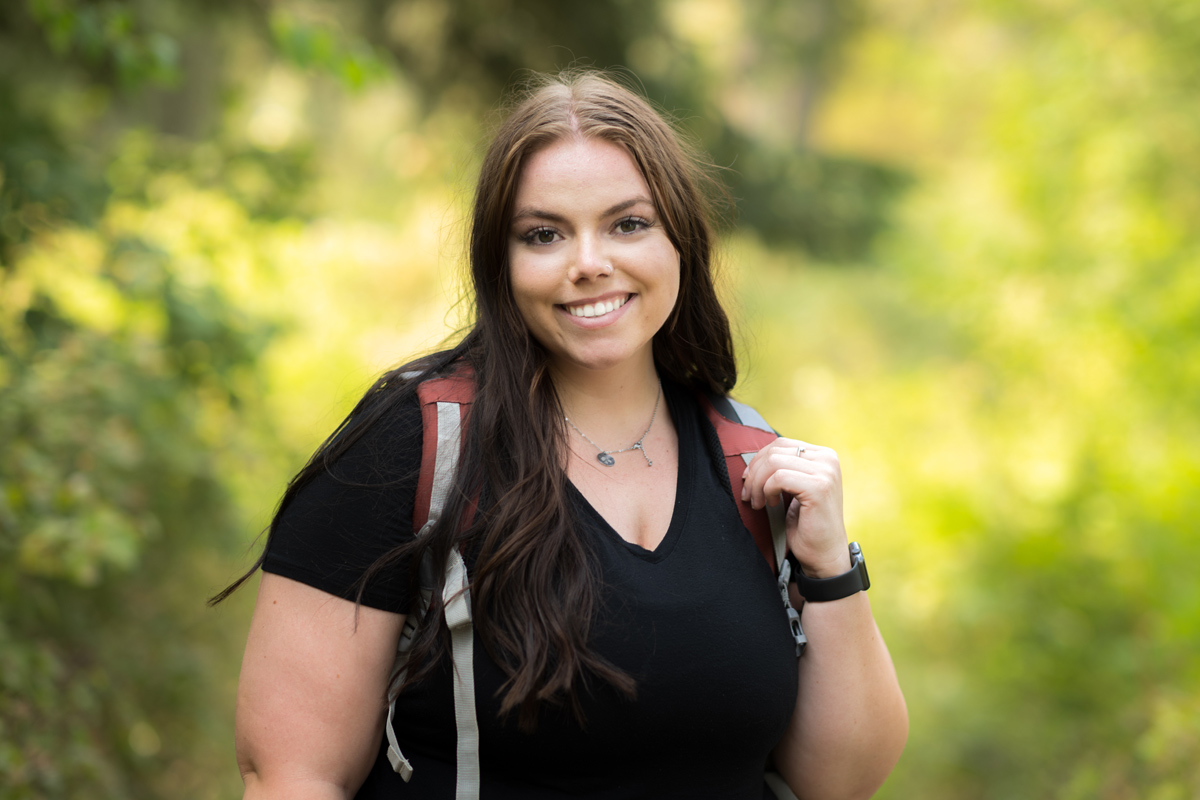 Meanwhile, her science class was participating in The Confluence Project, a water-science education program led by U of I — including Ekins — and regional partners. For the science fair portion of the project, Arman researched chemical policy history in the Spokane River.
"We're showing students that science is not just doing things with beakers in a lab," Ekins said. "Connecting them to field science right here in their hometown? That's pretty powerful."
I wanted to be a communicator, someone who bridges gaps and could be an advocate. Emma Arman, '21
The project connected Arman with government organizations and private industry, and she saw first-hand how science and organizational priorities don't always match up.
"The Confluence Project was the selling point," Arman said. "That's when I realized I wanted to be involved in environmental science all the time. I wanted to be a communicator, someone who bridges gaps and could be an advocate."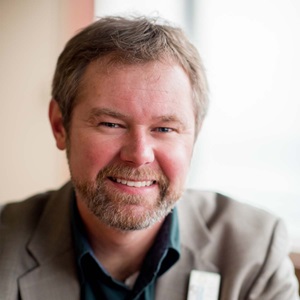 At the same time, many of her peers at Post Falls High School were earning an associate degree alongside their high school diploma. The state's Fast Forward Program provides public school students $4,125 toward dual credit courses.
"Dual credit offers a soft start to the college experience," said Marlyne Perez, interim program manager for dual credit at U of I. "If students experience the rigor of college courses in high school with their peers and they succeed, they become driven and excited to continue their education."
Arman did her research. She talked with counselors and started to map out a plan. Through a combination of dual credit courses offered in her high school from U of I and on the campus at North Idaho College, she graduated high school with an associate degree.
"I developed a whole process to make it the best for me and do what I needed to make it work," Arman said. "It's hard stuff, but I could already see it was worth it."

Finding a Home in Moscow
Arman laughs when she reflects on her initial hesitancy to make her way to Moscow.
"Early on I was so opposed to going to U of I," she said. "When it's basically in your backyard, everyone says, 'Oh, get out of state!'"
Yet making the connection with U of I through dual credit and the Confluence Project opened her eyes to the world-class experience available less than 100 miles from home.
"As soon as I got my U of I acceptance letter, it was like I got into Harvard," Arman said. "It was a lot of crying. It's not just U of I. It's not just Moscow. It's an opportunity to better yourself, and it's an opportunity to grow."
It was also an opportunity to graduate debt free. Fast Forward funds mostly paid for her associate degree, and those dual credit courses made her eligible for the Idaho Postsecondary Credit Scholarship.
I went from this kid that was like 'I'm going cross country and leaving forever,' to being like, 'Oh Moscow, you have my heart forever'. Emma Arman, '21
"On top of that, U of I is very generous in their scholarships for GPA," Arman said. "I was looking at no debt, no loans, nothing."
She walked onto campus as a junior but with the determination to fit a full four-year experience into the next two years.
"I joined a sorority and found the best friends and best community I've ever experienced," Arman said. "I went from this kid that was like 'I'm going cross country and leaving forever,' to being like, 'Oh Moscow, you have my heart forever'."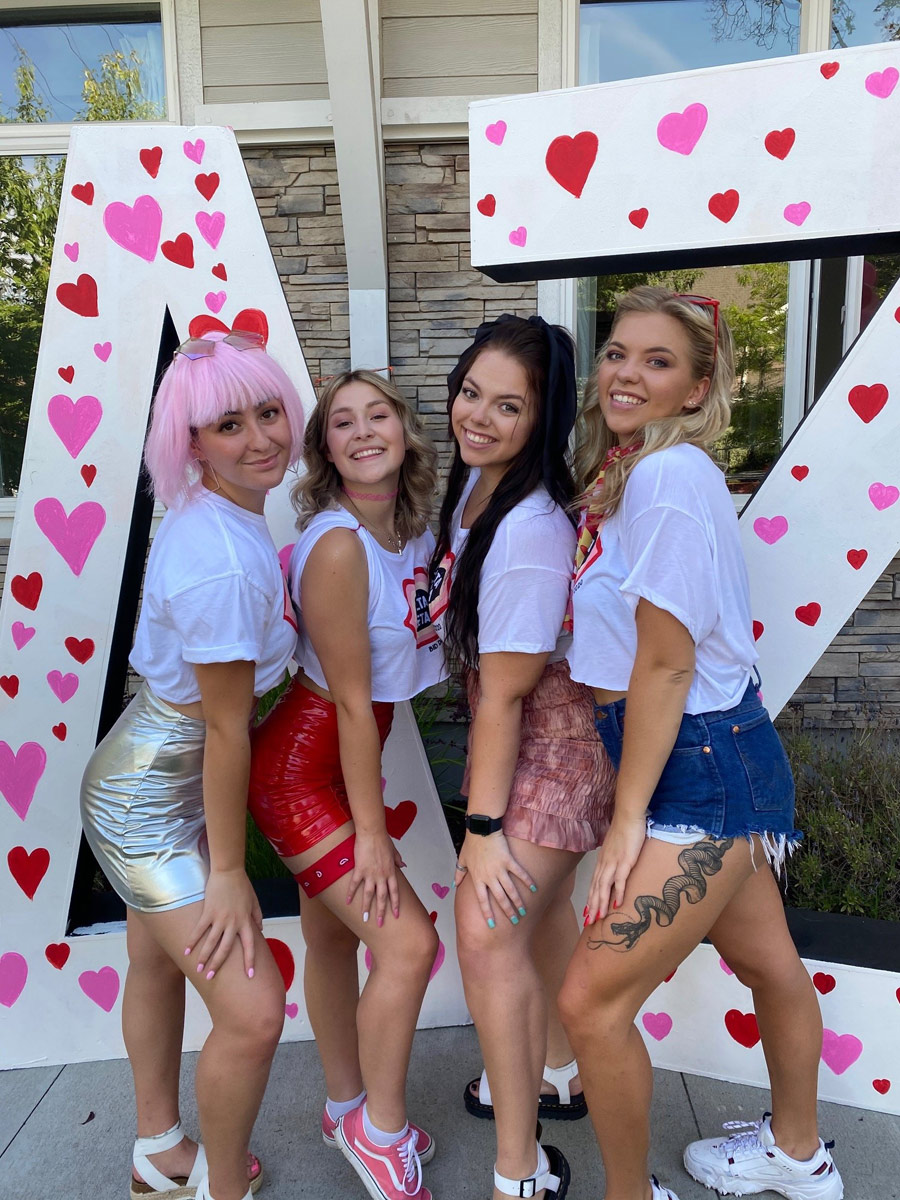 Learning Through Connections
Through friendships in Delta Zeta and classes for her environmental science degree, Arman started to see her home state through new eyes.
"Not all of Idaho looks the same. We all bring unique perspectives from every corner and town," she said. "Going to U of I offered me this challenge of meeting people with totally different views and completely different experiences."
Her time with the Confluence Project and her own family — who had different views on the world than herself — gave Arman insight on the divides that exist when it comes to environmental issues. Her time as a student in the College of Natural Resources showed her how to navigate them.
"My courses challenged me in every way," Arman said. "There's no right or wrong and no black or white. I have to adapt to all situations, be well rounded and walk with people of all backgrounds and focus areas."
I have a better understanding of who I am so I'm prepared to mold my own future. Emma Arman, '21
With the guidance of her professors, she took those lessons into her Extension internship.
"Everywhere I go, there's someone new," she said. "I've made connections with everyone from forestry professionals in southern Idaho to water experts in Spokane. You can't pay for that. You can't get that in school."
Leaning on her experience and looking to the example of her parents, Arman's next goal is to be a bridge for future generations — for their education, for the environment and for finding a way that's all your own.
"I have a better understanding of who I am so I'm prepared to mold my own future," Arman said. "It starts one small step at a time. One little conversation, one experience can change everything."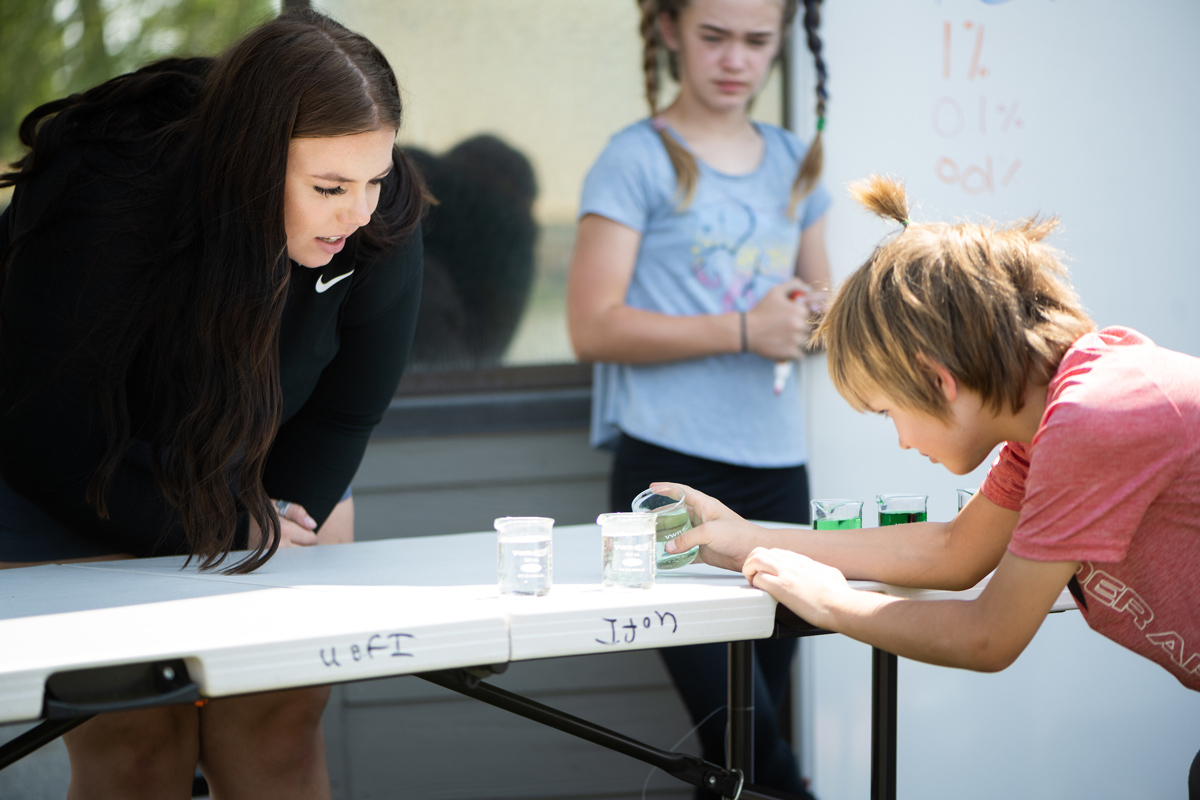 Article by Katie Marshall, University of Idaho Coeur d'Alene.
Photography by Joseph Pallen, University Communications and Marketing.