Graduate Program
Build the skills to change the world.
A University of Idaho Environmental Education and Science Communication (EESC) graduate student earns a Master of Natural Resources degree in 10.5 months. While living at the McCall Field Campus graduate residents develop an array of professional skills and expertise through coursework and a field-based teaching practicum. With a focus on communication and educating others about science and its relevance to our communities and society, the EESC Master of Natural Resources degree prepares graduates to work as teachers, scientists and translators of science for diverse audiences.
Applied coursework and targeted study in science communication, leadership, place-based education and ecology give graduate students what they need to change the lives of others, find meaningful employment, and make a difference.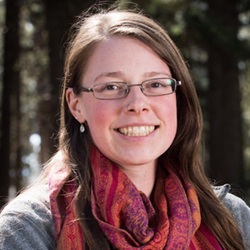 Leslie Dorsey
As graduate program coordinator, I am the point person for incoming graduates! As a graduate of the MOSS program myself, I have years of experience and stories to share about our program and what it has done for previous graduates and what it can do for you.
We are currently accepting applications and have scholarships available. Reach out today and I'll be happy to answer any questions you may have!
—Leslie Dorsey
208-885-1085