Graduate Program
Build the skills to change the world. A University of Idaho – Environmental Education and Science Communication (EESC) graduate student earns a Masters of Natural Resources in 10.5 months. While living at our incredible McCall Field Campus grads develop an array of professional skills and expertise.
Applied coursework and targeted study in science communication, leadership, place-based education, and ecology, give students what they need to make a difference.
If you are ready to earn a degree, change the world and get a job, we have the program for you.
Connect today with our Graduate Program Coordinator, Leslie Dorsey, to learn more and to apply.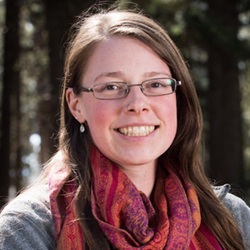 Leslie Dorsey
My name is Leslie Dorsey! I am the Graduate Program Coordinator of the M.N.R. in Environmental Education and Science Communication located in beautiful McCall Idaho. Between my experience as a graduate in this very program, and my time as a staff coordinator, I have about a decade of stories and information that I would love to share with you! I'm happy to connect over email, phone or ZOOM. Feel free to reach out and introduce yourself.
We are currently accepting applications and have scholarships available.
I can't wait to chat with you.
ldorsey@uidaho.edu
208-885-1085