From Fiddle to Forestry
Musician Switched Majors After Attending Forestry Field Camp
Daria Paxton is as adept at the vibrato as she is with a drone.
Her prowess on the violin stems from her days playing in ensembles and fiddle contests as a child in southwest Idaho, where her ambitions included a career as a musician.
Her instrument, a maple Cremona with ebony fittings, put her on a path to a music degree at U of I, until the rubber soles of her hiking boots found a new trail: A dirt-packed path under a canopy of fir.
"I took a summer course in forestry at the MOSS campus in McCall where we spent most of our days in the field learning about forest ecology, trees and forest management," Paxton said.
She and fellow U of I students dug deep holes to study roots, measured the height and girth of trees and learned about plants.
Because of her music and art background, she has exceptional curiosity and insight. Mark Kimsey, assistant professor of forest resources
Her worldview suddenly expanded from music halls to an outdoor amphitheater.
"I switched majors," Paxton said.
After graduating Fall 2021 with a degree in forest management, Paxton will move on to graduate school in the College of Natural Resources studying forest soils.
The switch from music major to earning a natural resources degree reached a crescendo thanks to a series of internships working on forests from central to northern Idaho. She learned to grow trees meant to fuel the state's timber industry and her resume includes working as a researcher for the Forest Policy Group, a U of I think tank that helps guide the state's forestry plans.
As an intern with PotlatchDeltic, the state's largest private forest landholder, Paxton tramped across clear cuts inspecting newly planted seedlings to see if rodents were impeding their growth. She recorded the effect of fertilizer on new trees and assisted with road layout, timber appraisal and cone collection. An immersion in drone technology led to a certificate as a drone pilot, giving her a catbird seat to one of the latest tools in forest management.
Flying drones over newly planted forest plantations allows foresters to evaluate tree growth, competition and seedling survival from the air, she said.
It's all part of what science foresters call silviculture.
Mark Kimsey, a research assistant professor of forest resources, was an instructor at MOSS when Paxton joined the program.
She brought an unusual perspective to the course, Kimsey said.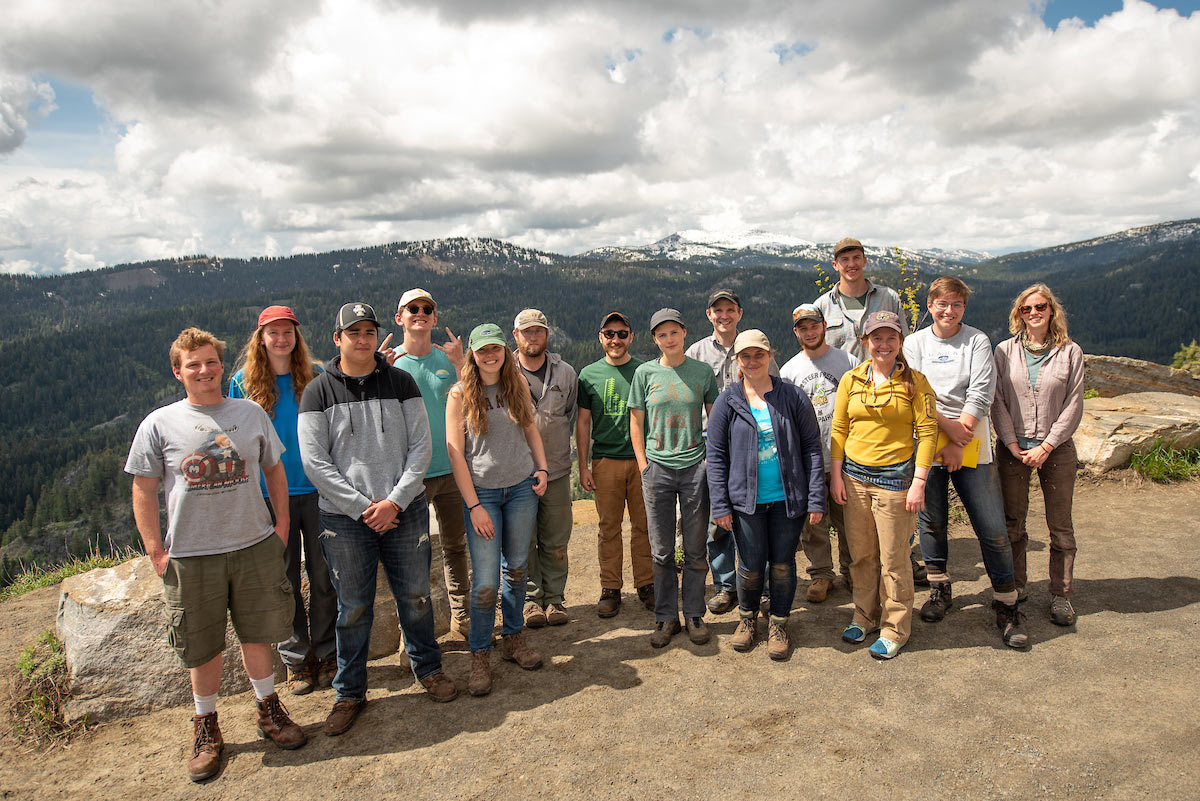 "She's a very good student, top notch," Kimsey said. "Because of her music and art background, she has exceptional curiosity and insight."
When Paxton first approached him, she considered veering from a music major into a wildlife program.
"I encouraged her to try forestry," he said.
Growing up on a farm in Idaho's arid lands west of Boise, Paxton liked to be outside, but it wasn't until she attended U of I that she learned her passion for forested landscapes and flying over them.
"My family didn't foresee my getting a degree in forestry," she said. "When they saw everything that I have accomplished and learned, they knew it was for me."
She has no regrets about changing her major.
"I love forestry, and I'm good at it," she said. "Once I learned that, I never looked back."
Article by Ralph Bartholdt, University Communications and Marketing.
Banner photo by Daria Paxton. Others by University of Idaho Creative Services.
Published December 2021.