Welcome to the Idaho Central Credit Union Arena
Creative thinking, innovative solutions and dynamic buildings don't happen without an element of play. The soaring conception and execution of the ICCU Arena is a daily testament to a team of players coming together to make unprecedented moves.
The possibility of play brings new art and change. Whether you're a builder, architect, engineer, forester, musician, artist, athlete, student – dreamer, welcome to our arena. We are all players here at a university on the rise.
The Idaho Central Credit Union Arena opened doors in October 2021 to welcome U of I students, alumni, community and visitors alike to our living laboratory built for a sustainable future.
Constructed with wood harvested from public and private forests surrounding Moscow, including the U of I Experimental Forest, processed and manufactured by Idaho companies, and installed by Idaho workers, the ICCU Arena is a testament for who we are and what we can achieve together.
We stand for more than a building. We are architectural invention, exceptional natural resource management, community engagement and public-private partnerships that showcase the heart of Idaho.
A Mass Timber Feat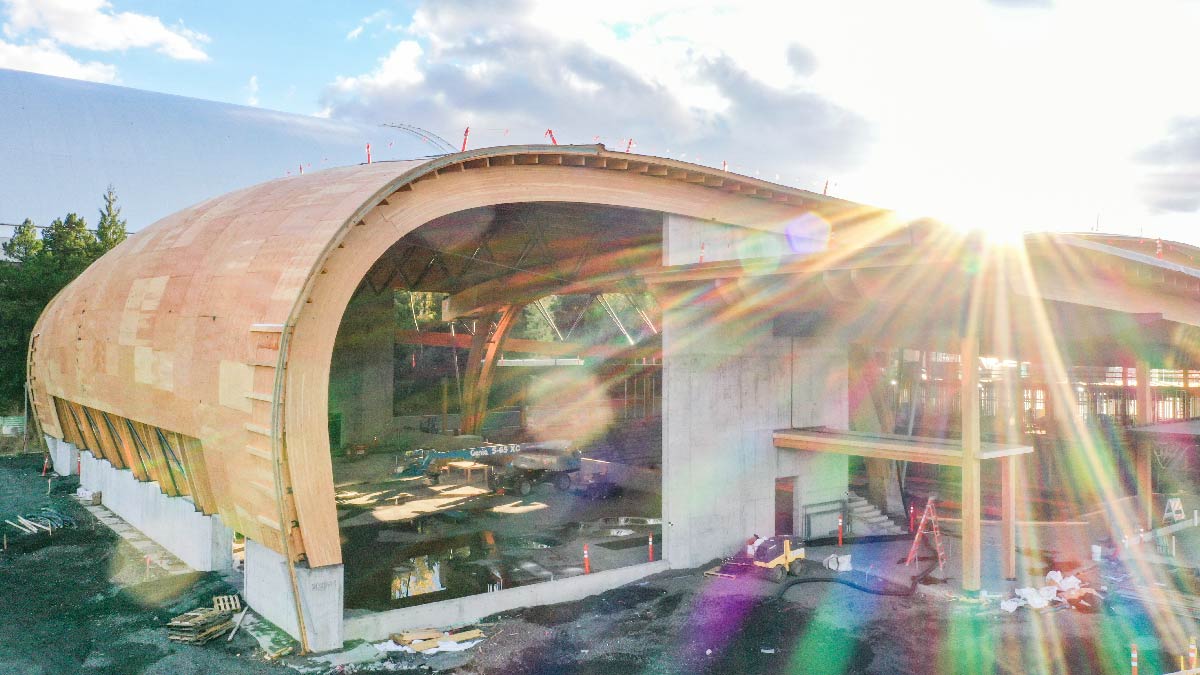 Wood engineered buildings have a smaller carbon footprint, are lighter than steel & concrete, and perform well in seismic and fire tests.
In total, there are 854 Glulam beams weighing 442 tons. The largest beam is 110 inches by 60 inches and is 58 feet long.
Fostering Economy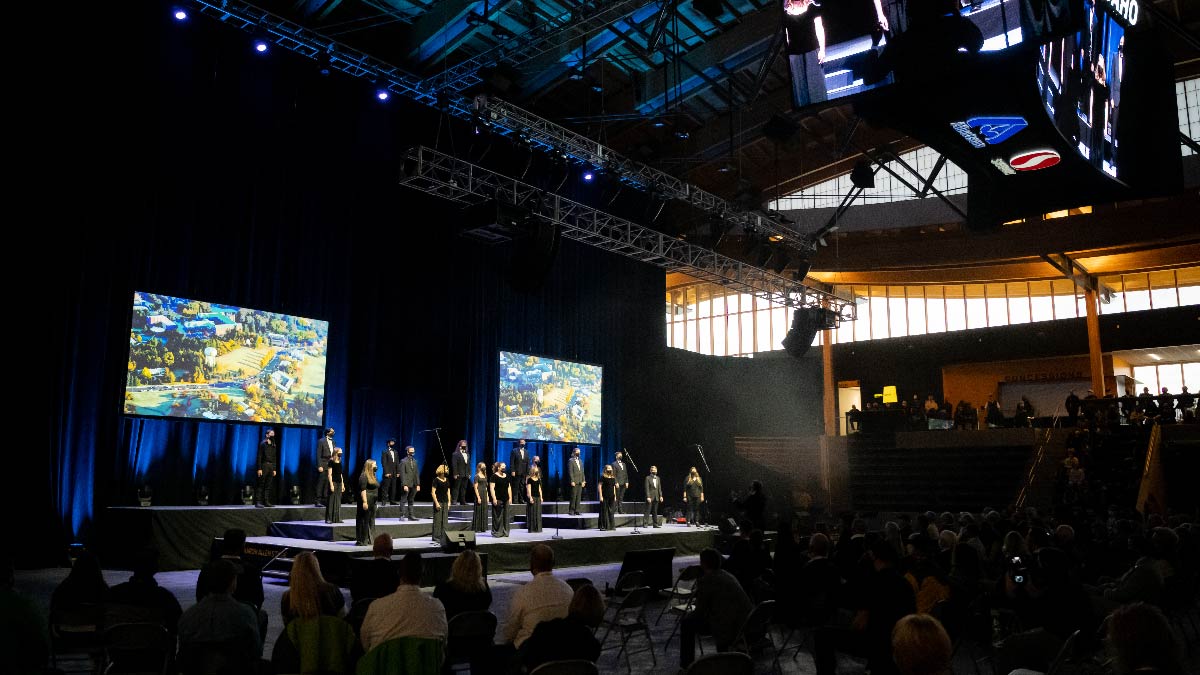 Construction alone created 74 jobs, $7.8 million in output, $3.7 million in gross regional product, and $2.7 million in wages and salaries.
As the ICCU operating venue develops, visitation increases, more community jobs are created and there are positive economic multiplier effects.
A Home for Many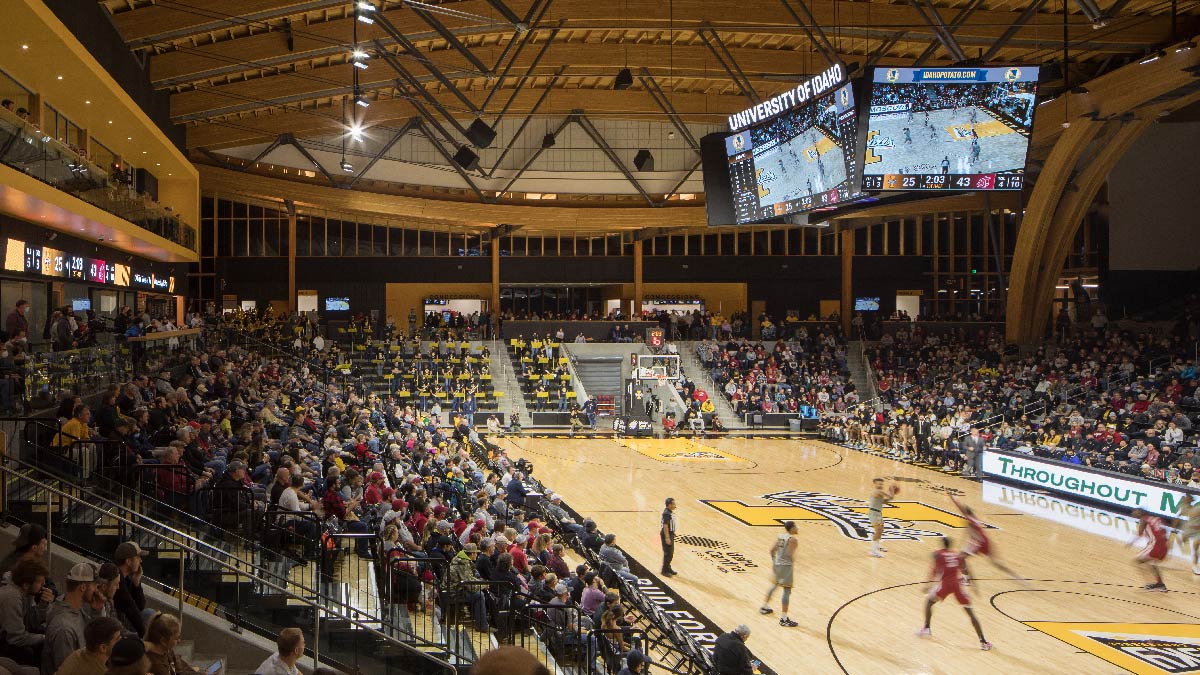 The arena is a stunning gathering place for athletic and academic events, performances, and other special occasions.
The arena is 67,000 square feet with a capacity over 4,000, and features a performance basketball court, a practice court, coaches offices, locker rooms, and a club area for premium seating and hospitality.
Power of Partnerships
Here at the arena, innovation is a team effort, and we are thankful for our contributors. From the forest to the lab, classroom and community, possibility plays here.
A Local Collaborative
Through relationships facilitated by the College of Natural Resources, project stakeholders were able to source a significant share of the Arena's timber products from within the region and, in some cases, from the University of Idaho's own Experimental Forest. Further underlining this localist ethos, area manufacturers donated materials and use of fabrication facilities.
A Testament to our Private Partners
"More than $35 million of the $51 million arena costs were provided by private funds, including Idaho's forest products industry and organizations certified to SFI standards. From the sustainably managed timber harvested by Bennett Lumber, Idaho Forest Group and PotlatchDeltic, to the glulam beams manufacturing by Boise Cascade and QB Corp, the cedar siding manufactured by Tri Pro Cedar Products, and the CNC milling and assembly by StructureCraft, the industry came together to showcase the arena as a spectacular example of wood design." - Dennis Becker, Dean of the College of Natural Resources
Telling the ICCU Arena's Story
Learn more about experiences at the Arena and what people are saying about it.
Awards
Architecture
2023, American Council of Engineering Companies of Idaho (ACEC), First Place, Structural Systems
2023, American Council of Engineering Companies of Idaho (ACEC), Idaho Grand Award
2022, American Institute of Architects (AIA), St. Louis Chapter, Architecture, Distinguished Award
2022, American Institute of Architects (AIA), Oregon Chapter, Institutional Architecture, Merit Award
Structural Engineering
2023, American Council of Engineering Companies of Idaho (ACEC), First Place, Structural Systems
2023, American Council of Engineering Companies of Idaho (ACEC), Idaho Grand Award
2022, National Council of Structural Engineers Associations, Structural Engineering Excellence (SEE) Award, Best of Group
2022, The Institution of Structural Engineers, UK, Shortlist, Structural Awards
Sustainability and Wood Design
2023, Woodworks - Wood Products Council, Wood Design Award (WDA)
2021-2022, Wood Design & Building, Canadian Wood Council Award for Commercial Building
2021-2022, Wood Design & Building, Sustainable Forestry Initiative, Sponsorship Award
Athletic Facilities
2022, ENR-Mountain States, Best Projects, Sports/Entertainment
2022, Athletic Business, Facility of Merit
2022, Athletic Business, Architectural Showcase Interiors
2022, International Interior Design Association (IIDA), Gateway Chapter, Interior Design Excellence Awards (IDEA), Sports & Recreation Winner.
---
U of I Moscow is located on the homelands of the Nimiipuu (Nez Perce), Palus (Palouse) and Schitsu'umsh (Coeur d'Alene) tribes. We extend gratitude to the indigenous people that call this place home, since time immemorial. U of I recognizes that it is our academic responsibility to build relationships with the indigenous people to ensure integrity of tribal voices.