Student News
A Passion for Advocacy
Political science student Nicole Skinner ran for ASUI president to advocate for students.
Local Opportunities to Grow
MPA student finds passion through internships.
From Fires to Medicine, Thanks to Philosophy
Bradley Bruce found a path to his passion through a philosophy degree.
Spring 2018 Dean's List Announced
Congratulations to the CLASSy students named to the Fall 2018 Dean's List. See the full list
Classroom to Kenworthy: Kino Short Film Festival gives students chance to showcase projects in a professional setting
Created in 2001 by a former U of I faculty member, the free festival is a chance for students in the School of Journalism and Mass Media's Advanced Video Production course to present short films they've spent a semester writing, directing and editing. Each film, which is less than 10 minutes, varies in topic and genre, from horror to comedy. Read more in the Argonaut.
Looking back: ASUI President Nicole Skinner reflects on year in office.
ASUI President Nicole Skinner is taking more than her degree with her after May 11, as she has spent the last year serving the student body. The graduating senior, studying political science and economics with a minor in psychology, isn't sure what comes after graduation, but she knows she wants to use public policy to improve people's lives. Read more in the Argonaut.
'People are everything:' ROTC senior opens up about experience with UI
When Cole Keehner was young, he spent time with his father in University of Idaho classrooms as he worked on his degree in wildlife. Now a student himself, Keehner is graduating in May. Keehner helped fund is education in International Studies through the Reserve Officer Training Corps (ROTC) program. Read more in the Argonaut.
Lionel Hampton Jazz Festival Photos
The Moscow-Pullman Daily News has published 12 photos of students participating in the Lionel Hampton Jazz Festival. See the photos.
Broadcasting and Digital Media Student Receives Research Grant for Film Project
Junior Bailey O'Bryant was awarded a $1,000 grant from the Office of Undergraduate Research for his film project, "Triggered." The film features an all-female cast and focuses on a young woman in college who experiences an intensely traumatic experience that causes her sanity and morals to break and chip away.
O'Bryant said his filmmaking is influenced by his desire to portray women, people of color and LGBTQIA community members beyond Hollywood stereotypes.
"My goal as a director is to show the world that women can be strong and complicated, people of color can carry a story and LGBTQIA people have lives quite similar to heterosexuals," O'Bryant said in his grant proposal.
O'Bryant will present his film at the Kino Short Film Festival, the U of I Undergraduate Research Symposium in April and the Idaho Conference on Undergraduate Research in Boise in the summer.
The film project is the product of the School of Journalism and Mass Media's Advanced Digital Media Production classes where students conceive, write, produce and edit a film over the course of two semesters.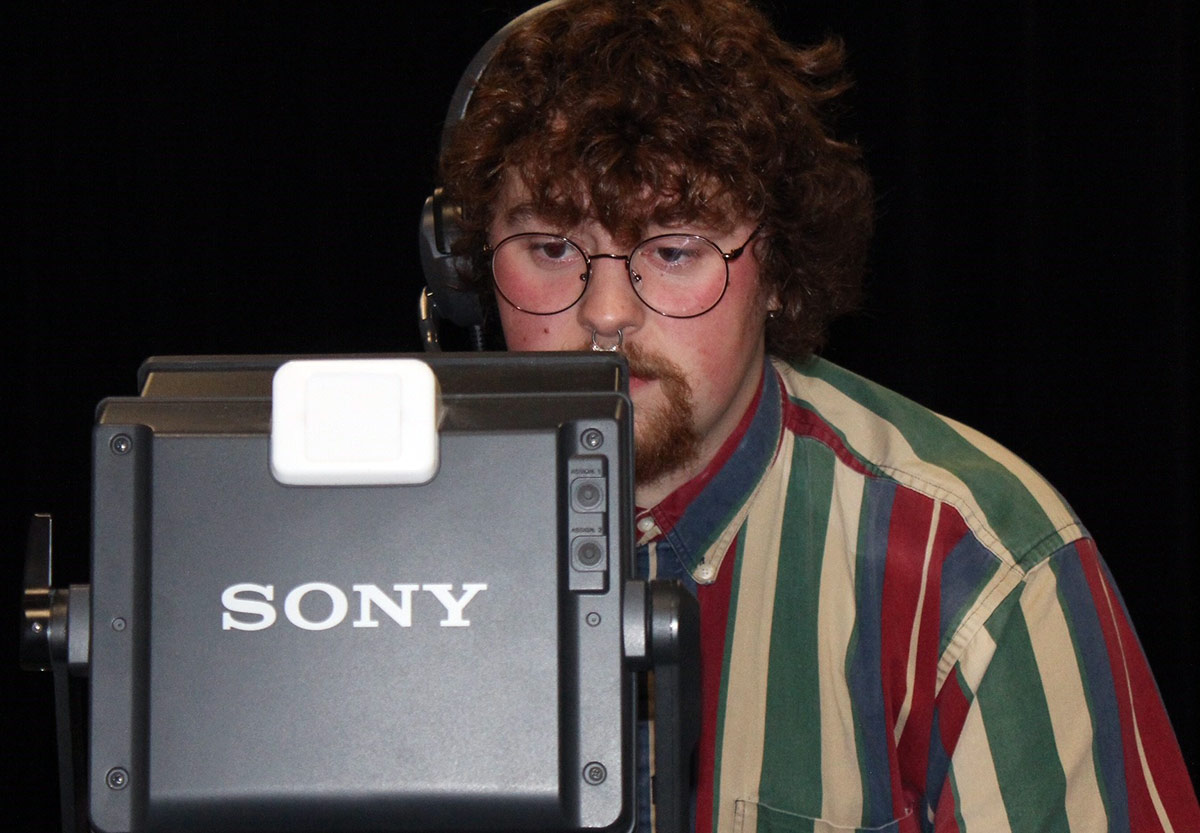 CLASS Student Among Seven Lost Lives in 15 Years at Dangerous Intersection
Heidi Lyn Bohac of Nampa, majoring in international studies, with a minor in Japanese and French, died at the U.S. Highway 95 junction with the Clearwater River Casino on Nov. 19, 2004.
Read More.
14 CLASS Students Receive Alumni Awards for Excellence
Congratulations to the 14 University of Idaho College of Letters, Arts & Social Sciences students who will be honored with the Alumni Awards for Excellence on Friday, Dec. 7. The award is given to seniors or graduate students who have achieved academic success, demonstrated career/professional preparation and are involved with campus/community leadership. CLASS recipients are:
Dishonna Arnett - international studies & finance
Kate E. Behrmann - economics, French & international studies
Jessica Betancourt-Medina - Spanish & international studies
Estefania Cervantes - international studies & Spanish
Annarose Christine Qualls - international studies, Spanish & Latin American studies
Yadira Estrada - Spanish
Catherine Feistner - civil engineering & Spanish
Lindsey Heflin - advertising
Caitlin Hill - MFA creative writing
Madison Lee Jackson - international studies
Ayomipo Kayode-Popoola - international studies & sociology
Nathan Kofmehl - international studies
Austin Maas - English: creative writing
Mikayla Sievers - MA TESL
JAMM Student's Video Debuts on Nationally Broadcast Television Show
A short video made by Zack Bartlett (senior majoring in broadcasting & digital media) was featured on the Sept. 26 epidsode of ABC's Right This Minute. Watch Zack's full video showing a time lapse of the making of a 9-foot metal Sasquatch.
Theatre Students Visit Oregon Shakespeare Festival
More than 15 theatre arts students traveled to Ashland, Oregon to attend the Oregon Shakespeare Festival in September. Professor David Lee-Painter and Assistant Professor Robby Valliere arranged for the students to see "Oklahoma" and "Love's Labor Lost" with U of I alumni Dan Poppen and Jeremy Gallardo and meet the cast and crew backstage.
Olivia Heersink Article Appears on Neiman Storyboard
Nieman Storyboard, a publication of the Nieman Foundation for Journalism at Harvard, showcases exceptional narrative journalism and explores the future of nonfiction storytelling. In late September, Olivia Heersink (senior, journalism) wrote an article based on a team project by reporting students. Read the article.
U of I MFA Students Collaborate at the Theatre Workshop of Nantucket
Two University of Idaho Department of Theatre Arts students brought some silver and gold to the stage in Nantucket, Massachusetts. On Oct. 1, MFA directing candidate Stephen John directed a reading of a new play, "Truth or Consequences" at the Theatre Workshop of Nantucket. The play was written by distance MFA dramatic writing candidate Justin Cerne, who currently works as the TWN's artistic director. John will next be directing "A Midwinter Night's Dream" opening at the University of Idaho's Hartung Theater on Nov. 30.
A Tale of Two Passions
Larissa Stafford discovered her passion at 6 years old — music. Stafford, who plays the viola and the violin, carried that young love well into adulthood, joining the University of Idaho Orchestra. "It is invigorating … a refreshing, challenging and beautiful hobby, and I didn't want to drop my talent," she said. "Music is exquisite and personal and heavenly." Read more about the U of I Orchestra.
Two CLASS Students Win Gilman Awards
Congratulations to two University of Idaho undergraduate students – Estefanía Cervantes and Cole Keehner – in the College of Letters, Arts and Social Sciences selected to receive the U.S. Department of State's Benjamin A. Gilman International Scholarship to study abroad during fall 2018. Read more.
History Honors Society Attends Regional Conference
Eight students - Abbygale Deleon, August Nelson-Alpert, Caitlin Beesley, Bruce Berry, Hunter Diehl, Sean Hyde, John Williams and Chloe O'Neill – represented the University of Idaho at the annual Phi Alpha Theta Regional Conference in April. The students each presented their research on topics varying from the Enlightenment's influence on architecture to a defense of the Crusades.
Finding Her Passion in Politics
Nicole Skinner, 20, considered a handful of colleges before choosing the University of Idaho. The deciding factor — a campus visit. Skinner, who is majoring in economics and political science, said she was able to strengthen that sense of "home" through student involvement, specifically ASUI. Read more.
Psychology Undergraduate Student Publishes on Alexander Technique
Jordan Becker, who just graduated with his psychology degree in May, was lead author on an article published in "Complementary Therapies in Medicine" about his research on the Alexander Technique. The paper titled "Preliminary evidence for feasibility efficacy and mechanisms of Alexander technique group classes for chronic pain," was co-authored by faculty members Shawn Copeland (music) and Rajal Cohen (psychology) and student Emily Bottterbusch. Read the article.