Student News
Inside Out Program Brings Students, Inmates Together
Assistant professor Omi Hodwitz helps criminology students gain understanding of prison populations.
A Passion for Advocacy
Political science student Nicole Skinner ran for ASUI president to advocate for students.
Local Opportunities to Grow
MPA student finds passion through internships.
Spring 2019 Dean's List Announced
Congratulations to the CLASSy students named to the Spring 2019 Dean's List. See the full list.
Student Inspires Many at CHAFE 150 Gran Fondo
Peter Haymond, an online student in CLASS pursuing a degree in general studies, inspired many by completing a 30-mile route at the Rotary Club of Sandpoint's CHAFE 150 Gran Fondo, not letting his cerebral palsy stop him from challenging himself. Read more.
Honors Program Student Receives National Phi Eta Sigma Honor Society Scholarship
University Honors Program student Abigail Childress received a $5,000 undergraduate scholarship from the national Phi Eta Sigma Honor Society for the 2019-20 school year. The mission of Phi Eta Sigma is to encourage and reward academic excellence among freshmen in institutions of higher learning and to assist students in their future goals. Childress, who came to the University of Idaho in fall of 2017 from Dalton Gardens, embodies the society's mission. Childress is pursuing three majors at the University of Idaho: biochemistry, microbiology and Spanish. She is also a member of the pre-health professional program, actively involved in the U of I chapter of Phi Eta Sigma and the University Honors Program.
History Student Receives Cultural Vistas Fellowship
Nicolas Schofield, a history and international studies student from Boise, Idaho, was among 15 students in the United States to be named to the 2019 Class of the Cultural Vistas Fellowship. The program offers students fully-funded, eight week internships in Argentina, Germany and Hong Kong. It also includes a pre-departure virtual learning seminar, reentry seminar and a service project to share learning with their campus and local communities. Schofield will complete his internship in Berlin, Germany with the host company EU Russia Civil Society Forum. More information.
Mikayla Sievers Earns U.S. Department of State Award to Study Punjabi in India
The University of Idaho Distinguished Scholarships Program, along with the College of Letters, Arts and Social Sciences, is pleased to announce that Mikayla Sievers, an English graduate student, has been selected to receive a 2019 U.S. Department of State Critical Language Scholarship to study Panjabi in India. The Critical Language Scholarship (CLS) program is part of a U.S. government effort to expand the number of Americans studying and mastering critical foreign languages. Sievers is one of approximately 550 competitively selected American students at U.S. colleges and universities who received a CLS award in 2019.
Student Awards in Politics and Philosophy
The Department of Politics and Philosophy awarded the following students for accomplishments in various categories: Outstanding Sophomore in Political Science to Megan Smith, Outstanding Junior in Political Science to Ryan Palmer, Best Senior Research Project to Austin Brown, Outstanding Senior in Political Science to Jeremy Trent, and The Victoria and Mark Smith Outstanding Senior Award to Brenda Alvarez and Nova Tebbe.
Theatre Student Wins National Finalist Award in Directing
Jessica Shehan, a senior in the Department of Theatre Arts student from Coeur d'Alene, represented the University of Idaho as a national finalist for the 2019 Stage Directors and Choreographers Award at the Kennedy Center American College Theatre Festival in Washington D.C. in April.
Twelfth U of I-Moscow PD Citizen's Police Academy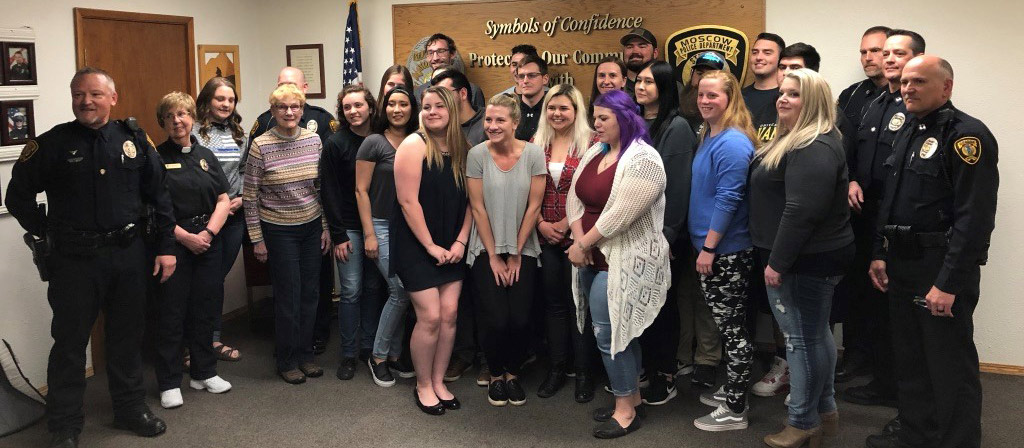 Eighteen students studying criminology in the Department of Sociology and Anthropology participated in this year's Citizen Police Academy. This unique partnership between the University of Idaho and the Moscow Police Department allow students to get a first-hand experience of what it is like to train as a police officer, while earning U of I credit. Over twelve weeks, the students learned about police procedures, investigations, ethics, computer crime, use of force and patrol techniques. The class also included a police ride-along and field training in special responses. As part of the coursework, students reflected on their experience through critical readings and written assignments designed to go with the material. Citizen's Police Academy has been coordinated for twelve years between the two units and were led by Department Chair Brian Wolf and Officer Rick Whitmore this year.
Sociology Student Wins Multiple National Awards
Denessy Rodriguez, a senior majoring in sociology – inequalities and globalization not only earned the U.S. Department of State's Benjamin A. Gilman International Scholarship to study abroad in Thailand during the 2019 spring semester, but she also was awarded the 2019 Betsy Thomas Gender Equity Award. The latter is awarded to students reflecting the following characteristics: exceptional motivation, innovation, involvement and commitment to advancing gender equity issues through their academic studies, and/or via volunteerism and community service, without regard for personal gain, while exhibiting a deep and personal commitment to the causes, concerns, events and needs at hand.
2019 Academy of American Poets Winner – Caitlyn Curran
Out of a field of nearly 90 poems submitted by U of I undergraduate and graduate students, Caitlyn Curran's "Sister in Recovery" was selected as this year's Academy of American Poets winner at the University of Idaho. Curran in a MFA candidate in the Department of English's Creative Writing Program. Judge and poet Marcus Jackson said of the winning poem: "'Sister in Recovery' is a kinetic, revelatory poem whose sharp lines, narrative swiftness, and emotional stakes welcome the reader into many crucial intersections of family, society, and self. Similar to the way the "sister" in the poem changes song lyrics, the poem itself briskly transforms elegiac occasions into dynamic, illuminating utterances."
National Recognition for Theatre Student Andrew Yoder
Theatre arts student Andrew Yoder was a finalist for a national sound design award at the Kennedy Center American Theatre Festival in Washington, D.C. in April 2019. The Boise native found his passion in sound design by creating and running the soundboard for U of I's production of "The Dumb Waiter" in 2017. Read More.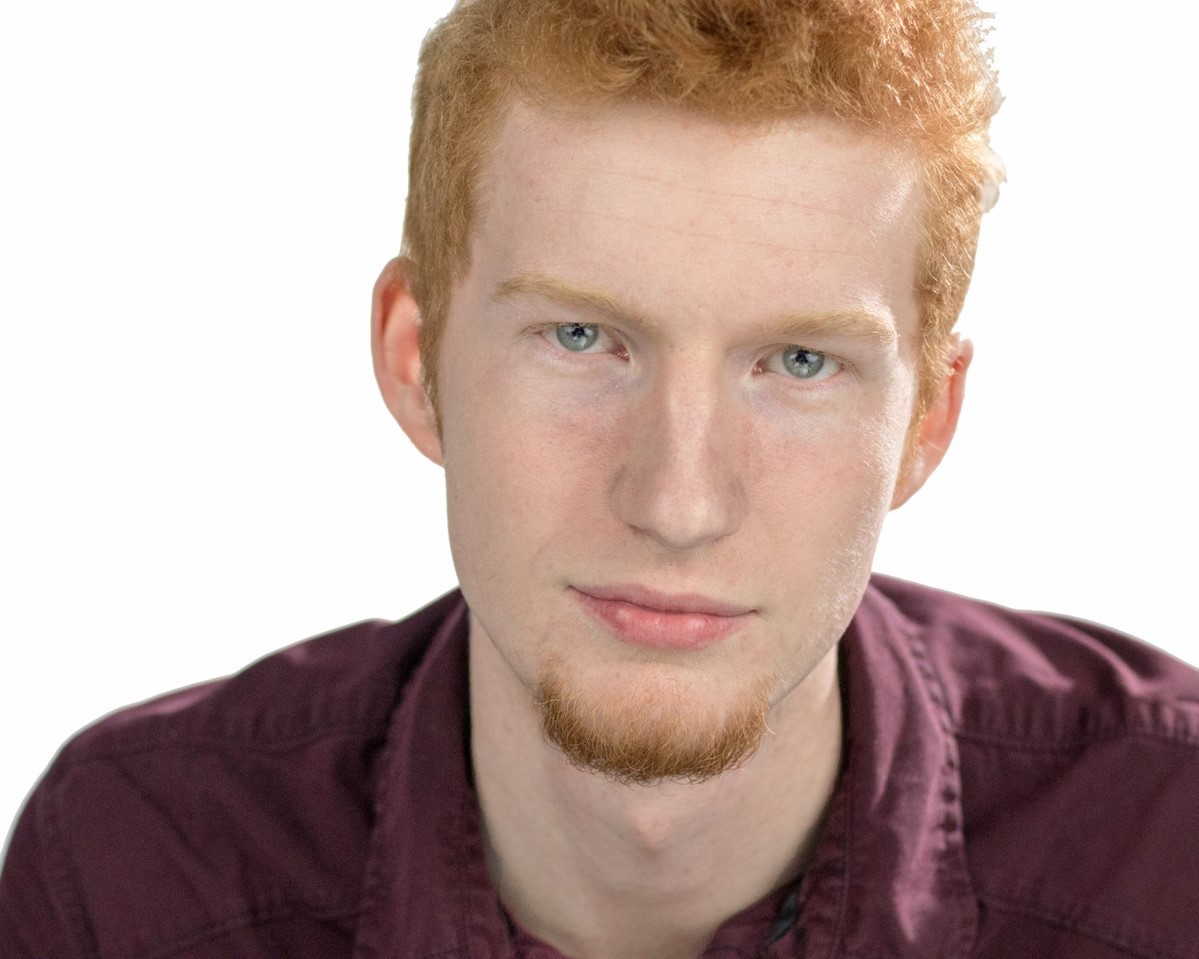 Genesee High Track Standout Wants to Return Home to Teach Writing
Genesee High School track standout Kyle Spence plans to attend the University of Idaho and return to Genesee to teach English. Read More.
Classroom to Kenworthy: Kino Short Film Festival gives students chance to showcase projects in a professional setting
Created in 2001 by a former U of I faculty member, the free festival is a chance for students in the School of Journalism and Mass Media's Advanced Video Production course to present short films they've spent a semester writing, directing and editing. Each film, which is less than 10 minutes, varies in topic and genre, from horror to comedy. Read more in the Argonaut.
Looking back: ASUI President Nicole Skinner reflects on year in office.
ASUI President Nicole Skinner is taking more than her degree with her after May 11, as she has spent the last year serving the student body. The graduating senior, studying political science and economics with a minor in psychology, isn't sure what comes after graduation, but she knows she wants to use public policy to improve people's lives. Read more in the Argonaut.
'People are everything:' ROTC senior opens up about experience with U of I
When Cole Keehner was young, he spent time with his father in University of Idaho classrooms as he worked on his degree in wildlife. Now a student himself, Keehner is graduating in May. Keehner helped fund is education in International Studies through the Reserve Officer Training Corps (ROTC) program. Read more in the Argonaut.
Lionel Hampton Jazz Festival Photos
The Moscow-Pullman Daily News has published 12 photos of students participating in the Lionel Hampton Jazz Festival. See the photos.
Broadcasting and Digital Media Student Receives Research Grant for Film Project
Junior Bailey O'Bryant was awarded a $1,000 grant from the Office of Undergraduate Research for his film project, "Triggered." The film features an all-female cast and focuses on a young woman in college who experiences an intensely traumatic experience that causes her sanity and morals to break and chip away.
O'Bryant said his filmmaking is influenced by his desire to portray women, people of color and LGBTQIA community members beyond Hollywood stereotypes.
"My goal as a director is to show the world that women can be strong and complicated, people of color can carry a story and LGBTQIA people have lives quite similar to heterosexuals," O'Bryant said in his grant proposal.
O'Bryant will present his film at the Kino Short Film Festival, the U of I Undergraduate Research Symposium in April and the Idaho Conference on Undergraduate Research in Boise in the summer.
The film project is the product of the School of Journalism and Mass Media's Advanced Digital Media Production classes where students conceive, write, produce and edit a film over the course of two semesters.