Opposite Worlds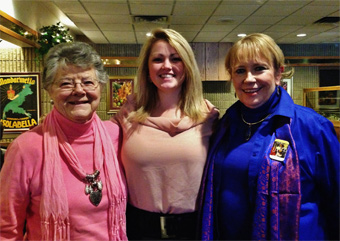 Martin-McClure Ambassadorship forges a path while bridging the gap
Idaho agriculture, public policy and international studies may not seem to collide very naturally, but University of Idaho senior Katie Russell spent the summer figuring out how they might.
"I worked on connecting an issue of international significance to people in agriculture in Idaho in a way that affected public policy," Russell said. "Those three realms rarely overlap easily or without crushing the viewpoints of each other."
Her work was part of the newly established Martin-McClure Ambassadorship, which aims to honor the legacies of Boyd Martin and Jim McClure. The founders of the Martin Institute for International Studies and the McClure Center for Public Policy held opposing political views, Russell said, but were known for successful collaboration.
"This ambassadorship was created to honor their legacy in challenging a student with a similar task," she said.
The animal science and international studies dual major said she is familiar with the challenge of combining very different topics in a meaningful way, and found the experience helpful in her own search for balance.
"Not only was I trying to forge this gap, but I was also creating the vision for this ambassadorship," Russell said. "There was no precedent, which made it have a lot of pressure and no pressure all at the same time."
Her project, funded dually by the Martin Institute and McClure Center, began with two weeks of research, and she said finding a topic relevant to all three areas was the most difficult part. After much deliberation, Russell decided to focus her research on geographical indications, or GIs, and their implications for Idahoans.
"Geographical indications are product labels on foods that set them apart from every other food because of their location of origin," Russell said.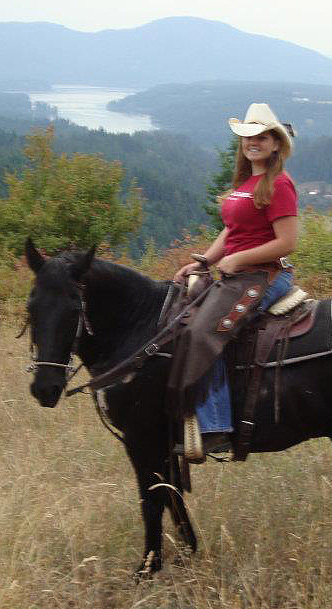 She cited Florida oranges, Napa Valley wines and, of course, Idaho potatoes as examples of products that are famous because of where they are grown. She said Idaho potatoes are one of the globe's top GIs.
"What does anyone say when you tell them you're from Idaho?" Russell proposed. "'Potatoes!'"
Part of the recognition is due to the protection the Idaho Potato Commission (IPC) works constantly to achieve. Recently, Russell said, Turkey tried to use "Idaho" on agricultural products and the IPC stopped use of the term because geographical indication has essentially copyrighted it. Companies that have protected GIs often increase innovation, ensure customers a quality product, and can charge a premium for the genuine article — at least that's the goal.
But Russell found that GI protections can become overreaching and even monopoly-driven, so the World Trade Organization is implementing checks and balances to the system. In the most recent round of debates, the organization considered what protections to offer GIs, how developing countries play into that, and how developed nations can have innovation protection without holding monopolies.
Russell's policy paper outlines different approaches to the issue and suggest which is best for Idahoans in general. Her research brought her into conversation with agricultural and political professionals, in-state and abroad. Russell worked with Patrick Kole, chief legal counsel for the IPC, who Russell called "the resident expert on geographical indication."
"It was kind of an intimidating meeting, especially because my paper had kind of a different perspective," she said. "He wants GIs to go forward, and I was saying they might not be the best because of the dairy industry in Idaho."
Russell's policy paper advocated for a more balanced promotion of Idaho agriculture, which Sen. James Risch echoed during a brief but successful meeting to discuss Russell's work.
"I got way up to my head in all the nitty-gritty of that," Russell said. "It was a pretty interesting project, but not one that a lot of people think about very often, so my task, then was to connect that to Idahoans."
She continued presenting her findings to Idahoans throughout July and August, visiting Rotary groups in Coeur d'Alene, the McClure family, and members of Idaho Farm Bureau in Kootenai County. Making the policy relevant to community members across the state was the final and defining challenge of the ambassadorship.
"The point is to help bring awareness of how international studies plays into the average Idahoan's life," Russell said. "Showing that actually we're all connected more than we know."
She said the paper promoted awareness of the issue and the value of understanding how Idaho agriculture plays into the international realm — two sectors that often remain separate. Russell's goal in her policy paper was bridging that gap.
In the first year of its existence, the Martin-McClure Ambassadorship established a precedent for creative and meaningful interdisciplinary research. Russell said she hopes her successors expand upon the premise of globalization and its role in the lives of Idahoans. The ambassadorship had an impact on one Idahoan in particular.
"I probably benefitted from this paper more than anyone else," Russell said. "I was really grateful for the opportunity to work toward combining my majors."
Between networking with professionals in the Idaho Department of Agriculture, gaining understanding of the World Trade Organization, and interacting with community members, Russell said the ambassadorship has been a building experience every step of the way.
"The Martin-McClure Ambassadorship was formed out of the desire to bring two opposite worlds together," Russell said.
In her case, success was political and personal.
By Victoria Hart