DISA 2012 | A Child's Right
UI Students Honor NGO that is Quietly Changing the World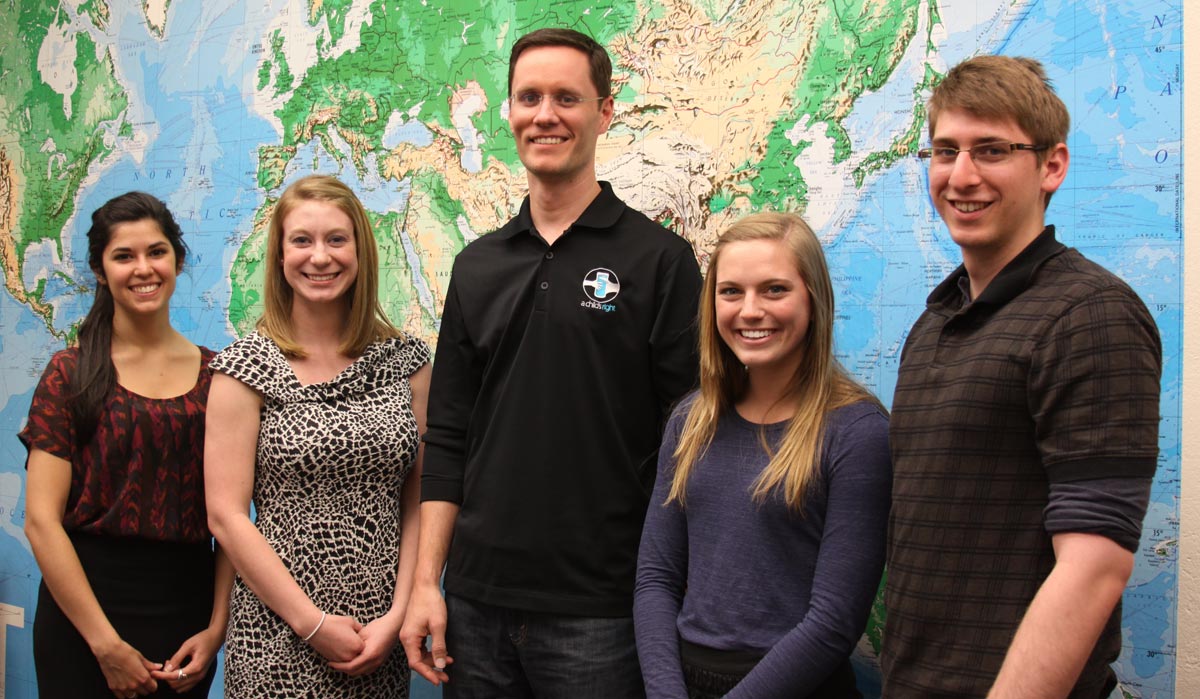 "Never doubt that a small group of thoughtful, committed people can change the world. Indeed, it is the only thing that ever has."

- Margaret Mead
Globally, the vast majority of children's health issues stem from unsafe drinking water.
Two million child deaths and an estimated 900 million childhood illnesses are attributed to contaminated drinking water each year. Those numbers are staggering as an index of immediate human misery, but waterborne illness also keeps those children from attending school regularly, perpetuating lifelong poverty.
Since 2003, one man — one man now working with a group it might not be a stretch to characterize as 12 apostles — has made it his mission to provided clean drinking water to all children. The man is Eric Stowe, founder and director of the little-known NGO, A Child's Right, "created because we believe that every child has the right to clean water," says Stowe.
Stowe and his small group of thoughtful, committed people have already changed the world for 210,160 children. Currently, they are providing that number of children, most of whom are orphans, with clean drinking water. The number does not count those systems ACR has installed that are now being operated by locals.
While working in China's orphanages, Stowe saw three distinct, unmet needs: the need for more kids to be adopted; the need for better training for caregivers; and the need for clean drinking water for all children. "Compared to those first two, the latter was actually really easy," said Stowe. "I felt I had both the inspiration and the knowledge base to do it."
A Child's Right has made it their goal to provide clean water to every single active orphanage in China by 2013. That's 650 orphanages in 31 provinces. Stowe, who always does the math, is certain that lofty goal is achievable.
At each site where they provide a water filtration system, the organization also provides parts, training and oversight for 10 years. Then they leave the filtration systems in the hands of local experts, people they have worked with and trained for a decade.
Stowe went to China without much awareness of the impacts of unsafe drinking water. He worked in the international adoption field, with orphanages in China and with local, regional and international governments.
One day he walked into a McDonald's in China's Guangdong Province, and wondered why the drinking water in the restaurant was clean, while in nearby orphanages it was not.
Following seven years of negotiation, A Child's Right began working with the Chinese government. Stowe meanwhile built a relationship with the leading manufacturer of water ultrafiltration systems - the same company that successfully filters water for McDonald's – asking them to design a filtration system that would be optimal for charitable purposes.
A Child's Right provides the systems to areas of highest population density, most often to the orphanages and hospitals in those areas. The NGO also works in Cambodia, Ethiopia, Nepal, Vietnam, India and Thailand.
In 2011, University of Idaho International Studies students established the Distinction of International Service Award (DISA), to honor impactful NGOs like A Child's Right. The students analyze what works, and what doesn't.
Among those they studied, Stowe's organization was unique, offering complete transparency, including written accounts of their successes and their failures, an accurate, consistently updated accounting of where their money comes from, and goes; what they're doing and where. They also keep a running tab of the children they help, subtracting when a filter system temporarily fails, adding when a new system comes online, and subtracting again when a system becomes self-sufficient.
This year, University of Idaho students took a hard look at about 60 internationally active NGOs based in Idaho, Washington and Oregon. They where impressed not only with the scope of A Child's Right, but also by the small groups' transparency and accountability.
"This NGO stood out a lot to us," said Melissa Kowaluk, an U-Idaho international studies student who chaired the university's DISA selection committee. "The Chinese government requires a five-year plan from NGOs; A Child's Right has a ten year plan. They are committed to training people to make them completely self-sufficient to operate and manage the systems. And they are completely transparent."
The organization's transparency and business efficacy impressed the entire selection committee.
"It takes a lot more than a big heart to run a successful NGO," said international studies student and DISA selection committee member Stephen Weeks. "It takes a commitment to figuring out the ins-and-outs of your operation, and admitting to and learning from your mistakes."
Many students on the DISA committee aspire to work in or with NGOs in their careers. In the process of selecting an honoree, they learn what becoming thoughtful, committed people actually requires.
DISA recipients also visit international studies classes, hold office hours, meet with the Martin Institute Advisory Board and speak briefly at the year-end social, where they receive the award.
"Their reach is wide during the campus visit," said Bill Smith, director of the Martin Institute and International Studies program.
"We're pleased that our vision for the DISA program has panned out so well," Smith said. "It affords not just the selection committee but our students in general the chance to thoughtfully analyze what makes a powerful and effective NGO."
---
By Donna Emert
Originally written Spring 2012