Catching Up with CALS — Nov. 15, 2023
Dean's Message — New Faces
In every CALS department, we're adding new faces who are bringing diverse skillsets, fresh ideas and tremendous energy to the college. Some describe such widespread hiring as "filling holes." I don't believe that's an apt metaphor, as new faculty may be vastly different from the professionals they replace. As we celebrate the careers of retiring faculty members and the contributions they've made in their fields, we welcome new hires with their own visions, new approaches to teaching and different research focuses. Our veteran faculty are mentors for these new additions, entrenched in their fields and knowledgeable about proven strategies. Retired faculty members may continue to share wisdom acquired over long careers in emeritus roles. As for our new hires, they often provide the spark to help our college evolve and branch out in new directions. And they bring new connections within the industries they serve.
Some of the positions we've recently filled or are in the process of filling include: In the Department of Agricultural Economics and Rural Sociology (AERS), we've filled an Extension range economist position that's been vacant for several years, formerly held by Neil Rimbey. The new range economist, Jessica Windh, recently started work at the U of I Twin Falls Research and Extension Center. "It was just like finding a unicorn," department head for AERS Chris McIntosh said of the hire. "We've been trying to replace Neil Rimbey since 2015." Also within AERS, we're in the process of hiring a teaching research faculty position, formerly held by Aaron Johnson, and we're searching for an area Extension educator in risk management.
In August, the Margaret Ritchie School of Family and Consumer Sciences brought in an Extension nutrition specialist, Adrianne Griebel-Thompson. Her research focus will be on ensuring optimal growth and development of infants and toddlers through nutrition. She's specifically interested in how maternal intake of iodine and fluoride influences human milk composition and infant outcomes. Within the Department of Entomology, Plant Pathology and Nematology (EPPN), Armando Falcon-Brindis will begin work on Jan. 7, 2024, as a new assistant professor of entomology and Extension specialist based at the U of I Parma Research and Extension Center. In the Department of Plant Sciences, we'll soon be advertising for a forage agronomist, a position formerly held by Glenn Shewmaker. The position fills a significant need in a state with more cows than people that ranks No. 3 in dairy production.
Two of our departments are hiring faculty who will also give a boost to our Department of Soil and Water Systems (SWS). In the Department of Agricultural Education, Leadership and Communication (AELC), we're welcoming Don Edgar as a senior faculty member. A quarter of his time will be allocated toward a teaching appointment in agricultural systems management within SWS. AELC is also interviewing for an open agricultural education position and hopes to fill an agricultural communications position soon. The Department of Animal, Veterinary and Food Sciences (AVFS) is hiring an air-quality specialist who will focus on the Idaho Center for Food Agriculture and the Environment (Idaho CAFE), which is now under construction in Rupert and will include the nation's largest research dairy. The air-quality specialist will also be involved in SWS research. Furthermore, SWS is in the final phases of filling a hydrology position, formerly held by Rick Allen, who specialized in evapotranspiration modeling and remote sensing. The successful candidate will be based at the Idaho Water Center in Boise.
Our college thrives on the excellence of the faculty we bring on board. Earning the 22nd position in the 2024 Niche.com rankings of America's best agricultural colleges is a testament to the caliber of our educators and researchers. I'd like to share some thoughts with our new and incoming faculty members to build on our achievements and elevate our standing even further. You are not here to simply meet expectations — you are part of a community that strives for greatness. You were hired because you possess an innate drive to excel, whether it be motivating students, earning outstanding teaching evaluations, mentoring graduate students or securing external grants. Embrace the challenge to secure external funding and use that support to train graduate students and fund technicians, enhancing the impact of your programs. Work closely with our commodity groups and commissions to better understand and address the greatest challenges facing their industries. Aim high by applying for larger grants that expand upon those themes through federal agencies such as the National Science Foundation or the U.S. Department of Agriculture. Every faculty member has the potential to make a national impact. We can achieve that and attract outstanding graduate students by publishing papers, speaking at symposiums and forging relationships with colleagues from other institutions. Together, we will reach new heights — your individual achievements are the building blocks of our shared success.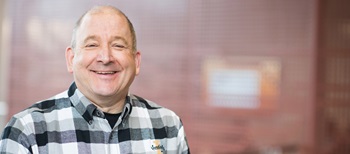 Michael P. Parrella
Dean
College of Agricultural and Life Sciences
---
By the Numbers
The University of Idaho's William F. Barr Entomological Museum was initiated in 1946 by Professor William F. Barr (1920-2011), who was a leading expert on Buprestidae and Cleridae insects. The collection has grown from just 10,000 specimens to more than 1 million pinned insect specimens, including more than 36,000 species, stored in more than 3,500 drawers. Barr retired in 1982 and the collection was dedicated in his honor in 1986. The museum includes world-class collections of Buprestidae, which is a family of beetles known as jewel beetles, with more than 12,000 species, as well as more than 1,000 species of Cleridae, which are checkered beetles. Curator Luc Leblanc posted a virtual tour of the museum 3 years ago.
---
Our Stories
Preventing Potato Pressure Bruise
The potato industry has a term for the unpleasant surprise of cutting into a seemingly good spud to find a dark bruise inside.
Known as "cutting black," the tuber quality issue is among the industry's leading causes of lost revenue, especially in the fresh potato market. Pressure bruises affect anywhere from 10% to 20% of spuds coming out of storage.
However, researchers with University of Idaho and the U.S. Department of Agriculture's Agricultural Research Service (USDA-ARS) believe they may be able to help. Gustavo Teixeira, a UI Extension potato postharvest physiologist; Nora Olsen, a UI Extension potato storage specialist; and Munevver Dogramaci, a research plant physiologist with USDA-ARS Northern Crop Science Laboratory in Fargo, N.D.; have launched a study testing three compounds for their potential to block bruised tissue from darkening.
Their work is funded with a $42,470 grant from the Northwest Potato Research Consortium. The products they'll be evaluating are not currently labeled for use in potatoes in the U.S., but they hope their research will lead to more in-depth studies that justify moving forward with potato registrations.
"That is a huge potential for these products if we get good results," Teixeira said.
U.S. potato farmers typically fill their storage cellars 18 feet deep with spuds. Potatoes are firm they enter storage but lose water over time through respiration. After eight or nine months in storage, the weight of the pile can begin to flatten spuds near the bottom. Once those wounded potatoes are removed from storage and exposed to oxygen, bruises usually darken within four days, making the tubers unappealing to consumers.
On Sept. 19, the research team placed concrete blocks on piles of Russet Burbanks to simulate typical storage conditions. The spuds will be stored for eight months. Some of the spuds will be treated five days before coming out of storage with 1-Methylcoclopropene (1MCP), nitric oxide or diphenylamine (DPA) in gas form. A control group of potatoes exposed to pressure bruise using the concrete blocks will remain untreated, as will a control group that won't be subjected to the simulated pile pressure.
"The goal of this project is not to control pressure bruise. It is to control the cutting black — the browning," Teixeira said. "We are inducing the pressure bruise and at the end of storage after about eight months, we are going to apply products."
DPA and 1MCP are both widely used in the U.S. apple and pear industries — DPA is applied to control browning resulting from a disorder known as superficial scald, and 1MCP helps extend the shelf life of the fruit. In Europe, 1MCP is also used to reduce potato shrinkage.
Bruises darken as part of the process plants use to heal wounds. The dark spots result from the oxidation of chemicals plants produce for their own protection, known as phenolics, to form natural pigments known as melanin. Teixeira and his team intend to apply 1MCP to block ethylene action in bruised spuds. When vegetables are damaged, ethylene is one of the first hormones they produce, and stimulating wound healing is one of the functions of ethylene. DPA is an antioxidant, which can prevent the initiation of browning by reacting with oxygen. Nitric oxide will be applied to block reactive oxygen species (ROS). ROS regulates signaling pathways, and the researchers hope to block the signal sent within a potato to stimulate bruises from darkening.
They'll spend roughly three months evaluating data starting early in May 2024. If their tests produce encouraging results, they'll likely test combinations of the compounds in a follow-up experiment.
---
New Entomologist
Entomologist Armando Falcon-Brindis is eager to put his extensive background in pollinators, biological pest control agents, ecology and taxonomy to work for the benefit of Idaho's farmers.
Falcon-Brindis, a research associate with University of Kentucky (UK), will join University of Idaho's College of Agricultural and Life Sciences on Jan. 7, 2024, as a new assistant professor of entomology and Extension specialist based at the U of I Parma Research and Extension Center.
Falcon-Brindis was educated in Mexico, earning a bachelor's degree in 2009 in animal science, a master's degree in 2014 in environmental science and a doctoral degree in 2019 in natural resources management.
His thesis focused on the ecology of trap-nesting bees and wasps in the Baja California peninsula. He's also published on a host of topics such as the diversity of moths of Mexico, pollination ecology and diversity of wild bees, parasitism of corn earworm, solitary and parasitic wasps and bark and ambrosia beetles. Furthermore, he's the co-advisor of a doctoral thesis focusing on the taxonomy and ecology of Scoliid wasps of North and Central America.
"I like to understand why we have a certain pool of species in one area. What are those conditions making those species occur in a certain area?" Falcon-Brindis said.
While with UK, he's focused much of his research on insect pests affecting hemp production, as well as field crops such as soybeans, corn and wheat. In addition to using chemical pesticides, his approach to integrated pest management includes bio-pesticides and various biological control options.
He can't wait to oversee his own program and make research decisions with U of I. Hops, which are a significant crop raised near Parma, are in the same family as hemp, and Falcon-Brindis is curious to see if some of the same biological control methods he's used for hemp will prove effective in protecting hops.
"It will be great to do some experiments with biological pesticides," Falcon-Brindis said. "There are oils, bacteria and viruses that are currently being used and they can be a good option if you spray them at the right time."
Falcon-Brindis is also intrigued about conducting research in mint, including trials involving pest-resistant mint cultivars, the use of natural enemies of mint pests and biological control options to quash pest populations.
Falcon-Brindis believes his background in native pollinators will be especially useful to growers of crops requiring pollination, such as alfalfa and tree fruit. Pollinators are in decline and USDA estimates 75% of food crops raised in the U.S. depend upon pollinators. Falcon-Brindis hopes to study ways to slow or reverse the decline of pollinators.
"There's a lot of research that already demonstrates that native bees and native pollinators are way better at pollinating and helping the plants set seeds and fruits compared with honeybees," he said.
Early in his tenure, he intends to evaluate the Treasure Valley's agricultural landscape and surrounding native plant communities to understand the insect species that are present, as well as which ones are associated with specific crops. He'll be using several statistical tools and new approaches to modeling to break down his data.
He also has big plans for incorporating artificial intelligence into his research to improve efficiency and reduce labor. He'll use drones to aid in the early detection of pests, crop diseases and crop stress. He also plans to use sensors for early detection of harmful insects, as well as insect tracking and remote insect counting.
He'll be making the move to Idaho with his wife, Gabriela, and his 8-year-old daughter, Alessandra.
"I wish for my research findings to improve people's lives," Falcon-Brindis said. "We're so excited to move over there. I feel joy and excitement to start working and collaborating with colleagues."
---
A New Design Frontier
Western wear — in particular men's western workwear — wasn't something Tess Richardson had given much thought to in the past. That all changed during summer 2023 when the University of Idaho apparel, textiles and design student completed an internship with Boot Barn in Irvine, California.
A senior from Andover, Minnesota, Richardson's previous design experience mostly focused on clothing for herself or her friends. The Boot Barn internship pushed her outside her comfort zone and allowed her to grow as a designer.
"It was challenging to learn to design for a new consumer," she said. "I was designing for someone who was very much not myself but, in the end, I really enjoyed it. The hardest part was learning to design within this box while still being creative."
As the apparel design intern, Richardson was tasked with designing three concepts — a shirt, jacket and vest for Boot Barn's Brothers and Sons exclusive brand. Utilizing a road map provided by Boot Barn's fashion buyers that included preferred concepts, colors, price points and release dates for each item, Richardson set out to design pieces that would appeal to a rugged western man.
---
Applied economics graduate student and Vandal golfer Johannes Hounsgaard was named the Big Sky Golfer of the Week on Nov. 1 after finishing 10-under 206 for a seventh-place finish at the Monterrey International Invitational. His performance led Idaho to an eighth-place finish at the tournament.
Katie Hebdon, a senior from Nampa studying agribusiness and animal and veterinary science: dairy option, has received a $2,500 National Dairy Promotion and Research Board scholarship. The scholarship is awarded annually to 11 students across the nation and Hebdon is the only awardee from Idaho.
CALS students in the apparel, textiles and design portfolio development class traveled to Portland, Oregon to present their projects to Nike Swim in October.
EmmaRae Parsons, a senior from Arco studying agribusiness and biotechnology and plant genomics, was selected as a Greenfield Scholar by the American Society of Agronomy and the International Certified Crop Adviser program. The purpose of the program is to support outstanding undergraduates with plans to enter the workforce upon graduation and pursue the Certified Crop Adviser/Certified Professional Agronomist profession and certification.