Chemical Ecology Research
Chemical ecology and insect pest management in changing landscapes
Our program is multifaceted. Interests include deciphering the chemically mediated interactions influencing transmission of insect-borne plant pathogens, host selection by insect pests and beneficials (especially weed biological control organisms). Work on vector-transmitted pathogens extends from developing tools to help farmers manage the diseases to studies on the specific biology and evolution of these tripartite systems. We also engage in collaborative research aimed to improve the resilience of agriculture and conservation of biodiversity on working landscapes under drivers of change including climates, markets and technology.
Interdisciplinary collaboration
Whenever research and intervention addresses problems at the system level, it is necessary to collaborate, not only with other scientists but with other partners including stakeholders. We have taken an active role in pursuing these collaborations and in developing approaches to maximize communication, efficiency and effectiveness of these teams. This is an area of scholarship we pursue on our own, but also affects all of the work we do in natural and managed systems.
Our study systems
Plant viruses affect crops worldwide. Our focus recently has been on aphid-vectored viruses of wheat and legumes, important crops in our region. Production landscapes include inland Pacific Northwest systems across the three states Idaho, Washington and Oregon. These are characterized by vast acreages of dryland farming with dispersed natural habitats and human settlement.
Current projects
Managing viruses in dry legumes
Manipulation of vectors by the plant pathogens they transmit
Insect communities in alternative production systems in the Pacific Northwest
Eigenbrode, S. D., N. A. Bosque-Pérez, and T. S. Davis. 2018. Insect-borne plant pathogens and their vectors: ecology, evolution and complex interactions Annual Review of Entomology 63: forthcoming.
Davis, T. S., Y. Wu, and S. D. Eigenbrode. 2017. The effects of Bean leafroll virus on life history traits and host selection behavior of specialized pea aphid (Acyrthosiphon pisum, Hemiptera: Aphididae) genotypes. Environmental Entomology 46:68-74.
Eigenbrode, S. D., E. J. Bechinski, N. A. Bosque-Pérez, D. Crowder, A. Rashed, S. J. Rondon and B. S. Stokes. 2017. Insect management strategies.in G. Yorgey and C. Kruger, editors. Advances in Dryland Farming in the Inland Pacific Northwest. Washington State Extension Publication EM108, Pullman, WA. http://extension.wsu.edu/publications/pubs/em108/.
Eigenbrode, S. D. and S. Macfadyen. 2017. The impact of climate change on wheat insect pests: current knowledge and future trends. Pages 000-000 in P. Langridge, editor. Achieving sustainable cultivation of wheat, Volume 1: Breeding, quality traits, pests and diseases. Burleigh Dodds Science Publishing, Cambridge, UK.
Eigenbrode, S. D., T. Martin, Lois Wright Morton, J. Colletti, P. Goodwin, R. Gustafson, D. Hawthorne, A. Johnson, J. T. Klein, L. Mercado, S. Pearl, T. Richard and M. Wolcott. 2017. Leading large transdisciplinary projects addressing social-ecological systems: A primer for project directors. https://nifa.usda.gov/leading-transdisciplinary-projects.
Foote, N. E., T. S. Davis, D. W. Crowder, N. A. Bosque-Pérez and S. D. Eigenbrode. 2017. Plant water stress affects interactions between an invasive and a naturalized aphid species on cereal crops. Environmental Entomology:1–8. http://doi.org/10.1093/ee/nvx071.
Lichtenberg, E. M., C. M. Kennedy, C. Kremen, P. t. Batáry, F. Berendse, R. Bommarco, N. A. Bosque-Pérez, L. s. G. Carvalheiro, W. E. Snyder, N. M. Williams, R. Winfree, S. Åström, F. Benjamin, C. Brittain, R. Chaplin-Kramer, Y. Clough, H. Connelly, B. Danforth, T. Diekötte, S. D. Eigenbrode, et al. 2017. A global synthesis of the effects of diversified farming systems on arthropod diversity within fields and across agricultural landscapes. Global Change Biology 10.1111/gcb.13714.
McGee, R. J., S. Eigenbrode, H. Nelson and W. Schillinger. 2017. Re-inventing Austrian winter pea: Towards developing food quality winter peas. Crop and Soils.
Mondal, S., E. J. Wenninger, P. J. S. Hutchinson, J. L. Whitworth, D. Shrestha, S. D. Eigenbrode, N. A. Bosque-Pérez and W. E. Snyder. 2017. Responses of aphid vectors of Potato leaf roll virus to potato varieties Plant Disease.
Rhoades, P. R., T. Griswold, H. kerd, L. Waits, N. Bosque-Pérez and S. Eigenbrode. 2017. The native bee fauna of the Palouse Prairie (Hymenoptera: Apoidea). Journal of Melittology 66:1–24.
Stockle, C., Higgins, R. Nelson, J. Abatzoglou, D. Huggins, W. Pan, T. Karimi, J. Antle, S. D. Eigenbrode and E. Brooks. 2017. Evaluating opportunities for an increased role of winter crops as adaptation to climate change in dryland cropping systems of the U.S. Inland Pacific Northwest Climatic Change. in press.
Wenninger, E. J., S. Y. Emmert, K. Tindall, H. Ding, M. A. Boetel, D. Rajabaskar and S. D. Eigenbrode. 2017. Aggregation behavior and a putative aggregation pheromone in sugar beet root maggot flies (Diptera: Ulidiidae). Journal of Insect Science 17:1-9.
Bosque-Pérez, N. A., P. Z. Klos, J. E. Force, L. P. Waits, K. Cleary, P. Rhoades, S. Galbraith, A. B. Brymer, M. O'Rourke, S. D. Eigenbrode, B. Finegan, J. D. Wulfhorst, N. Sibelet and J. Holbrook. 2016. A pedagogical model for team-based, problem-focused interdisciplinary doctoral education. Bioscience 66:477-488.
Eigenbrode, S. D., and N. A. Bosque-Pérez. 2016. Chemical ecology of aphid-vectored plant viruses. Pages 3-19 in J. K. Brown, editor. Vector-mediated transmission of plant pathogens. American Phytopathological Society, APS Press, St. Paul, MN.
Eigenbrode, S. D., T. S. Davis, J. R. Adams, D. S. Husebye, L. P. Waits and D. Hawthorne. 2016. Host-adapted aphid populations differ in their migratory patterns and capacity to colonize crops. Journal of Applied Ecology 53:1382-1390.
Mondal, S., Y.-H. Lin, J. E. Carroll, E. J. Wenninger, N. A. Bosque-Pérez, J. L. Whitworth, P. Hutchinson, S. Eigenbrode and S. M. Gray. 2016. Potato virus Y Transmission Efficiency from Potato Infected with Single or Multiple Virus Strains. Phytopathology 107:491-498.
Mondal, S., E. Wenninger, P. Hutchinson, M. Weibe, S. Eigenbrode and N. Bosque-Pérez. 2016. Contribution of noncolonizing aphids to Potato virus Y prevalence in potato in Idaho. Environmental Entomology 131.
Mondal, S., E. J. Wenninger, P. J. S. Hutchinson, J. L. Whitworth, D. Shrestha, S. D. Eigenbrode and N. A. Bosque-Perez. 2016. Comparison of transmission efficiency of various isolates of Potato virus Y among three aphid vectors. Entomologia Experimentalis et Applicata 158:258-268.
Parker, J. E., D. W. Crowder, S. D. Eigenbrode, and W. E. Snyder. 2016. Trap crop diversity enhances crop yield. Agriculture, Ecosystems & Environment 232:254-262.
Rhoades, P. R., J. B. Koch, L. P. Waits, J. P. Strange and S. D. Eigenbrode. 2016. Evidence for Bombus occidentalis (Hymenoptera: Apidae) Populations in the Olympic Peninsula, the Palouse Prairie, and Forests of Northern Idaho. J Insect Sci 16.
Sadeghi, S. E., J. Bjur, L. Ingwell, L. Unger, N. A. Bosque-Pérez and S. D. Eigenbrode. 2016. Interactions between Metopolophium festucae cerealium (Hemiptera: Aphididae) and Barley yellow dwarf virus (BYDV-PAV). Journal of Insect Science 16:1–6.
For more information, please contact: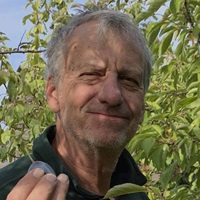 Ag Science, Room 235
208-885-2972
Research scientists
Ying Wu, research support scientist
Jessica Kalin, graduate student
Jake Hennessey, graduate student
Ali Paskus, undergraduate
Taylor Murphy, undergraduate
Recent alumni