From Our Vandal Family to Yours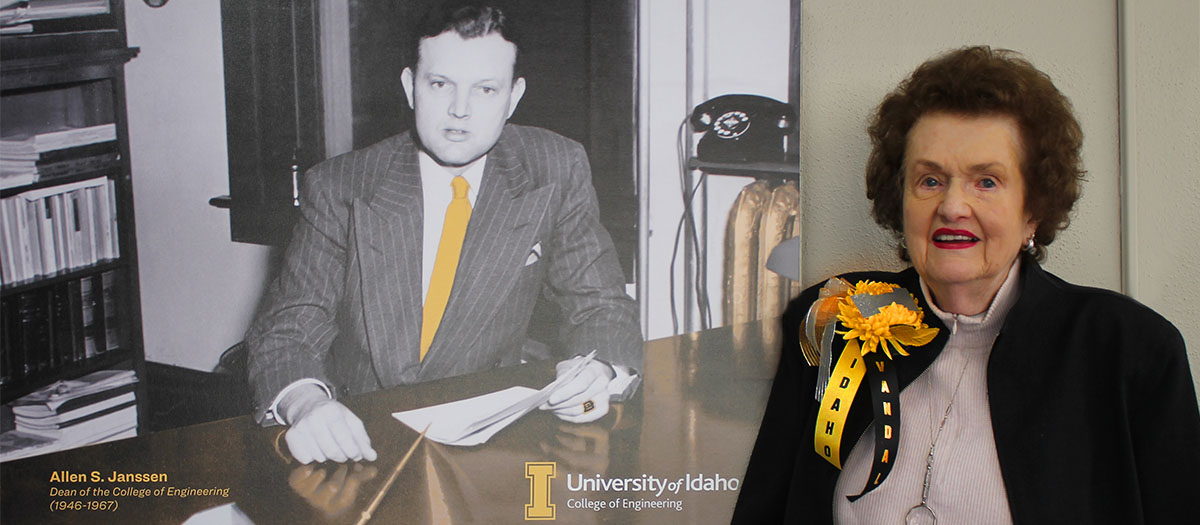 Sheila Janssen-Klages, with help of husband Karl Klages '52 and son Alfred, grows father's scholarship endowment.
In 1931, Allen S. Janssen '30, '33, '37 began his teaching career at the University of Idaho and quickly became a mentor and leader, serving as dean of the College of Engineering from 1946 to 1967. When the Idaho Board of Regents renamed the engineering building the Allen S. Janssen Engineering Building in 1972, he became an icon. Around the same time his colleagues, professors Cal Warnick and Jim Martin, came together with a group of donors to start the Allen S. Janssen Scholarship Endowment, cementing his legacy as a catalyst for engineering excellence for generations of U of I engineering students to come.
"He was very student-focused and assisted many World War II veterans in adjusting to civilian life upon their return home. College life was different for returning World War II veterans. He could relate to that." Sheila Janssen-Klages '53, Janssen's daughter.
"He was very student-focused and assisted many World War II veterans in adjusting to civilian life upon their return home," said Sheila Janssen-Klages '53, Janssen's daughter. "College life was different for returning World War II veterans. He could relate to that."
Janssen went on military leave to serve LT. Commander in the U.S. Navy Seabees from 1942 to 1946 with two years of that time spent in the South Pacific region constructing airfields and PT boat docks

"He helped them with class scheduling, time management, curricula, housing and jobs. With his stamp of approval, they were very hirable," Janssen-Klages said.

In addition to his teaching duties, being a professional engineer was important to Janssen. He was a member of the National Society of Professional Engineers (for two years he was national president of that group's engineering examiners), and served twice as president of the Idaho Society of Professional Engineers.

"He always emphasized 'learning the fundamentals,'" Janssen-Klages said. "That was a big part of the U of I engineering program. He recommended that all of his students receive 'professional engineer' status. He knew how important that was to their careers."

Since the inception of the Allen S. Janssen Scholarship Endowment, Janssen-Klages, her husband Karl Klages '52 and Janssen's son Alfred Janssen have looked for any and every opportunity to invest in U of I students through the endowment, while also encouraging friends and family to participate.

"I recognized early the importance of the endowment," Alfred Janssen said. "I saw how it could not only help meet a student's immediate need, but would also have a far-reaching, indirect effect when evaluating the career achievements of graduates who were awarded the scholarship."

Thanks to the support of Janssen's family, colleagues, students and friends, the endowment has grown from $10,000 to nearly $300,000, with an average of $12,750 awarded to recipients annually. To date, the Allen S. Janssen Scholarship Endowment has provided 275 students with financial support, including 15 students slated to receive the scholarship for the 2019-2020 school year.

"The very first donation I made to the endowment was in honor of my grandmother, Dora Jones of Malad, Idaho for her 90th birthday," Janssen-Klages said. "This was the first gift I made to the endowment in someone's name — a gift that has been followed by many more."

The University of Idaho Foundation was instrumental in working with the donors to insure a scholarship was created based on criteria that were important to Dean Janssen. The scholarship is open to engineering students based on leadership, academic merit and need.

"The fund has always been my number one priority for education-related philanthropy," Alfred Janssen said. "Annually, I receive detailed thank you letters and cards from students who were awarded scholarships from the endowment. It's inspiring to see such appreciative and highly motivated students go on to find success."
---
Article by Joshua Nishimoto