Supporting Scholarly Efforts
CALS excellence fund allows college to work toward its mission
The University of Idaho College of Agricultural and Life Sciences (CALS) is solving the world's most critical challenges through science that matters. Its teaching, research and extension mission is to advance agriculture and the life sciences in the state and beyond.
The CALS Excellence Fund is one of the resources that allows the college to work toward its mission and the important work done throughout the state. This gift fund allows CALS Dean Michael Parrella to support the scholarly efforts of faculty and students. A gift might help a student attend a professional conference or study abroad, provide a stipend for a thought-provoking guest speaker, or prize money for a student competition. Gifts of all sizes combine to provide wonderful opportunities for CALS students and faculty.
During the 2016-17 academic year, several faculty members and students were awarded monetary support from the CALS Excellence Fund. Four students from the Margaret Ritchie School of Family and Consumer Sciences were able to attend the Academy of Nutrition and Dietetics Food and Nutrition Conference and Expo. Each student served as lead author on a poster presentation and gained valuable experience attending a large national meeting where they were able to interact with researchers, dietetic professionals and educators.
Nine students from a variety of CALS majors attended the Agriculture Future of America Conference to gain experience and relationships through networking with each other and industry professionals. The purpose of the conference was to build bridges for young leaders to foster engagement and innovation in food and agriculture.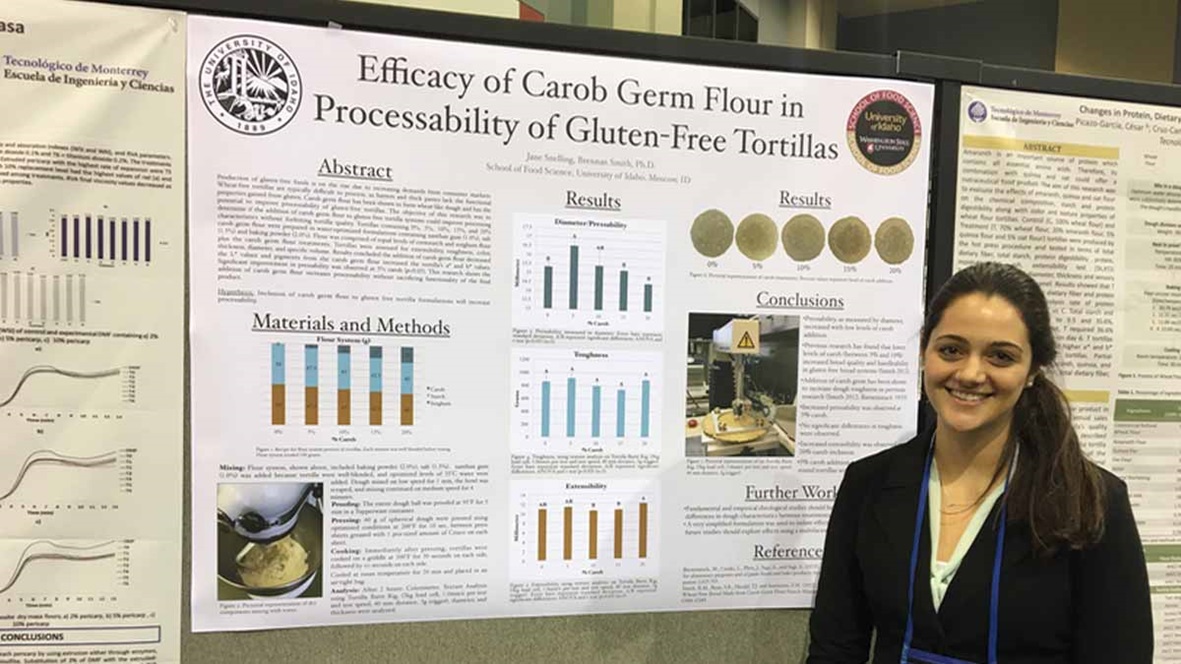 Jane Snelling, a senior in the U of I/WSU School of Food Science, received funding for travel expenses to the national American Association of Cereal Chemistry International (AACCI) conference in Savannah, Georgia. Snelling completed an undergraduate research project and attended the conference to present her poster "Efficacy of Carob Germ Flour in Processability of Gluten-Free Tortillas."
The AACCI conference allowed Snelling to network with university recruiters and professors looking for graduate students. She also interacted with current graduate students and got advice on the application process and life as a graduate student for the next phase of her life.
"My experience at AACCI in Savannah was eye opening and presented me with many opportunities to learn more about my field," Snelling said. "My trip would not have been possible without the generous contribution from the CALS Excellence Fund and I want to thank everyone who helped to make the funding possible."
A gift to the CALS Excellence Fund supports the core strengths of CALS: experiential learning, faculty excellence and innovative research.
"I am committed to directing this fund towards the important priorities in the college," Parrella said. "In turn, this will enrich the lives of our students, faculty and the CALS community."
By Amy Calabretta, College of Agricultural and Life Sciences