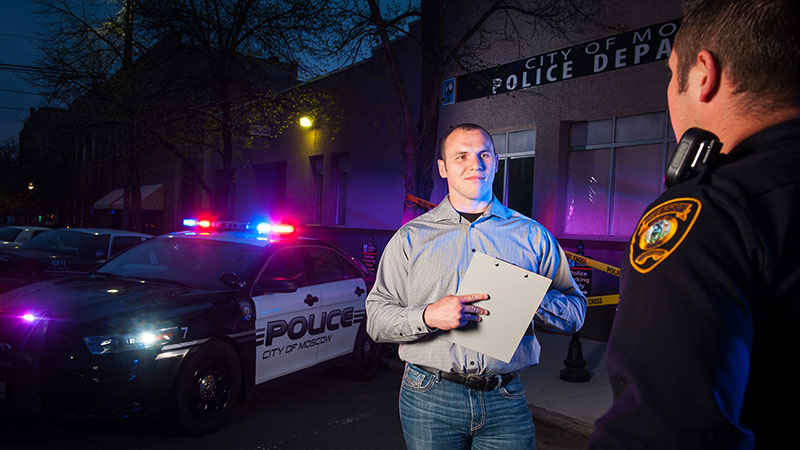 Uncover the many layers of crime.
Why do people commit crime? What do communities and criminal justice agencies do to prevent and respond to crime? How should crime be punished?
In this program, you will delve deep into the causes of crime and how it's handled in our society. Classes explore topics like homicide, policing, terrorism, psychopathy and juvenile delinquency to help you understand criminal behavior and the factors that shape our criminal justice system. You'll also build career skills through an internship at a nonprofit, criminal justice or governmental agency.
With a criminology degree, you might go on to a career in law enforcement, probation/parole, corrections, crime policy, investigations or victim advocacy. Law school or a graduate school could also be an option for you.
This program could be a good fit if you:
Are curious why people commit crime
Are interested in criminal justice
Want to prevent crime and victimization
Like to help people
Are a strong writer and communicator
With this degree, you may become a/an:
Detective or criminal investigator
Police or sheriff's patrol officer
Substance abuse and behavioral disorder counselor
Probation officer or correctional treatment specialist
Correctional officer or jailer
Judicial law clerk
Loss prevention manager
Fraud examiner, investigator or analyst
Criminal justice and law enforcement teacher, postsecondary
Intelligence analyst
Police identification and records officer
First-line supervisor of police and detective
Fire investigator
Judge, magistrate judge or magistrate
Lawyer
Modern Language Business, B.A.
More degrees below. Enjoy!