Catching Up with CALS — Jan. 25, 2023
Dean's Message —
4-H

Program to Award High School Credits

From its humble origins in the early 1900s when boys' and girls' clubs formed to emphasize learning by doing, University of Idaho Extension 4-H Youth Development has grown to involve more than 63,000 youth. I'm elated to announce that our 4-H program has reached a momentous inflection point that should spur even greater interest among youth, while also helping them get further ahead academically. We know that Idaho 4-H participants are more likely to pursue higher education. This spring, we will launch a new program that will give participants additional scholastic advantages, called "Learn Everywhere with 4-H." The Idaho State Board of Education approved the program last fall, offering extended learning opportunities for K-12 public school students. The program will focus on middle-schoolers starting this spring and will eventually award credits that will apply toward high school graduation outside of the classroom. Students will earn civics education credit by participating in 4-H's Know Your Government Program, as well as science credits earned by taking animal science curricula. Our commitment to offering youth real-world experiences remains as strong as ever. For example, 4-H participants from throughout Idaho will gather in Boise with state lawmakers, the governor and the lieutenant governor in February during the annual 4-H Know Your Government breakfast. The event is as eagerly anticipated by the lawmakers as the youth.

The UI Extension 4-H program has a long and storied history, detailed in "A History of the College of Agriculture at the University of Idaho (pdf)" by Clifton E. Anderson. In 1912, State Superintendent of Public Instruction Grace M. Shepherd took over responsibilities for the state's boys' and girls' clubs and invited the U of I College of Agriculture and the U.S. Department of Agriculture to cooperate in a new statewide youth program. Under that umbrella, the College of Agriculture prepared educational bulletins used by 30 new potato production clubs and 19 sewing clubs. School districts hosted contests for the clubs, and winning exhibits were featured at county fairs, with the county-level winners moving on to state fair competitions. The program grew rapidly. "More than 6,500 boys and girls participated in club work in 1914. Potato, corn, poultry swine, bread, sewing and canning clubs were seeking members," Anderson wrote in his publication. "Because the College of Agriculture was organizing the UI Agricultural Extension Service, the State Board of Education in 1914 transferred the boys' and girls' club program to the college. Later, with the program under the college's direction, county and district 4-H agents were appointed."

With appropriation from the state as part of our Agricultural Research and Extension Service budget, U of I invests about $2.5 million annually in its 4-H program. About 20 full-time equivalent faculty positions are devoted to running 4-H, and more than 130 county staff employees also support the program — we thank our state lawmakers for funding an additional 4-H STEM educator last year located in Twin Falls who will teach youth about the real-life application of STEM through Idaho CAFE by exploring the engineering and advanced technology used in food production systems. We also rely on countless volunteers who keep the program afloat. These more than 2,000 volunteers come from every urban center, rural community and county in the state. Indeed, 4-H provides value to every legislator and legislative district. 4-H has been central to the evolution of U of I and the state as a whole. We continue to innovate, making 4-H as relevant to youth today as it was when it first started more than a century ago. "Learn Everywhere with 4-H" promises to be a truly revolutionary partnership that will elevate the program's presence, proving the best is yet to come. We thank James Lindstrom, who joined UI Extension in 2012 and retired in December, for his distinguished service as 4-H youth development director. We look forward to the program's next chapter under the direction of Angela Freel who will be joining us on Feb. 6 from the University of Arkansas System where she has spent a rich career in 4-H youth development.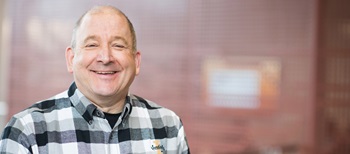 Michael P. Parrella
Dean
College of Agricultural and Life Sciences
---
By the Numbers
A total of 311 CALS undergrads were named to the Fall 2022 CALS Dean's List. These students achieved a GPA of 3.5 or better in at least 12 graded credits for the fall semester. View the dean's list for the complete list of names.
---
Our Stories
Mimicking Beavers
University of Idaho researchers are testing artificial beaver dams as a tool to restore degraded stream systems, thereby improving riparian habitat and bolstering the late-season water supply.
Known as beaver dam analogs, these structures comprise the same materials beavers use in nature, including willow boughs, sediment and stone. They cause water to pool and spill beyond the banks. The spillage supports marshland vegetation before seeping into the groundwater and re-emerging later in the season downstream.
Beaver dam analogs provide an option to restore habitat where resources are insufficient to support beavers or where beavers would pose a nuisance.
A team of researchers with U of I's College of Agricultural and Life Sciences (CALS) and College of Natural Resources (CNR) is entering the final year of a three-year study of the concept, funded with a $75,000 USDA Natural Resources Conservation Service grant. The research is being conducted in an intermittent stream, Guy Creek, within the university's Rinker Rock Creek Ranch in central Idaho's Wood River Valley.
From CNR, the research team includes Jason Karl, Harold F. and Ruth M. Heady Endowed Chair of Rangeland Ecology; Charles Goebel, head of the Department of Forest, Rangeland and Fire Sciences; and Eric Winford, who is spearheading the project as his dissertation for a doctorate in natural resources. CALS team members include Melinda Ellison, an assistant professor and Extension specialist focused on the effects of raising livestock on wildlife and range; Laurel Lynch, assistant professor with the Department of Soil and Water Systems; and two of Lynch's graduate students — Ellen Incelli, a graduate student studying environmental science, and Heather Neace, a graduate student studying water resources science and management.
"It really is bringing together CALS with CNR to ask some of these important social and ecological questions," Winford said. "Across the West we can restore some of the function beavers were maintaining in these systems by mimicking their activity."
At the project's start Guy Creek flowed through a deep channel disconnected from riparian areas. Riparian vegetation can be essential for livestock, providing a verdant source of late-season forage.
In July 2020, a group of recent high school graduates with the Idaho Conservation Corps spent a week helping the research team build 65 beaver dam analogs within three meadows. The team has been using drones to evaluate gradual changes in the channel. They've noticed pools and riffles are forming and sediment is accumulating behind the structures, and they expect to eventually see gains in groundwater levels and improvements in natural processes such as nutrient cycling.
They anticipate their stream gages and groundwater monitoring will evidence that beaver dam analogs build up groundwater and hold water until it's needed without curbing flows to downstream users. The Idaho Department of Water Resources requires anyone who installs a beaver dam analog to obtain a permit and is interested in the research.
"In the lower two meadows we've been able to collect water samples later in the season from more pools than the year before," Lynch said. "It's too early to say definitively that water levels are increasing, but it does seem anecdotally we're pushing the system in that direction."
Lynch and her graduate students are also evaluating how riparian restoration influences water quality, soil carbon, microbial ecology and soil macroinvertebrate density.
The team plans to host field days and workshops at Rinker Rock Creek Ranch for public land managers and private landowners to highlight the beaver dam analogs, as well as how to make and maintain them. Several federal agencies offer funding for improving wildlife habitat that could be used for building them.
"There are potentially hundreds of miles of these meadows throughout the state where these could be applied," Winford said.
---
Spud Diseases Present Moving Target
Once the scourge of the seed potato industry, potato leafroll virus is now all but forgotten.
However, University of Idaho plant virologist Alexander Karasev warns conditions may be aligning for leafroll to make an unwanted comeback.
Karasev believes the rollercoaster ride the industry has faced in dealing with leafroll throughout several decades is a prime example of how controlling potato seed pathogens presents a moving target. Problems of the past may resurface as variables shift, and as soon as one challenge is resolved, another issue is apt to emerge.
Karasev offered his insights during a speech, "Potato Disease Control, Changing Targets Over Time," on Jan. 17 during the 54th Annual Idaho Seed Potato Grower's Seminar in Pocatello.
"You have multiple factors involved in the possible introductions of new pathogens and vectors," Karasev said. "All of these may affect the relative significance of different pathogens for potato certification. It's like a living organism, so don't think it's going to be like this forever."
Potato leafroll virus, which is spread by colonizing aphids, was historically responsible for yield losses in excess of 50%. Infected plants become stunted and produce smaller tubers with necrosis of the vascular tissue. The arrival of the pesticide DDT, effectively controlled colonizing aphids wand leafroll took a backseat to other concerns. In the 1970s, leafroll returned with a vengeance due to the ban on DDT.
In the early 2000s, a new group of chemicals, neonicotinoids, was released, which once again relegated leafroll to a minor issue.
"There are practically no colonizing aphids in the fields anymore, so there's practically no leafroll in potato fields," Karasev said.
However, several states have restricted neonicotinoid use based on concerns for pollinators, and the future of the group of chemicals is uncertain. The onset of resistance to neonicotinoids could also pose a problem.
"Especially for leafroll, I'm urging people to keep an eye on regulations. The chemistry that is available today may be banned tomorrow," Karasev said. "In this case you will have an outbreak of leafroll."
In about 2002, shortly after leafroll again left the industry's radar, another aphid-vectored disease — potato virus Y (PVY) — emerged as a major threat that has become the primary reason for seed lot rejections. Unlike with leafroll, aphids can pick up PVY within seconds of feeding and spread it long before insecticides have a chance to take effect.
Some potato cultivars were bred with PVY resistance. However, they were developed in the early 2000s to resist the predominate strain at the time, PVY-O. Today, the strain PVY N-Wilga comprises more than 70% of infections, followed by PVY NTN, rendering some of the resistant cultivars less effective.
A couple of other diseases that used to be devastating for seed potato growers have been held in check because of the advent of using tissue cultures — plants grown from stem fragments in an artificial medium within a laboratory to produce clean early generation seed.
Potato spindle tuber viroid was a major problem in the early days of seed certification but was declared eliminated in North America in the mid-1980s thanks to the use of tissue cultures in seed propagation. Bacterial ring rot, once the primary reason for seed lot rejections and now relatively rare, is another success story resulting from the industry's adoption of tissue cultures.
Looking ahead, potato mop-top virus — a pathogen that's most efficiently spread through soil — looms as a new threat. Since 2011, it's been found in every major potato producing state. It's spread by the vector Spongospora subterranea, which also causes the disease powdery scab. Potato mop-top virus is currently not covered by the state's potato seed certification program, a problem Karasev feels should be remedied.
"It's not tested for. Technically, there is no control of any sort at the moment," Karasev said. "This is something that industry might need to think about."
Karasev advises potato growers and agronomists to be vigilant and to report anything out of the ordinary in their fields.
"Remember that it all changes," Karasev said. "You can never rest if you are a potato grower."
Visit the Potatoes website for more information on U of I potato research, as well as expert insights into potato production and management.
---
Women in Ag
University of Idaho Extension Educator Colette DePhelps recently received a flyer promoting a midwestern farm succession program featuring the photograph of a grandfather with his son and grandson.
The flyer's image reflects a widely held gender bias in agriculture that misses the reality of the industry. In Idaho, for example, the USDA estimates 70% of farm operations have at least one women operator and 39% of Idaho farmers and ranchers are women. Nationally, women comprise 36% of all farmers and 55% of all farms have at least one woman operator. Yet, historically, the nation's agricultural laws and programs have largely catered to males, based on a widely held stereotype that farmers are men.
DePhelps oversees the outreach and Extension component of a U of I research project exploring how gender bias has shaped policies that create barriers for female farmers, causing them considerable disadvantages in accessing land to farm and many USDA programs. DePhelps' work to help women farmers overcome gender bias is chronicled in a new episode of "Vandal Theory," a podcast about science and research at U of I.
"Agriculture has been identified as a strongly male occupation. Even though women have always played strong roles in agriculture, they've often been identified as a farm helper rather than as a farmer," DePhelps said.
---
CALS students Anna Rice, Paige Householder, Tess Richardson and Ellie Hafer, along with apparel, textiles and design faculty Lori Wahl and Chelsey Lewallen, recently attended the Outdoor Retailer tradeshow in Salt Lake City, Utah.
Bob Tripepi, a professor emeritus of plant sciences at CALS, was presented the Gold Medal of Horticulture Award for lifetime achievement at the Idaho Nursery and Landscape Association's 2023 Idaho Horticulture Expo, hosted Jan. 18-20 in Boise.
CALS Professor and Extension Potato Specialist Nora Olsen was recently named board vice president for the World Potato Congress.
UI Extension Educator Brad Stokes, of Canyon County, who specializes in horticulture, was honored with the 2022 Mountain Home Chamber Man of the Year Award during the recent Mountain Home Chamber of Commerce Installation Banquet. The award is granted to community members who go above and beyond expectations in helping to serve their community.
CALS students Kaitlin Mirkin and Micayla Dougherty are featured in the U of I episode of The College Tour on Amazon Prime. This series highlights colleges across the nation, offering an inside look at what it's like to be a university student. A free red carpet screening of the episode will be held at the Kenworthy Performing Arts Centre in Moscow at 5 p.m. on Saturday, Feb. 4.