Taking The Big Plunge
Anthropology senior puts her best flipper forward as she uses Idaho to springboard her dreams
The rolling hills of the Palouse don't immediately seem like a natural first choice for a student interested in maritime archaeology and scuba diving, but anthropology major Olivia McDaniel is putting her best flipper forward to succeed.
The Council, Idaho native is taking her passion for archaeology and her love of scuba diving to new destinations. The senior is spending her fall semester at the University of Hawaii through the National Student Exchange, after spending four weeks at the Lighthouse Archaeological Maritime Program (LAMP) at the St. Augustine Lighthouse and Museum in Florida.
"I've always been interested in the ocean and its history. Finding a program that combined that with my major was really great," says McDaniel. "It really piqued my interest."
While in Hawaii, she's hoping to practice her diving and underwater archaeology skills in between her studies, while learning about a new culture.
"I always wanted to study abroad, but when I saw there were national opportunities, I wanted the chance to get out and explore my own country," says McDaniel. "Hawaii was an easy decision to explore academics, a new place and culture — both on land and underwater."
For an anthropology major, heading off to study a new culture is an adventure, and for McDaniel, it was one that began at an early age. Her passion for exploring history runs in the family. Her father collects old bottles and the stories behind them.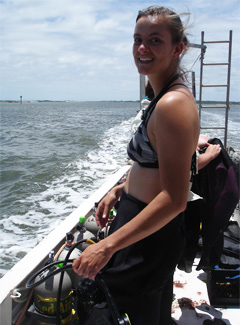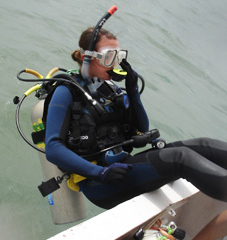 "He taught me that old things are more than just an item to put on a shelf. They can help tell a story about a place and the people that used them," says McDaniel. "I took an intro to anthropology class, and it came together."
Before setting off on her academic adventure, McDaniel became certified in scuba in November of 2011, through classes at the University of Idaho – allowing her to participate in an underwater archaeology field school.
Additional support through the Larry Craig Leadership Endowment allowed her the opportunity to spend four weeks learning techniques of underwater archaeology and submerged maritime history.
In St. Augustine, McDaniel worked four different sites: the remains of a late 18th century shipwreck a mile offshore, a ballast pile in the St. Augustine River determining whether it was a dumpsite or a shipwreck, potential shipwreck sites where she learned about hydroprobing and in the museum educating visitors.
"Being at the museum was one of the most rewarding things about the summer," says McDaniel. "People get really excited about what we're doing, and it helps bring the history to life."
Underwater, McDaniel says she used a lot of the same techniques she learned in the classroom, but also learned new skills, liking dredging at 30 feet below the surface. In addition to archaeological work, McDaniel says she was able to prepare a site for future excavation.
"There are different things you have to consider, especially how long you can stay underwater," says McDaniel. "And there's more safety issues involved in the process."
As McDaniel enters her final year in undergraduate school, she is looking at possible graduate schools and more certification in scuba diving so she can become a teacher while she plans her next step.
"There's a lot to do out there, and I want to take my time deciding what the right next step is," says McDaniel.
Article by Amanda Cairo for the University of Idaho