A New Lens Through Film
U of I and Coeur d'Alene Tribe 3rd and 4th graders create short films together in digital storytelling course and learn more than just film
Vanessa Anthony-Stevens has been working in partnership with the Coeur d'Alene Tribe for several years to create a shift in culture around education.
"We have to ask why does this matter and who we're serving. Do we have to teach through these direct teaching models where I hand you this book and I say, 'Memorize and summarize this'?" said Anthony-Stevens, an assistant of social and cultural studies in the College of Education, Health and Human Sciences (CEHHS). "There are other kinds of learning, so how can we harness the variety of learning experiences in ways that contribute to the public good and increased civic understanding?"
Anthony-Stevens is part of an effort to help the University of Idaho build a relationship with the tribe and tribal schools. One result is the creation of interdisciplinary digital storytelling class, which applies history, education and cultural competency by working directly with tribal students to tell stories digitally.
The course takes these concepts out the classroom and textbooks to connect with tribal youths.
"The real world — that's where learning takes place," said Ryanne Pilgeram, an associate professor of sociology in the College of Letters, Arts and Social Sciences. "People seem really one-dimensional when you read about them. But when you're put into the space of a school, working with little kids, you realize sometimes good intentions aren't enough and you have to have the background."
Engaging students
Pilgeram worked with Anthony-Stevens, Assistant Professor Russell Meeuf in the School of Journalism and Mass Media, and Phillip Stevens, director of the American Indian Studies minor, to teach the class.
The 17 U of I students enrolled in the class are diverse in age, gender, race and life experience.
"We drew majors from all over campus," Pilgeram said. "I was really conscious in the forming of groups to try and create really diverse groups that had different cohorts of students, different majors and different skills."
The course aims to give students a foundation for success in outside of college by teaching them about indigenous culture, history and culturally competent pedagogy. Culturally competent pedagogy, or teaching practices, means teaching in a way that values where people come from and their unique worldview.
"We're really focusing on changing U of I students. When you've had that experience, it means you're going to work with children with a different lens," Pilgeram said.
The students completed journals, readings and group exercises during the first few weeks of class, which helped inform their interactions with third- and fourth-grade students from the Coeur d'Alene Tribal School. The elementary students visited Moscow several times through the semester and worked together with the U of I students to tell superhero stories through video.
"They can tell the stories that reflect their values and backgrounds and it's easier to do than it's ever been," Meeuf said. "Most of us walk around with our film studio in our pocket that's more powerful than what people had in the '60s and '70s. The accessibility of the technology makes it a powerful way to engage students of diverse backgrounds to think about the kinds of stories they want to see in media."
The class will hold a film festival to showcase its work at 6 p.m. Thursday, Dec. 7, at the Kenworthy Performing Arts Centre in downtown Moscow.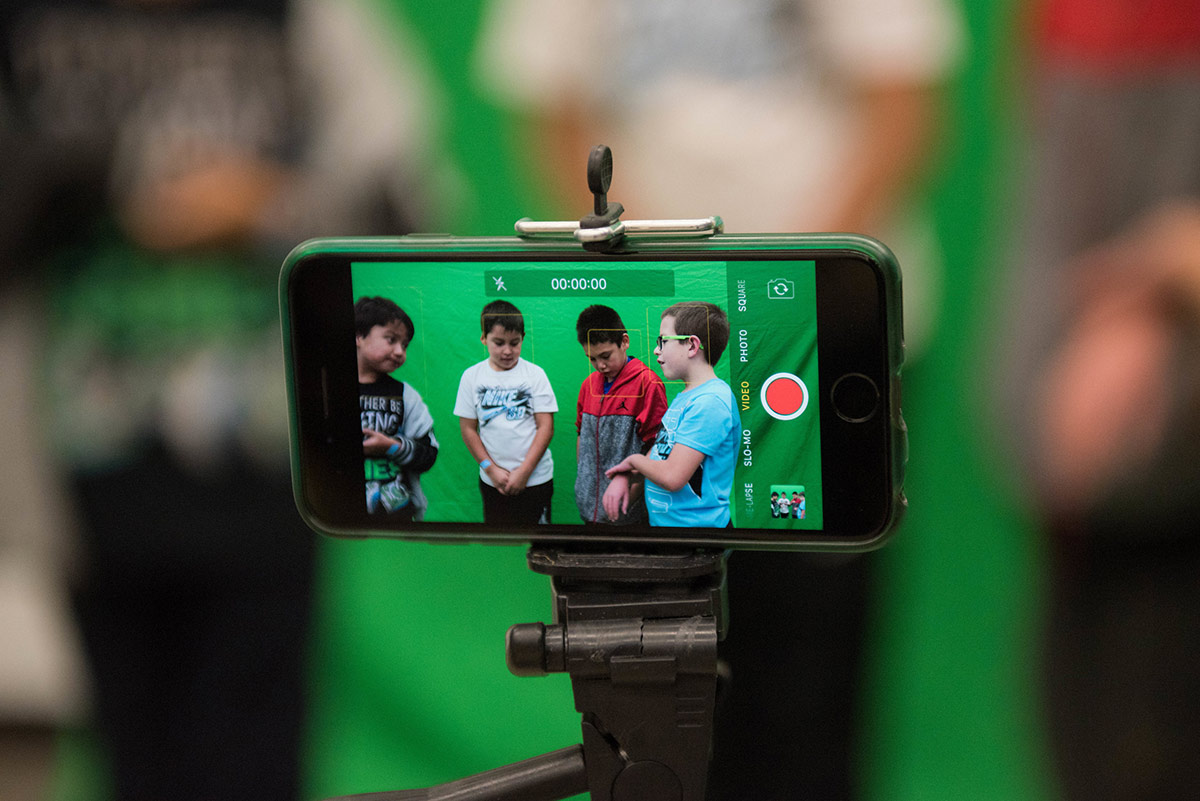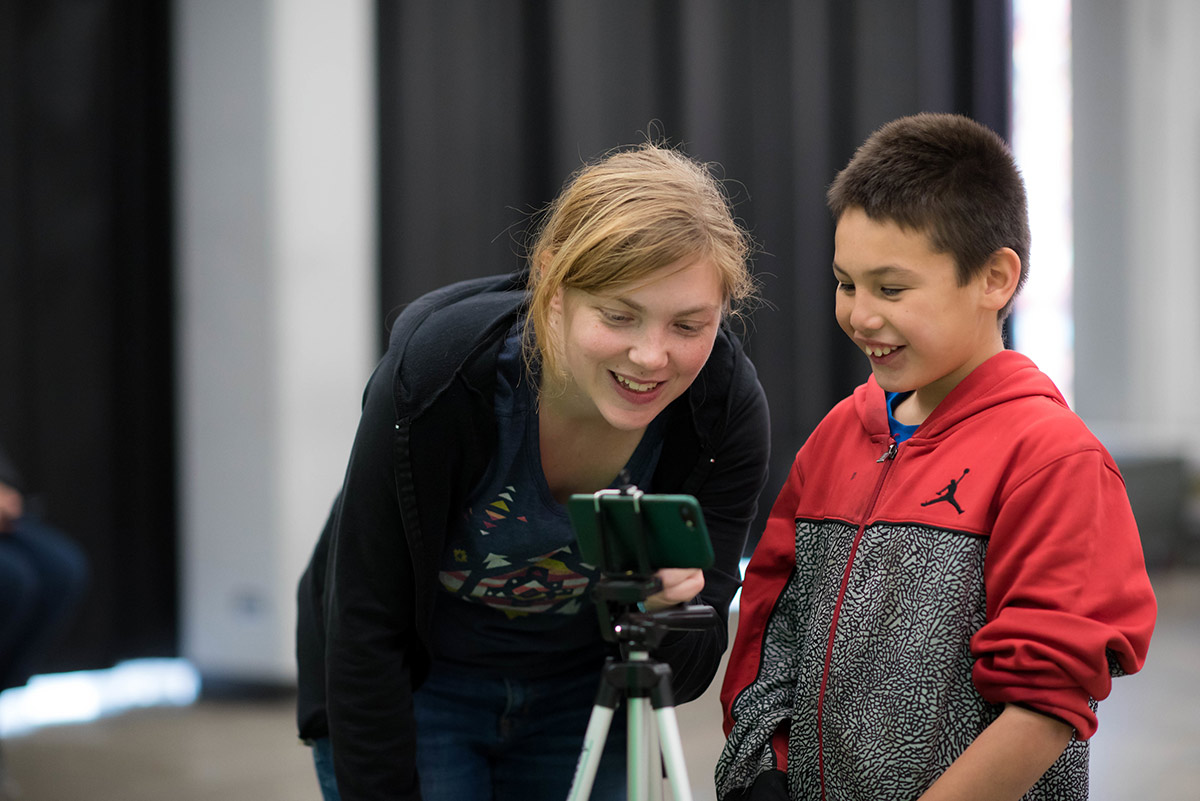 Erasing Stigma
One focus of the class has been the cultural stigma around schools for Native Americans, which historically did not support indigenous culture, Pilgeram said, and often banned Native languages and teaching.
"That is true across most tribes in the U.S.," she said.
That creates a need for tribal members to become educators and for non-tribal members to understand the history, Pilgeram said. The class focuses on creating more culturally aware students, and has given her Euro-American students a chance to learn from the sidelines.
Ashley Vaughn, who is working toward her MFA in studio art from the College of Art and Architecture (CAA), was drawn to the class because she creates digital artwork. Her eyes were opened to indigenous pedagogy and the connection between history and today.
"It's really easy to be unaware of that," she said. "Being a white person, there are a lot of things that, on a day-to-day basis, I take for granted. It's something I've awoken to. It's so easy to say the past is the past, but it's still so relevant."
Vaughn teaches freshman-level art classes in CAA and said it has been easy to incorporate some of the values she learned in the digital storytelling class.
"Just trying to be more observant, less of me trying to tell people how they should do things and more hands-off and stepping in when they want guidance," she said. "It's more about the way I think."
A lifetime relationship
Sienna Reuben, a graduate student in the curriculum and education program in CEHHS and member of the Indigenous Knowledge for Effective Education Program, said the class reminded her why she wants to be a teacher.
"It's been really inspiring to be engaged with these students," she said. "These students, being Native American, they come with a lot more experience in things that aren't always good. I looked at it differently."
Reuben is a member of the Nez Perce tribe, and her experiences as a Native American helped her relate to the students.
"It's really helped me, working with these types of students," she said. "A lot of them don't understand they have potential and purpose in life."
The course has had a big impact on the elementary students as well, said Kathy Albin, a teacher at the Coeur d'Alene Tribal School..
"The students have not only built relationships that they will remember for a lifetime, but they have also begun to imagine themselves with futures beyond high school," Albin said. "The increase of comfort that has taken place for our students is incredibly inspiring. Relationships are such an important piece of life and this project has allowed both our students as well as the University of Idaho students an opportunity see things through a different lens."
The digital storytelling class was funded as part of grant from the University of Idaho's College of Education, Health and Human Sciences and the College of Letters Arts and Social Sciences.
Article by Tess Fox, University Communications & Marketing