Sociology student anchors Idaho offensive line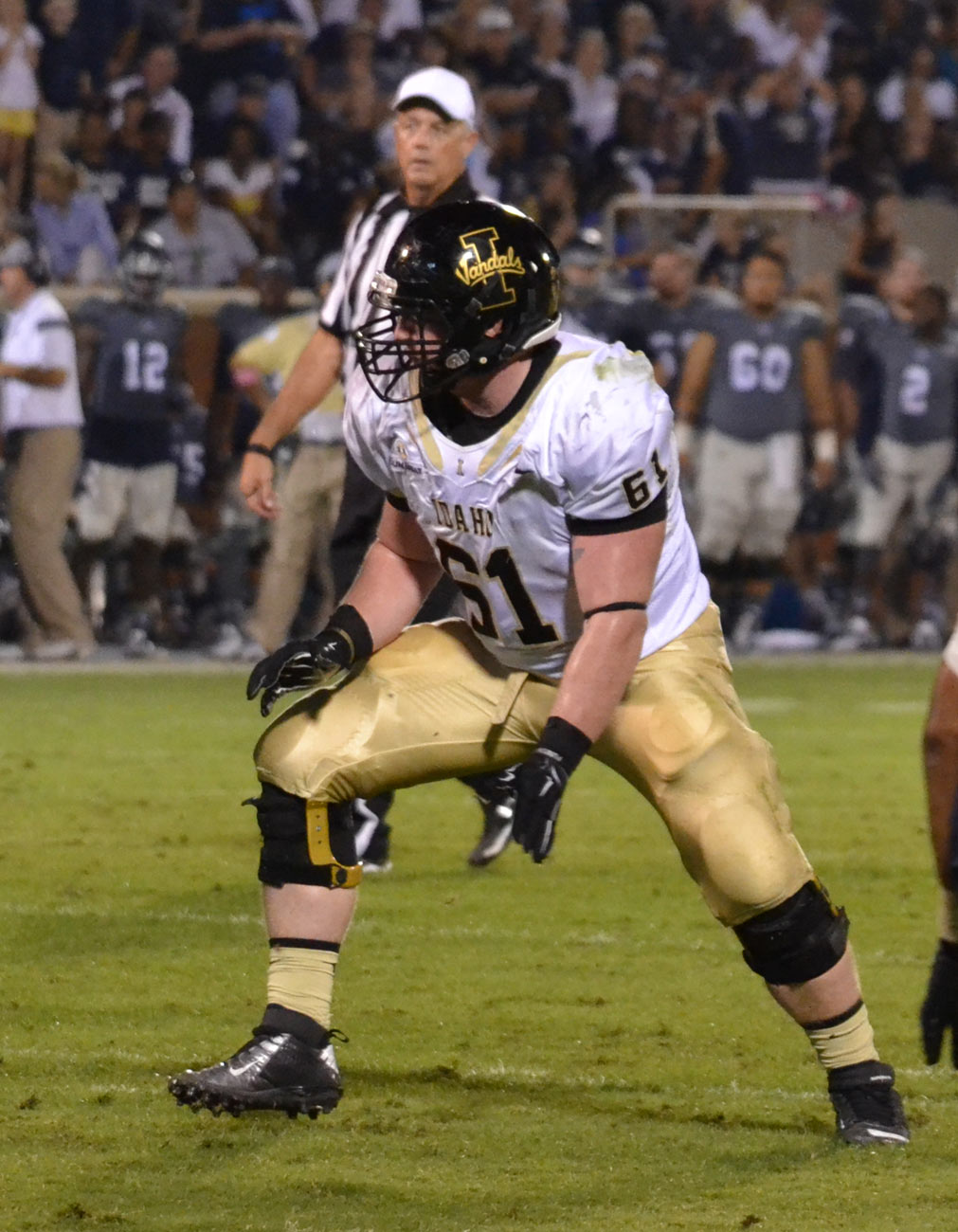 Steven Matlock is a College of Letters, Arts and Social Sciences student majoring in sociology with a criminology emphasis. Associate professor and Matlock's advisor Brian Wolf said that Matlock is a positive presence and a welcome addition to the growing and dynamic program in criminology.
Idaho offensive coordinator Kris Cinkovich calls him "ornery." Defensive end Quinton Bradley opts for "nasty." Coach Paul Petrino says "relentless."
They all fit nicely for Vandals junior Steven Matlock, at least once he snaps the ball. Off the field, the mild-mannered center, a Capital High grad, welcomes the responsibility of playing a key spot occupied the last four seasons by Mike Marboe.
"I feel like it's my position now. I think it fits my abilities as a leader," Matlock said. "I know I'm not the biggest guy, but I'm not going to tolerate being pushed around out there."
Matlock (6-foot-2, 270 pounds) moves into the center spot after starting 16 games the last two seasons at guard. Though he said he's never played the position before, he often spent time before and after practices snapping, knowing in the back of his mind he may eventually switch.
"He has such a unique personality. He's so focused, it made a lot of sense because of that, because of his strength, his smarts, his leadership," Cinkovich said. "Even if he isn't that big, it works well because he can get to that second level quickly."
Cinkovich said Matlock is the team's second-strongest player pound for pound, not so jokingly saying, "Not many guys here want to scrap with him."
Said Petrino: "He's a little undersized, but he's really strong. I think he makes up for it a bit with a second, third, fourth effort. He's such a hard-nosed guy."
Initially, Matlock was supposed to grayshirt the 2013 season and enroll in January of 2014. But a week into fall camp in Petrino and Cinkovich's first season, injuries forced them to give Matlock the call to come to Moscow. A month later, he was starting.
"I have a lot of respect for him, the way he's handled whatever's come at him," Cinkovich said.
As a leader, Matlock also is trying to alter the perception of Idaho's line — the Vandals have given up 94 sacks the last two seasons, most in the nation.
"We can't be known for that anymore," Matlock said. "The change starts with us. Our offense depends on us."
Matlock said his goal for the group is to allow fewer than two sacks per game. He will be surrounded by experience, including senior guard Dallas Sandberg. Juniors Jeff Travillion and Calvin White are the likely tackles, with junior Mason Woods and sophomore Jordan Rose battling for the other guard spot.
"I think we can go from a group that was maybe a weakness to a strength," Petrino said.
Article by Dave Southorn, Idaho Statesman dsouthorn@idahostatesman.com | August 30, 2015