Rodney Frey Honored for Work with Tribe
A University of Idaho professor was honored by the Coeur d'Alene Tribe after 28 years of work within their culture.
Rodney Frey, a member of the University's College of Letters, Arts and Sciences, has worked with Coeur d'Alene tribal leaders to document, preserve and promote their culture.
"The Coeur d'Alene people are a vibrant, strong people," Mr. Frey said. "They've been through such trauma historically, but they're able to be so flexible and keep their traditions alive while still being a part of the modern world."
Mr. Frey had a part in making that so. While he worked at Lewis and Clark State College, Mr. Frey worked with the tribe's leaders to develop the DeSmet Center of Higher Education, a program that from 1992-1998 allowed tribal members to attend college classes in their area.
"We created a program where all classes were conducted on the reservation," he said. "We were able to use prior learning experience and package the work in such a way that these students could have access to a four-year degree on a part-time basis without compromising the quality of the education."
He also helped develop a language arts curriculum with the Coeur d'Alene School District in 1993, which introduced the tribe's oral literature and history into student's instruction. He also cooperated with tribal elders on a natural resource damage assessment, which outlined damage done to tribal lands by historical mining operations in the area.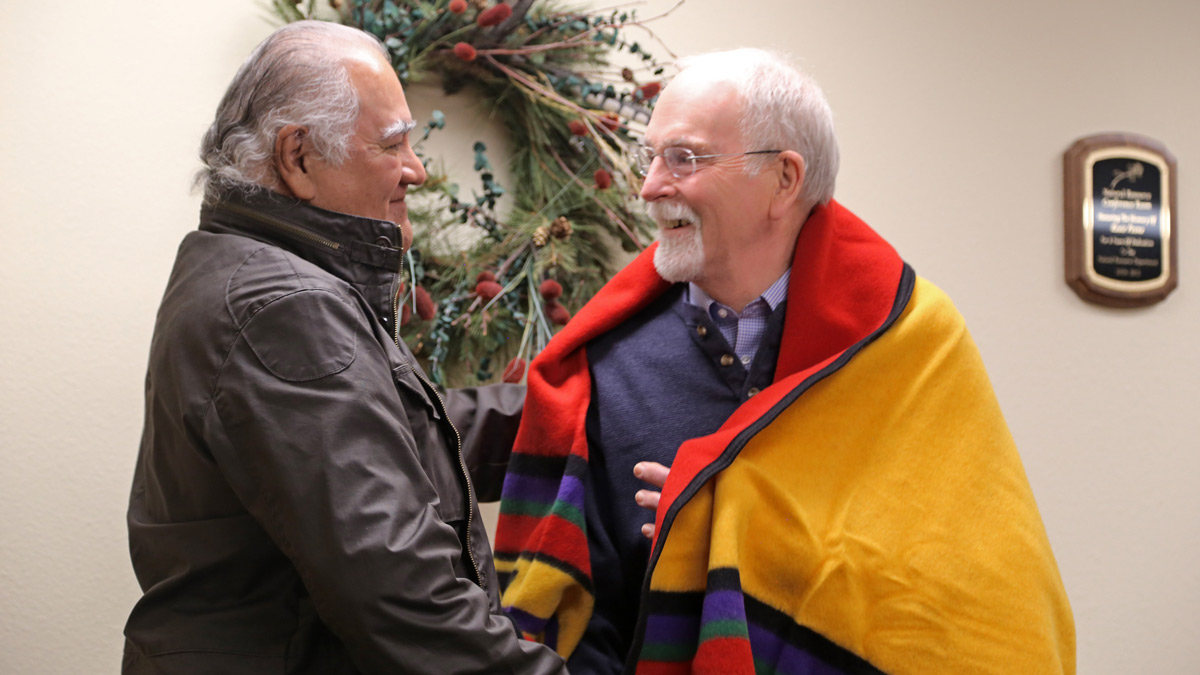 One of the works he is most proud of is "Stories that make the World," a collection of oral literature and histories from various native tribes in the Inland Northwest, including the Coeur d'Alene Tribe. The carefully-written work records not only the stories of tribal elders, but the way in which they were told, including meter and breaks, in an effort to maintain the performance aspect of the oral traditions in a text format.
"I'm most proud to be able to share these stories from tribal elders in a written text," Mr. Frey said. "I'm always pleased when someone can hear the words of a grandfather now deceased, and hear their stories as they told them."
In recognition of his accomplishments, the Coeur d'Alene Tribe honored Mr. Frey Dec. 6. Members of the tribe, including tribal leaders, former students and children who heard the stories he helped preserve, presented him with a blanket and medallion to express their gratitude for his friendship.
"It surprised me, it was a great honor," he said. "It's been 28 fantastic years. (The tribe) stood by me when I was going through challenges, and I have all the respect in the world for them."
Mr. Frey will retire at the end of this year. He said his work will be carried on by students in his department, and expects to keep in contact with his friends in the tribe.
From the Oron Gilmore of the Gazette Record, Dec. 8, 2017. Used with permission.