Recreating the Past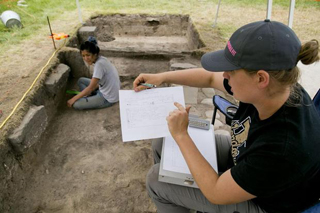 Not many students can learn to make arrowheads and receive a college credit for it. Buy that's exactly what Anthropology Professor Lee Sappington and his students are doing this Fall semester in Lithic Technology — where, yes, they do get to make arrowheads, but learn much more than that.
"The real objective of the class is to understand what people were doing in the past. Stone tools are the oldest artifacts known, back to 2.5 million years ago, and they preserve where other things decay," said Sappington. "I try to make it anthropological and show how we learn about ancient behavior (cultural anthropology) from stone tools rather than just teach flintknapping . . . which is the fun part, but I don't want to have a bunch of survivalists."
Originally, ancient peoples used flintknapping purely as a means of survival, but the skills in this class go way beyond creating a tool for survival—especially for Anthropology majors who intend to work in the field someday.
"The skills in the class will apply everywhere," said Senior Dakota Wallen, majoring in Anthropology and History. "Right now it's just experimental. We're learning what sort of process it takes to make the flakes so we can identify them in the lab. In Archaeology, you don't find a lot of points but a lot of the flakes. So we can identify if it just broke off a rock of if someone was doing it deliberately."
Sappington demonstrates how to fashion projectile points out of solid rock such as obsidian, while also lecturing on the importance of the knowledge out in the field.
"There were no written languages back then, so this is a way to learn about the past and understand what they did," said Sappington. "We've worked at Kelly Forks for the past three years and people have been there for the past 12,000 years, but all we have are the stone tools, most of which are fragmentary."
And by creating these fragments on their own, students know precisely what to look for in the field. But the process isn't simple. Students need to know the chemistry and physics of the process, like the property of the rock they're working with and where to break it (along certain ridges and planes, predicting where the rock will flake based on angles.)
"The ideal thing would be to hit a rock and have an arrowhead fall out, but it doesn't normally happen that way," said Sappington with a smile. He said that students need confidence, because they can't learn from videos or books but must gain hands-on experience with a lot of practice.
They also need the right tools, including other rocks of varying sizes and types to be used as strikers, moose and deer antlers for shaping, copper wire for creating serrated edges and, for the occasional mishap — Band-Aids.
"It's a lot harder than you think," said second-year Anthropology graduate student Erin Wilson. "It's not so much how hard you hit it, but how you hit it."
Students try to re-create the stone-age approach, using tools similar to what would have been available thousands of years ago rather than modern-age saws. The process is a little different for every student, but the eventual outcome seems rewarding.
"In terms of Archaeology, stone tools are a big part. It's exciting to be able to learn to make one," said Wilson, who's looking forward to mastering the skill.
Junior Eliza Campbell, a General Studies major with a minor in Anthropology, had similar enthusiasm.
"Right now we're just learning the basics of how to break off a flake, then we'll learn how to make a pressure flake, and then an arrowhead or even a hand ax," said Campbell. "It's actually easier than I thought, once you figure out how the rock works."
She agrees that the hands-on method of the class is essential, though, and also finds it relaxing.
"I mean, if you learn how obsidian breaks through a book, you'll have no idea how to do it. Now we can tell if it was purposeful just by the way it was broken, and it's easier to see what to look for when you do it yourself . . . you can relate to it," she said. "It's just a great way to de-stress. I mean, you're destroying a rock."
While "destroying" a rock, students are creating invaluable skills.
"The Flintknapping part is fun and rewarding, but I try to stress that that is only the beginning," said Sappington. Knapping has been part of the historical background of places such as England, France, Greece, Japan, Australia, and Native Americans here, and the stone tools left behind are rich for research.
"There are lots of different materials and styles that change over time, so it is a pretty broad field and there are all sorts of analyses that can be done," said Sappington.
A few of the students already have experience in the field, and know the value of the skills they're learning.
"I went to a dig at Kelly Creek this summer," said Wallen. "It's exciting just to find a little flake. I mean, it's something that's 7,000 years old that someone was using . . . it's pretty cool."
Regardless of major or future interests, all students get the unique experience of creating stone tools in a hands-on process, and can gain an appreciation of cultures of the past.
Article by Lisa Laughlin for the University of Idaho