A Mammoth Discovery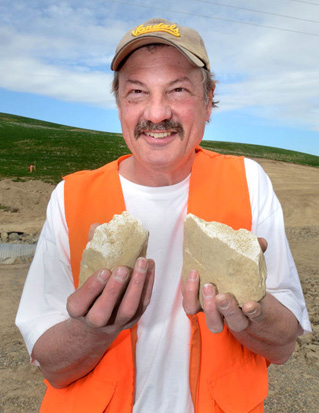 Ancient bone find halts construction at Port of Clarkson business park
University of Idaho archaeologist Lee Sappington held two plastic Ziploc bags in his hands Wednesday containing the latest mystery for him to unravel.
Inside — sheathed in brown paper sacks — were fist-sized chunks of bone, which on the exterior looked very much like the rocks at his feet.
Sappington believes the bones may have come from the leg of a mammoth that could have roamed the region 12,000 years ago.
"In this case, I can't tell you it's a mammoth. I can tell you it's a really big animal," Sappington said. "It's mammoth-sized. That's a fair way of saying it. I haven't confirmed it yet."
The recent find during construction of the Port of Clarkston Turning Pointe Business Park has complicated work on the new home for manufacturers and their suppliers.
Workers spotted two bones 12 feet underground and 12 feet apart when they were digging a trench for sewer lines March 13. One broke, revealing a perforated and porous interior.
Sappington wonders if they were at one time connected by another very long bone that deteriorated.
"You can see the marrow," he said.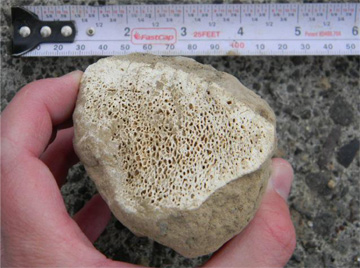 The Port of Clarkston halted work in the vicinity immediately and summoned Sappington to the 60-acre construction zone.

"They did the right thing," Sappington said. "They were following protocol."
Sappington was about to give his students a test but managed to arrive before the close of business. He began creating a plan.
He consulted with the Nez Perce Tribe and the Washington State Department of Archaeology and Historic Preservation. Mother Nature cooperated in a way, raining out construction until Tuesday, after Sappington had obtained the authority he needed to start.
Once he arrived, all work resumed because his two excavation areas are on either side of the sewer trench, each about 2 meters square.
Crews removed soil to a depth of about 10 feet deep in the two holes. Sappington and four graduate students followed, doing the tedious work of excavating by hand to the depth where the bones were found.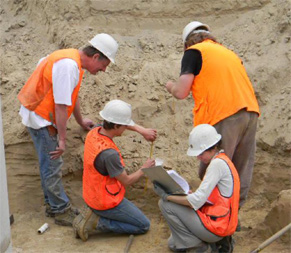 He'll be able to identify the animal definitively if they locate a tooth.
"This is like a crime scene," Sappington said. "You need evidence."
If they don't unearth additional artifacts by the end of today, they'll leave, confident that he'll be among the first to know if anything more is seen, Sappington said.
What happened at the park on the west edge of Clarkston wasn't entirely unexpected. Sappington looked at the property months ago and left with the impression that something interesting could be hiding in the dirt.
Crews were asked to keep a careful eye and alert Sappington of anything unusual. That the crews made the initial, difficult distinction between bones and other debris doesn't surprise Wayne Tippett, chairman of the Port of Clarkston Commission.
"When you're digging, you're always looking and something unusual will catch your eye," said Tippett, who has worked as an excavator.
While Sappington is focused on what the bones near Clarkston could reveal about mammoths, Case Stedham has other concerns. Stedham is president of Western Construction, the port's contractor on the project.
Stedham said he's worried about sightseers.
"People flat out don't need to be out here," he said. "It's a dangerous site. It's private property. There's no trespassing."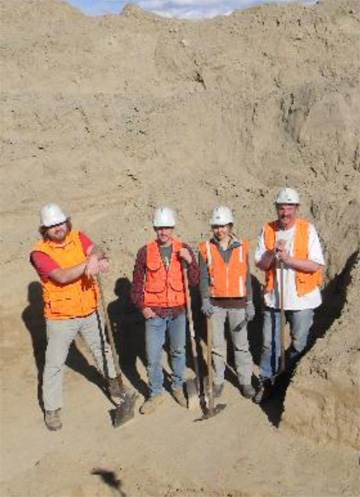 Port officials are watching the situation develop and monitoring the budget. So far, additional construction expenses associated with the delay haven't yet been calculated, but are not anticipated to be significant, Port Manager Wanda Keefer said in an email.
Sappington's contribution is expected to cost about $3,000 so far, Keefer said.
This isn't the first time mammoths, ice age relatives of the elephant, have put Sappington in the spotlight. He oversaw sites close to Pomeroy in the late 1980s, at Tolo Lake near Grangeville in 1995 and near Kamiah that same year.
Part of the reason mammoth relics are relatively common is that they once grazed in large herds.
The Pomeroy skeleton was about 23,000 years old and surfaced during installation of a fiber-optic line. Partial skeletons of at least eight mammoths submerged in Tolo Lake were discovered during a restoration project. Since they had been in the water so long, they didn't have enough carbon left to do an accurate dating test.
The artifacts near Kamiah date back to 13,000 years ago and were originally found in the 1950s on private land. But Sappington didn't gain permission to explore them until one of the landowners died and his widow allowed him access.
Sappington's previous work is informing what he does now, helping him speculate about the age of the bones in the Port of Clarkston's park.
An archaeological site he studied at Hells Gate State Park around 1998 when Atlas Sand and Rock was creating a settling pond was found at a depth of 10 feet and was believed to be 10,000 years old.
By that time, the landscape had changed. He said there were signs of human activity, along with animals like bears and elk that still inhabit the area today.
Article by Elaine Williams, The Lewiston Tribune. Original published March 20, 2014. Republished with permission.
Williams may be contacted at ewilliam@lmtribune.com or 208-848-2261.