A New Design Frontier
Western wear — in particular men's western workwear — wasn't something Tess Richardson had given much thought to in the past. That all changed during summer 2023 when the University of Idaho apparel, textiles and design student completed an internship with Boot Barn in Irvine, California.
A senior from Andover, Minnesota, Richardson's previous design experience mostly focused on clothing for herself or her friends. The Boot Barn internship pushed her outside her comfort zone and allowed her to grow as a designer.
"It was challenging to learn to design for a new consumer," she said. "I was designing for someone who was very much not myself but, in the end, I really enjoyed it. The hardest part was learning to design within this box while still being creative."
As the apparel design intern, Richardson was tasked with designing three concepts — a shirt, jacket and vest for Boot Barn's Brothers and Sons exclusive brand. Utilizing a road map provided by Boot Barn's fashion buyers that included preferred concepts, colors, price points and release dates for each item, Richardson set out to design pieces that would appeal to a rugged western man.
Working with her supervisor, Senior Menswear Designer James Webster, Richardson created and refined concepts until the pair landed on a final design.
"It was a conversation, building off of each other of what the design could be," she said. "The first designs I came to him with are very different than what we ended up with. I came up with ideas but was also looking at what had been done in the past so that it would fit the brand. We would problem solve together to improve the design."
Two of Richardson's designs were selected for production. In fall 2024, Boot Barn will release Richardson's reversible Sherpa jacket that includes military, vintage inspired pockets with color blocking and a vest made from the same materials with different pockets for workwear.
Applying Classroom Knowledge
Once her designs were selected, Richardson began working on tech packs. A tech pack is a blueprint for the garment and contains all the technical specifications and design details needed for manufacturers to produce the final product. Each sheet of the tech pack includes various drawings of the design showing closeup images of different aspects.
"The directions can get messed up just written out so it's important to have both and make sure the drawing looks like exactly what you want," she said. "I spent a lot of time on that. I learned a lot about that."
She also met with the technical designers who make the patterns for the design and completed bill of materials sheets that included the specific materials for each design, including zipper style and buttons.
When she wasn't working on her specific designs, Richardson attended meetings with vendors, went to fit sessions with models and learned what other departments at the company did, including store layouts.
"Store layouts was my favorite because it was the most informative of how far Boot Barn has come in their rebranding and how much they have expanded as a company," she said. It was good to learn about the company as a whole. I have nothing but good things to say about them and my internship."
Although the internship was only seven weeks, Richardson was able to put her skills and knowledge gained in the classroom into practice.
"It was really rewarding to know that what I have been working towards is applicable in the workplace," she said. "I got even quicker at Adobe Illustrator and learned even more tools, but the fact that I could jump in on the first day and start sketching on Adobe was really important to me. I think that's definitely what prepared me the most."
While Richardson strengthened her design skills during the internship, her biggest takeaway was learning how to explain her concepts.
"I had to learn a lot about how to talk about my work," she said. "I typically am not good at sharing why I did that, why that's there and what it means. So, meeting with my manager about my designs for the first time, I didn't know what to say. As we met more, I was able to justify my designs and talk about and present them."
Discovering U of I
Richardson originally enrolled at the University of Wisconsin-Stout in Menomonie, Wisconsin in 2021, but had difficulty making friends and getting involved due to COVID-19 restrictions. She began looking at other options but struggled to find a university that offered transfer scholarships. A friend mentioned that they were transferring to a school in Idaho, so she investigated the options. U of I was the only school that offered an apparel, textiles and design program and transfer scholarships.
"When I came here Chelsey (Lewallen) and Sonya (Meyer) gave me a tour with Trevor (White) and I got to see all the studio space and the work from the students. Talking to Chelsey and Sonya, to see their excitement for their students is what really sold me on the college," she said. "They will help you do whatever you're passionate about and they are going to be passionate about it with you."
Once on campus, Richardson wasted no time getting involved. She joined Kappa Kappa Gamma, CALS Ambassadors, the Apparel, Textiles and Design Club and Phi Upsilon Omicron National Honors Society. She has also participated in two undergraduate research projects focused on knitting machines.
"The opportunity here is amazing," she said. "Your professors are going to support you in whatever endeavor you want to take on and your peers are going to support you too. Being in a small college, it's a gift to know your professors and have them know your name and be willing to meet with you and support you."
Richardson will graduate in May 2024 and her experience with Boot Barn has opened her eyes to a wider variety of career paths.
"After this summer I have way more excitement for men's wear," she said. "I think it's interesting to design for someone that is completely not yourself. I'm not thinking about myself when I'm designing, I'm thinking about a very specific person and that's what really pushes you creatively. Because your consumer most of the time is not going to be you."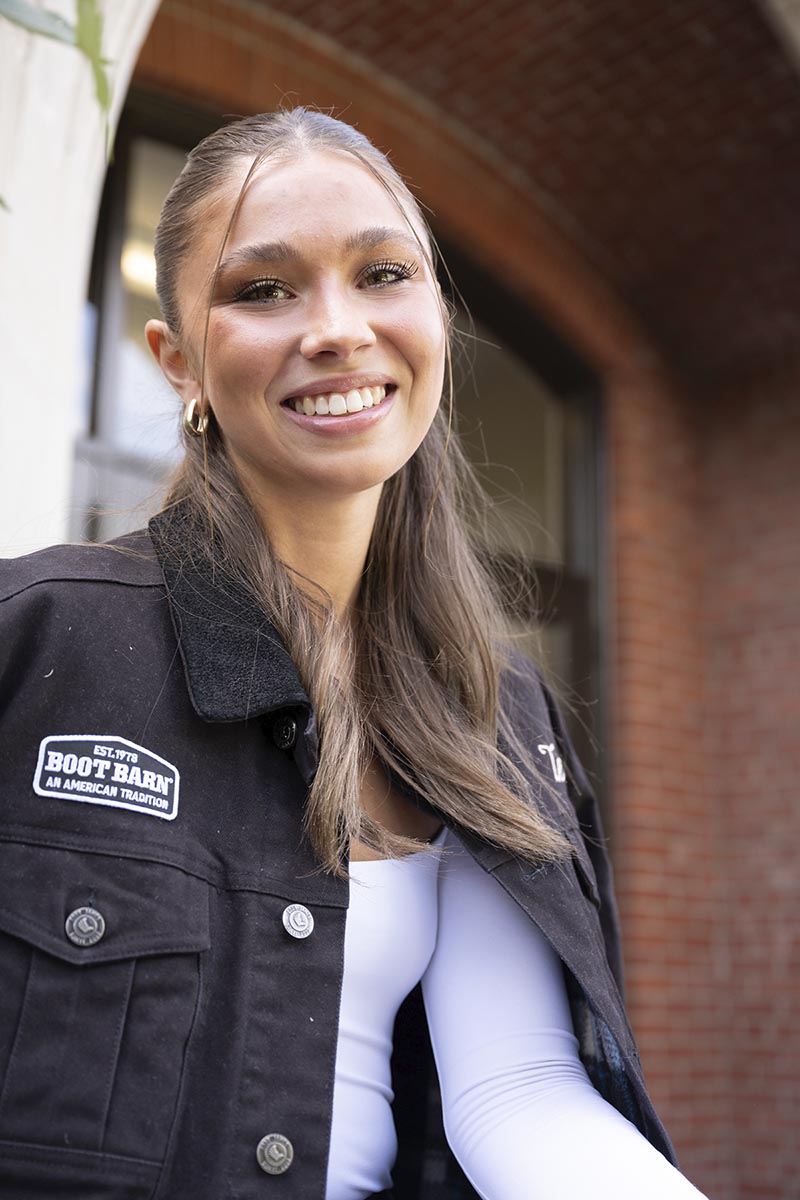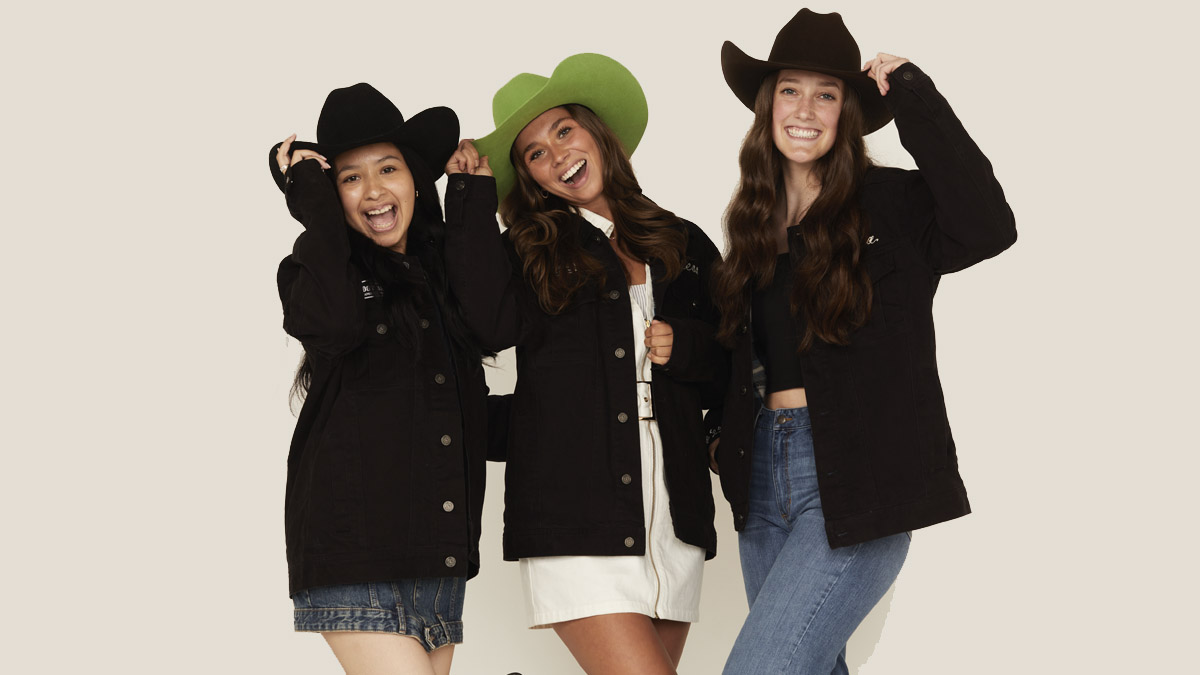 ---
Article by Amy Calabretta, College of Agricultural and Life Sciences
Photos by Charles Reitcheck, Visual Productions
Published November 2023