Passion for Animal Science
Natalie Ellis remembers the exact moment she decided she wanted to be a veterinarian.
Growing up in Murrieta, California, Ellis was a frequent visitor to the San Diego Zoo. During a visit when she was 15, Ellis learned about conservation efforts to save the northern white rhino — only two females are still in existence. Veterinarians and researchers at the zoo were investigating several reproductive options since no males remain, including turning stem cells into sex cells and using the southern white rhino as surrogates.
"I thought this was so cool. I started learning about it and it grew into this passion for animal science, the welfare and enrichment and conservation and it just snowballed into, I want to be a part of it," she said. "It got me thinking about things I'd never thought about before."
Other than observing exotic animals at the zoo and having two Great Danes as pets, Ellis had no experience working directly with animals. That all changed when she enrolled at the University of Idaho to study animal and veterinary science: pre-vet option.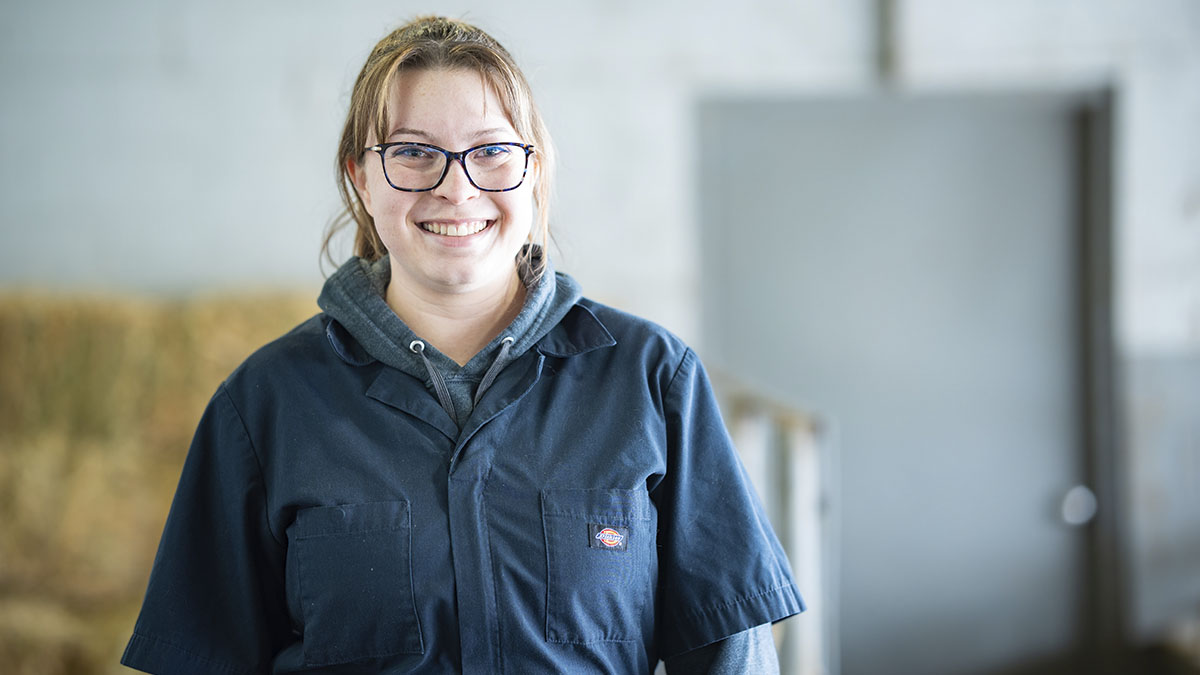 Hands-On Learning
Ellis' first experience with dairy cattle came her first semester as a freshman when she volunteered to feed calves twice a week at the U of I Dairy. That same semester she learned about undergraduate research opportunities with Assistant Professor Amy Skibiel.
"I was terrified because a huge thing for U of I is that two-thirds of our undergrads get involved in research," Ellis said. "I learned that you can just try it and they are there to teach you. They aren't laughing at me for mistakes I make, they aren't expecting me to know things, they are explaining to me what they are doing, why they are doing it and helping me form the connections that are covered in my lectures."
Since joining Skibiel's lab in November 2021, Ellis has worked on four different research projects, including two that are part of Skibiel and Professor Pedram Rezamand's work in wildfire smoke impacts on dairy cattle.
Ellis is currently working with graduate student Alex Pace to investigate how exposure to wildfire smoke particulates while in utero impacts calves post birth. The research team is working with 17 pure bred Holstein calves that were exposed to wildfire smoke in utero during summer 2022. The calves were born in January 2023 and the team has been collecting samples, doing ultrasounds, and conducting health scores.
The calves will be monitored for the first six months of life and data will be compared to a control group of Holstein calves located in South Dakota who have never been exposed to wildfire smoke.
"It's all new to me and I've loved every minute of learning about it," Ellis said. "Not only the animal care side but the scientific side of why we take care of them in this way, why we are looking into smoke particulates and how that impacts agriculture. That's not a thought or a question I ever would have asked before."
Discovering U of I
Once Ellis knew that she wanted to become a veterinarian, she began looking for college programs. Ellis and her father came to the Palouse to tour Washington State University and stumbled upon U of I. They decided to take a tour of campus since they were already in town.
"It was during the middle of COVID, so tour spaces were limited," she said. "We made a deal that if they had room on the tour we would go and if not, then we would move on to WSU. It turned out there were two spots left on the tour."
After touring campus and learning that U of I offered a pre-vet program rather than a pre-vet track for a biology major, Ellis knew she had found the right place for her.
"I found it on accident, and I chose it because it seemed too good to be true, it seemed perfect," she said. "The size is perfect. It's bigger than your high school but smaller than those large universities. I'm not a number, people know my name."
Ellis will spend summer 2023 in Moscow as an INBRE Fellow, continuing to work with Skibiel. Although she has enjoyed conducting research, she has not wavered from her desire to become a veterinarian. She will earn her bachelor's degree in May 2025 and hopes to attend veterinary school at the University of California, Davis, where she would receive free tuition as a citizen of the Modoc Nation.
"I don't want to commit to one thing until I've tried it all, but if I could snap my fingers and guarantee that I got my dream position, it would be a zoo vet at the San Diego Zoo," she said.
No other school would I get to do the things that I have done starting freshman year. You make those connections right off the bat and that's so unique to the University of Idaho.
The hands-on experiences she has gained at U of I in just her first two years will help her achieve that goal.
"No other school would I get to do the things that I have done starting freshman year," she said. "The research I am a part of would be a junior or senior thing at another university and I was doing it a couple months in. You make those connections right off the bat and that's so unique to the University of Idaho."
---
Article by Amy Calabretta, College of Agricultural and Life Sciences
Photos by Garrett Britton, Visual Productions
Published in March 2023