Ready to Guide Others
Even before Earl Hoover graduates from the University of Idaho Boise in May, he already had a job offer with the Idaho Commission for the Blind and Visually Impaired (ICBVI) in Boise.
"I just got a job offer starting this month," said Hoover, who is receiving a master's in rehabilitation counseling and human services from the U of I College of Education, Health and Human Sciences.
As part of the program, he has completed a 900-hour internship as a vocational rehabilitation counselor with the ICBVI. Now, Hoover will become a statewide assistive technologist, where he'll counsel clients as they adapt to sight loss or move from school to work. His mission is to assess their needs, recommend assistive technology to help them succeed, and provide them with the necessary training.
It's a good fit for Hoover's interests, training and skillset, as well as his life — he was diagnosed with Retinopathy of Prematura, a degenerative eye progression, as a child. He was told that he would lose sight later in life, but instead lost it much younger.
"I was told to expect it at 'old age' — apparently that's 30," he said.
There are many challenges that visually impaired and blind people deal with when they enter school or the workforce. The rehabilitation counseling program at U of I gave Hoover the skills to counsel those in need, he said. That he has gone through the same experience as many of his clients places him in a unique position to understand to help them.
"I deal with blindness every day — I live with it, work with it — but the fact is that not everybody does, so part of my job is to help the blind succeed and part is to educate the community to understand that a lack of sight does not equal a lack of capabilities," Hoover said. "With the right opportunities and training, people can accomplish the same tasks, we just need different tools to do it."
Going Back to School
Hoover worked as a firefighter until his vision became too impaired. He moved to Nampa, Idaho, to live closer to family and worked at a call center for nearly 10 years getting promoted to a trainer position along the way.
"Gradually my vision got worse and I couldn't drive any longer or use software to do my job, even with adaptive technology," he said. "With the support of my wife and family, I resigned my job in 2012 and went back to school to finish my bachelor's degree."
Hoover wanted to pursue something he was passionate about. After graduating from Boise State University with a bachelor's in relational and organizational communications, he decided to join U of I Boise's master program.
The decision was not hard to make — many of his mentors and people he admired were graduates from the program, the location in Boise was convenient for its proximity to his home and family, and he got a scholarship to cover the costs of graduate school.
"Being a non-traditional older student has its own challenges, and being blind only adds to those challenges," Hoover said. "U of I has lots of resources to help students with disabilities, but accessibility for the blind is still an issue. National K-12 laws do not extend to universities, therefore things like textbooks might not be readily accessible, teaching software from publishers is not or only partially accessible, academic search engines are not accessible. sometimes I needed a friend to do searches online for me."
To help students with disabilities, the university's Center for Disability Access and Resources (CDAR) provides assistive devices, computers and software free of charge. The center also can perform textbook conversions, but that can take four to six weeks to complete, so Hoover said that as a student you need to make sure to request them early.
"With the right opportunities and training, people can accomplish the same tasks, we just need different tools to do it." Earl Hoover
"Students with disabilities have to have strong self-advocacy skills," he said. "Professors are here to help you succeed, but they can't help you if you don't tell them what you need. And you should do it in a way where you also provide solutions. It is a unique journey for each individual with disabilities."
In addition to his eye condition, Hoover was diagnosed with multiple sclerosis when he was working on his undergraduate degree. He underwent lots of physical therapy to relearn to use his body.
"I was eventually able to walk again, but still at fall risk, so I used a wheelchair for my first year of grad school at U of I Boise. Combining both disabilities made really hard to have an independent life and travel safely," he said.
Hoover now wears a bio-stimulator on his leg that allows him to walk. It can be discouraging, Hoover said. But he has stayed dedicated to his goals and education.
"Through this journey I have learned that something worth doing is not going to be easy," he said. "In those challenges we encounter, that is where we grow. You push through them and you discover new capacities you didn't know you had."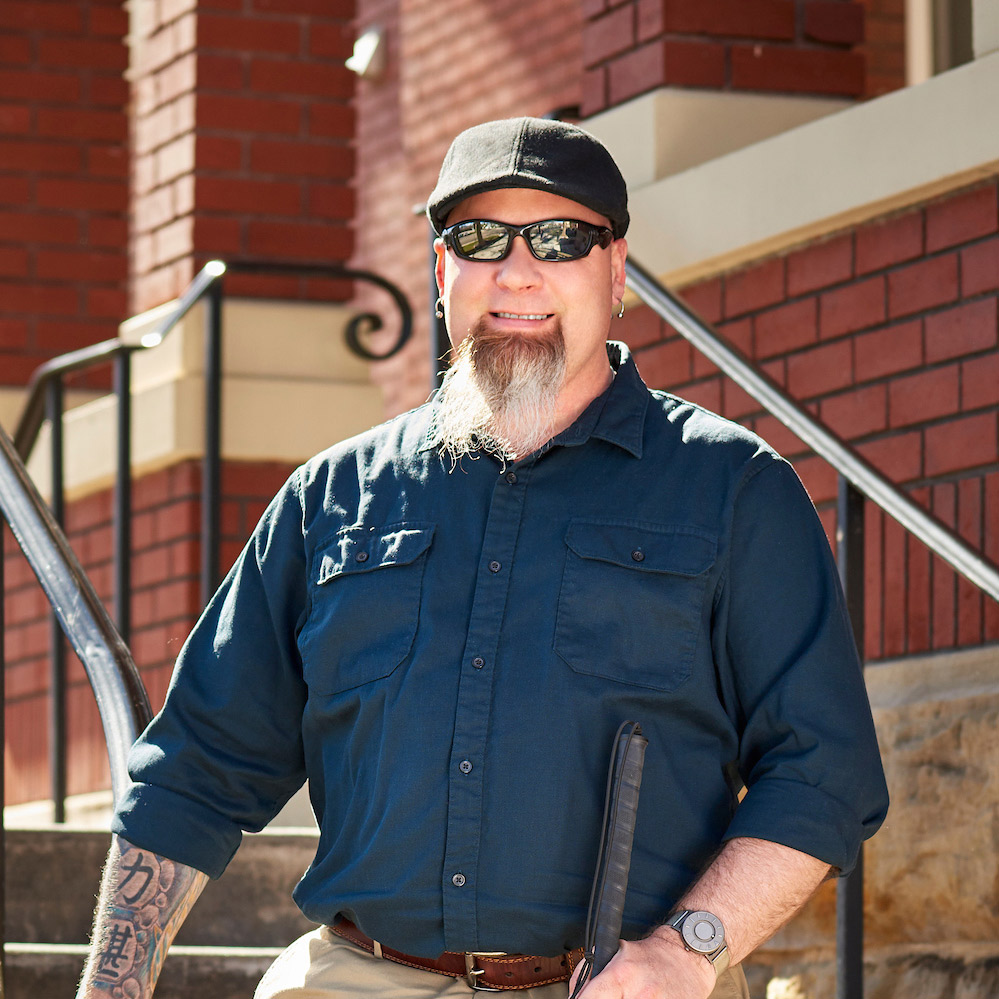 Article by Maria Ortega, University of Idaho Boise.