Living With Fire
Student Builds Her Master's Thesis as a Demo Garden
In the summer of 2019, a house in the Boise foothills burned down. The fire's origin was internal, but it destroyed the entire property and threatened neighboring homes.
Olivia Harman, a graduate of the University of Idaho's College of Art and Architecture, was a friend of the family who owned the house. Witnessing the tragedy made her aware of the importance of landscaping in fire prevention.
"Their house, which was in the Boise foothills, had to be rebuilt from ground zero. It was devastating," said Harman. "Someone had mentioned firewise landscaping to them and when I heard about it, I did more research on the topic and decided to make it a focus of my career."
Harman received her bachelor's degree in landscape architecture from the U of I in Moscow and then returned to Boise and enrolled in the university's Master's of Landscape Architecture program there, where she graduated this spring.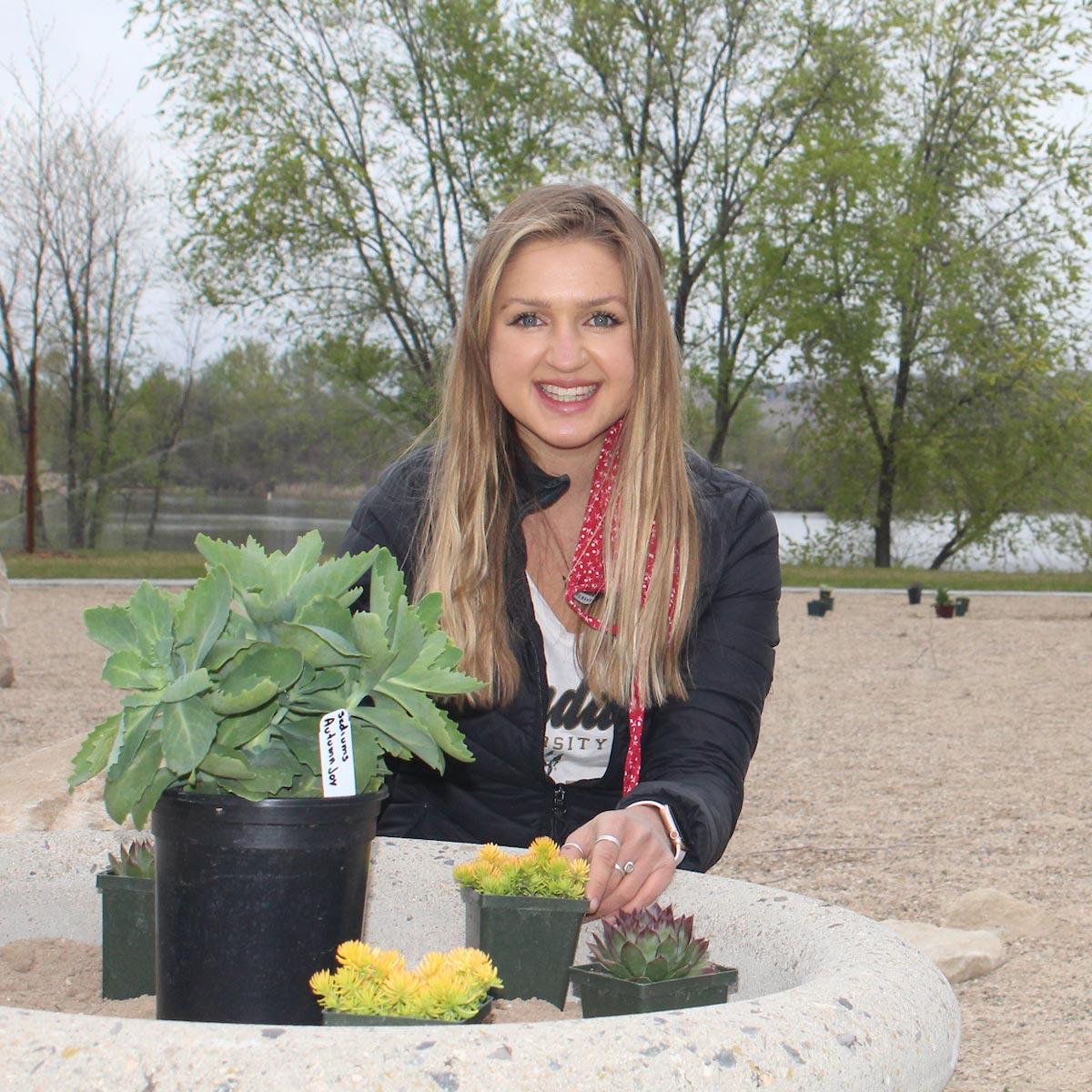 From Paper to Life
Harman just had the unique opportunity to see her 108-page master's thesis, "Living with Fire," come to life in her own hometown. A new garden demonstration in Bernardine Quinn Park, located near Quinn's Pond in Boise, showcases her urban firewise landscape design.
"Firewise landscaping is a way to protect your home by reducing the risk of fires through the design of your yard," said Harman.
Her project brings awareness to the different plants appropriate for fire protection and mitigation for the surrounding home landscape. The firewise landscape demo garden showcases the different varieties that grow well in the Treasure Valley.
"We have been experiencing more and more urban wildfires, especially in the west coast of the United States," said Harman. "Researchers say it's only going to get worse, so as the Boise population continues to grow and we continue to spread into the foothills, there is more risk of endangerment to homeowners who may potentially experience wildfire."
According to the National Interagency Fire Association wildfire season in the U.S. has expanded from five to seven months since the 1970s, with an average of 64,000 wildfires per year burning 68 million acres, causing a net annual economic impact between $71 and $246 billion.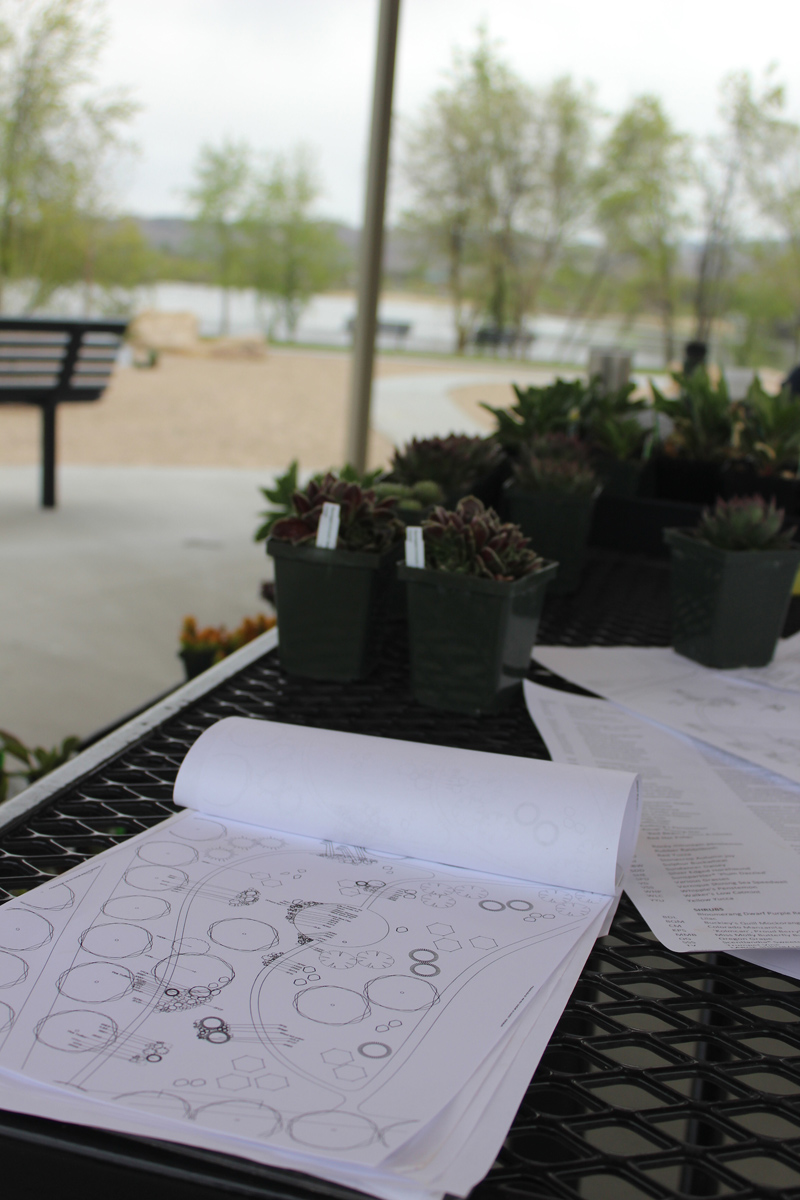 Making the Project Possible Through Community Support
Her determination to educate the community about firewise landscaping was key in creating her garden in Boise. Harman's demonstration garden also came to life thanks to several groups' collaboration, from the City of Boise and state non-profit groups to U of I alumni, student and staff volunteers.
The City of Boise Parks and Recreation and the Idaho Firewise Association were firm supporters of Harman's project.
"Olivia had volunteered with us before when she approached the City of Boise to find ideas on how she could educate the community about firewise landscapes," said Wendy Larimore, associate landscape architect for Boise Parks and Rec and a U of I alumna. "About the same time, Parks and Rec had developed the Master Plan for Bernardine Quinn's Park, which incorporated pollinator and firewise gardens, and we offered her the opportunity to help."
Harman coordinated with the Idaho Firewise Association and Parks and Rec to make the garden a reality. Idaho Firewise offered matching funds for plants and will also provide signage at the garden to teach the community how to protect their homes and properties from fire through affordable landscaping choices. Parks and Rec coordinated with local volunteers, including 15 Vandal alumni, staff and students, who planted more than 600 plants in one day.
"Being able to implement this project physically and working with real-world partners has been a great learning experience," Harman said. "Living and going to U of I here in Boise has given me the opportunity to make so many different professional connections; I don't think I would have been able to get that experience anywhere else."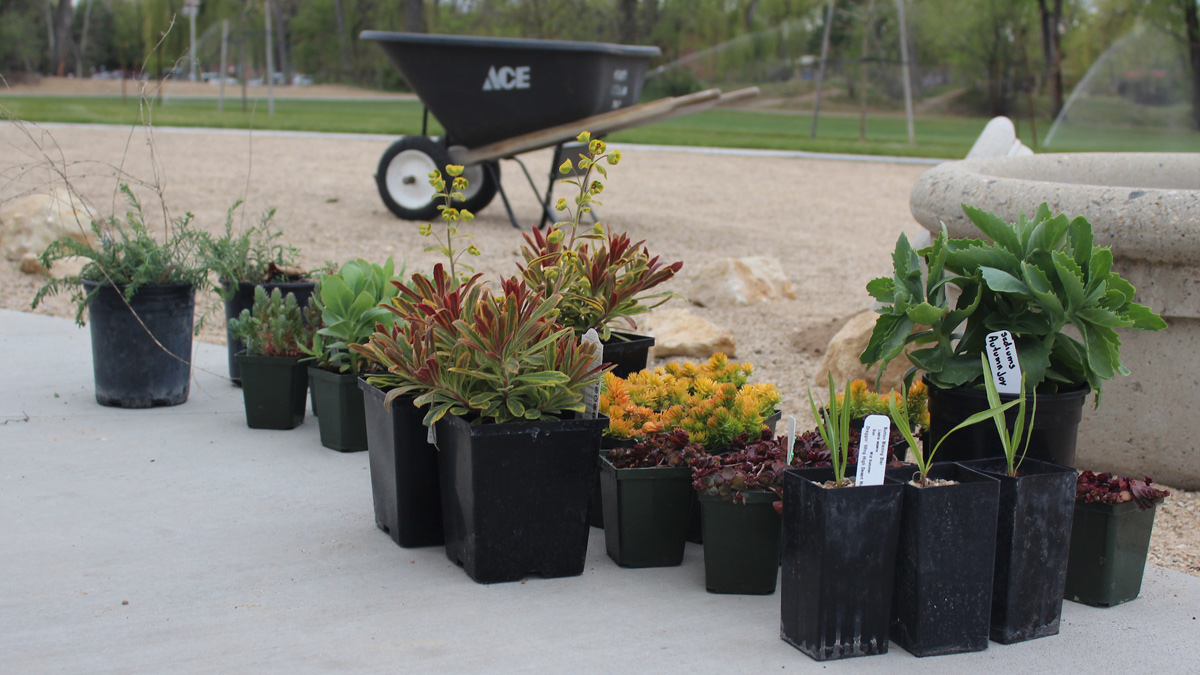 Defensible Zones
Harman's top advice to those interested in incorporating a firewise landscape in their homes includes dividing the property in three defensible zones with different plants and learning about the resources available through cities and other organizations.
"Homeowners can start taking baby steps in establishing defensible zones around their home," she said. "You want to slow the approaching fire down, but it's important to note these mitigation decisions don't need to happen all at once. Start small and continue making changes."
According to Harman, there are many programs in Boise, like Idaho Firewise, that offer incentives such as giving a free firewise plant for replacing a non-firewise plant on your property.
"Boise also offers a chipper once a year to clean up any dead material on your property," she said. "It's important to know that there are resources and helpful programs available for homeowners who are interested in being prepared for wildfires."