Goldwater Scholar Explores Influence of Virus-Infected Microbes on Humans
First-Generation College Student Victor Zhong Uses Science to Make a Difference
When 11-year-old, Victor Zhong moved with his family from bustling Hong Kong to slow-moving Sandpoint, he was stunned by small town life.
"It was a culture shock, I guess," said Zhong, a University of Idaho junior. "I didn't speak much English."
Living in a small Idaho town had advantages though in the school's small classrooms and accessible sports programs.
"Growing up there, I did what every American teenage boy did," Zhong said.
He played football, ran on the Bulldog track team, excelled in the classroom and eventually watched his friend and fellow runner Peik Lund-Anderson leave town for U of I where he earned the 2021 Goldwater scholarship for science.
Zhong, a first-generation college student, soon followed suit. As Lund-Anderson before him, Zhong enrolled in the College of Science and like his friend, earned the Barry Goldwater Scholarship and Excellence in Education Foundation award, this time in 2022.
At U of I, Zhong is exploring how viruses infect their hosts, and the impacts a virus-infected pathogen can have on humans. Infection by viruses can make human diseases worse.
A double major in biochemistry and in molecular biology and biotechnology, Zhong has focused his undergraduate research on the discovery of a virus-like element in a protozoan species related to the pathogens that cause Chagas' disease and sleeping sickness.
Both are diseases of the tropics. Chagas' – also called "kissing bug disease" for the insect that transmits it – can, if left untreated, lead to heart failure. Sleeping sickness is caused by the tsetse fly and is considered fatal without treatment.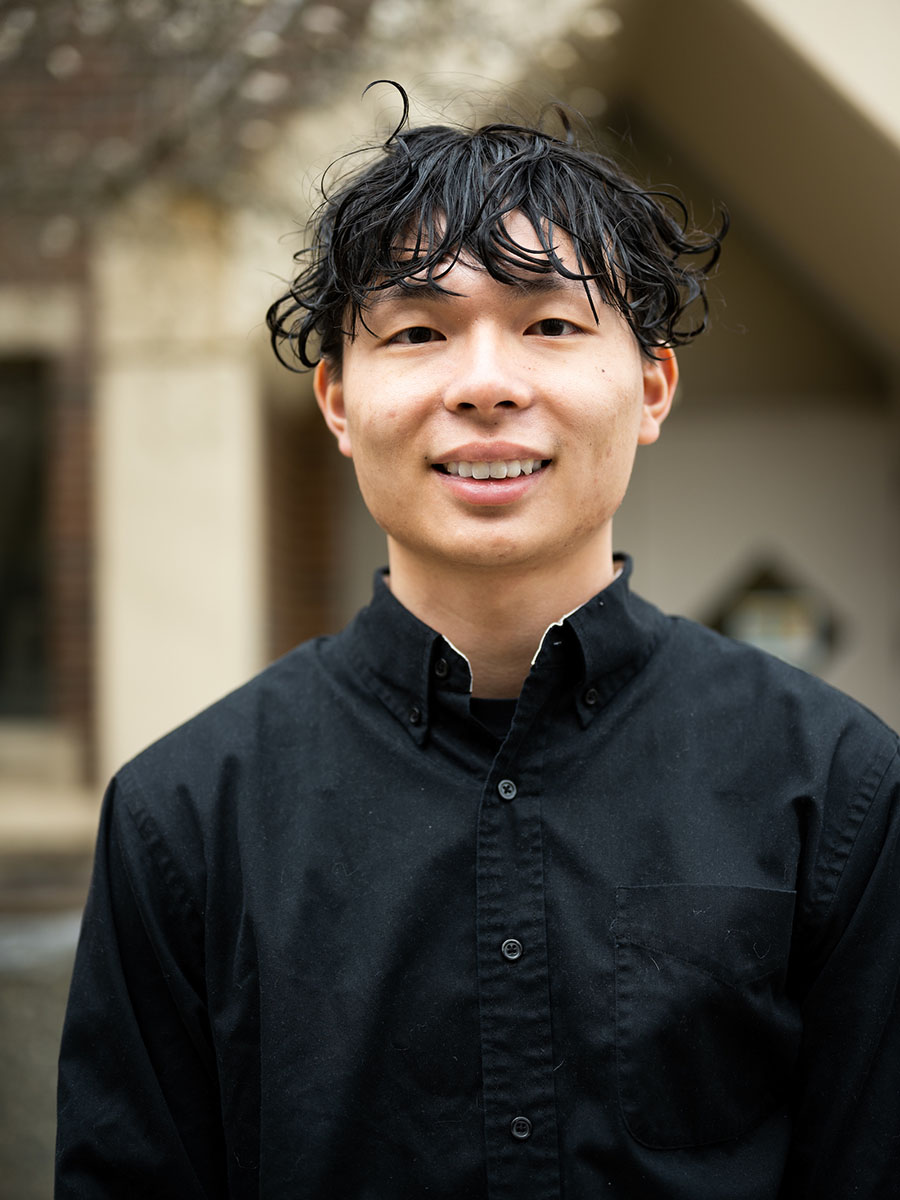 "I confidently rate Victor as one of the top students that I have mentored in my laboratory since my lab opened in 2016," said Paul Rowley, who leads the lab in which Zhong works. "Victor has been an enthusiastic and vital part of my team studying novel viruses of microbes."
The virus work in Rowley's lab coincides with Zhong's research in the lab of Professor Doug Cole where he will sequence and characterize the double-stranded RNA found in Euglena mutabilis. The microbe has both plant and animal characteristics and is related to disease-causing protozoans in humans.
Zhong hopes to obtain a doctorate in molecular virology and conduct research to create more effective treatments for viral infections.
"I always liked science when I was little," Zhong said. "I always wanted to use science to make a difference, to contribute something to solve problems and not wait for others to solve them."
Zhong is also the recipient of an INBRE summer fellowship, a College of Science Hill Fellowship and an OUR grant. He is also the recipient of a $7,300 NASA Idaho Space Grant Consortium for Summer 2022.
I always wanted to use science to make a difference.Victor Zhong, Goldwater scholar
He is among 450 undergraduates from a pool of more than 5,000 applicants nationally to earn Goldwater scholarships of up to $7,500 that pay for tuition, fees, books and room and board.
The Goldwater Foundation is a federally endowed agency with a scholarship program honoring Senator Barry Goldwater. It is designed to encourage outstanding students to pursue research careers in the fields of the natural sciences, engineering and mathematics. The Goldwater Scholarship is the preeminent undergraduate award of its type in these fields.
Article by Ralph Bartholdt, University Communications and Marketing.

Photos by Joe Pallen, University of Idaho Creative Services.

Published in May 2022.