The Vandal Science Experience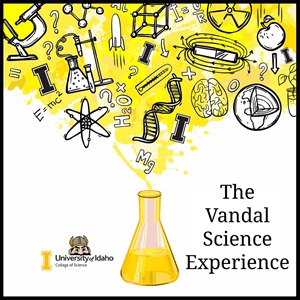 The Vandal Science Experience podcast features interviews with University of Idaho student researchers. These stories showcase opportunities open to students in the U of I College of Science as they explore and solve real-world problems. Discover the world of student research at Idaho through these engaging, sometimes humorous, and always educational discussions led by host Professor Barrie Robison.
Music
"Land/Water" by The Inventors via freemusicarchive.org, not modified.
Season 1, Episode 1: Danny King Senior in Environmental Science
For more information on Danny's experiences and to see video footage from his time at the bottom of the ocean click here
Season 1, Episode 2: Courtney Schreiner Senior Math Major
Senior Math Major Courtney Schreiner
Undergraduate Math major Courtney Schreiner uses modeling to help develop and deploy transmissible vaccines.
Season 1, Episode 3: Nick Hoffman Grad Student Biological Sciences