Student Research Drives Peer-Reviewed Papers at U of I's Rowley Lab
Josephine Boyer did not foresee her future as a published scientist.
Despite attending a middle school that focused on teaching science and mathematics and enrolling at the University of Idaho with the intention of earning a biology degree, Boyer, who graduated this year, considered science daunting.
"I never thought I could be a scientist to start with," said the Boise native.
Becoming a published scientist seemed even more unlikely, and being published as a student was a pipe dream.
This year, Boyer and eight of her peers in U of I's Rowley Lab published research papers in PLOS Genetics and Antimicrobial Agents and Chemotherapy (AAC), two peer-reviewed journals that focus on science, technology and medicine.
"Coming out of my senior year of college, being published and having two more papers on the way, that's crazy," she said.
The student-driven research explored antifungal toxins produced by yeasts to combat drug-resistant fungi, and how the toxins are transferred externally between different species of yeast.
Undergraduates publishing papers in peer reviewed journals is not entirely unusual, but the flurry of papers expected this year alone from undergraduate researchers in the Rowley Lab will exceed the number produced over the last five years.
Before 2021, undergraduates in the lab authored two papers, said Biology Professor Paul Rowley, whose research focuses on yeasts, especially their role in women's health.
Since the start of the lab in 2016, more than 40 students have worked on various projects and their research has generated more than $170,000 in project-funding grants.
"My students have been wildly successful," Rowley said. "Being part of a lab is incredibly valuable for them because they get to apply what they've learned in the classes and teaching laboratories. Without the undergraduates doing the research on these papers, the papers would not have come out."
If you would like to learn more about making a difference by supporting student research opportunities, please contact Eric Bennett, director of development for the College of Science, at
ebennett@uidaho.edu.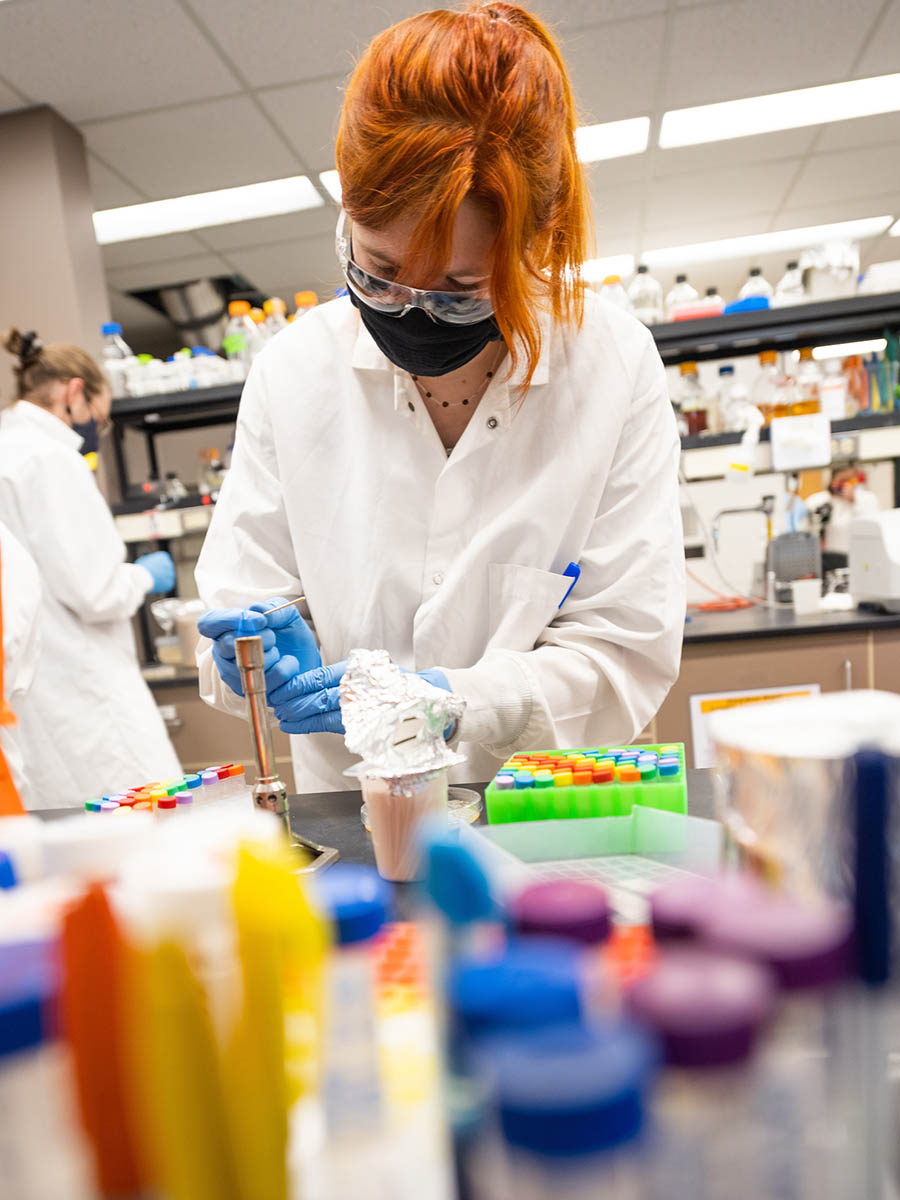 Lance Fredericks, of Coeur d'Alene, who was the main author on one of the papers, said he chose to study biology at U of I because it was the only topic he enjoyed in high school. He wasn't sold on being a research scientist when he joined the Rowley Lab as a technician to earn money.
"In high school I wasn't really in love with education," said Fredericks. "I was mostly interested in sports, the outdoors and recreation."
A high school biology teacher recommended he join a lab as soon as he got to U of I. When Fredericks approached Rowley, he was enchanted by the professor's enthusiasm.
"He is very positive and energetic, and it's infectious," Fredericks said. "Everybody who talks to him gets excited about science — and about his science — regardless of how you felt about yeasts when the conversation began."
After spending more than four years in Rowley's lab and graduating in 2020 with degrees in microbiology and molecular biology and biotechnology, Fredericks is preparing for a medical career studying infectious disease.
His advice to new students frightened by the prospect of embarking on undergraduate research is to jump in.
"You shouldn't be intimidated by professors," he said. "You have nothing to lose by asking them to join their lab. They are here to teach and train you."
Hannah Eckert, who grew up in Wenatchee, Washington, enrolled at U of I because of the university's reputation for offering research opportunities to undergraduates. Eckert graduates this year with degrees in medical sciences and pre-health studies. She understands the anxiety of walking into a lab for the first time.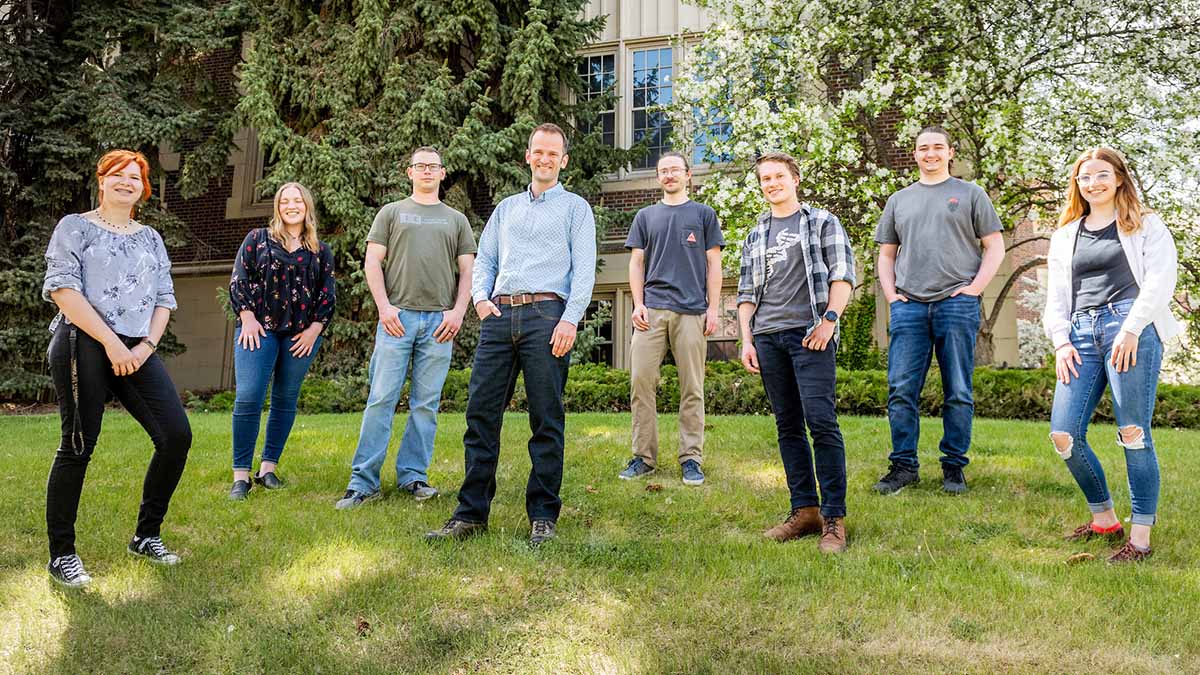 Without the undergraduates doing the research on these papers, the papers would not have come out. Paul Rowley
"Labs had always been a little bit of an anxious space for me," she said. "Coming into this lab, I was afraid I wasn't smart enough, or I wasn't cut out for research."
Her experience in the Rowley Lab changed that.
"It's helped me to learn how to overcome those hurdles and collaborate with people," she said.
Seeing her name on a paper in a peer-reviewed journal iced the cake.
"When I joined the lab, I never thought I'd be published in a paper," she said. "It's really cool."
Mark Lee, a research technician in the Rowley Lab and the second author on one of this year's published papers, grew up in Idaho Falls and planned to be a veterinarian. Those plans changed when he enrolled at U of I and delved into lab work.
"I got a lot of experience that really galvanized my interest in research," Lee said.
The best undergraduate researchers are enthusiastic and curious, Rowley said. Joining his lab requires prospective students to write a research proposal with his guidance and undergo safety training. Rowley and his team work hard to support new students and help them become productive and independent student researchers.
"The education they get in their classes and labs at the University of Idaho helps onboard them into my lab quite rapidly and allows them to do real research that makes a difference," he said.
The research was supported by the Idaho INBRE Program, the National Institute of General Medical Sciences on the National Institutes of Health grant number P20GM103408, the National Science Foundation Division of Molecular and Cellular Biosciences grant number 1818368 and the NIH COBRE Phase III grant number P30GM103324.
Additionally, two students working in Rowley's lab, Courtney Kennedy (B.S. Molecular Biology & Biotechnology '19) and Nova Tebbe (B.S. Microbiology and Philosophy '19), were recipients of Hill Undergraduate Research Fellowships, which are supported by Brian and Gayle Hill.
Article by Ralph Bartholdt, University Communications and Marketing.
Photography by Joe Pallen and video by Kara Billington of University of Idaho Creative Services.
Published July 2021