Science Student Wins Goldwater Scholarship for COVID-19 Work
Lund-Andersen Wins Prestigious Scholarship for Research on Animal Susceptibility to the Coronavirus
As a student at Sandpoint High School, Peik Lund-Andersen was less interested in his studies than skiing and recording fast running times on the cross country and track teams.
While he prepared himself for the Bulldog track, Lund-Andersen was undecided on an academic track. He completed the minimal high school science credits required for college and was uncertain of a major — until he perused a University of Idaho catalog.
"I was just looking for something that I was kind of interested in," he said.
Three years later, Lund-Andersen, now a U of I junior, is a Goldwater scholar studying molecular biology and biotechnology.
"It's still kind of hard to believe," he said.
His undergraduate research to understand how COVID-19 spreads to humans and animals, and how to block the interaction between the cell and the virus, earned him a Barry Goldwater Scholarship and Excellence in Education Foundation award.
He and fellow Vandal Nicholas Pancheri, a junior biological engineering student from Moscow, are among 410 undergraduates nationally to earn scholarships of up to $7,500 to pay for tuition, fees, books and room and board. As part of U of I's University Honors Program, Pancheri is researching how tendon function affects their development.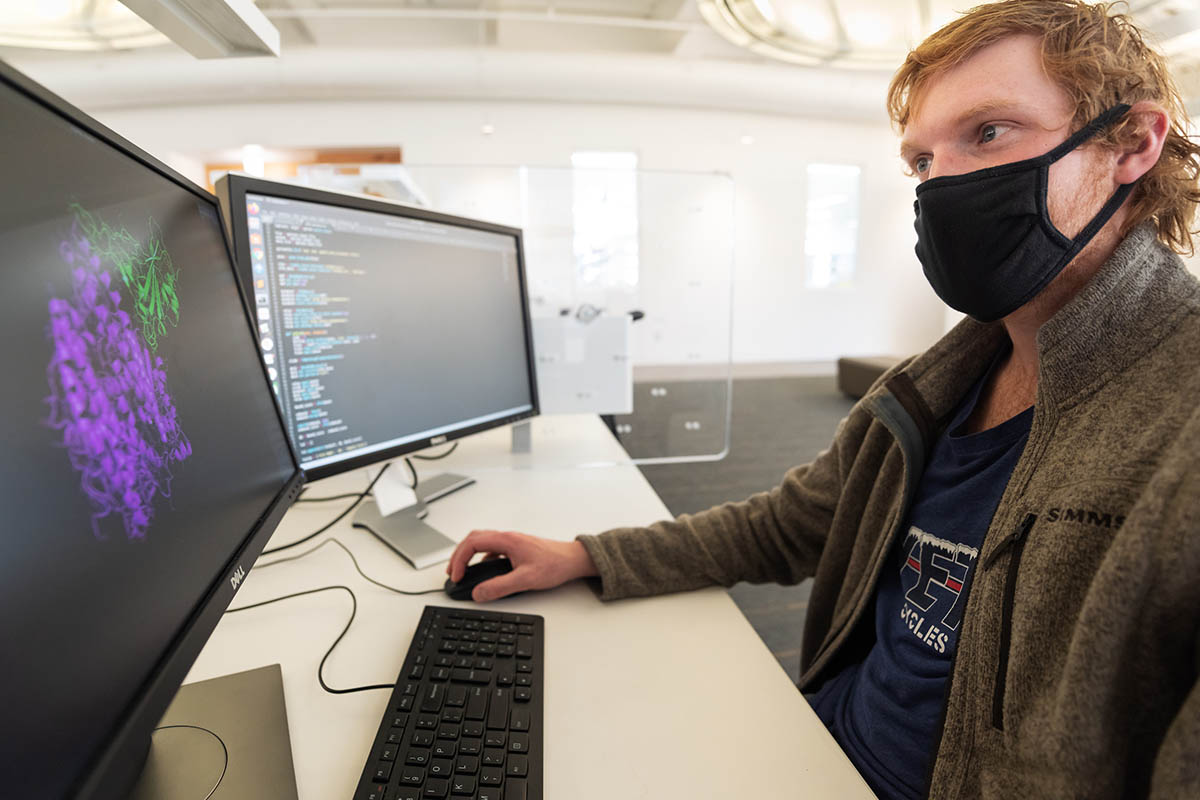 Physics Professor Marty Ytreberg and Jagdish Patel, research assistant professor of biological sciences, were among College of Science faculty to mentor Lund-Andersen and support his nomination for the Goldwater award. The 21-year-old works in their lab, which has been at the forefront of the SARS-CoV-2 virus outbreak, assessing the potential for animals to play host to the coronavirus.
"Failure to identify domestic and wild animals that are susceptible to the SARS-CoV-2 virus opens the possibility that animals could prolong the current pandemic and cause future unexpected outbreaks in human and animal populations," Patel said.
Part of Lund-Andersen's research is to understand susceptibility of animals to the virus.
"He has demonstrated all the traits to be a leading researcher," Patel said. "He is a very talented and productive researcher with a creative mindset and leadership skills."
Lund-Andersen is excited to receive the award for his SARS-CoV-2 work and attributes his ability to shine academically to U of I's undergraduate research opportunities.
"That is what has kept me engaged in my education," he said. "One of the biggest things I learned early on is that you can get involved in undergraduate research if you want to and for me, that's been a great experience."
Article by Ralph Bartholdt, University Communications and Marketing.
Photos by University of Idaho Photographic Services
Published April 2021