University of Idaho Space Use Study
The University of Idaho has selected SmithGroup to assist the University in examining and evaluating our current profile of space utilization and distribution. The Space Use Study effort will focus on research and academic learning facilities, space use guidelines and standards, and related policies and procedures. The result will include recommendations to the University for how space and space utilization will support and facilitate our overall strategic goals moving forward.
The University previously completed a comprehensive Long-Range Campus Development Plan (LRCDP). This plan defined nine major goals and objectives for the development of the Moscow campus, one of which centered on space use and planning. The University has made significant strides in the physical development of the campus, in keeping with the guidelines, principles, and objectives of the LRCDP, but progress on the space use and planning goal has been less significant. The Space Use Study recognizes the need and seeks to make progress on the space utilization and planning goals.
The University of Idaho is engaged in specific strategic efforts aimed toward the achievement of "R1, Doctoral Universities – Very High Research Activity" classification within the Carnegie Classification of Institutions of Higher Education. The University has developed an "R1-2026 Research Initiative" and is taking active steps toward the achievement of R1 status through this initiative and investments in funding via programs such as the P3-R1 Initiative and Grant Matching Program. This initiative, enabled by a public-private partnership on the University's energy infrastructure, provides for an annual investment of funds to increase research productivity and support doctoral degrees programs.
While these significant programs and initiatives are underway, the University recognizes that the goals and objectives contained in the Long-Range Campus Development Plan regarding space use and planning must be addressed to further support the University's R1 objectives.
Process and Schedule
In spring 2023 a Request for Space Utilization and Space Planning Consultant Services went out. SmithGroup was chosen to lead the study, working with representatives from University of Idaho Architectural and Engineering Services and Budget and Planning. We started with spending two weeks in July 2023 conducting a space survey of every building on the Moscow Campus to get an accurate and complete picture of how each space is used and by which department.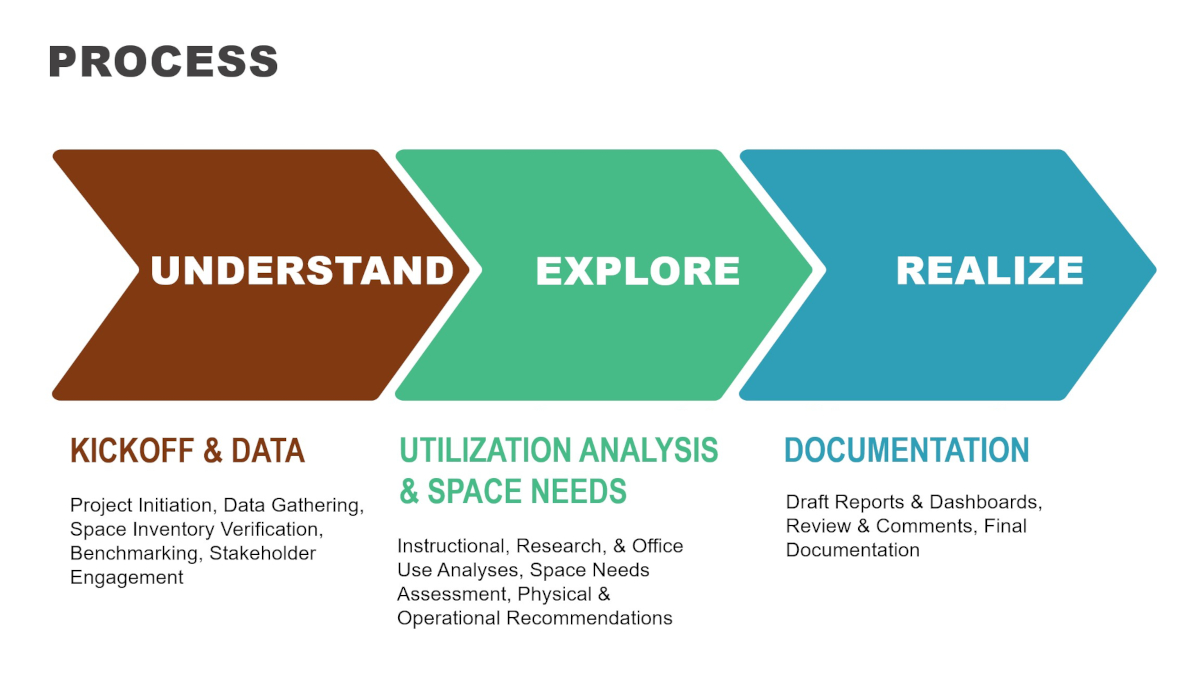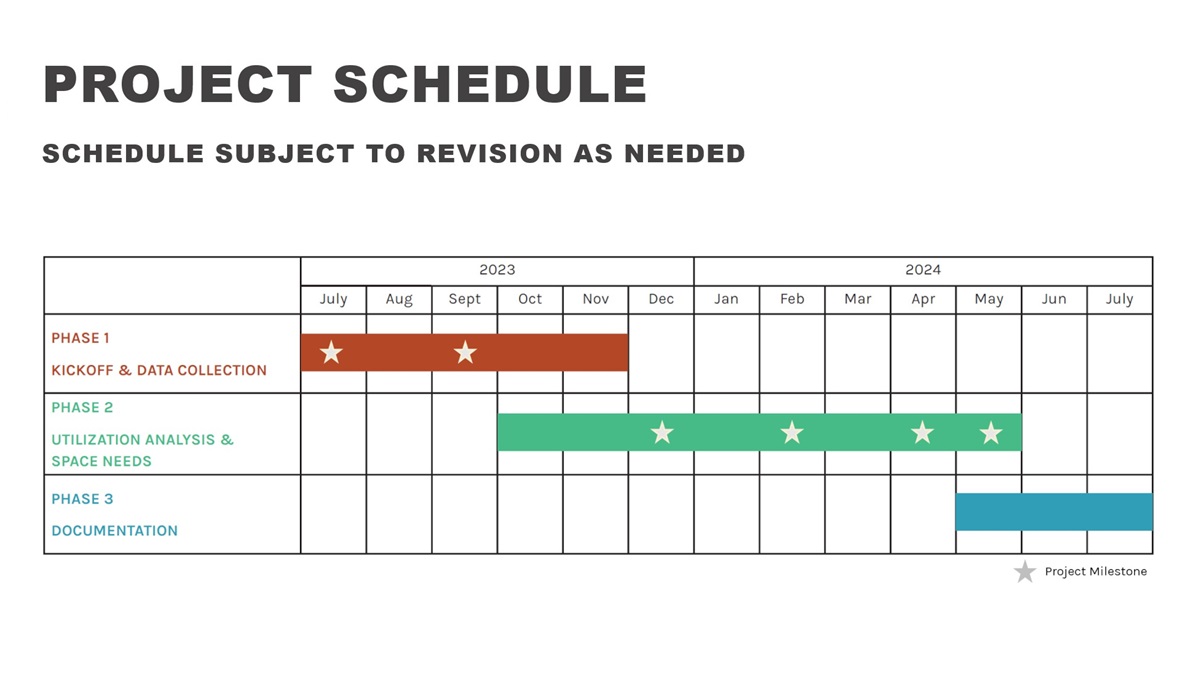 Why We Are Doing This
Understand usage and distribution of existing space.
Quantify the space needed to support the University's strategic goals with a focus on academic and research space.
Assist the University in understanding the long-term space implications of the post-pandemic environment with a focus on workspace.
Understand and evaluate the current Space Utilization and Space Planning policies, practices, and procedures and identify strategies needed to ensure a transparent, accountable space management process.
Develop strategies to optimize space use by identifying potential reallocations, migrations, renovations, and/or new construction to achieve institutional goals, objectives, and strategic priorities.
Have questions or feedback? Email spaceusestudy@uidaho.edu.
Our Partner
SmithGroup is recognized as one of the leading integrated planning and design firms in the United States and is leading the Space Use Study. The SmithGroup team represents – higher education planning specialists – who have been institutional leaders, practicing architects, and data analysts. They understand that the higher education campus has evolved rapidly, and the space needed to support today's and tomorrow's students has changed.
Using a variety of tools and methods, they are able to quantify existing space use as well as project space needs. SmithGroup will take these quantitative outcomes to develop physical options and create strategies for implementation through the use of space planning policies, practices, and procedures.